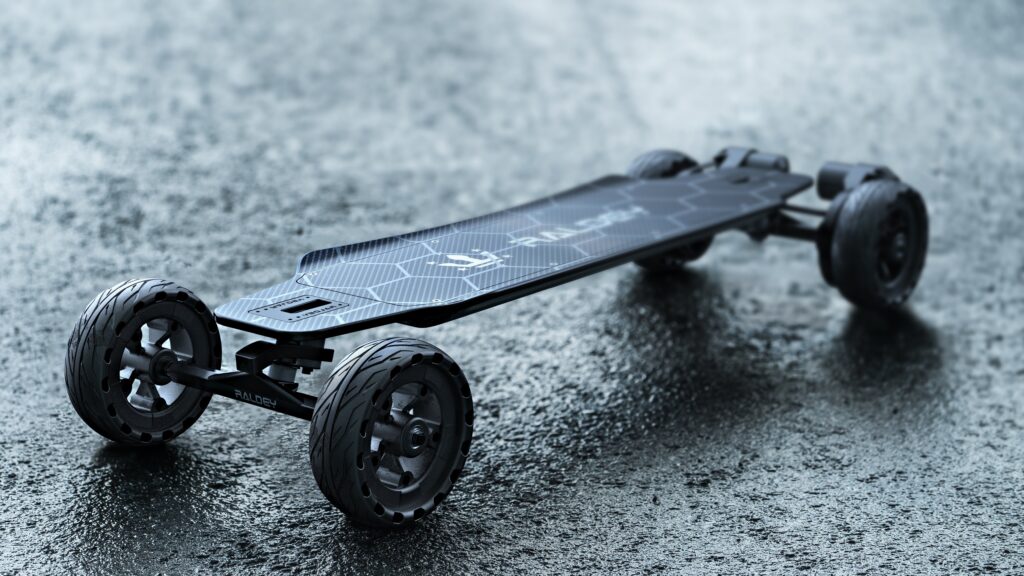 What is a Carbon Fiber Skateboard?
Carbon Fiber Skateboard is the new buzz around. The very material – carbon fiber – used in aerospace and high performance industrial equipment – makes a sleek and a very tough skateboard deck.
Being tagged as Unbreakable, Lightest of all and Highly Attractive – Carbon Fiber Skateboards are being projected as the Next Generation Skates. But before anticipating whether a carbon fiber skateboard is for you or not – you need to identify what is carbon fiber and importantly how does it fit in a carbon fiber skateboard.
Carbon Fiber
Carbon Fiber are tiny fibers made of carbon atoms. These fibers are very small in diameter. Thousands of these carbon fibers are bundled together and woven into a fabric like material. Carbon fibers have many advantages over other traditionally used materials. They are very hard and they weigh very less. Temperatures and chemicals also do not affect readily to these fabrics.
Due to there added value – carbon fiber composites (mixed with some other element) are used in aerospace, civil engineering and even in military equipment.
A carbon fiber skateboard is designed using the same above mentioned carbon fiber composite!
Just imagine the sturdiness of your skateboard deck and it's resistance to shocks if the deck is made from the same material which is used in making an airplane's air frame!
Are Carbon Fibre Skateboards Good?
Carbon Fiber skateboards (composite) – are the best choice for you as a skateboarder, especially as an off road skateboard. The skateboards are pretty hard and durable – so you can ride them on streets, on cliffs and on almost all kinds of terrains. Traditional maple skateboards cannot withstand a rigorous beating. For the least – in a non carbon fiber purely maple skateboard the ply opens up and loosens up.
Secondly a carbon fiber skateboard is almost 30 to 35 percent lighter in weight! This makes it super convenient. You cannot carry a purely off road maple skateboard in your arms. Ideally it's weight might go above 15 kg. Whereas a carbon fiber skateboard having double the strength will be easily hold-able.
It's portability increases it's popularity in female skateboarders and also promotes it use in young adults.
Carbon Fiber Skateboards are best for heavy weight skateboarders because of high tensile strength. The skateboard can hold much more lbs than any traditional one.
A 7 ply skateboard deck is expected to withstand 220 lbs. But if your skateboard is not a branded one – you cannot put so much load. It will break into two – the moment you go fast or use it in ollies and flips. Carbon Fiber Skateboard deck can hold much more weight. In fact to avoid splintering – modern skateboard manufacturers coat the deck with a carbon fiber composite layer.
Carbon Fiber is mostly used in electric skateboards. Although you will find non electric carbon fiber skateboards too – but the fiber's usability is clearly distinguished in motorized skateboards. For this reason – we have only reviewed top 7 carbon fiber electric skateboards. Although we have tagged the non electric carbon fiber skateboards in the Quick Link section.
With all the positives – there is only one drawback. Carbon fiber skateboards do not come cheap. You pay a premium to buy a carbon fiber deck.
However after months of research and interviewing a lot of manufacturers and skateboarders we have comprised this list of 7 best Carbon Fiber Electric Skateboards. The added advantage of this list is – we have only included skateboards which are budget friendly and excluded the ones – which are super expensive.
All these boards perform wonderfully and have very high consumer consensus rankings. You can choose the one which suits you best. Do not forget to apply discount coupons (if applicable) mentioned within the reviews.
Carbon Fiber Electric Boards – Quick Links
Carbon Fiber Electric Boards – In Depth Reviews
# 3K Carbon Fiber Skateboard
Deck
Load Capacity
Top Speed
*For Discounts Apply Coupon Code – "switch discounts" here..
Raldey Boards have the most number of carbon fiber electric skateboard models currently in the market. In fact they are specialised carbon fiber skateboard manufacturers.
In this post alone – three of the Raldey models are featured – The strong Raldey Wasp, The famous Raldey Carbon AT V2 and their recently launched Raldey Carbon G3.
Raldey Wasp is a beast. You jump on it and the board will toss you up. It is one of the rare carbon fiber skateboards – to item a 3k carbon fiber deck.
What does 3K Carbon Fiber mean?
Carbon filaments are woven together to make carbon fiber or carbon fabric which is called Tow. This tow is actually the raw material used in all carbon fiber goods including skateboards.
More the filament per fiber – stronger the Tow. "K" in 3K – stands for thousand. So a 3k Carbon Fiber Skateboard Deck – is made of a Tow which has 3000 filaments per fiber. This number is huge – making it one of the most strong deck which is also used in aerospace, automobile and marine industries.
Wasp uses this exact 3k carbon fiber deck – which provides the electric skateboard outstanding and unrivaled structural strength. The deck measures 38.5 inches with 10 mm depth concave which makes it very wide and enhances comfort.
The load capacity of it's deck surprises many skateboarders. The 3k carbon fiber can lift 485 lbs of load. This is like insane 220 kg! Leave plus size skateboarders – the deck is strong enough to carry a Melon-Headed Whale!
Riding experience on a 3k carbon fiber coupled with 200 mm wheels cannot be expressed in words. It is much more than marvellous when you have a super strong deck beneath – which can absorb whatever shocks and jerks you face while riding on mountains or off roads.
The large inflatable wheels attached via 12 inches MBS forged trucks will keep the skateboard rock solid when moving at high speeds. The carbon fiber skateboard can go 39 miles per hour – making it one of the fastest electric skateboard in the world.
The speed comes from 3000 Watts motor. If you want more speed than go with the upgraded Wasp 40 S – which has double the watts – 6000W. 3000 watts motor with the latest ESC gives 40 degrees of elevation. With such high elevation range – carbon fiber deck becomes a necessity. If you put a regular maple deck – it will crumble with the increased load against gravity when ascending.
The Electric Mountain Board comes with 907.2WH battery which gives it 35 miles of mileage. This makes you go pretty long. You can even buy an extra battery pack – if you want to go further and deeper. The carbon fiber deck can easily accommodate all the extra lbs of a battery pack and other skateboard accessories.
An only downside to this carbon fiber skateboard is it's weight. Wasp weighs 42 lbs. Generally carbon fiber is used in skateboards to make them lighter – and the 3k carbon fiber tow in fact makes Wasp lighter in comparison to what it could have scaled if maple deck would have been put instead. But in spite of that – 42 lbs is not something you carry long on your back.
Well weight is something you need to adapt too – when you have an extremely powerful and high performing beast electric mountain board. Because other than this – it rates 10/10 in all skateboard review areas.
Dimensions: 47x19x8 in / 120x48x20cm
Weight: 42lbs / 19kg
Battery Capacity: 12S4P 907.2WH
Max Speed: 39 Mph / 62Km/h
Max Range: 35 Miles / 56Km
Rated Power: 1500W x 2
Max Climbing Grade: 40%
Deck: 3K Carbon Fiber Deck
Truck: 12 inches CNC MBS Forged Trucks
Wheel: 8in / 200mm Inflatable Wheels
Maximum Weight Limit: 485 lbs / 220kg
Waterproof rating: IP65
* Specs are taken from the Raldey Carbon Fiber Skateboard's Official Website
# T700 3K Twill Carbon Fiber Deck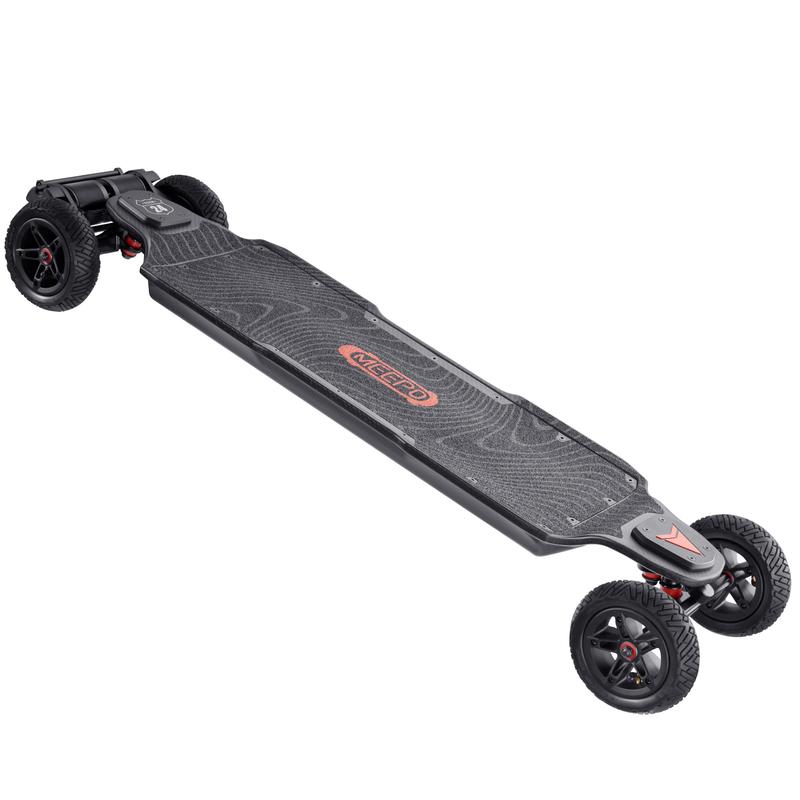 Deck
Load Capacity
Motor
*For Discounts Apply Coupon Code – "switch discounts" here..
Meepo is a renowned electric skateboard brand and have some very useful and productive products in the market like the Shuffle Meepo V4 (not a carbon fiber skateboard). Hurricane is their lucrative model engineered using the same as above T700 3K Twill Carbon Fiber Deck.
We already provided an insight on what does 3k means in carbon fiber boards while reviewing Raldey Wasp. But just a quick line – 3k stands for 3000 filaments per fiber.
This makes a tough concrete board which can accommodate a lot of load and can withstand even the baddest built roads. It is the only carbon fiber skateboard which can withstand the force of a 7000 Watts motor! Just imagine the force of the torque this heavy weight motor might be generating on the deck which results in out of the world manoeuvrability.
The carbon fiber deck is 1125 x 340 x 125mm long giving you ample of leg space. The motor gives it an incredible 46% hill climbing inclination – the most in any carbon fiber skateboard. However this is not the only area where Hurricane beats other carbon fiber skateboards.
There are many other features where Hurricane beats some of the best carbon fiber boards including the above reviewed Wasp.
First of all – Hurricane Street weighs 14.4 kg. This is like 25% lighter in comparison to Raldey Wasp. 14.4 is a doable load size. Wasp weighs 19 kg which makes it a little heavy on shoulders.
The other variant Hurricane All Terrain weighs 15.6 kg which is again 20% lighter than the previously reviewed skateboard.
Secondly it can withstand 552 lbs of weight. This is like the most in any carbon fiber skateboard built. Even Wasp falls 70 lbs short. The increased number of lbs and the decreased weight – makes it a great choice for young skateboarders and also for the plus size ones.
Finally what we appreciate the most in this carbon fiber skateboard is it's customization compatibility. Hurricane has 10mm standard pulley axles for skateboard parts. Because of this you can switch tires. If riding on streets you can go with the street tires and when going off road you can switch to pneumatic rubber ones. This is not possible in other skateboards. And yes, even the 155 mm tires protrude wonderfully and gives great balance to the deck.
The only thing which we would wanted better – is speed. It runs 35mph – the same as Wasp's speed. With a powerful 7000 Watts motor – something between 50 to 60 mph is the least expectation. Although the 12S4P Molicel P42A 725.8Wh battery performs well – giving a 44 miles of full run.
Hurricane is a strong competition to Carbon Fiber Wasp. It has better parts – for example the baseplate cover, fiberglass lid and better specifications. It beats Wasp in terms of load capacity, hill climbing range and the best of all it's tire swapping portability. In spite of all this it does not cost as much as Wasp. In fact it is almost 15% cheaper.
In one line – you will never find a better and more economical carbon fiber skateboard in 2022 and not even after three years from now!
Max Speed: 35mph
Max Range: 31/44 miles
Weight Capacity: 330lbs
Length: 1125 x 340 x 125mm
Weight: 15.6 kg/14.4 kg
Motor Power: 3500 x 2

Charging Time: 2.8 hours
Remote: M4S
Trucks: Double Kingpin
Hill Climbing Capacity – 46%
*Specs are taken from the Meepo Carbon Fiber Skateboard's Official Website
44 Miles Long Range
T700 3K Twill Carbon Fiber Deck
46%

High hill climbing range 

365 Days Warranty
Customization Possible (Lucky Number)
IP67 Waterproof
Many more pros –
*Meepo Hurricane is only available on Meepo Boards official website. You will be redirected to Meepo page on amazon.
# Handmade Carbon Fiber Skateboard
Weight
Range
Deck
*For Discounts Apply Coupon Code – "switch discounts" here..
Possway GTC All Terrain is one of the only five models developed by the brand. Possway is a dedicated electric skateboard company – recently launching many of their super economic models including T3 2022 model.
Belt Drive GTC is the only carbon fiber electric skateboard by Possway. What makes this one stand out amongst other carbon fiber decks – is this having a hand made deck. This is new to us too – because even we are not able to clearly understand what exactly the brand claims when it says hand made.
Possway GTC is an economic carbon fiber skateboard not falling in the premium range of Wasp and Hurricane. You can book one for less than $1350 – almost $500 to $600 less than the above two.
Considering it has a carbon fiber deck – it is very economically priced because a carbon fiber deck is mostly the most expensive skateboard part in the whole assembly. It is a good buy if you are looking something not very fast, not very long (mileage) and not very expensive.
A Carbon Fiber Skateboard promises lighter weight. Wasp is 42 lbs and Hurricane is 34 lbs – while Possway GTC is meager 25.2 lbs! This is makes it super portable and super convenient and in fact it's lightweight is one of the reasons for it's heavy demand (most of the times the board is out of stock).
Deck is 40 inches long and has an adequate 9 inch width. Leg space is quite good and stands at par with Meepo Hurricane and Raldey Wasp. The carbon fiber is of top grade offering highest flexibility and hardness possible.
The maximum load capacity is a little low at 330 lbs in comparison to 450+ lbs specs of Hurricane and Wasp. However for average riders the weight is more than appropriate.
GTC skateboard has average specifications. It runs on 3000 Watts motors – (2 x 1500). The Dongxingwei 6368 Motors gives it a 30 degrees inclination and 24 mph of top speed.
Motor power twined with 175mm pneumatic tires is a treat. The tires look huge towering out of the deck and offers maximum balance and support. They can sustain all types of terrains including smooth bitumen roads as well as dirt tracks.
42V 417.6Wh Lithium Battery runs for 19 miles straight and can be charged in 4 – 5 hours. The miles are appropriate for a one day off road trip. However our general suggestion always remains the same – buy an additional battery pack which can increase your miles and decrease your dependency on finding charging stations.
Possway GTC Carbon Fiber Skateboard is honestly a great e skate for average riders like you and me. Buying Hurricane and Wasp will increase your budget to 500 dollars more which is not going to give you any return on investment. Average Skateboarders will never go 35 miles per hour. In fact 24 mph offered by Possway is also fast.
As female skateboarders and young individuals – this one is a great model offering 3 ride modes. It is super lightweight and offers maximum riding experience and comfort.
Dimensions: 40 x 9 x 5.9inch / 1020x230x150mm
Weight: 25.2 lbs / 11.45kg
Battery Capacity: 11.6Ah 417.6Wh
Max Speed: 38 km/h / 24 mph
Max Range: 30 km /19 miles
Rated Power: 1500W x 2 Belt Drive
Max Climbing Grade: Up to 30%
Deck: Handmade Carbon Fiber Deck
Truck: 9.25 inch
Wheel: 7″ Pneumatic All-terrain Wheels (175mm)
Maximum Weight Limit: 330 lbs / 150 kg
Warranty – 270 Days
* Specs are taken from the Carbon Fiber Skateboard Official Website
# Best Carbon Fiber Electric Skateboard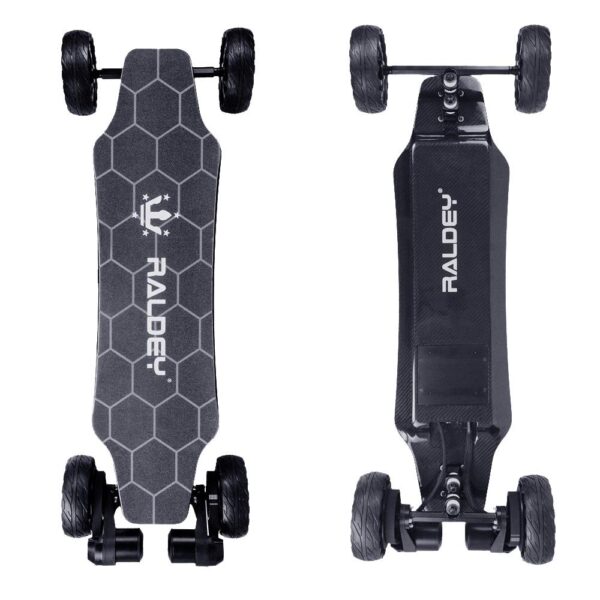 Weight
Wheels
Deck
*For Discounts Apply Coupon Code – "switch discounts" here..
We have already introduced Raldey Boards and also their next in line carbon fiber skateboard to Wasp – the AT V2. But before we go into reviewing the board – let us be explicit in saying –
– this is the best carbon fiber electric skateboard right now in the market.
It is the lightest electric skateboard featuring a 3000 Watts motor. The deck is made from 100 percent T700 carbon fiber and all of it is from Japan. It is one of the sleekest deck we have seen ever. It is literally thin like a paper. But it is not just it's thinness which makes it one of the best –
Actually Raldey has used T700 carbon fiber so in spite of it being strong it offers optimum flexibility. Because of it's flex it is mainly used in high quality drones. And as a skateboarder you better understand – how much flexibility of the deck matters in this sport. It is flexibility which will win if compared to rigidity in skateboards.
As the carbon fiber is exported from Japan and not any other country – it makes AT V2 pretty unique. We have one V2 and it is something which we desired. It is the sleekest and the lightest to carry, it has got all the motor power you require and it has got flexibility and hardness to offer you the best balance, support, and manoeuvring and riding experience. It turns and swirls like a free wheel!
The 35" x 9.6" x 6.5" skateboard weighs just 23.5 lbs and can carry a maximum of 265 lbs of load. You can choose between 165mm (6.5in) and 195mm (7.5in) wheel options. We recommend to always go with the larger wheel option. Larger wheel offers more traction, better grip and proper balance.
You can choose motor watts too. You can go with the 1500 x 2 – 3000 Watts option. Or you can go with 2500 x 2 – 5000 Watts skateboard. We tried both of them and were more happy with the lower motor watts.
The motor gives a 30 percent hill climbing and approximately 29mph of top speed. This is not the fastest but it is more than you require. If you are not into electric skateboarding grand prix – then clocking 29 miles will also be difficult. Note – This speed is not the same if you are using 165mm wheels.
Raldey AT V2 has a 14Ah battery. It gives 19 miles or 30 km of mileage. Considering it to go long – some added miles would have added more glory to the carbon fiber skateboard. Although 19 miles is also doable. If you are on a long vacation and planning to do a lot of skateboarding then you can buy an extra pair. The battery is pretty sleek and very well protected and hence portability is not an issue.
Dimensions: 910 x 245 x 165/175 mm
Weight: 10.7kg
Battery Capacity: 14Ah 10S4P
Max Speed: 46km/h (28.5mph)
Max Range: 30km (19miles)
Rated Power: 1500/2500W x 2
Max Climbing Grade: 30%
Deck: 100% Japanese T700 Carbon fiber
Truck: 254mm (10-inch) Double Kingpin
Wheel: 165mm (6.5in) / 195mm (7.5in)
Maximum Weight Limit: 120kg (265lbs)
* Specs are taken from the Carbon Fiber Skateboard's Official Website
# Cheapest Carbon Fiber Electric Skateboard
Weight
Wheels
Deck
*For Discounts Apply Coupon Code – "switch discounts" here..
Carbon G3 is the latest Raldey Carbon Fiber Electric Skateboard. It's unique selling point – it weighs 15.5 lbs which is like 7kg. It is the lightest electric skateboard featuring a carbon fiber deck.
All the other skateboards reviewed above – weigh at least 10 kg. This is the only one to weigh almost thirty percent lesser.
Carbon G3 is developed considering street skateboarding. It is the best skateboard and the only carbon fiber board which you can take to your office and college. It is not an off road skateboard and hence the reduced weight.
There are not many good options for street skateboarding in carbon fiber material. And this is where Raldey has taken the opportunity in developing their G3 model. And they have made it up to the mark. Be it battery, motor power, wheel size and even the pricing – G3 stands out and will definitely give a good competition to other carbon fiber skateboard manufacturers.
The most amazing value addition – G3 uses the same carbon fibre grade as in AT V2. And it is exported from the same land – Japan. T700 Carbon fiber is very sleek and very flexible. Just imagine your comfort level when you get an off road skateboard's carbon fiber deck in a street skateboard.
Consumers are appreciating this already. The last we knew it is a lot in demand mainly because of it's high carbon fiber density which decreases it's weight substantially and secondly because of it's economic pricing –
– It is the only T700 Carbon Fiber Skateboard to cost less than $1000
The board features 1800 Watts of motor power which enables 30% hill grade. Skateboard's top speed impressed us – clocking at 45km/h – 28mph. Skateboards having 3000 to 4000 Watts of motor reach this speed. The upgraded ESC is one of the reasons for the increase in speed performance.
The board is powered by 7Ah 10S4P battery which keeps it running upto 12 miles. This is decent mileage considering it's use. A single charge battery is enough for a minimum of 2 days if you are using it for office and semi domestic purposes. If you want to take a long ride kind of stuff than the best option is to buy a second battery to compliment your first one if it dies out.
It's deck stands fit for 265 lbs or approx 120 kg. You cannot expect to load it with plus size skateboarders. But again 120 kg is a decent limit. Almost all skateboarders – young and old can qualify to hop on it.
The carbon fiber skateboard features 120mm cloud wheels. These are not pneumatic tires which is a major water down version from Wasp and AT V2 and even Possway. Again considering it's use on streets – cloud wheels will perform like butter. However their usage on off streets remains questionable.
To top the portability and it's ease of use – Raldey promises it to be fully charged in 3-4 hours. Consumers are satisfied with the battery's performance too. So even if you charge it when at work – you can go long on it after you are done with college and office.
G3 is the best carbon fiber street skateboard. It has a classy and a different look. It's the lightest and the most flexible electric skateboard and the only one to feature such high grade carbon fiber. It is a viable option for young skateboarders and female skateboarders.
We are definitely planning to get ourselves one to add in our collection. It is cheap too so it is highly affordable and importantly carbon fiber attracts us more.
Weight: 10.7kg
Battery Capacity: 7Ah 10S4P
Max Speed: 38-45km/h (23-28mph)
Max Range: Up to 12 miles
Rated Power: 900W x 2
Max Climbing Grade: 30%
Deck: 100% Japanese T700 Carbon fiber
Wheel: 120 mm cloud wheels
Maximum Weight Limit: 120kg (265lbs)
Waterproof – IP55
* Specs are taken from the Carbon Fiber Skateboard's Official Website
# PPS and Fiberglass Skateboard
Charging Time
ESC
Ground Clearance
*For Discounts Apply Coupon Code – "switch discounts" here..
To start with – Maxfind FF Plus is not a carbon fiber skateboard. So why it is being reviewed in a post titled "Best Carbon Fiber Skateboards"? Well, the reason being – the deck's material is very close to carbonfiber.
Maxfind is a recently launched brand – which is storming the electric skateboards market with many economic products designed with modern techniques. In fact they have designed almost all kinds of electric skateboards.
FF Plus is their most powerful, most durable and the thinnest electric skateboard. If not Carbon Fiber – then the deck of the board has the next best thing – Fiberglass and PPS.
What is a PPS and Fiberglass Skateboard?
Fiber glass and PPS (Polyphenylene sulfide) are both forms of plastics which are developed to design super light and strong materials. Fiberglass Plastic has glass fibers and PPS is a polymer made from Benzene and Sulfur.
Fiberglass and PPS Skateboards are the next in line to Carbon Fiber Skateboards. Carbon Fiber Skateboards although being extremely light and durable – comes at a very heavy price. On the other hand – Fiber Glass Skateboards offers almost the same ride quality – and costs you less than half of what a Carbon Fiber Skateboard would cost!
FF Plus which measures 38(L), 13.4(W), 6(H) Inch, weighs just 24 Lbs / 11.2 Kg and can support 220 Lbs / 100 Kg. These are good numbers if you want to go for off road skateboarding.
24 lbs make it a super light off road electric skateboard. Even the Possway GTC being a Carbon Fiber Skateboard weighs 25.2 lbs! Thanks to the PPS and Fiberglass – being used as Carbon Fiber Deck replacements.
And for all this you have to pay almost 60 percent less than Raldey Wasp. Not at all a BAD deal!
Maxfind FF Plus is the toughest Fiberglass Skateboard and is very powerful in terms of Motor Watts. Although other specs remain mediocre in comparison to Hurricane and Wasp.
The skateboard has 2 x 1200 Watts Hub Motors which allows 35 degrees of inclination and a top speed of 24 Mph / 38 Kph and 24 N.m motor torque. Here the board looks super impressive.
Although we did not feel Maxfind did justice with the FF Plus's battery. The 5.2Ah, 187Wh, 36V battery gives a meager 10 Miles / 16 Km of range. If you are a building a light weight 3000 Watts skateboard – it is ought to go long. And the market has a lot of skateboards offering 30+ miles. That is 3 times more than what FF Plus's range is.
Maxfind offers an counter offer for low mileage – Battery Swapping and Ultra Fast Charging. You can very easily swap the battery and in addition to that your drained battery can fully retain it's juice in just 3 hours. This is a convenient method and your low miles problem can be catered by this. But only if Maxfind would have added 7 to 10 miles more – FF Plus would have been the best fiberglass skateboard and the best alternative to all the carbon fiber electric skateboards globally.
Other than the battery – everything is intact in the deck. Even the 165mm wheels and the double kingpin trucks offer a very smooth ride and great carving experience.
9005 Foc is an up to date ESC model – offering a smooth flow in acceleration and braking. Even the LED remote screen gives it a 2022 look.
Overall the skateboard looks pretty decent. The unique selling point however remains – it being super economic. The skateboard is almost 3 times cheaper than the cheapest carbon fiber skateboard reviewed in this article.
Dimensions: 38(L), 13.4(W), 6(H) inch
Weight: 24 Lbs / 11.2 Kg
Battery Capacity: 5.2Ah, 187Wh, 36V
Max Speed: 24 Mph / 38 Kph
Max Range: 10 Miles / 16 Km
Rated Power: 1500W x 2
Max Climbing Grade: 35%
Deck: Super Flex PPS + Glass Fiber
Charge Time: 3 Hours With UL 42V Fast Charger
Wheel: 165 mm / 6.5 Inch
Maximum Weight Limit: 220 Lbs / 100 Kg
Ground Clearance – 4.7 inches
* Specs are taken from the Carbon Fiber Skateboard Official Website
Carbon Fiber Composite Skateboard VS A Traditional Wooden Board.
Are carbon fiber skateboards better than wooden skateboards?
Carbon fiber skateboards are definitely better than wooden skateboards. They are lighter and so portability increases many folds. They are super flexible and thus enhance your skateboarding moves and tricks. They can take a lot more beating in comparison to wooden traditional skateboards. A blow which might break a wooden deck will just be an air blow to a carbon fiber deck – as they are super strong.
However there is only one area where a wooden deck might be preferred. If you are talking about the original; feel of the sport – the initial vigor and the traditional style – then definitely wooden board will be used.
Carbon fiber skateboard is a modern development to skateboarding. It is a current answer to the earlier problems we skateboarders came across with. But what is old is the father to all this.
And note – when we say carbon fiber skateboards – we mean composite carbon fiber skateboards and not enteriely carbon fiber.
What is the Best Material for a Skateboard Deck?
The best material for a skateboard deck is composite carbon fiber.
If this question was put up a few years earlier – when maple rules the world (and to most extent it still does) the answer would have been different. Maple is flexible and durable. So carving the deck and then skateboarding on it both is very easy. Canadian Maple is still the king of skateboard decks.
However as time is changing and as technological advances are giving us better alternatives – carbon fiber composite deck is going to become the next maple.
It has all that advantages of a maple deck – and a lot more in abundance than that. Composite carbon fiber has flexibility, strength, look, foot support, friction and rigidity. And they have no harm with water which is a big disadvantage with maple skateboard deck.
Other than water – a carbon fiber deck is not affected a lot by heat. Some branded skateboard manufacturers design anti corrosive and chemical reaction prood decks. All this is like other world for skateboarders.
What is the Strongest Material for a Skateboard?
Te strongest material for a skateboard is maple sandwiched between two composite carbon fiber layers. Maple completes all the minor irregularities which come with carbon fiber adding the needed flex.
Stregnth wise we doubt any polymer right now can beat carbon fiber. We are talking about the composite which is believed to be 10 times stronger than steel and at the same time lighter. So wood is miles behind.
3k carbon fiber and T700 are some of the strongest materials for skateboards. Raldey Wasp and Meepo Hurricane uses the 3k and Raldey AT V2 and Carbon G3 uses T7000 and they claim to handle even a strong four wheeler above them not crumbling within!
Modern manufacturers are now adopting this sandwich style of maple and carbon fiber. However their is a stronger material known as reinforced carbon fiber. We do not know when skateboards will be made from it and how challengingly it will be for composite carbon fiber.
Disadvantages of Carbon Fiber Skateboard Deck
Carbon Fiber is strong, lightweight but two major disadvantages of carbon fiber skateboard deck is it being fragile and less flexible.
So what does fragility mean in carbon fiber when it is so strong?
Carbon fiber can take a lot of load when properly spread over it's surface which makes it very strong. Now if you expose the material to direct concentrated shocks it will not respond well which is it's fragility.
Carbon fiber is pieces of fiber stretching and holding together. So as long as things spread out they hold well. But if you go directly piercing and shocking at a concentrated point – it might break because it is not one piece like wood and plastic.
For this reason carbon fiber composite is becoming the main material for skateboard decks. Composite is mixing other substances with the carbon fiber to eliminate the fragility and flexibility issue.
How do you Carbon Fiber a Skateboard?
Is it possible to carbon fiber your skateboard deck? Well however absurd it sounds – but it is totally possible.
We have created a different post to answer this question – but here we are sharing a video link where you can easily get the idea how to do it – step by step.
You can change the deck to carbon fiber easily and it will just change the whole skateboarding experience.