Why do you need lights for your longboard?
When it comes to skateboarding, rider safety is of paramount importance – especially when riding in dark or off streets. And skateboard lights enhance safety and vision.
But it is not just safety these lights are used for.
Longboard lights have become a fashion. Riders especially youth and girls dazzle the nights with LED lit skateboards and longboards marking their trails.
The lights make the decks attractive too. And most importantly they don't cost much.
Below we have reviewed 10 Best Longboard Lighting Kits. These work pretty well as skateboard lights too.
Check them out and light out the streets!
Editors Choice – Best Longboard Lights

Final Price

Top 10 Skateboard Lights
Skateboard Lights – Top 10
How to choose LED lights for Longboards?
Before you buy any LED lights (or any other lights) for the longboard, evaluate all the options available. There are many different types of LED's for the boards in the market. 
You may want to start with a pair of headlights, under-glow lights or a LED strip. You can also get a complete under-glow light kit or can make a DIY kit all by yourself. A DIY Light Kit just needs proper assembling of the accessories!
Whatever option you choose – check out these factors.
Brightness: Having bright and powerful LED lights is the most important factor. Make sure to buy lights that grant you clear visibility and also ensures your visibility to other vehicles and riders. 
Weight: Try to get good lightweight lights that doesn't make your board bulkier or heavier than it already is. However if for brighter lights have heavy weights than change your deck instead. 
A lightweight skateboard deck with powerful visibility is recommended than a low lit – light heavy weight board. 
Water resistant: Mostly you will attach the lights underneath the board. Here it will be subjected to water splashes, puddles, wet road and rains – (a lot of water)! This is why you need to get a highly water resistant LED light by checking the IP ratings.
Vibration: lights should also be able to absorb vibrations and shocks. This becomes vital when riding off roads or performing tricks. Or else they will fall apart or get damaged.
Installation: The installation process should be quite easy and convenient. It should not be complicated involving too many alterations or adjustments to the board. 
Lesser the components easier the installation.
Battery: Look for something that grants you a great battery life and has multiple and easy options to get charged. If you are riding an electric skateboard – then the battery life becomes more important to look for.
Quality: It is always better to buy from a well-known and trusted brand on which you can rely. 
Safety and visibility is not worth compensating for a few extra dollars.
Price: Think of it like putting a price tag on your safety! What is your safety worth? You can get cheap skateboard lights in just 5$ and the premium ones can range more than $50. Important is to strike a balance and get the best in the lowest price possible. 
To sum up the answer for "How to choose LED lights for Longboards?" – Try to get lightweight, water proof, shock proof lights so that your board stays pretty much the same even after the installation of the LED's and you get to enjoy more.
We have reviewed 10 best LED skateboard and longboard lights – based on all the factors discussed above. All the reviewed headlights, under-glows or LED strips are worth every penny.
Happy Illuminated Skating!
The One Best Longboard Light?
To single out one lighting kit – from thousands – is pretty difficult.
And honestly there is no one manufacturer or product which can be the best or the perfect in every sense.
If you get good illumination sources from Shreds and Third Kinds – then you have cannot compromise on cost and weight.
And if you want some cheap kits like the coolo strips or CNZ underglows' – then you have to compromise on quality.
However if you want one single kit – which can be a good buy in most of the criterion – then go with Shred Lights. They are pretty good and offer good quality.
Although you cannot single Shred as the One Best Longboard Lighting Kit. There are other good products too competing. But Shred leads them fine.

Check Shred Lights Specifications

Shred Lights
Shred Lights was started in 2013 by a team of college goers for the safety of skateboarders, (especially during night times). Over the years Shred lights have come to manufacture high quality lighting products with new innovations being added every quarter. 
Shred provides you with durable and superb quality mount lights for your skateboards, longboards, bicycles and electric scooters. 
The lights come with special mounts making the installation efficient and easy. The mounts enable you to effortlessly swap the lights in and out anytime you want.
There are many lighting options – solo, headlights, under-glows, LED strip etc –  you can choose from. Although best is to go for a complete kit – in which you get:
2 headlights
2 tail lights
2 helmet lights
1 backpack light
All Shred Lights are powered by rechargeable batteries. Recently Shred introduced SL200 Light, which is extremely powerful giving you 150 hours of battery life.
SL200 is water-resistant (IP65 Certified) and shock absorbing. It is 2 inches long, 1 inch wide and weighs just 50gms – which makes it very compact and lightweight.
It gives you 6 different light modes and can illuminate up to 25 feet with a power of 200 lumens. To switch on the lights there are buttons available on both sides.
SL200 uses a micro USB charger to get charged. It takes almost 2 hours to recharge the lights completely. 
One wheel boards are super cool – pretty convenient and the modern trend. And not many light manufacturers are providing illuminating products for them.
We assume Shred have partnered with Onewheel Skateboards. They manufacture easy to install LED's specifically made for the differently designed Onewheel boards.
Best For – Overall Shred Lights are the best LED's for your longboards or any other board. Shred mounts too are suitable for all type of skateboards (electric and non electric), longboards and even electric bikes.
ILLume V2 Eboard Light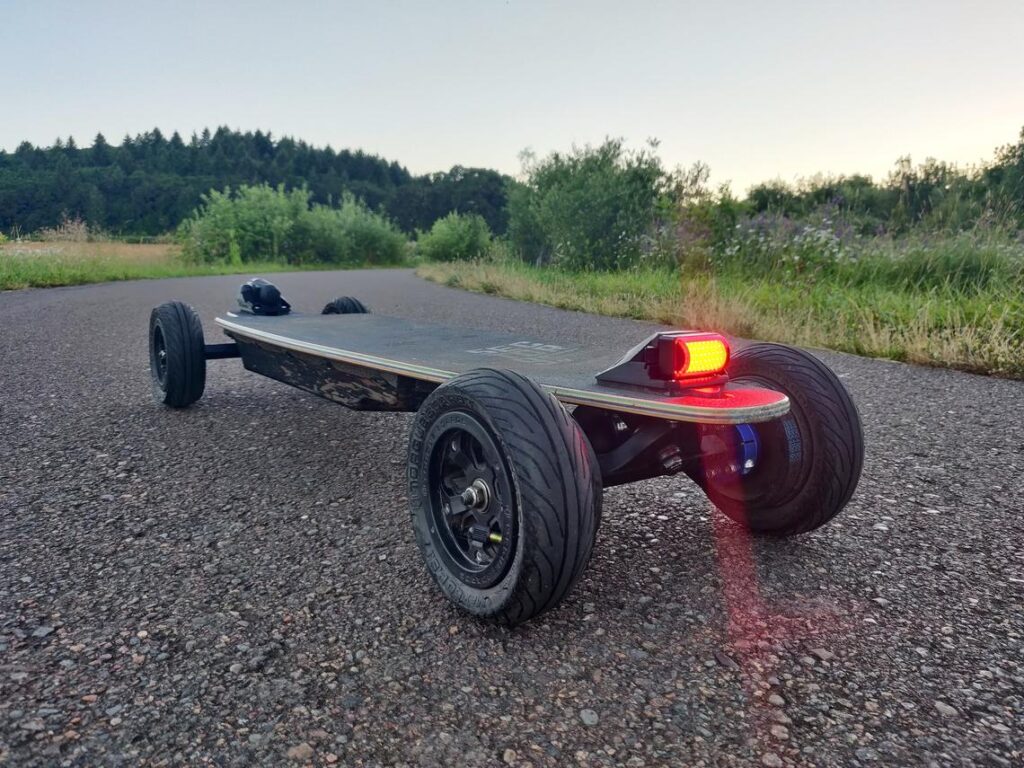 Manufactured by Sam Weiwel of Genex Designs Illume V2 lights are meant to be attached on the deck of your board. The manufacturer sells the lights only on Etsy.com.
Illume Light Mounts are 3D printed and are very easy to install. You get a lifetime warranty on the mounts and can get it replaced any time for free!
The mounts are made from high quality PETG polymer plastic making them super strong and durable enough to withstand heavy shocks and vibrations.
The headlights are very powerful and are rated IPX5 water resistant. Maximum brightness they offer is 320 lumens. 
Illume lights have 5 different brightness settings. They can reach up to 150 feet and can be seen from as far as 1 mile. 
Light batteries work up to 2.5 hours on maximum brightness and up to 10 hours on lowest brightness levels. They take almost an hour to completely charge.
The taillights are constructed from aluminum and also have 5 different brightness settings. They are rated IPX4 water resistant.
Normally it takes 1-2 weeks for your order to dispatch from Etsy.

Shop – ILLume V2 Eboard Lights

Best For – ILLume V2 Eboard Lights are very good for your longboards and skateboards if you are looking for bright headlights and taillights. Their batteries last long too. 
Board Blazers LED Underglow Lights
Board Blazers (LED's) are inexpensive, lightweight, easy to fix, quality under-glow longboard lights. They are recommended by many pro-skaters. 
Board Blazer lights come in 8 different colors and combinations.
Crazy Color Changing
Radical Red
Lighting Lime
Blazing Blue
Outrageous Orange
Boss Black Light
Popping Pink
Wild White
There is no complicated wiring or heavy battery pack to install, you just have to stick the 1 inch LED lights and twist it to turn on.
You can easily perform park tricks and grinding with these lights attached underneath near the trucks.
The lights come with a new custom designed industrial grade adhesive to ensure better attachment.
You can also replace LED lights with mini button cell batteries that can last for 30 hours. 
Board Blazers recommend using 2 sets for longboards and electric skateboards. For a non electric skateboard one pack will be enough. In each pack you get
4 LED lights
4 Specialized adhesive pads
1 Board Blazer Skate Sticker
Replaceable mini CR2032 coin cell batteries.
User Alert
Users have faced some issues with the adhesive and some also report the  under performance of lumen. There have been complaints for the lights not working properly or falling off due to the vibrations. 
In defence – we are using Board Blazer's since long and ave rarely come across these issues. Secondly with such a large consumer base – you will find some complaints in the comments. And lastly the manufacturer offers a free replacement if the lights fall off in the first 60 days after purchase.

Shop – Board Blazers LED Underglow Lights

Best For – Board Blazers LED Underglow Lights are suitable for skateboards, longboard and even e scooters. Lightweight and low cost makes them a favourable option.
Third Kind
Third Kind is a dedicated company manufacturing just lights for e bikes, snowboards, skateboards, longboards and even for strollers and musical instruments.
Skate lights by the manufacturer are quite rough and tough LED's – built to handle skating abuses and rough terrains. The lights are Designed and tested by professional and well known skaters and are the only lights endorsed by police.
Third Kind LED lights are made from a lightweight and bulletproof casing and water resistant material. They are extremely bright offering visibility up to a mile. 
The lights weigh a meagre 3.4 oz. making them very light and thin and they run for a good 10+ hours on single charge.
You get a 20inch LED strip with a 3M adhesive that can be easily attached to longboards and skateboards. 
Third Kind offers 7 colors variants in every kit and has a flash mode. You have to purchase the (micro USB) charger additionally. Only the charger cable (1 meter) comes with the kit.
Third Kind LED Skate lights cost double than Shred lights and Board Blazers. The reason is good quality and premium branding.
Although high in cost – the brand remains favourite among skateboarders and longboarders. 
We personally have tried many of their under-glows and headlights and found them amazing. What we liked the most is – the heavy off road beatings these lights were able to handle!
Best For – Third Kind Lights are pretty stable and durable which can withstand a lot of drag and vibrations. The LED's are best for off street skaters. 
I-Wonder Skateboard Lights
I Wonder lights are quite decent and medium expensive. They are small in size, easy to install and work wonderfully. 
The lights come with handlebar mounts to attach to your trucks. Because of this mounting type – you can place them on heads or on tails. You can even attach them to your body!
I Wonder claims a 210 degree beam of light covering almost all angles. If true this is quite bright. (Honestly we have not purchased this – so cannot guarantee the luminosity claim)
These LED's are believed to be powered by a COB microchip – which increases their glow, makes them super light and enables 5 different modes. 
Like the Third Kind – I Wonder lights do not require chemical batteries. They can be recharges via USB cable.
It takes 2 hours for the lithium batteries to get fully powered back and gives a range of 4 hours. 
Although USB charged lights save some dollars – but it is a hassle to keep them on charging every time you return from a ride.
The kit includes – a LED light 2 screw M5-45 LED lights along with the charging cable. You also get a fixing bracket and 2 grommets.

Shop – I-Wonder Skateboard Lights

Best For – I Wonder Lights are good for medium range riding. You cannot go long on these. If you are a night rider than go with Shred or Third Kind.
LED Longboard 65mm wheels
Lights and wheels together make a wonderful pair. They look super cool and you get 360 degrees of light all around. 
LED Longboard and Skateboard wheels remain our first choice – if you want something integrated and rolling. It is amazing why these hot wheels have still not made up to the center stage of the skateboarders market.
These LED Wheels have an amazing lifespan of approximately 10,000 hours!
The wheels grants you precision, speed and durability.
Best part – these wheels cum LED's do not use batteries to get charged – but instead work on Kinetic energy!
As the wheels of the skateboard or the longboard moves – small generators inside – converts kinetic energy into electrical energy. 
The setup consists of 4LED light up wheels, trucks, risers, bearings and Philips hardware.
It costs a little extra than other mediocre Skate Lights brands – but they are totally worth. Honestly we are a huge fan of this innovation.
Best For – LED Longboard 65mm wheels are a perfect choice for your longboards and skateboards. You do not need any extra mounts, the lights do not carry any weight and they don't require batteries! It is a win win situation.
Donbala Self-Adhesive LED
Donbala LED's are good lightweight lights you can get for your board. 
The LED lights comes with replaceable lithium batteries allowing you to use them for as long as you want. 
The lights are water resistant and can handle tough riding as well. 
You can stick these lights anywhere underneath your board. 
The lights are pretty easy to operate. It just requires manual touch to switch them on and off. 
The setup is also super easy, with no complicated wiring system. Take it out of the box – stick the lights – and you will be ready to go within minutes. 
You get 4 lights in the kit – and can chose from 7 bright colors.
Donbala's are not dedicated skateboards/longboards lights. They can be used for many purposes. You can illuminate flower arrangements in parties, put them in the ponds, and can even lighten up your bedroom for romantic occasions.
These devices do not cost much either. In fact they might be the cheapest skateboards longboards light – you can get. Performance wise the products are quite satisfactory – however how much attraction they generate is a question.

Shop – Donbala Self-Adhesive LED

Best For – Donbala Self-Adhesive LED's are multi purpose lights. You can use them on a skateboard or basically everywhere. This is what makes them good gifting materials.
Coolo LED Strip lights
Coolo are some super bright LED light strips – you can apply on longboards and skateboards. 
You get 2 strips of 5050SMD DC 5V RGB color changeable LED strips with an IP65 rating for water resistant.
The strip is powered by 4 AA batteries.
Installing these lights is pretty easy. They come with strong double sided 3M adhesive tape on all components – so basically you just need basic pasting.
Innovative part about these – is that they support bluetooth connectivity. You can change colors, sync them with music and control a lot of other features just by shaking your mobile phones!
However like the  Donbala Underglows – these are not dedicated skateboard accessories. Basically you can put these anywhere to give it a lighted border – on stairs, gardens in celebrations on cars, e bikes, keyboards and lastly your skates.
Coolo strips are quite cheap. It will not harm you financially to buy a pair of them – and basically their universal use – is going to get you the dollar.
However – our main concern is how much brightness these lights can offer. You cannot ride electric skateboards on off trails – with these strips to your side. 
You need proper skateboard lights – and these are not!
Best For – Coolo LED Strip lights are good for designing your boards – giving it a cool look. However they are no good as skateboard or longboard lights.
Dancra LED Strip Lights
Like Coolo – Dancra LED strip lights are the same with some differences. 
Dancra gets you 20 different colors and 19 lighting modes! 
Dancra Strips measure 2 x 2.62ft with around 5.2ft of total length. These strips come with 2 strands (Coolo has just one).
They come with double tape to get attached easily on to the boards. However the adhesives are not strong. Some customers complain that – the lights to fall off when riding heavily or off street.
The lights are powered by 4 AA battery but the battery box build is not of the highest quality. Some users report breaking down of the box into pieces.
However Dancra has come up with upgrades to solve these issues. They now have added a protective cover to the battery box and provided screws and other fixing pieces to attach the lights firmly to the board.
Another good thing which make these lights buyable is 24 months of warranty.
Compared to Coolo – Dancra lights cost twice. However the quality is quite satisfactory with a lot of positive comments too. 

Shop – Dancra LED Strip Lights

Best For – Dancra LED Strip Lights are good for background lighting and decorative purposes. If you want to make your decks noticeable than go for these. However you cannot rely them increase visibility on low lit zones.
CNZ LED Lights
CNZ LED lights might be the cheapest longboard lighting. But being cheap have not affected their quality. Importantly they are not LED strips like Coolo and Dancra. CNZ are dedicated skateboard lights.
CNZ provides you with a wide range of colors you can choose from. The lights come with self-adhesive 3M stickers and replaceable lithium batteries and are quite light weight. 
They are water-resistant and tough. Although you cannot count on them like the shreds and third kinds. Mounting lights are always more shock absorbents than the ones glued on adhesives.
You can get 3 types of packages with CNZ:
• 4pcs
• 6pcs
• 12pcs
Because these are underglow lights – you can use them pretty much in parties and other functions too. 
However buying an additional CNZ just for skateboards is advisable. Because excessive removing and reapplying will weaken the adhesive stregnth.
Some users have complained about CNZ lights not working properly and the batteries wearing off easily and draining quite fast. There have been issues with the adhesives too.
Many also complaint to received faulty lights.
However we ordered a few for reselling and skateboard maintenance purpose and did not find any of the above mentioned problems. 
Moreover what do you expect to get in $10 – $15 lights. You can buy 5 packs of these in the cost of one Third Kind.
So basically these are good to use as much as you can and then discard once they are off.   
Best For – CNZ LED's are good cheap skateboard and longboard lights. You cannot treasure these but you will definitely realise worth for your dollars in some months of use
How do you put LED lights on a longboard?
It all depends on the type of longboard or board you have got and the type of lights you choose.
Some lights need to be screwed to the board while some needs to be stuck using adhesive tapes. 
You can also get mountable lights (which come with mounts) that can be attached to the trunks or deck of the board. 
Mounting lights are considered to be the best. Putting them under a front trucks gives a good counter balance and they also increase the ability to do Ollies and Flip Tricks. 
You can also attach lights on grip tape of the decks. LED wheels for skateboard and longboards are also a good option. They look attractive and cover a lot of angles. 
Final Thoughts on Longboard Lights
No amount of money is worth your life and safety. And if you have decided to make your ride more safe by getting some bright and cool LED lights, then don't forget to look out for other safety gears and accessories too. More safety is always better than none.
Lastly if you want one final longboard lighting kit – to go for – then get the Shred Lights and the Third Kinds. 
They rank top in the list – and are totally worth. We are sharing the shop button below. Happy Skating!