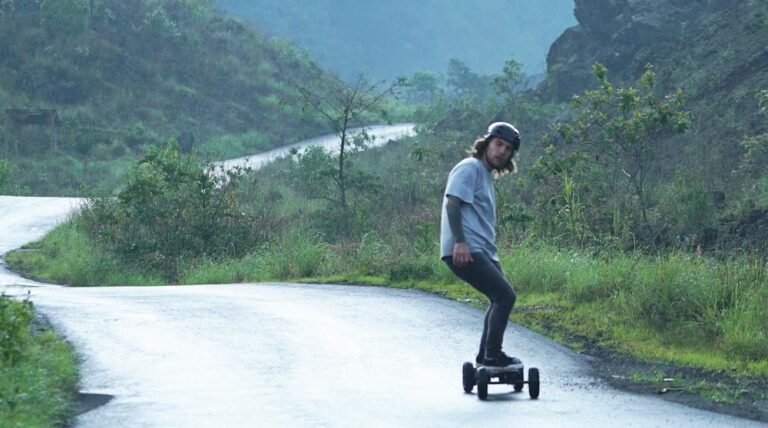 What's the Fastest Electric Skateboard?
NGV Nextboard is undoubtedly the fastest electric skateboard out there right now.
Mischo Erban holds the Guinness world record for the fastest speed – 95.83 kmph (59.55 mph) achieved on NGV in the year 2016 – making it the fastest electric skateboard/longboard globally.
He achieved this fantastic feat at the Portoraz airport in Piran, Slovenia on the slightly modified version of the electric longboard named above. (Read More Below).
Just to compare – Car riders in US – generally drive at 60 mph approximately on highways. To clock almost same on a wooden deck with 10 times smaller wheel size – definitely makes NGV the fastest electric longboard on the streets!
Note – Mischo Erban also holds another record for the fastest skateboard speed downhill – 129.4 km/h (80.74 mph) .
Quick Links – Fastest Electric Skateboards
1 – Ecomobl ET
2 – Skatebolt Breeze II
4 -Meepo Shuffle V4
6- Teamgee H20
7 – Maxfind Max 4 Pro
8 – Kyng Longboard
9-Phoenix Ryders
10 – Blitzart Huracane
4 – Azbo Y8 AT Budget

Quick Buy


Skateboard Review

3 – Moto Tec MT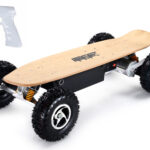 Quick Buy


Skateboard Review

Fast Skateboards
How Fast can Electric Skateboards Go?
There is not a definite number or limit to this question. On average, most electric skateboards give a speed starting from 20mph to 30mph (based on their company's description).
Of course there are boards that can go way faster than that. But the fastest speed ever recorded on an electric longboard is 59.54 mph, making it the fastest electric skateboard among all other models around the world.
However just clocking this speed once on the speedometer does not actually make one the fastest. There are many other factors.
And the reason we say NGV Nextboard the fastest electric longboard is it's consistency in outrunning all other models. We are not ranking it first on the basis of just one time record.
We have evaluated all the below factors determining speed of a skateboard – while ranking the list of top 20 fastest electric skateboards.
Motor power:
The entire speed is dependent on how powerful the motor is. The more powerful the motor the more speed you get.
Place of riding:
Mainly electric boards are used for commuting on the street or riding off-the road. So how comfortable it is to ride in both places and how consistent is the speed in both kinds of terrains is one of the decisive factors.
Design and Built quality:
As the boards are infused with some of the latest technologies, it is  bound to have high quality components and sleek designs which can carry the weight of the rider and handle the fast speeds and change of terrains. The built and design helps a lot in manoeuvring the board and keeping it stable to determine the top speed.
Rider:
This is one of the most crucial factor. Eventually in the end performance of any fast skateboard depends a lot on the rider's style and weight.
25+ 35 mph
Top 7 Fastest Electric Skateboard Models You Can Buy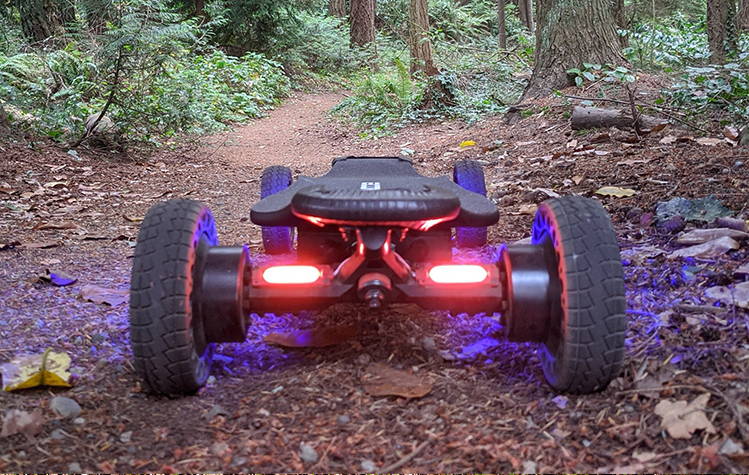 Below are review for 7 of the fastest electric skateboard models which you can buy. All of these are very popular and very much in demand because of their super speed.
With speeds reaching 35 mph and costing less than 500 dollars (except for some models) these make a great selection for young commuters as well as cruisers looking for fast rides.
Although these are not the fastest electric skateboards. You cannot compare them to NGV, Pantera and Carvon. Those belong to a different league. We have reviewed these three too – later in the post.
ECOMOBL ET 35mph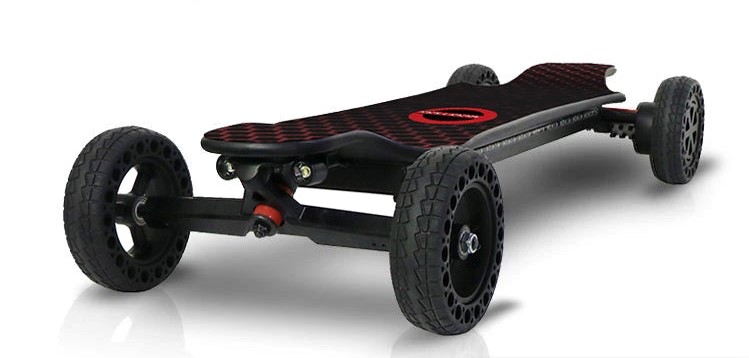 Ecomobl ET is a value for money product. Made of Canadian maple wood, the board weighs around 32 lbs and can give you a maximum speed of 31mph.
The board has a 3300w dual brushless motor powered by 36v 11 ah lithium ion battery. The battery takes approximately 3 hours to fully charge once. On a single charge you can go 19 miles. Considering the price the mileage is impressive.
On a flat surface you might definitely get fast enough – whereas on bumpy grounds – you might want to slow down. However Out Storm specifically has removable bindings to make your ride smooth and safer.
The board has pneumatic tires with heavy duty shock absorbers making hill riding and tackling bumpers a piece of cake for riders.
It can hold a weight of 330 lbs which is really good considering boards of other brands and companies.
The only drawback – heaviness of this board makes it difficult for the rider to carve turns and decreases its manoeuvrability in tight spaces. But honestly in comparison to the top three fastest skateboards – Out Storm is light.
Out storm becomes one of the favourite because of it's low price. The electric skateboard is fast, motorized yet costs less than one fourth of the three fastest electric skateboards reviewed above.
We have ranked it on top of the fast skateboards list – because it is cheaper in compare the rest yet offers speed more than the ones listed below.
Best For – Ecomobl ET is definitely a great board for uphills and even for concrete streets. The deck is durable with high specs and amazing speed. Plus – even beginners and kid skateboarders can balance pretty fine.
Skatebolt Breeze II – 30mph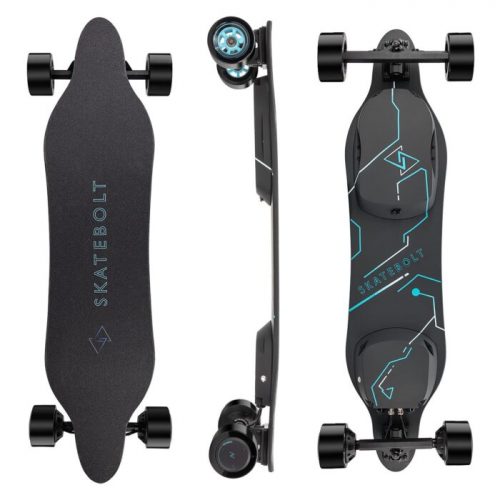 Skatebolt Breeze II is an Australian skateboard know for it's super light weight and 30 mph speed.
The deck is made of carbon flex (which makes it very light and one of the fastest electric skateboards).
Deck dimensions make it more like a longboard. This is an added benefit for longboarders who want fast electric longboards – which is a rarity,
It is attached with 2 brushless motors with custom windings. The motors are powered by a custom designed 9 cell 33v 7ah high cycle life lithium polymer battery.
The battery takes 2 hours to charge and can support upto 25 miles of range. The range is mediocre however quick charging is impressive.
Fiik Spine weighs 8 kgs approx – making it the lightest electric skateboard cum longboard! The installed battery is designed in such a way that it flexes with the board.
The board is super portable, very flexible and super sexy making it a perfect choice for youngsters and commuters.
However the speed and portability costs. Fiik Spine costs almost twice as Out Storm.
But high quality components. top specifications and universality rider base compensates for the added cost.
Better alternatives are Gromet and Pool Cleaner by the same brand. Both are pretty fast and does not cost that much.

Skatebolt Breeze II – Price and Specs

Best For – Skatebolt Breeze II is a wonderful fast skateboard. It is a branded product from a well established manufacturer. The lightweight and compact design makes it best for cruisers and commuters alike. It is also a perfect choice for beginner skateboarders looking to establish themselves on motorized skateboards.
Raldey V2 – 29-30mph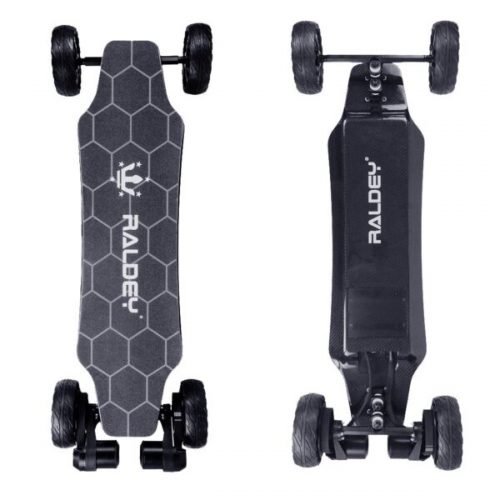 Raldey Carbon AT V2 is the recent update by the manufacturer to it's existing Carbon models. This honeycomb design skateboard is a wonderful economic skating product.
It is fast. Offering top speeds of 29-30 mph the board ranks as one of the top ten fastest skateboards.
But other than speed – this updated is known for it's T700 Carbon Fiber Deck. The deck is 100 percent Japanese and is very sleek and light. Carbon AT V2 weighs around 26 lbs and can hold more than 260 lbs! That is ten times load capacity.
Integrated with a Sanyo 36V 14Ah 10S4P battery and 2 x 1500 Watts battery, the skateboard runs hard. On a full charge you can go 30 kms and can climb terrains with a 30% hill grade.
To provide a comfortable high speed ride, the board's trunk is very wide and has large tires with shock absorbers. There are two wheel sizes you can choose from – the smaller 165 mm and the larger 195 mm. The above mentioned top speed will be generated by the large 195 mm wheel.
It takes 5 hours for the battery to charge and we believe Raldey has not put all the flexible joints in the deck. Our first negative experience with this Raldey Board was the long charging time and some rough turns.
Raldey Boards are some of the most economical skateboards. The Carbon All Terrain V2 costs less than a 1000 dollars with some heavy discount coupons available.9

Raldey Carbon AT V2 – Price and Specs

Best For – Raldey Carbon AT V2 is almost similar to the Outstorm Off road Skateboard. Overall this is a robust piece of deck for some off-road riding. Other favourable feature is lesser price with discount coupons. You can definitely own a one and everybody in the family can enjoy some fast skateboarding.
Meepo Shuffle V4 – 29mph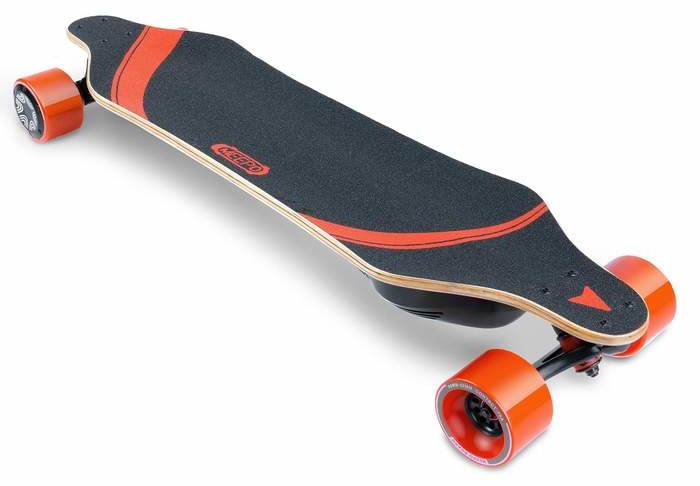 Meepo Shuffle V4 ER is a wonderful board for off road skateboarding. The Electric Mountain board has big wheels with pneumatic tires and foot straps to give you complete control off and on-road.
The board is attached with 2 high power brushless motors powered by 11ah LG battery. This motor allows the board to give you a maximum speed of 25mph. You get 30 degrees smooth uphill climbing with this board.
The best part is it's mileage on a single charge. You can go 20-25 kms and you just have to charge the battery for 3 hours!
Ultimately this is one of the fastest electric boards that considering both on street and off road riding.
Being an average brand – the mountain board does not cost a lot too. You can try this – or check out for other similar mountain boards – if your primary skating need is not for streets.

Meepo Shuffle V4 ER – Price and Specs

Meepo Mini 2
Meepo Mini 2 is a California based company pretty popular for the flagship model Phantom.
This Miles Electric Skateboard is not a top qualifier for fastest electric skateboards. It just reaches 20 miles per hour. However we have listed it because of it's low price. 20 miles per hour is good for kids and girls if they cost only a few dollars.
The deck is made up of carbon fiber. The board is controlled by a wireless remote which has a LCD screen and is very accurate
It has dual brushless motors. The grip tape is also pretty good ensuring safety of its riders.
The top speed is about 20mph and there are 2 speed modes on it. The board gives you ten miles on a single charge.
The built is amazing and the board is thin and lightweight. The board is well suited for street riding and it rides a little smooth off the road.
It is not that expensive than other electric skateboards. The deck is not heavy either. You can gift this to your younger ones – who are beginners to electric skateboarding.

Meepo Mini 2 – Price and Specs

Teamgee H20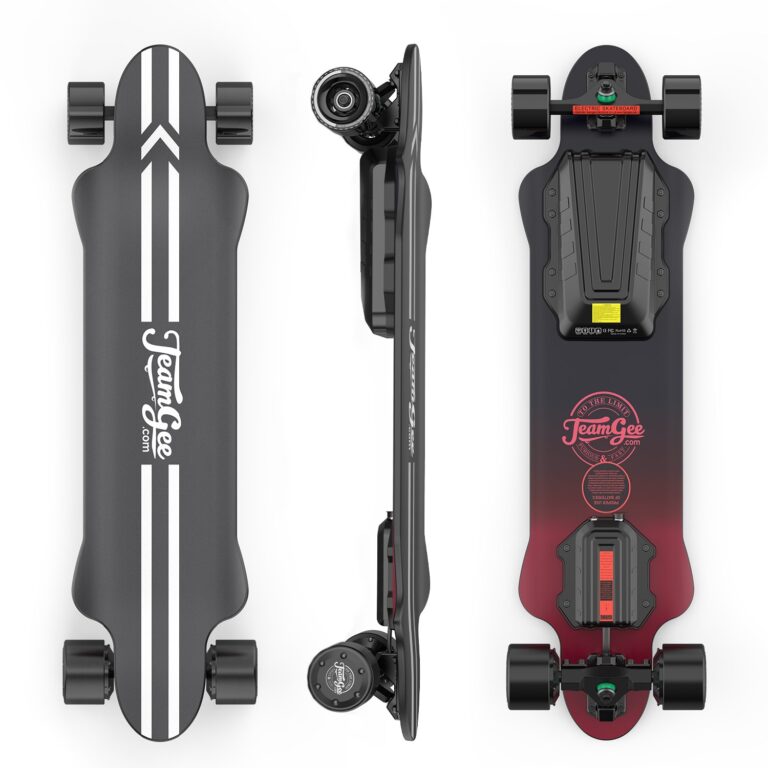 Teamgee H20 is known to manufacture some of the sleekest and most economical electric skateboards.
M1 is a great performing skate powered by 1600w motors. The board gives a top speed of 24 mph.
The deck is built with a flexible wood core and fiberglass, making it sturdier and durable. The board comes with a one year warranty.
Unlike other electric boards this board has LED'S at the front acting as headlights for better vision during night time or in dark places. Check out the photo above.
The only disappointing feature is that even though it has a powerful motor, it lacks in battery performance.  It just covers a meagre 7 miles on a single charge.
But the board has given a backup for this in the form of a removable battery, which is very easy to switch. And the best part is that the battery only takes 90 minutes to charge.
A unique feature of the board is that you can update the board through its app. And it is also water resistant.
If you want some decent and smooth riding without much worrying about the distance than go with it. It is ideal for short range commute. College goers and office commuters will not find anything better than M1.
It suits kids and espeically girl skateboarders. Low weight, sturdy built and compact size – all adds up for smaller age group skaters.

Teamgee H20 – Price and Specs

Maxfind Max 4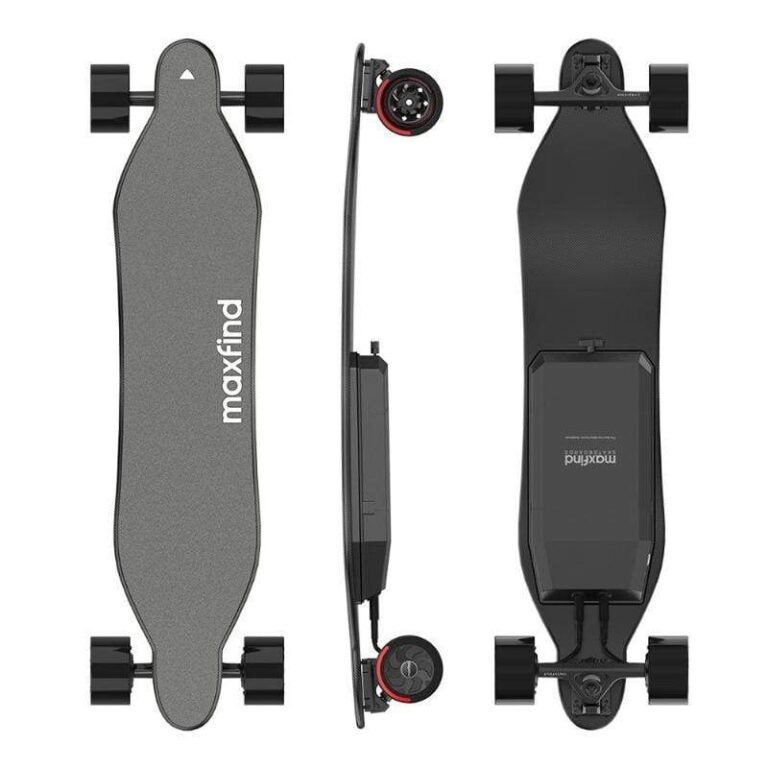 Maxfind's Max 4 Pro is popular because of its speed and low lbs. It is one of the lightest and affordable skateboard in the market.
You get a top speed of 26mph which is quite decent considering the motor watts. This speed is more than needed – withing the city, for college and office goers. It is is good for cruising as well.
Skates deck weighs meagre 16 lbs! It is hard to find an electric skateboard which can beat this. 16 lbs can support 220 lbs which is great. Most of the US population qualifies to ride.
The deck is wide and has a really sleek design. This makes the ride more comfortable and gives the board lot of flex, perfect enough for carving.
This max board packs a high torque dual 720 watts motor, powered by 158.4wh Samsung lithium ion battery.
It takes 2 hours for the battery to charge which is really good, but the most disappointing factor is that the board gives you only a 15 mile range on one charge. This is very less for those who would want to commute to far places.
The deck is IP65 certified water resistant. The board can handle water splashes pretty neatly, but won't be able to survive submerged under water or even puddles.
One necessary part that MAXFIND MAX-4 lacks is wide wheels. Better tires and wheels would have increased it's speed by a minimum of 4 – 5 miles.
Overall the board is a perfect choice for urban commuters. We should say Urban commuters looking for speed.
Maxfind Max 4 is a great buy in less than 600 dollars. The skateboard is electric, it's fast and comes with 270 days of warranty! We doubt you will get fast electric skateboards cheaper than this.
If you purchase now – you get a 10 dollar spring sale discount too.

Maxfind Max 4 Pro – Price and Specs

Best For – Maxwell Max 4 Pro is a decent economical next to cheap electric skateboard. It is light on the shoulders and even on pockets. As a beginner skateboard it is a great choice. However if you are looking for a good range to cover, with better specs and more power than check out XTND or the Evolve Bamboo GTX.
The Remaining 10 Fastest Electric Skateboards
There is no difference between the 7 fast skateboards reviewed in length above and the remaining 10 which we are going to review below.
These too are quality electric skateboards featuring above 22 mph of speeds. However they are not advertised enough and hence are not so much into skateboarders notice.
The below  reviewed skateboards are economical too. And importantly these are durable. Not any scrap built board which will be broken into pieces by tiny smashes and blows.
We have reviewed them briefly. For details, specifications and final On Road Price click the green tab at the end of every product.
KYNG Longboard and H5
Kyng is a real budget friendly high powered longboard. It is also known as Tornado 2.
The make of the deck is wide and flexible enough to give the rider a comfortable ride and good carves. It is made of 9 layers of Canadian maple wood.
The board grants a top speed of 25mph and a maximum range of 18.6 miles. It has 500w dual brushless hub motors, powered by an astonishing 36v, 6600 mah lithium Samsung battery. The battery takes 3 hours for a charge.
The board is light approximately 20 lbs and can carry some impressive 280 lbs. It comes with 2 speed modes.
This fast electric skateboard allows you to climb uphill 30 degrees. It is also waterproof and has rear brake lights.
Apart from this it has some drawbacks too like its abrupt braking system, lags in the power.
The wheels attached to this board are also not of very high quality and we believe them to tear off.
Overall Skatebolt Tonado B is a value for money skateboard offering a decent budget friendly ride. The low weight makes this option open for a large consumer base too.

Kyng 26mph – Price and Specs


Kyng 22+mph – Price and Specs

Phoenix Ryders Dragon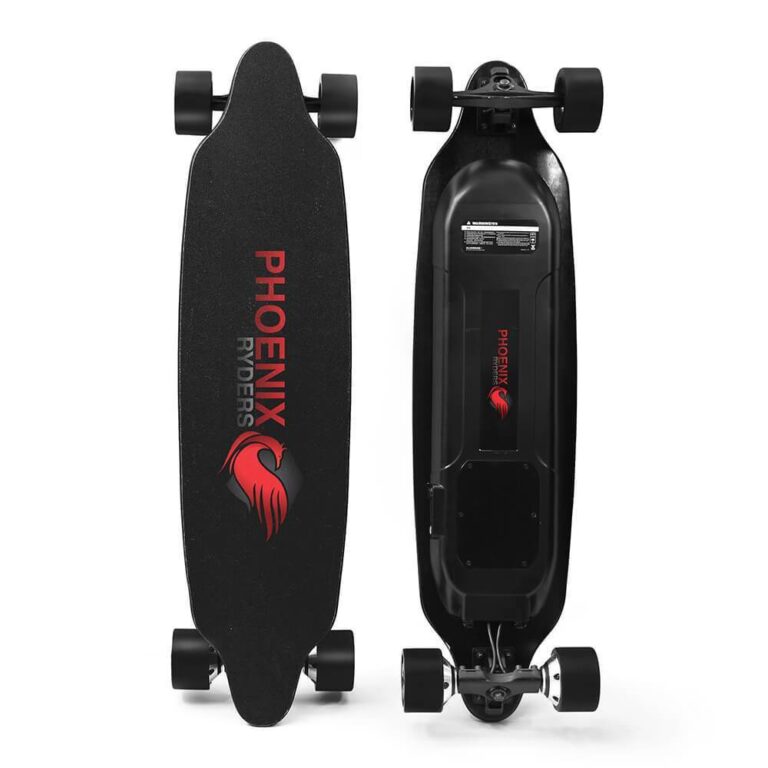 Made from 8 layers of north-eastern maple, Phoenix Ryders P6 is a highly durable and sturdy electric skateboard which can hold 275lbs of weight.
It comes with 700w dual motors powered by high performing battery. It gives you a top speed of 25 mph and covers 18 miles of distance on a single charge. This board gives a climbing range of 25 degrees.
There are LED's attached to help you ride in the dark and many such non essential luxury features – and all this at a very low price.
This is probably one of the most cost effective electric boards costing under 300$!
If you are looking for some good performance skate and have a limited budget then check this out.

Phoenix Ryders Dragon P6 P6 Pro – Price and Specs

Blitzart Huracane Longboard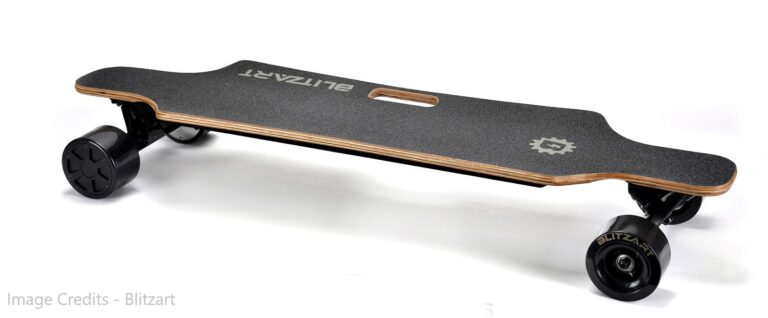 Blitzart Huracane Electric Longboard has a nice concave and the aesthetics are perfect and well balanced. It is quite light weighing around 7.75 kg.
The board has a 1200w dual motor powered by a 29.4 v 6.6ah 18650 LG lithium battery.
The max speed on this board goes up to 27 mph. The deck is made of 7 layers of bamboo and 2 layers of fiberglass.
The wheels are 83 mm PU 85a. The battery is flexible to flex with the board. It is a high quality board and is pretty sturdy and not that flexible because it has 2 fiber glass layers.
This is a good choice if you want to flex around the street at higher streets and do a little off-the road riding as well.

Blitzart Huracane – Price and Specs

AZBO Electric Skateboard
AZBO is a simple but awesomely powerful board. It is pretty lightweight – weighing around 18 lbs and can carry up to 268 lbs!
It runs 25 mph which is wonderful speed – by the 2000w dual motors.
The board has a 36v 6.6ah lithium battery that can be charged in 2 hours. It gives you a decent mileage of 19 miles.
One of the board's best feature is its grip tape which ensures a safe ride.
This is a good board for you if you are on a limited budget and looking for short distance commutes, and also to carry your board with you all the time.

AZBO Electric Skateboard – Price and Specs

Haloboard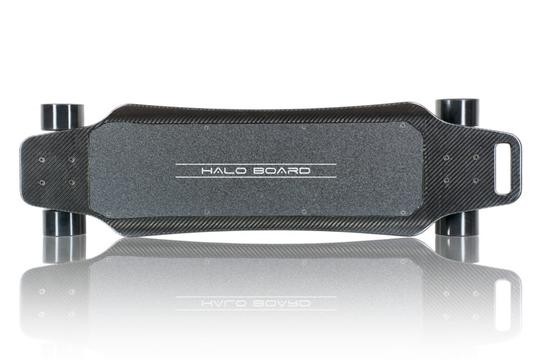 Haloboard or Halo Board with a space is a premium quality board costing under 1000$.
It is one of the best electric skateboards right now in the market. The board packs a staggering 3000w dual motor system.
The deck is purely made from carbon fibre making it one of the lightest boards weighing 14 lbs.
The top speed on this board is around 22 mph which is pretty decent considering its powerful motors.
The distance covered by this board on a single charge is 12 miles. This is where we believe the Halo lacked and is the primary reason it is not listed in the top ten fastest electric skateboards.
The board is designed taking minute details into account. All the necessary equipment are included. For example the handle on the top of the board intelligently placed for better handling.
The board comes with a fire safe battery. The wireless controller of the board is also one of the best remotes. It runs smooth on both street and uphill off the road.
If you have a good budget and are looking for a sleek and intelligent design and high quality then be assured that this board will do justice to you.

Halo Board – Price and Specs

MotoTec MT-SKT-1600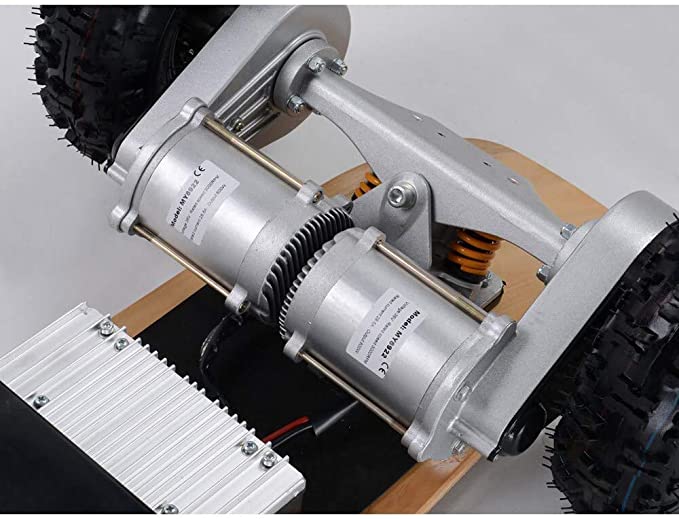 MotoTec MT SKT is a dirt electric skateboard. It is one of it's kind. At a first glance you wouldn't think of this as an electric skateboard at all. However it is a beast to ride upon and does not cost much.
It is basically manufactured for off-road rolling. This is evident in its pneumatic rubber tyres.
The dirt skate comes with a powerful 1600w dual motor system. With this board you can achieve a maximum speed of 28-22mph.
The board weighs 71 lbs considering its make of 12 layers of maple wood. But even then it can only carry a weight load of 260 lbs. The deck is 46 inches long.
The motor is powered by a whopping built in 14000mah battery but can last upto a meagre 10 miles.
Its bulkiness and heaviness becomes a drawback as it is difficult for the rider to turn the board and makes it impossible to carry around.
It is very disappointing that this much of battery juice gives such less mileage. The remote is also not of good quality.
But other than these – the board is super durable, affordable and offers a good ride. It is a nice off-the road board with good power and control.

MotoTec 1600W Dirt Electric Skateboard – Price and Specs

BOOSTED Stealth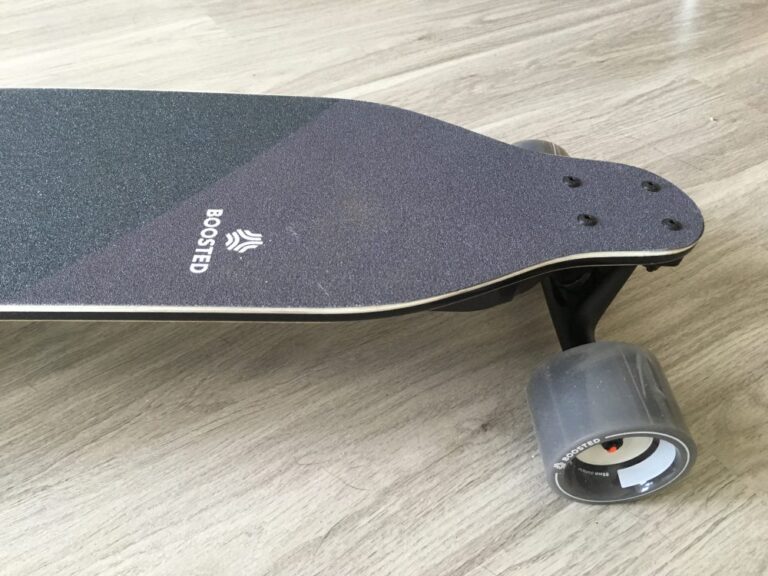 Boosted Stealth is a top of the shelf product from a well-known brand Boosted. Boosted Boards stand apart from other decks – in terms of quality, performace, design and durability.
Boosted Stealth is a pretty light board weighing 17 lbs and can carry up to 250 lbs!
It features an impressive 2100w motor. The top speed you get on this board is 24 mph.
The motor is powered by a 199w rechargeable battery which can be charged in only 90 minutes.
The board gives you an average mileage of 14 miles on a single charge. As a street skateboard designed for college and school goers 14 miles are more than enough. You can easily cover your commute to and fro.
Some of the notable features of this board are its
Robust and flexible deck.
Wide and good grip tires for riding off the road and high speeds.
Quick and responsive acceleration.
5 speed modes.
A unique reverse mode so that you can easily control your board and manoeuvre it in tight spaces.
This board is really good for street riding and small distance commuting. However being a Boosted Board it comes with a heavier on pockets price tag.
The durability and the riding experience is suffice for the extra dollars you pay.
Boosted stealth has a great sleek design and looks like a luxury ride.

Boosted Stealth – Price and Specs

Xtnd Fast Skateboard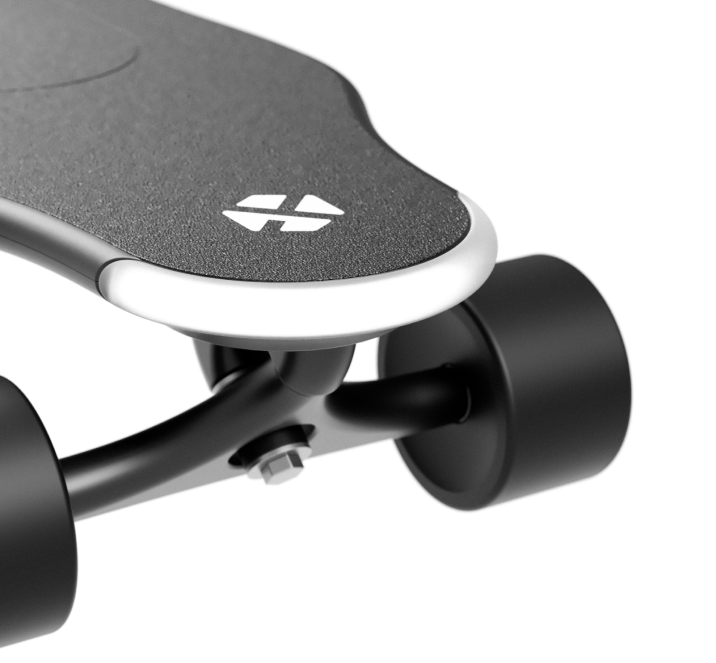 XTND – titled "the most advanced electric skateboard" justifies itself. Mostly we are counting it in – in the fastest electric skateboards list – because of crisp features and not for speed (Although it offers quite decent speed too).
The look is elegant, the touch is wonderful, the colors are vibrant and the finishing is smooth, Other than that – technologically the electric skateboard is a marvel!
It offers touch screens like experience on skateboards! 
XTND is one of the first electric skateboards to be introduced with AI intelligence. With this impressive technology the board gradually adapts to the riders style and learns the rider's technique.
Made from Nylon 6 and carbon fibre – the skateboard is really lightweight weighing only 13.2 lbs and measuring 11.3″ x 38.0″ x 5.7″.
It works on 2 custom made in wheel motors powered by 12.5 mi battery. The battery only takes some 60 minutes to fully charge which is pretty impressive.
XTND's maximum load capacity is 100 kgs. You can look at this as the only negative – as the low load capacity makes the board less approachable for heavy weight riders.
It offers 28 mph of high speeds. If it would have been a little faster – it would be the best money can buy.
The skateboard has many advanced features. You will not get these – even in some of the premium brands.
It offers electromagnetic locks, a haptic and visual interface, fall prevention system, magnesium trucks, high carbon steel axles, fire-retardant battery case, non-abrasive anti-slip grip and a hydrophobic coating.
The features listed above are only a few!
You also get a 14 day return period if it does not fit your style. However we guarantee that returning would be very unlikely. In fact you will just fall in love with it's smartness, comfort and ease of operations.
Lastly and most importantly – the skateboard costs around 2000 dollars, A little expensive but totally worth it. In fact – if you evaluate feature by feature cost – a skateboard of the same specifications by NGV or EVO or a Boosted Board would have costed a minimum $5000!
The payment policies are also pretty flexible. You can even select an yearly subscription plan where you get a new board every year at a minimal cost. It's not just the skateboard – in fact the policies are also advanced!

XTND AI Intelligence Skateboard – Price and Specs

Best For – This board is the best – whoever you are. It is the best electric skateboard for commuters, cruisers, kids, youths and even girls and women. Designed by tech enthusiasts the skate offers a hassle free riding experience at faster speeds.
Evolve Bamboo GTX Street
Bamboo GTX It is one of the premium quality eboard manufactured by one of the most popular and reputable e-skateboard manufactures in the market – Evolve. It's manufacturer is one of the reason it ranks among best fastest electric skateboards.
You get 26 mph of top speed. Evolve like Maxfind has designed this model for fast street riding. You can use this as perfect hassle free commuting mode for colleges, work and neighbourhood cruising.
It you want +35 or 40 mph skateboards than select the first three or check out out post on best all terrain electric skateboards.
You get 4 speed modes with a responsive braking and accelerating system. The brakes are wonderful and even the acceleration is crisp. We felt like on a motor bike as we rode Evolve Bamboo for the first time.
The deck is made from bamboo making it one of the most flexible yet high speed electric boards. And this is the reason it is tagged as Bamboo.
The board is powered by a 36v 10ah lithium ion battery and motorised by 3000w dual hub brushless motors. On a single charge the board lasts for 31 miles, making it excellent for long rides.
The battery takes up to 5 hours to charge which is expected. However the riding experience is greatly enhanced by powerful motors.
Bamboo GTX weighs 19 lbs and can carry a maximum weight  of 220 lbs! You will not get such lightweight skateboards by premium manufacturers.
Bamboo GTX offers a great street riding experience. However it is a bit expensive considering a wooden deck, high quality skate parts and a top brand name.

Evolve Bamboo GTX Street – Price and Specs

Best For – Evolve Bamboo GTX is a high quality board. It gives you great mileage and is wonderful for street riding and even initial cruising. It's low weight makes is perfect for male and female skateboarders alike. If you can afford it and are looking for 25 + mph than this is the first thing you should settle for.
Landwheel L3
Landwheel L3 X is not a complete electric skateboard – it is a conversion kit! Most skateboarders are confused as whether it being a complete.
However you need to bring your own deck to convert it into an electric skateboard.
L3 X is a wonderful kit offering speed and mileage all – at a decent price.
It goes 28 mph which is perfect for short and long distance commuting and cruising. The maximum range it offers is 7 miles on a single full charge. Not pretty attractive for cruisers but average for commuters.
L3 X kit comes with  2200W dual brusheless hub motors and a detachable 3200mah 115Wh battery and is controlled by a wireless remote. The battery is water resistant.
The Click in Swap Out Battery concept is great. It makes changing batteries in the middle of roads and highways trouble free. And – the batteries weigh very less. You can carry two three extras along.
The controller is very smooth and easy to use. It uses a spring loaded toggle. Because of this braking and accelerating becomes much easier and smooth.
The conversion kit can pretty much all sizes of decks – however we recommend you install this on a heavy quality deck.
Primarily because your deck should be able to handle the extra weight of the battery and the motor. Secondly the kit costs a lot of dollars. If the deck gets damaged – not a problem. But if it damages electrical parts – than that can cost hundreds of bucks.
An electric skateboard (having Landwheel L3 X conversion kit) is a good option for commuting small distances within your city or campus. if you have enough batteries with you, you can use it for long distances as well.

Buy Landwheel L3-X Gen5 Electric Skateboard Conversion Kit

Best For – L3 X is a pretty decent electric skateboard conversion kit. It makes a fair deal for the kids, girls and commuter skateboarders. You can 28 mph of speed at a decent price!
Top 3 Fastest Skateboards
Top Fastest Electric Skateboard in the World
Want to ride at high speeds and have more thrill? Choose any of the Fastest Electric Skateboard Models reviewed below. These three are fast – and also available for you to buy. However there are faster skateboards than these three too – which we have reviewed later in the post – because they are out of reach of the masses.
The post has 20 electric skateboards – sorted chronologically from fastest to slowest.
We have considered all the above factors too – while including the skateboards in the list.
Basically the list does not just feature fastest skateboard models – in fact – it includes the best performers on streets and off roads having a great consumer experience.
NGV Nextboard – The Fastest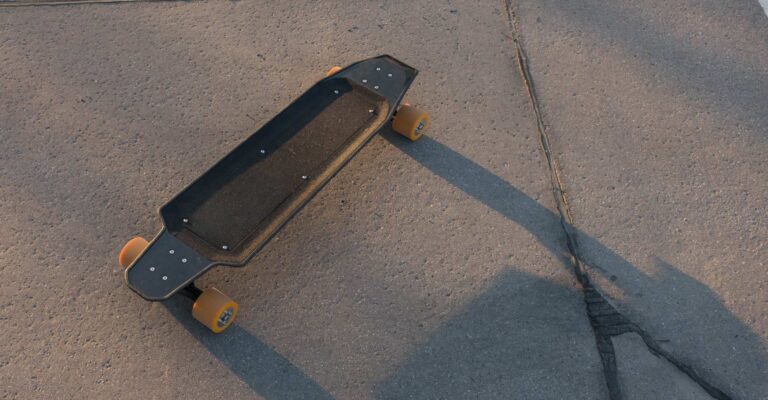 NGV Nextboard is not just the fastest electric skateboard – it is also the best and the most durable and lightweight board by NextBoard.
NEXTBOARD – all caps – is a company based in Slovenia – a small country – making a huge name in the skateboarding world for itself.
The company stands out for speed and high quality components along with their trademarked technology NGV Electric Drive.
NGV – the one included in Guinness – is ideally the fastest electric longboard – but because there is no other skateboard reaching the same speeds – it has been titled as the fastest electric skateboard too.
Although the longboard clocked – 59 mph, Nextboard claims 68 mph of top speed with with 12S battery. We don't disagree. With the motor power, the battery and the streamline design this seems to be a realistic figure. They might not be bluffing!
However as you downside the battery potential – the speed declines settling on up to 22 mph if equipped with a 4S battery.
The board packs a lot of high quality components. It has four 2000watt scorpion motors inside each wheel powered by Tattu 6s batteries.
These batteries take 1.5 hours to charge and gives a range of up to 6 to 9 miles.
NGV offers a 25% hill climbing gradient – which again is wonderful.
The deck is made of high grade custom moulded carbon fibre which is extremely light. The deck measures just 800 grams and the overall longboard 7 kgs! In comparison to other fast longboards weight – this is surprising.
Trucks and Wheels are top notch quality materials. NGV comes with Bear Kodiaks 160mm-180mm trucks and 85 mm urethane mix wheels.
NGV Nextboard costs 2995$. Although a little high on the pockets – the board is worth every penny.
On the contrary – our price analysts suggest it to be cheaper in comparison to other premium brand skates like the boosted board. Note – the above figures do not include the battery price.
NGV Electric Longboard can support 140 kgs of rider weight – making it fit for everybody in the family. We might sound sugary – but these are great weight support figures. Most boards support 100 to 120 max.
NGV is unchangeable fastest electric skateboard and also features premium high quality skateboard parts making it safer. In one sentence – if you are looking for quality and speed then go for it.

Check On Road Price and other Specifications for NGV Nextboard

Best For – NGV Nextboard makes a wonderful buy for heavy and not so heavy off road skateboarders alike. It's low weight and safe parts make it ideal electric longboard for young and female skaters too.
Carvon EVO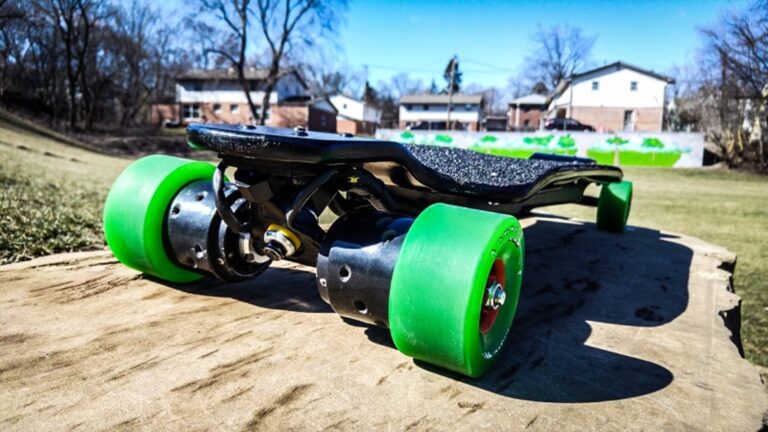 Carvon EVO is an innovative board featuring bold designs and attractive colors.
EVO is the brain child of Carvon LLC located at North Hollywood, Los Angeles, CA. Their goal is to build future products for coming generations.
Carvon EVO is one of their next generation electric skateboard design – featuring technologically advanced parts and skateboard accessories.
The deck is made from high quality Landyachtz Evo, which can carry weights up to 275 lbs.
EVO 4WD is loaded with 10 kW 4 V4 speed drive racing censored motors powered by Samsung 30q batteries.
The direct drive motors are integrated into each wheel generating power to reach 50 mph of top speeds.
Batteries enable 25 miles of single charge ride which is moderate range of mileage.
Carvon deck is installed with full urethane wheels making the ride comfortable and stable.
Although the motors are really silent the board is a little heavy. You get a silent ride but carrying the board is not easy as the NGV or other light weight boosted boards.
EVO is wonderfully designed. All the cuts and carves of the deck – enhances the skateboarding experience – and escalates the board.
Carvon LLC launched EVO and REVO 4WD on kickstarter.com to initially raise funds for these futuristic boards. And till this date they are doing great.
Both the electric skateboards received a lot of appraisals and positive responses.
Retail price for Evo and RENO 4WD is expected to sit around $1,499 and $1,999 respectively. Comparing to nextboards this is quite cheap.
However this is a prediction. It all depends on how their future production persists.

Pre Order CARVON EVO and RENO 4WD from kickstarter.com

Best For – Carvon EVO is a wonderful futuristic electric skateboard. The design and specs are great for off roads. Both EVO and REVO are good for cruisers and professional skateboarders. However we doubt how they will perform for females because of a heavy deck.
BajaBoard Pantera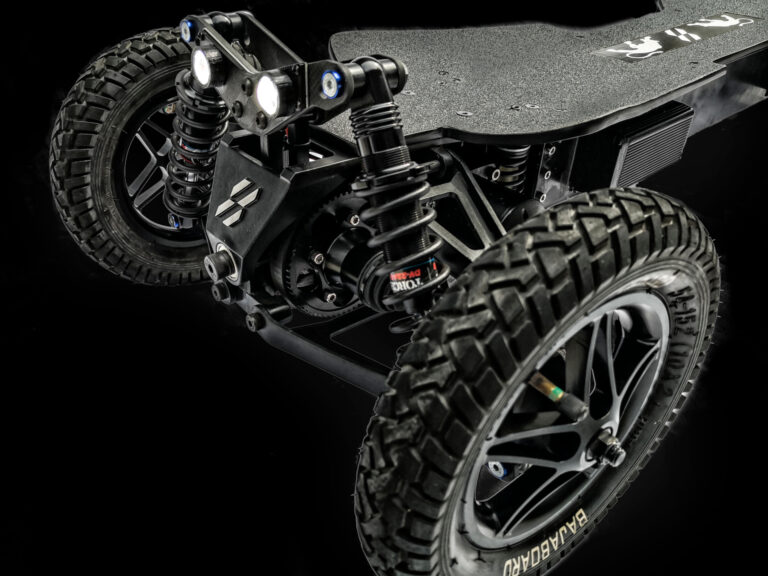 BajaBoard is an Australian skate brand specializing in custom made electric boards for off-road riding. Pantera is their signature model.
In pitch black with anodized alloy rims the deck looks killer.
BajaBoard Pantera comes with 3.5 kilowatt motors, powered by a 10s, 1.1 kWh battery and 4 110amp motor controllers.
The total output of power from this board is around 10.7 horsepower which guarantees a top speed of 70 kmph.
On a single charge you will be able to cover a distance of 50 kms or 31 miles.
Motor controllers enable high speed acceleration with better stability and torque. The board goes from 0 – 3 mph in less than 3 seconds.
Strong metal alloy suspensions make riding on bumpy places quite comfortable.
The only issue is increased lbs. Pantera weighs 26 kgs which makes it a little bulky and heavy. You cannot carry it around pretty easily.
Bajaboard is the perfect choice if you are into cruising bumpy and rough terrains at high speeds. Overall Pantera's a marvellous feat of technology and innovation.
However it is not a cheap motorized skate. There are two Pantera variants – one priced at $3500 and the other at $3000. The board lies somewhere close to Nextboard NGV – in which you can get two Carvon EVO.
But considering the speed of EVO – Bajaboard is faster although both list 50 mph of top speeds. And when pricing and listing the fastest electric skateboards even the slightest push ahead matters.

Check BajaBoard Pantera's On Road Price and Specifications

Best For – Pantera suits only experienced off road skateboarders. The checkout page itself mentions – "Not for Beginners". The board is not ideal for females and kids either.
Which One?
Which of the Fastest Electric Skateboards?
These are some of the fastest and best electric skateboards for you out there. We have already made 3 categories for simplicity. However if you want one best – then – go with
NGV NEXTBOARD – The Fastest Electric Skateboard if you are looking for super fast speeds
Evolve Bamboo GTX – if you want speed, performance and a long life quality board.
or with Azbo Electric Skateboard – if you want a decently fast, not so pricey and moderately light skateboard.
But before you go for that thrill remember to get all your safety gears in place, because it surely will be bumpy ride. And whichever board you choose in the end it will be up to you to find out the fastest speed you can clock on the skate.
Good luck smashing some records!
The Thrill in Riding Fast Skateboards
The entire concept of an electric skateboard is quite fascinating.
Who would have predicted that technology would come up with such a wonderful and thrilling addition to the sport?
The world saw the first electric skateboards hit the markets in early 2000's, and the rest they say is history.
Today electric skateboards are as popular as the standard skateboards and trending.
They are in demand because of their speeds. As the demand is rising – skateboard manufacturers are crafting record breaking fast skateboards.
The portability which a good electric skateboard offers is incomparable to other commuting options – so now there is only one parameter left for skateboards to replace other commuting wheels – speed. Fast skateboards are now challenging bikes and cars – especially the electric and motorized models.
"Speed thrills but it kills". This phrase is not to discourage you from riding one. We just want to caution you to be very well protected – before hopping on any of the fastest skateboard models you choose.
Wear a helmet, knee pads, skateboard shoes, glasses, gloves and other necessary protective guards.
Better be protected than sorry.