Demands of good electric skateboards are on a rise – because they offer several advantages over other personal mobility commuting options.
The markets are flooded with premium electric skateboards – making it difficult to select the best one which is suited for you.
Below are reviews for 15 of the Best Electric Skateboards categorised according to several factors and parameters – you need to consider before making a purchase.
Editors Choice – Best Electric Skateboard
One of the fastest boosted board powered by 2000 W Motor.
It's performance and design will answer why are boosted boards so expensive! # No Cheap Electric Skateboard
Best Electric Skateboard for daily commute and cruising. A heavily reviewed and one of the most bought e deck. Worth every penny spent on it.
# Best Electric Skateboard Under 1000
Swagskate is the best budget electric skateboard and a top choice for young skaters. It is a top trending board on Amazon
#Swag Boards Amazon
Best Electric Skateboard – Top 15
Are Electric Skateboards worth it?
Briefly….There are two factors to consider before you buy an electric skateboard less than 1000 dollars (minimum)
First – If you are looking to get yourself a machine for daily commuting then electric skateboards are worth your money. It also saves your commute time as you don't have to wait in the traffic. 
Second – If you love to cruise in the open, then e-skateboards are the best choice. They offer auto skate and speed!
Other than these two factors – there are a lot of pros like – no parking issues, easy mobility, zooming in heavy traffics and a lot of looks and winks. After all it is a self propelled skateboard! – But we are not going in length discussing the pros. 
In the end – among all other commuting devices an electric skateboard is a good money saver and an eco-friendly option which offers personal mobility.
Especially during these crucial times when global warming and viruses like Covid-19 are at their peak!
Best Electric Skateboard?
What is the Best Electric Skateboard on the Market?
Since the inception of electric skateboards in the market, it has gained much popularity amidst speed aficionados and daily commuters with a love for skateboards. 
With every new e-skate in the market, the decision to crown the "best e-skateboard" becomes tougher and tougher. There are various options with amazing specs and features that makes the decision almost impossible.
In our opinion you cannot single out one electric skateboard and believe it to be the best one among all other boards. Because every board has its pros and cons – and none of them is the unsinkable titanic of electric skateboards!
Switch Magazine has put together a list of some of the genuinely best electric boards in the market. You will find opinions – and even a small "best for" tag – along with each product review.
Before your purchase – first you must consider some important factors which  constitute an electric skateboard. And secondly also determine where you rank yourself as an skateboarder (a beginner, an intermediate or a professional).
At the end of the post we have listed all the necessary factors. Consider your skateboarding experience yourself to judge how better you are in performing the action sport (we cannot comment on that).
Finally it is up to you to decide which one among the mass – is actually the best electric skateboard for you.
Top Electric Skateboard Reviews
Buyer's Guide/Reviews for Top 15 Electric Skateboards
Below we have reviewed the selected 15 electric skateboards. The reviews will give you details about the motor, battery, wheels, deck material and other technological features about the products. 
We have also highlighted weight and size of the board with an estimate for how much lbs these boards can support. An insight about their price range is also mentioned.
If you want to get more information and the exact price about these e decks then click the green button – provided at the end of each review. 
The ranks are from lowest to highest. If you want to read about the top ranker in the best electric skateboard list – then directly drag to the very bottom of the page.
Best of Luck choosing the most appropriate board for yourself.
Koowheel Electric Skateboard​
Made from 7 layers of hard Canadian maple, the Koowheel is a durable and flexible board. It is powered by 350w dual hub motors and gives you a maximum speed of 24.8mph. 
A lot of customers are fascinated by the speed and noise less commute the electric board offers. However we doubt the durability of the board.
The Koowheel comes with replaceable polyurethane wheels which is good if you are a daily commuter. Polyurethane wheels last long and are anti corrosive.
Koowheel offers you two riding modes – the advanced and normal. In the advance mode you can go up to 24mph and in the normal mode you can go up to 18mph. 
Riding uphill with Koowheel is really great as it grants 25% range of hill climbing. 
The battery takes approximately 3 hours to charge which is decent looking at the specs this board offers. The maximum distance this board will take you on a single charge is an impressive 18 kms. 
One of the shortfalls of this brand is the customer service. It isn't very prompt and responsive.
However the positive is – it comes with a Koowheel bag and two additional grip tapes – so basically saving you some bucks..

Check final price for Koowheel Electric Skateboard

Best For – Koowheel Electric Skateboard is good if you want to cruise and ride uphills. It is fast and an affordable electric skateboard you will find below 500$.
0
%
Durability
0
%
Design​
0
%
Speed​
Backfire G2T​
Backfire is a huge brand – manufacturing a lot of good quality smart skateboards. Under Backfire you can select G2T (the one reviewed here) and can even go with G3 Plus, Ranger X2 and the latest Zealot.
All of them are sturdy motorized skateboards – having a decent fan following.
G2T is a time tested model – which has all the basic and some of the advanced features. 
It offers a maximum range of 15 miles and can speed up – to 28mph. 
The deck is made from 8 layers of hard maple wood. It is flexible and has a concave shape to grant better stability.
Almost all Backfire skateboards come with two modes. Sport Mode which offers 12Miles of cruise and an Eco Mode which gives you 15.5Miles of ride.
This model does not feature Polyurethane wheels but in comparison to Koowheel – the board and accessories are pretty durable and strong.
Backfire G2T is an economical buy. It is  one of the best e-skateboards under 500$.

Check final price for Backfire G2T Electric Skateboard

Best For – Backfire G2T like Koowheel – is a budget electric skateboard  which is decent for long distance commuting.
0
%
Durability
0
%
Design​
0
%
Speed​
Meepo V3​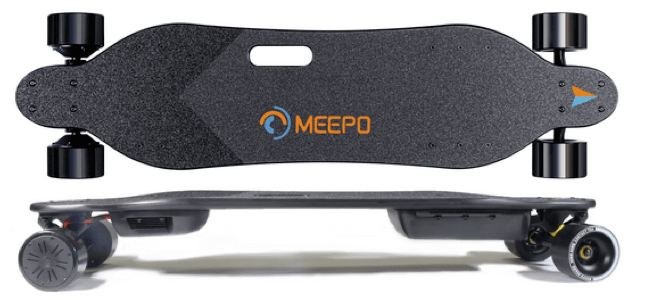 Like Backfire – Meepo too is a trusted brand and has been in the skateboarding market since long. The manufacturer has some of the high performance skateboards under its production line – like the mini and the AWD-PRO.
Meepo V3 is a high quality Chinese board that delivers a top speed of 28-29mph. It takes you to a maximum distance of 11 miles on a single charge.
This motorized skateboard is powered by two 540w powerful hub motors.The battery on this board takes approximately 2 hours to charge.
The deck is made of 7 layers of Canadian maple and has a decent flex. It comes with 3 different types of bushings to give you smooth carvings and stiff carvings – both.
The deck weighs around 16lbs and can carry weights up to 300lb. There is a handle on the deck – for carrying the board around.
The board comes with 90mm wheels which are quite good for rough terrains.  It gives a 30% hill climbing range.
It uses a LingYi ESC, giving it a less smooth control compared to the Hobbywing ESC. But considering the smart board price – we thing meepo is generous to put Ling Yi.
Meepo V3 is a budget electric skateboard – costing you less than 500 dollars. Considering the brand and customer service – it is a pretty decent product to invest in. Hopefully you will not lose money.

Check final price for Meepo V3 Electric Skateboard

Best For – Hill climbing and cruising on rough terrains with Meepo V3 is entirely incredible. The board is quite durable too making it a good buy.
0
%
Durability
0
%
Design​
0
%
Speed​
Blitzart Huracane​
Blitzard Huracane is a skateboard cum longboard. The same product is also reviewed in top ten electric longboards article.
Made from 6 layers of maple wood encased in 2 layers of bamboo, the BlitzartHuracane is a strong and flexible board. The deck is 38 inches long and weighs 13lbs and can carry loads up to more than 250 lbs.
The board is powered by 350w hub motors. You can reach a top speed of 17mph with a maximum range of 8 miles on a single charge. 
Huracane runs on a 36v 4.4ah lithium ion battery that takes only 3.5 hours to charge.
It offers different speed modes and comes with regenerative braking system – making it a smart skateboard.
This board is that it can also be ridden manually. You will not find this in other skateboards. In fact the boards reviewed earlier (meepo and backfire) might break down if you try to skate manually or perform tricks.

Cost wise, it might be the most inexpensive board of this article. It falls under 300 dollars range and considering its advanced features it is a must have. 

Check final price for Blitzart Huracane Electric Skateboard

Best For – Blitzart Huracane is a skateboard/longboard. If you are not speed fanatic then you go with this real budget electric skateboard.
0
%
Durability
0
%
Design​
0
%
Speed​
Mototec MT-SKT
Mototec MT – SKT is a powerful off road skateboard, made from maple wood. and pretty large tires. (You can see the wheels size in the pic.)
The deck runs on 800w dual belt drive motors. (That is 1600w of power!) You can get a top speed of around 22mph.
The board is extremely heavy – weighing at 77lbs. It's deck can hold an impressive 260lbs. It also features an anti-lock braking system.
On a single charge this board gives you a max distance of 10 miles. The lithium ion battery takes around 3-5 hours to charge. 
Many articles review Mototec as an electric penny board or a dirt skateboard which is true. 
It is actually designed for off road skateboarding and hence features 10 inches inflatable tires. You might not get this diameter size in any other electric skateboard.
Two good things about this motorized board – is it's price and durability. The board can handle a lot of rough terrains without any wear and tear. And it's super economical. 
Generally off road electric skateboards cost a fortune because of heavy deck, super sized wheels and strong motors Even we are surprised how Mototec manages to give all this under 650 to 700 dollars

Check final price for Mototec MT-SKT Electric Skateboard

Best For – Mototec MT-SKT is not for on street riding or daily commuting. Purchase this – only if you want a good off road skateboard cum dirt board.
0
%
Durability
0
%
Design​
0
%
Speed​
Teamgee H-20
Teamgee is a popular skate brand manufacturing some of the best electric skateboards especially for adults. In fact two of their models are reviewed in the top 15 itself. 
H-20 is one of the best e-skateboards in the market. It is also one of the most lightweight and durable models. 
The deck is made from 8ply of Canadian maple and 1 layer of fibre glass. It has a W concave design allowing it to absorb direct wind-force and mitigate the pressure for consistent top speed riding. 
H-20 offers 4 ride modes and 4 braking modes and can reach top speeds upto 26 mph – making it one of the fastest electric skateboards in the market. 
It has an IP54 water proof certificate and can survive rain and water splashes. The board should not be submerged in water – we highly doubt if it can survive a couple of minutes inside the liquid or not.  
H-20 is again a budget skateboard. It is is slightly expensive than other average electric skateboards. But against the price – it offers a lot of robust technological features – the above boards lack.
You can also go for H-20T or H-20 electric mini skateboard – (if your budget can cover). Both offer super portability. 

Check final price for Teamgee H-20 Electric Skateboard

Best For – Teamgee H-20  is  a mid price board. But it is excellent. You can invest your money in it – if you are looking for daily commuting.
0
%
Durability
0
%
Design​
0
%
Speed​
Teamgee H5
H-5 is from the same manufacturer – Teamgee. With a thickness of 0.5 inches it is one of the thinnest boards in the market.
This amazing lightweight board comes with 380w powerful dual motors. With this much power it delivers a maximum speed of 21-22mph (Not the fastest).
The battery takes some 2 hours to charge fully. The board can take you a maximum distance of 9-11 miles. 
The deck is built from hard Canadian maple wood along with fibre glass. This makes the board strong and sturdy enough to carry loads up to 200 pounds.
In comparison to the predecessor – H-20 – this is a decent board, The only reason it lands in Best Electric Skateboard list – is because of its compactness.
One of the top reasons for buying an electric skateboard is personal mobility – and you need something you can tuck up and carry along. More the weight and you will not burden your shoulders, We suppose Teamgee introduced this model – for this reason itself.
Considering the price – it is almost 100 dollars cheaper than H-20. In the same price range you can buy Meepo V3 or even Huracane from Blitzart. However they both are bulky.

Check final price for Teamgee H5 Electric Skateboard

Best For – Teamgee H5 is a good buy if you want a portable mid range electric board. It is super light – and this is one of the reasons it is ranked in the 15 best electric skateboards list.
0
%
Durability
0
%
Design​
0
%
Speed​
Meepo Mini 2
This is the second Meepo Board – reviewed in this post. Actually Mini 2 is an electric penny board and an average board. (Keep reading – because the best mini electric skateboard ranks 2nd in this list).
Meepo Mini 2 can go up to 25 mph and covers a maximum distance of 11 miles. It is quite fast in comparison to other mini boards. 
The skateboard is powered by two 400w hub motors and runs on a 144wh battery, which takes 2 hours to charge.
The deck has a dish like concave, weighing around 16lbs. The board also comes with regenerative braking system.
Meepo packs some of the best features in all its e-skateboards. The company uses LingYi ESC, granting the rider the push-to-turn-On feature. 
Although the LingYi ESC is known to be a little less smooth than the Hobbywing, but its latest updates have made it more efficient (almost parallel to Hobbywing ESC). 
Meepo is also known for excellent customer support and services. Even this board is covered with 6 month warranty plan.
Mini 2 can be termed as one of the best affordable electric skateboards. It costs in the mid range – in less than 500 dollars tag. 
But considering it as a mini – we assume 50 dollars as extra. Might be its the brand value they have included in the price.
If you want a long lasting mini portable board – we would suggest you to go with the Boosted Mini X. Although it will cost you a good chunk – it will be a quality product lasting a life time.
We don't think you will find boosted boards cheap. Meepo like onboard and evolve are boosted board competitors and offer the look a likes at pretty affordable prices. 
So basically you can go with these boosted baord alternatives if on a tight budget.

Check final price for Meepo Mini 2 Electric Skateboard

Best For – Meepo Mini 2 is an average mini electric skateboard. You can go with this for some decent surf and cruise experience. 
0
%
Durability
0
%
Design​
0
%
Speed​
Razor X Cruiser
Razor X Cruiser is the real deal. Although ranked 7th – we would really love it to rank as the top in best electric skateboards list (There are a lot of factors which determine the rankings).
With a top speed of 22 mph and 19 mile range, this is a powerful off the road board. The design is also beautiful and appealing to the normal eye.
It is powered by two 1500w belt-drive motors and derives its fuel from lithium ion batteries, The battery will last for 40 minutes max,
The deck is made from carbon giving you no flex, but it offers great control and stability.
The board is pretty heavy weighing 24.9lbs, as it is designed for off road riding. Although decent on road cruising will not harm the board,
The carving is also great and the board includes 7 inch pneumatic tyres and urethane wheels making it very stable.
X Cruiser comes equipped reverse kingpin trucks, and enables rear-wheel drive.
The reason why it is a heavily bought electric board is its price and affordability. It is one of the cheapest electric skateboard in the market, We believe you can buy 5 cheap boosted boards at the price of one Razor X Cruiser. 
Although Razor has priced it low – the brand has included all the necessity parts and quality ones. 
The speed is decent, the motors are quite powerful, the batteries are great and the price is less than 170 dollars.
All these makes Razor X Cruiser a necessity in every household, You can buy it is a beginner electric skateboard – as an alternative and as a rough off skateboard,
We strongly recommend you to buy it from Amazon, because surprisingly the retail giant is offering the skateboard at a cheaper price than razor.com itself.
Razor X Cruiser tops the skateboards in the following categories –
#best budget electric skateboard
#best affordable electric skateboard
#best value electric skateboard
There must be more categories but the above three suits the skateboard most.

Check final price for Razor X Cruiser Electric Skateboard

Best For – Razor X Cruiser is best as youngsters, adults and even for grown ups. It is also perfect for you if you are a beginner, an intermediate or a professional skateboarder.
In short – It is a one for all skateboard.
0
%
Durability
0
%
Design​
0
%
Speed​
Ownboard Carbon AT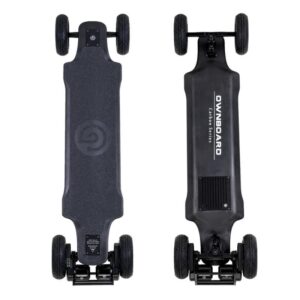 Ownboard is another popular brand – which has successfully launched many premium electric skateboards. Other than Carbon AT – W1S and Ownboard W2 are good self riding skateboards.
Carbon AT is a perfect board for rough and smooth terrains. It's deck is of carbon fibre (as the name suggests) making it extremely durable and sturdy. It can handle load up to 220 lbs.
With a max speed of 24mph, the Carbon AT goes to 20 miles in one single charge. The board is powered by a 1500 watt dual belt-drive motor, and a rechargeable 14ah battery. 
The board comes with double kingpin trucks and uses a HobbywingESC. And importantly It is highly water resistant.
The most admirable feature in the board – are the 6inch all-rubber, airless honeycomb tyres. The tires are the primary reason making Carbon AT one of the best off road electric skateboard.
They keep the board pretty well balanced and firmly gripped to the surface.
There are two drawbacks – which you should be aware of before the purchase. 
Carbon AT's battery takes around 4-5 hours which is not ideal for such a powerful board. 
The battery is integrated into the board along with the ESC – which is one of the reasons for the deck being not flexible at all.
However with an additional battery you can cruise on it for longer hours and the low weight adds to the portability. So you don't need to worry a lot about the cons.
Carbon AT is a premium flagship skateboard model and it does not lie anywhere near mid range skateboards. It is a near 1000 dollars buy. But we honestly feel that Ownboard models are value for money products.

Check final price for Ownboard Carbon AT Electric Skateboard

Best For – Ownboard Carbon AT is a premium high range skateboard. We strongly recommend it for professional electricboard skaters. However once you establish yourself on motorized boards then this model opens up for you.
0
%
Durability
0
%
Design​
0
%
Speed​
Wowgo 3X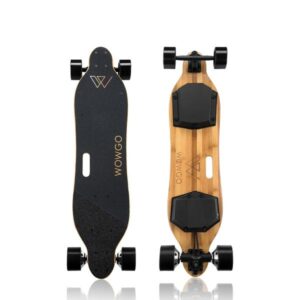 Wowgo is an average brand. Not an evolve and boosted competitor – and not manufacturer of low quality cheap electric skateboards either.
Wowfo products like the one reviewed here and even the Wowgo 2S and Wowgo 3 are all mid range good quality skate decks.
Wowgo 3X is the latest upgraded model. Powered by two 600w belt drive motors, the skateboard reaches maximum speed of 24mph and a max range of 14 miles.
The deck is constructed from bamboo and fiberglass making it a super flexible.
The board uses Samsung battery which increases the output and gives more voltage in your hands.
The board has premium quality components, such as 90mm Paris wheels and Zealous bearings.
Wowgo 3X can be a mid range alternative to the boosted boards. It lies in the 700 to 800 dollars range. Considering the components and the specs we think – Wowgo has over priced it to 100 dollars.
Wowgo might justify itself on the price review – as the skateboard is operating on Hobbywing V2.0 ESC which is expensive in comparison to LingYi ESC used in under 500 dollar skateboards. 

Check final price for Wowgo 3X Electric Skateboard

Best For –Wowgo 3X is a good buy for beginner skateboarders and professionals alike. It is not a cheap board which will not satisfy your cruising experience.
0
%
Durability
0
%
Design​
0
%
Speed​
Evolve Carbon GTR Street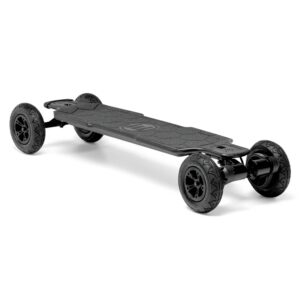 Evolve is a great brand – and one of the top boosted board competitors. However both – Boosted and Evolve are the best electric skateboard manufacturing brands – globally. (Check out our post on evolve vs boosted – where we have evaluated both the major manufacturers head to head).
Evolve is known to manufacture premium quality decks. Carbon GTR is made from 100% carbon fiber deck. No other materials used. And the whole sporting equipment is hand made!
With a top speed of 24 mph and 30 miles range, having 3000 watts of twin brushless sensored motor Carbon GTR is a very powerful skateboard.
The best however are – batteries. Evolve Skateboard uses Power Flex Battery Technology – in which the batteries are concealed in the deck – with no protruding outside. This gives it a very sleek deck. 
Battery consists of 18650 lithium ion battery cells – and you can go a whopping 50 km on a single charge. Only a handful of electric skateboards worldwide are able to reach this range!
With 97mm formula wheels – you can cruise at real high speeds – off track and on streets. Look at the wheels size in the pic – they look huge.
Carbon GTR Street has Bluetooth communication enabled – which gives better control on acceleration and breaking.
With Matte Black finish the board looks very attractive and eye catching.
And finally the price review. Evolve Carbon GTR street falls in the 2000 dollars range. Considering the brand, specs and robust technological features – we think the electric skateboard is not overpriced. 
It is a one time buy which will last you life time. The product is guaranteed and is covered under a lot of warranty policies. 
We think Evolve also provides instalment buying options if you want to finance the board.  
You might find good skateboards below 500 dollars too. In fact we have reviewed at least 5 of these in this article itself. 

Check final price for Evolve Carbon GTR Street Electric Skateboard

Best For – Evolve Carbon GTR like Onwboard is a premium electric skateboard. If you can afford the money – then don't buy anything else – because the cruising and commuting experience and satisfaction on this board is never equivalent to other budget skateboards.
0
%
Durability
0
%
Design​
0
%
Speed​
Swagtron NG3 Swagskate
Don't be surprised by NG3 Swagskate's top ranks in the 15 best electric skateboards list. Sometimes it is not specs – but how it appeals to the mass – that makes a product either a favourite or a no show.
Swagtron NG3 is extremely light weighing just 8 pounds, making it very portable – easy enough to be carried anywhere and everywhere. 
The deck is made up of Polypropylene and the wheels are 72mm polyurethane. This is an apt size for electric skateboard wheels size – making them good to absorb shocks.  
It gives you a top speed of 9.3 mph and a maximum distance of 7 miles on a single charge. This board features a kick-to cruise feature where the board cruise control takes over and holds the board stable at a speed of 9.3 mph, as soon as the rider gets up to speed.
It has high responsive sensors that can sense the shift in your body weight while stopping and stops the board automatically. 
The most unique thing about this board is its design. The deck is extra wide and gives stability. Aesthetically it is a great board.
However its price is very interesting. It is a less than 100 dollars electric skateboard! Surprised?
We don't know how Swagtron manages the price this low – providing almost all good quality components. 
In fact its universal approach and marketing is based on low pricing itself. You will find swagtron in almost all US households.
And its large customer base is what makes it one of the best electric skateboards.
Swagtron is among popular kids electric skateboards. Likewise it is quite a good option if you want to establish yourself on the electric decks. It is the first thing you should buy when switching from non – motorized boards to self propelled skateboards.

Check final price for Swagtron NG3 Swagskate Electric Skateboard

Best For – Swagtron NG3 Swagskate is a decently fast. lightweight, small cruiser board for kids, adults and grown ups alike. It is pretty relaible as a brand too.
It is a good off road and on street skateboard both – which increases it's utility.
0
%
Durability
0
%
Design​
0
%
Speed​
Boosted MiniX​
Boosted Mini X is an electric penny board and penny boards are very good auto skate sporting devices.
However there is more to Mini X than being just a beautiful dark black penny board. It is a Boosted Board! And association with this brand – increases its value many folds.
Powered by 1000w dual motors it delivers a top speed of 20mph and a 20% hill climbing range. 14 miles is the longest distance covered by this board on a single charge. 
The average time taken by the battery to charge is 1.45 minutes – which is quite fast – compared to other penny boards.
The board measures – 29.5 in (L), 11.0 in (B), 5.7 in (H) and comes with 3 ride modes. Switching between the modes are very smooth.
The wheels and griptape are great, and the system has regenerative braking. 
The performance of this board is pretty awesome. Acceleration/deceleration on this board is also at par when compared to other brands.
There are some drawbacks too – which we want to report honestly. This particular boosted board battery life is said to be not at par with other boards produced by the brand.
Secondly as a mini electric board it should be very portable, but it is a little on the heavy side weighing some 17lbs. 
This is one of the most expensive and premium e-skateboards. It is a less than 1000 dollars product. 
This price range is expected because boosted boards cheap is not an option. All boosted skateboards – penny, motorized are heavily priced. But you pay the price for the skateboarding experience that you get on these.
Mini X is suitable for commuting and cruising small distances – making it a good skateboard for college and school goers. Portability is another factor making it perfect for youngsters.
However it is a good board for all kinds of commuters. So you buy one – and can be used by your kids, and grown ups alike.
(There is another top board – worth reading about. Go to boosted stealth review by switchmagazine.)

Check final price for Boosted Mini X Electric Skateboard

Best For – Boosted Mini X is a branded electric skateboard. It is best for youngsters and college goers. The quality and the riding experience will compensate for the price.
0
%
Durability
0
%
Design​
0
%
Speed​
Boosted 2nd Gen Dual+​
Boosted 2nd Gen Dual+ is the Best Electric Skateboard for all skateboard lovers and fans. The skateboarding experience and the smoothness of your ride – cannot be compared with any other brand e skateboard.
It is a Boosted Board – and everything else is history! One ride on any of their premium auto skates is enough to answer – why are boosted boards so expensive?
We assume boosted board net worth is more than any other skating brand. Started in 2012 – with a vision to manufacture skateboards for recreational purposes – Boosted Board now is the top skateboard brand and its products are ranking first in most best electric skateboards list.
We ranked several boosted boards as best electric skateboards 2017 – and again in 2020 – boosted has 2 of their top notch products being ranked as the best.
2nd Gen Dual is one of the fastest boosted boards (Boosted Boards are not known for speed though). Made from bamboo, the deck is pretty flexible and durable.
The board is 38inches long which is pretty much the length of a longboard.
It is a lightweight board weighing only 15lbs and is able to withstand 250lbs of weight.
Running on a very powerful motor of 2000w, the board grants you a top speed of 22mph. It has a 25% range of hill climbing.
It is powered by 1500w powerful battery. The batteries take an hour to charge and are replaceable. This is very much needed – because of its low range (read below).
The board is water resistant. The board comes with 89mm Orangutankegel wheels. The board uses regenerative braking system.
It comes with multiple riding modes giving you plenty of options. However we have to report some drawbacks too.
Primary issue is the range of this  powerful board (in terms of motor). On a single charge it takes you only 7 miles, however it takes you up to 14 miles on an extended battery. 
Boosted 2nd Gen Dual+ is a premium product and costs in the 1500 dollars range. But this is expected because of the quality and brand value.
This electric board is worth because of its durability. You buy once and you don't have to look back. With almost zero faults reported in the motor and battery – even other products do no need a lot of servicing.
However – if you are looking forward to buy this board – we will advise you to buy a spare electric skateboard battery along.

Check final price for Boosted 2nd Gen Dual + Electric Skateboard

Best For – Boosted 2nd Gen Dual + is a perfect electric skateboard you can gift yourself or your kids. It is a premium product suitable for all riders. And more importantly it is safe!
0
%
Durability
0
%
Design​
0
%
Speed​
Factors Worth Considering Before your Purchase
Features of product
Brand worth
Build quality
Components
Range
Motor
Price
Wheels
Portability
Customer service
Aesthetics
Weight
Remote
Software
Performance
Terrains – Off Road or Street
Can you Ride an Electric Skateboard Normally?
Some e-skateboards can be ridden as a normal skateboard where you have to pump with your legs. But it is not recommended, as it may damage the motors. 
Secondly – you should always be careful with e-skateboards as they have many electrical components – which might get damaged if you try performing tricks on them. They can be even hazardous! 
An electric skateboard is built for the sole purpose for cruising at higher speeds and commuting. It is not built to withstand skate-tricks like flips and grindings.
However there are certain (very less) electric boards which can be used as normal skateboards. You can use them to perform tricks and stunts. We have covered about Hybrid Electric Skateboards in another post.
Final Thoughts on Best Electric Skateboard
All the boards listed here are some of the best electric skateboards in the market from all aspects. They pack great features and display excellent performances.
In the post we have already suggested which of these are best fit for beginners, mediocre and professional skateboarders.
It is solely up to you to finalize and decide which of these suits you the best. Again before closing we will recommend you to decide the purpose you are buying the e deck and your level as a skateboarder and then order a the board best fir for yourself.
If you want to shortlist these 15 too – then we will recommend you the first in the Best Electric Skateboard list – the Boosted 2nd Gen Dual. 
It is genuinely a great self skate product for yourself, your kids and likewise it makes a safe and good skateboard for girls.
In the end – 
Happy Electric Skating!