10 Best Electric Longboards
Longboarding has always been a subculture of skateboarding since the start.
Below are reviews for 10 of the Best Electric Longboards designed by some of the Top Brands like Skatebolt, Evolve, and ABZO.
Top 3 Electric Longboards
Best Electric Longboards - Top Ten
Are Electric Longboards Worth it?​
Are Electric Longboards Worth it?
The thrill of cruising at higher speeds has taken skateboarding to a new level. Be it just cruising on the street or commuting or gliding downhill, longboarding has been a subculture of skateboarding since the start.
Longboards traces its roots back to the 70's when the urethane wheels were introduced to the world. Since then Longboarding has been one of the most sought after things besides skateboarding.
Innovations after innovations, infused with modern technology has led the skateboarding world to electric longboards. Since the electric longboards hit the markets, the thrill and excitement of speed has multiplied tenfold.
There are thousands of Lonboards all claiming to be the best. With numerous options – it has become tough for longboarders to choose the perfect electric longboard, based on their style and preferences.
If you are a speed lover, then Electric Longboards are the best choice for you. Electric longboards are a hassle free choice for daily commute or simply cruising around the streets. The built and components used in the manufacturing of these electric longboards are worth every penny you invest in it, as they are the best in the market. These boards are built specifically keeping in mind the needs of the longboard rider.

Switch Magazine has compiled a comprehensive list as a guide to help you speed lovers pick the best electric longboard out there. The E-longboards are ranked based on their top speed, durability and designs – as described by the manufacturers.
Yuneec E-GO2 Electric Longboard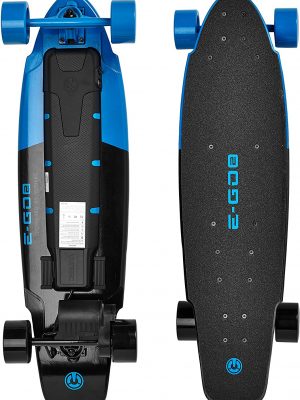 On first glance, the design of this electric longboard will remind you of a sleek power surfboard!
With a top speed of 12mph and a maximum range of 18 miles, the Yuneec E-GO2 is a pretty thin and a budget friendly longboard. This e longboard is powered by 400w motors.
The motor only powers one of the wheels, while the other 3 wheels move freely. To make your ride safer, it has regenerative braking system.
The deck is made of 8 layers of composite wood making it extremely durable and flexible.  It also a single kick-tail board to ensure better control and manoeuvrability. It comes equipped with 90mm large wheels giving you a stable ride.
Yuneec E-GO2 comes with a non-replaceable, flexible lithium ion battery that can be charged in some 3-5 hours. The board can carry a decent weight upto 220 lbs and it weighs only 22 lbs. 
The best part about this electric longboard is it's many options to ride futuristic remote. You can even connect your board to its app on the I Store. 
The board has 2 different speed modes, Sports mode and Eco-mode. 
Best For – Yuneec E-GO2 is an Electric Longboard, ideal for beginners who love cruising at low-speeds.