10 Best Electric Longboards
Longboarding has always been a subculture of skateboarding since the start.
Below are reviews for 10 of the Best Electric Longboards designed by some of the Top Brands like Skatebolt, Vestarboard and Raldey.
Top 3 Electric Longboards
Are Electric Longboards Worth it?​
Are Electric Longboards Worth it?
The thrill of cruising at higher speeds has taken skateboarding to a new level. Be it just cruising on the street or commuting or gliding downhill, longboarding has been a subculture of skateboarding since the start.
Longboards traces its roots back to the 70's when the urethane wheels were introduced to the world. Since then Longboarding has been one of the most sought after things besides skateboarding – ranking high in action sports category.
Innovations after innovations, infused with modern technology has led the skateboarding world to electric powered longboards. Since the electric longboards hit the markets, the thrill and excitement of speed has multiplied tenfold.
There are thousands of Longboards all claiming to be the best. With numerous options – it has become tough for longboarders to choose the perfect electric longboard, based on their style and preferences. 
If you are a speed lover, then Electric Longboards are the best choice for you. Electric longboards are a hassle free choice for daily commute or simply cruising around the streets. The built and components used in the manufacturing of these electric longboards are worth every penny you invest in it, as they are the best in the market. These boards are built specifically keeping in mind the needs of the longboard rider.

Switch Magazine has compiled a comprehensive list as a guide to help you speed lovers pick the best electric longboard out there. The E-longboards are ranked based on their top speed, durability and designs – as described by the manufacturers.
Blitzart Huracane Electric Longboard ​
Blitzart Huracane is a highly durable and long lasting board, made from 6 layers of the finest maple wood and 2 layers of the strongest bamboo.
Because of its sturdy and strong built it can lift loads up to 250lbs.
This longboard beast is powered by a 4.4ah lithium ion battery and gives a maximum distance of 6-8 miles.
The only drawback is its weak mileage range. A board with such power should have a great mileage.
Blitzart is for riders who love power and are skaters of rough terrains looking for sturdy longboards.
But if you are looking to go long distances, then you might need to look at some of the other models reviewed here.
Best For – Blitzart Huracane is ideal for short distance riders. But it is also an all terrain longboard.
SWAGSKATE NG2 "A.I.-Powered" Electric Longboard
Constructed from 6 layers of hard maple wood and 2 layers of bamboo, the SwagSkate NG2 is a rock solid structure.
The board is medium heavy weighing some 20 lbs and is definitely not among lightweight longboards. The maximum load this machine can carry is 220 lbs.
It gives you a top speed of 18mph and offers you two riding modes. 
This electric longboard is powered by 450w dual motors taking you to a maximum distance of 11.8miles on a single charge. 
The board comes with a replaceable battery and an extra wide of 11 inches.
One of the coolest things about this board is the somatosensory navigation system, which helps you control the speed of your board through your body weight.
This E-longboard makes a wonderful product for technology lovers who are interested in new innovations and A.I infused machines.
Best For – Apparently SwagSkate NG2 Electric Longboard is a wonderful equipment for all size and all level skaters. 
The longboard is hailed as a branded product so you need not to worry about it's quality either.
Onlyone O 8 Electric Longboard (22 MPH)
Teamgee H5 Electric Longboard
Teamgee H5 is known as the sturdiest board in the longboard markets and ranks top in the – best electric longboards under 500 – lists.
It is made from 10 layers of Canadian maple and fiberglass – This makes it a real thick durable board having equal flexibility.
The board has a concave shape to give you a smooth and comfortable ride. It is the only longboard to use a drop-through deck design enabling you more stability while riding it. 
Teamgee H5 is powered by 760w dual motors and gives you a maximum speed of 22mph.
This dual motor longboard is one of the best out in the market in terms for its return value for your money. 
On a single charge the board lets you commute 11 miles.
Teamgee H5 has a flexible bushing systems which makes turning a piece of cake. 
The board weighs around 14.55 lbs making it one of the lightest longboards. It can carry load upto 200 lbs.
Overall it's a one size fits for all type of board, ideal for riders who are looking for speed as well as more manoeuvrability.
If you are looking for something of lesser speed but very thin and durable – than the lighter version – Teamgee H9 Electric Longboard (15 mph) will make the best fit.
With a thickness of 0.5 inches the Teamgee H9 is termed as the thinnest electric longboard in the market. It is very lightweight, weighing only 11 lbs.
Although the motor, top speed and the range suffices in comparison to Teamgee H5 – but so is the price.
H9 is for amateurs and beginners and H5 goes in the middle zone of skateboarders and longboarders.
Best For – Teamgee H5 Electric Longboard is the best product in the market. Whether you are a beginner, a professional or even a female skateboarder – grab your hands on this hot cake. It is an economic flagship longboard. And you will not get many – having same features and price. 
SkateBolt Tornado Pro A Electric Longboard
Skatebolt Tornado Pro A electric powered longboard is a reasonably priced board having futuristic designs.
It is 38 x 11 x 5.5 inch long and has colourful LED lights in both front and back.
The board is highly durable and stable as it is made of 8 layers of Canadian maple wood.
Powered by 350w dual motors, this board gives you a top speed of 22mph.
Some of its distinctive features are regenerative braking, smooth acceleration and deceleration and fast turning.
The motor is powered by 18650 power lithium cells – giving you a distance of 15-20 miles on a single charge.
Upgraded ESC, 25% uphill climbing range and 3 different speed modes – makes the riding experience wonderful.
The only drawback is that it is heavy and the battery might cause you some problems.
The board weighs around 19.51lbs. The board can carry a load of 280lbs.
This board is preferable for heavy riders who love to cruise long distance on high speeds.
Also if you are looking for a beautiful piece of machine then this is a good option for you.
Best For – SkateBolt Tornado is again a good brand product which makes it a one time buy. However because of its weight we would not suggest for female skateboarders and kids.
PHOENIX RYDERS Tornado I Electric Longboard
Phoenix Ryders Tornado is a high performing board built from 8 layers of Canadian maple wood.
Tornado grants you a top speed of 25mph and a maximum range of 18 miles on a single charge.
The board is powered by 500watt dual hub motors.
It can hold up to an impressive 275 lbs making it ideal for heavy riders.
The board comes with red LED tail lights for extra safety in dark places or night time.
It also comes with 6 month replacement warranty.
This board is on the heavier side making it difficult to carry around.
It is an E-longboard suitable for riders who prefer power, long distance skating,  stability and speed all at the same time.
Best For – PHOENIX RYDERS is a pretty decent longboard. The only doubt we have is whether it can b useful for female skateboarders and kids. Otherwise it makes a wonderful electric longboard – and you will not get many offering warranty too.
With a capacity of holding a whopping 286lbs, the AZBO Electric Longboard is holds a pretty durable and sturdy deck.
The deck is constructed from 6 layers of hard maple wood and 2 layers of bamboo, which are then encased in 2 layers of fiberglass to grant it stability!
It gives you a top speed of 25mph and an impressive maximum mileage of 19miles.
The board is powered by 1000W Dual hub motors and comes with a 1 year warranty.
You will not find many longboards featuring such a heavy motor making it a long distance longboarding/skateboarding product,
AZBO is a trusted brand. So you can rely on the product, 
Teamgee H9 Electric Longboard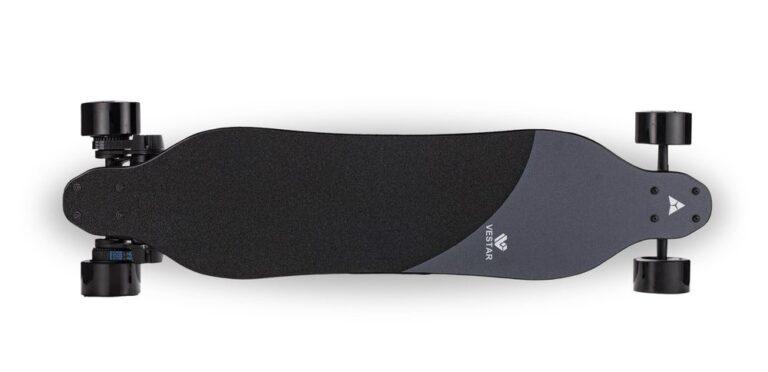 Vestarboard is a famous brand. It has top notch electric longboards – all famous foe their mileage and speed.
Nigh Fury Vestar – is an inexpensive electric longboard – known to cover large distances. You can cruise 47 kms on a single charge!
The electric longboard comes equipped with 5065 belt driven motor which is more powerful than the previous versions – 5045 and 5055. You can also get the Hub Motor model (We would recommend the belt driven).
Bamboo plus fiber glass is always the best mixture for a deck. Bamboo gives sturdiness and fiberglass the required flexibility. In comparison to other only bamboo press decks – this one will give you an enhanced riding experience. 
In comparison to Onlyone O8 – Vestar has larger wheels. They measure 90 into 52 and are 78A  Hyperelastic. You can take this one into rough terrains too. The wheels will be able to handle the hills and the rocks to a certain level.
What truly inspired us were the Hobbywings ESC – which accelerates the board super fast and enables greater torque. Although nigh fury does not fall in the premium longboard range – but this ESC makes it very close to them.
Other wonderful component is Vestar's own designed trucks. It has a motor holder and a belt case within. This reduces the overall weight and even the dimensions. 
First apply promo code "code10" to avail 10% off at the checkout. 
Then apply "switchdiscounts" to avail further 5% off.
Best For – Vestarboard Night Fury Electric Longboard is a wonderful not so expensive commute and cruise option. It has all the latest robust features. And after applying two discounted promocodes – you get almost 100 dollars off! As an off road longboard and for commute – this is a great deal.
Bamboo GTX Electric Longboard/Skateboard
Raldey
Evolve Bamboo GTX E Longboard/Skateboard (26mph)
Evolve Bamboo GTX is a super powerful all terrain board. It is durable and very flexible made from maple and bamboo wood.
The longboard is powered by a 3000watt motor with a top speed of 26 mph.
The board uses a swappable lithium ion battery that is charged in some 4-5 hours. Although the battery is not integrated. 
The best part of this board is it's range. You can go  31 miles on a single charge! We heavily doubt any other electric longboard competing these mileage figures. It's mileage is the reason for it to rank as a best electric longboard.
The wheels are 97mm and come with a stone-ground finish making it good for smooth and safe riding. Even the large size of the wheels – makes the board perfect for all terrains and roads.
The board is light enough to be portable and carried along. It gives a 25% range uphill.
The Evolve GTX E longboard can accommodate upto 220 lbs which is quite decent.
Overall Evolve Longboard is for riders who are looking for mileage, speed and all  terrain skateboarding.
Best For – Evolve Electric Longboard is a fine specimen of quality and durability. Like AZBO – Evolve is a renowned brand.
Secondly it is a one time buy. With Evolve longboards you do not need to replace even their parts – for a long time.
SkateBolt Breeze 2 Electric Longboard
Breeze 2 is the answer for – What is the fastest electric longboard?
With a top speed of 28mph. Skatebolt Breeze 2 ranks as the fastest and the best electric longboard in this list.
The deck's construction is from bamboo laminate encased in 2 layers of fiberglass. This construction makes the deck extremely lightweight and flexible.
The board is 39 inches long and 9 inches wide. The deck is designed to be waterproof making it more durable and an all environment longboard.
It uses regenerate braking and comes with 4 different customizable brake settings ranging from soft to strong. The board is driven on 100mm drive wheels. 
Skatebolt Breeze II is powered by 350w dual motors. It delivers a decent distance of 15 miles per charge and can carry an impressive 265lbs of weight.
The board comes equipped with 2 LED tail lights that gives you indications when braking.
Although the electric longboard is expensive – Skatebolt is a respective brand in the market – which is definitely going to give you worth for your dollars. 
Best For – SkateBolt Breeze 2 is an expensive but powerful E-longboard, built for high speed lovers.
It is the best out there for professional and young skaters – who are in the action sport for some breath taking display of skateboarding skills.
These are – top ten best electric longboard reviews. However there are many other longboards manufacturers producing top quality decks – and all have their pros and cons.
These ten – landed in the list – primarily because of quality and customer satisfaction. 
If you come across any other longboard – worthy of ranking in the top tens – then please share us your experience in the comments section below. 
What is the Best Electric Longboard?
One Electric Longboard – which can be termed as "the best" is – SkateBolt Breeze 2 – undoubtedly.
Actually selecting only one – and calling it the best is doing injustice to other brands and boards. All electric longboards reviewed in the post above have their pros and cons – including Breeze 2.
In fact there are more sophisticated built e boards – skateboards and longboards – which are worth more than 1500 to 2000 dollars.
But we are terming it – as the best electric longboard here primarily because of durability and return on investment. You invest 800 dollars and can run a minimum 5 years!
And nowhere down the streets you will feel any compromise in your ride quality and cruise experience. 
For average riders. cruisers Breeze 2 makes a fine selection. And importantly this 4 wheel electric deck is not a single rider longboard. You can even buy one for a whole family – like you purchase a 4 wheeler for your household.
How much is an Electric Longboard?
Electric Longboards have a very wide range. You can get some of the cheapest starting from $300 to the very fancier ones costing $5000 and plus.
However the popular electric longboards – having a good brand name, with average to top performance, lasting 3 years minimum should come in 700 to 1200 dollars range.
This price range seems reasonable considering the costs of an electric longboard parts. It will have a battery and motor which will cost the maker somewhere around half its price. Add other high quality accessories to support the speed and the balance.
Anything lesser than this or more expensive than the $1200 limit for an electric longboard – will be throwing your dollars into drain. 
All the above listed models are selected precisely in this price range.
– You get the best, at the best.
What are Electric Longboards called?
Electric Longboards are called by many names. We have compiled a list of names very popular – among the skateboarders for skateboards and longboards.
esk8
E Skate
E Longboard / Skateboard
Electric Boards
Electric Decks
Electric Longboard / Skateboard
Electric Long board (with a space)
Electric Powered Longboard
Motor Longboard / Skateboard
Powered Longboard / Skateboard
Motorized Longboard / Skateboard
Remote Control Longboard
Battery Longboard
RC Longboard
Some of them are even harder on the lips and the fingers typing them. Just explain how will you assume alphanumeric esk8 as a reference to electric longboard or skateboard. But we skateboarders have a style and a slang to carry.
esk8 and e-skate are the most popular ones among the othee called names for electric longboard/skateboard.
Is it Easier to Ride a Longboard?​
Longboards are mostly recommended for beginners, because it is more comfortable compared to the skateboards. The longboards have larger and wider decks giving the riders lots of space to adjust themselves at the beginning. 
It is easy to cruise on a longboard and learn pumping than doing it on a smaller skateboard. There are less chances of getting hurt with longboards.
If you are new to this action sport – or are new to electric skateboards – then go with an electric longboard – and don't jump on an e skateboard in the beginning.
Once you are comfortable with the motor, and the machine – you can go on to look for a decent brand skateboard,
If its your first buy – then go with the Teamgee H5 – it is one of the best electric longboards under 500.
Initially this is the right amount of investment – if your goal is to ultimately settle on an electric skateboard.
Are Electric Longboards Safe?​
Are Electric Longboards Safe?
Whether you buy a best longboard or not – Safety depends on to what extent you take care of yourself. Safety is the one and only thing which cannot be risked for the thrill of high speed.
Longboards are mainly used for cruising on the streets or commuting, which is pretty safe. It is also used for downhill cruising where the rider has to take many safety precautions.
Overall, all of the good electric longboards come with many safety measures such as regenerative braking system and different speed modes, ensuring that the riders get the experience they are looking for while being safe.
No matter how safe longboarding is, you must always get on one wearing all the necessary safety gears.
Bottom line
In the end, all these longboards are some of the finest E-longboards out there in the market. They all ensure speed, durability, stability and most of all the joy of riding without putting in any efforts. 
We recommend you to go with the Teamgee H5 or the SkateBolt Breeze 2 – the 6th and the 1st rankers of the best electric longboards list.
One is economical and the other one although a bit expensive – it is a one time buy.
Other than these two – all the other 8's are also top notch products. They are good brand longboards – having huge customers base.
So, pick your choice of the board and start cruising to enjoy an experience like never before.