Maxfind Electric Skateboards
Electric longboards and skateboards are becoming more efficient each day. An array of new models with great features and high quality built, are being added to the existing catalogue of previously best electric skateboards. Maxfind is one such company known for producing some of best modern skateboards and longboards.
The Chinese electric skateboard brand focuses on micro mobility – and electric skateboards and longboards facilitate it to a very large extent. Their motto is to "make commuting easy and fun".
Maxfind specialises in making some of the best hub motor skateboards. They believe that hub motor is the future of electric skateboards. This is why you will find almost all of their electric longboards and shortboards equipped with hub motors except for only one belt-drive electric longboard.
We have reviewed all of their best-selling and high-performing electric skateboards here.
Quick Links
---
Maxfind Electric Skateboards Review
Currently, Maxfind offers 6 electric skateboards, simply divided into 2 categories.
Entry-level electric skateboards

High-performance electric skateboard

s
All the particular models cater a set of skateboarders. The enter level has 3 models – named Max 4 Pro, Max 2 Pro and Max One. Max 4 Pro is their flagship model suitable for all kinds of skateboarders. It is a great skateboard for cruising and street skateboarding. Max 4 competes Meepo's Shuffle V4 – with almost same specifications and pricing.
Max 2 is specifically for campus and neighbourhood cruising. We loved this model – because not many manufacturers are offering this kind of skateboard. You will find tons of alternatives for Max 4. There is boosted, Blitzart, Skatebolt, Meepo, Outdoor Master and many other skateboard brands – having something similar to offer. However – none of the listed brands make a campus skateboard.
Max One is just for kids. It is super light and very portable. Considering young girls and boys – it is a great deck. Again – you will not find many manufacturers producing a dedicated kids electric skateboard. Maxfind has done great work with both the models – Max 2 Pro and Max 1.
High Performance Electric Skateboards have 3 models – FF Street, FF Plus All Terrain and FF Belt. All three are fantastic. FF Street is the longest range electric skateboard manufactured so far. FF Plus is an all terrain off road electric skateboard. The best part it is considerably very cheap. Raldey's Wasp – costs almost a quarter more than FF Plus. And last one – FF Belt – is also wonderful. It is sturdy, stylish and the only one to feature a belt drive motor.
---
Entry Level Maxfind Electric Skateboards
We will start Maxfind Electric Skateboards reviews – with their Entry Level Boards. As talked earlier – it has three models – Max 4 Pro, Max 2 Pro and Max One. Max One – the kids electric skateboard – is reviewed at the very end of the post. If you directly want to read any particular board's review – then click on the "skateboard review" button – in the quick links section.
Maxfind Max 4 Pro
Maxfind Max 4 Pro Electric Skateboard is the best choice for commuting in the city streets. It is also Maxfind's most popular electric skateboard. The board runs on dual hub motors giving a total output of 1500w.
Similar to the Maxfind Max2 Pro, you can get 3 different range models of the Maxfind Max4 Pro.
Standard Range
Long Range
Super Range
The 38" long and 10.6" wide deck is made of 8 layers of Canadian maple wood. The upper layer is coated in carbon fiber. But the deck is stiff and not as flexible as you would want your e-skateboard to be. The concave is shallow too.
Overall the deck is sleek and bears the old vanguard shape that is resonant with skateboards.
The battery enclosure below the deck is a great feature. It is a single metal enclosure with a stone finish. This protects it from getting easily scratched. The single enclosure also makes it easy for you to swap batteries.
But the enclosure is found to be metal on metal without any gasket to prevent it from water splashes. So you should probably take precautions. Although, Maxfind claims the board to be waterproof with a rating of IP65.
Max4 Pro comes with 96mm wheels without a durometer rating. The wheels are rigid, and quite noticeable on the hub motors. You also have the choice to go with the 105mm cloud wheel version. But the only catch is that it becomes pricier.
Even though there is a large amount of PU between the ground and the motors, which helps in absorbing the vibration, the board gives you a feeling of riding on hub motors.
The trucks are 45 degrees, forged, and manufactured with the same precision and quality as premium skate truck companies.
With the 750w power hub motors, acceleration to the top speed is achieved in just 5 seconds. Also, the latest Hobbywing ESC makes the acceleration and braking smooth and responsive.
A Samsung 36v 4.4ah battery pack with 158.Wh capacity powers the board.
For easy control of the board during riding, the remote is designed comfortably and comes with a High-resolution OLED screen. It allows you to ride on 4-speed modes.
Beginner: 9 mph / 15 kmh
Eco: 16 mph / 25 kmh
Fast: 21 mph / 34 kmh
Max: 25 mph / 40 kmh
This board is for those who love to have a stiff deck that helps you slide with stability compared to a flexible deck.
Looking at its price, the Maxfind Pro4 electric skateboard has several great competitions in a similar price range such as the Meepo NLS Pro, WowGo 3, and the Exway Flex. And considering the features these other electric longboards and skateboards offer at the same price, the Maxfind Pro4 falls short on some of its features.
Choice of 2 different wheel sizes (96mm, 105mm)
Other premium brand electric skateboards available for the same price and specifications.
Top Speed: 25 mph / 40 kmh
Standard Range: 12 miles /20 km
Long Range: 24 miles / 40 km
Super Range: 36 miles / 60 km
Weight: 16.5 lbs / 7.5 kg
Max 4 Pro is the featured Maxfind Electric Skateboard. It has style, speed, power, mileage, durability and everything that you require for street skateboarding, cruising and a little off road riding too. It is a one for all board. Everyone can use it – ranging from kids, female skateboarders and even post 120 lbs riders.
Maxfind Max 2 Pro
Maxfind Max2 Pro electric skateboard is designed specifically for college students for campus riding. So it is a budget electric skateboard with some awesome features.
You get 2 variants of the Max2 Pro electric skateboard:
Maxfind Max2 Pro Single motor electric skateboard
Maxfind Max 2 Pro Dual motor electric skateboard
Both models sport a diamond-cutting design giving them a surfboard look. The deck is designed from nylon-fiber and glass fiber composite material. This improves the impact resistance of the deck by up to 90%.
The surface is also coated with carbon fiber giving it a polished and elegant finish. It is small, lightweight, and portable. At 31 inches, the Max2 Pro is shorter than the Max4 Pro.
The design of this board is very different from your typical board. The nylon fiberglass deck is wide in the center. The edge is too short and narrow. The flex is less. The board is completely flat making it difficult to turn. It is not as sharp as other boards.
It comes without a grip tape. You might not like the design overall.
The dual-motor variant runs on 2 x 600 watt motors, providing extra torque compared to the 600w single motor version.
It is equipped with the new Max II truck having improved stability for higher speeds. For more flexibility, the distance between the rear and front truck is reduced.
For both variants, Maxfind uses a 158Wh lithium Samsung battery. The battery is built in the deck giving it a sleek look. The recharge time of the battery is just 2 hours.
It's a midlevel board offering 3 different speed modes to ride around your campus.
There isn't much to dislike about this budget electric skateboard. The only thing that comes as a bit of disappointment is the meager difference between the top speeds of the single and the dual motor versions.
You would think that the purpose of having a dual motor model would be to increase the speed by a huge number, but all it gives is just some 4 mph upgrade. However, there is improvement in the hill climbing and load-bearing capacity.
The deck is also super flat and doesn't have any concave. So if you are used to having a concave deck beneath your feet, then this might feel a little uncomfortable.
According to some users, it is not ideal for riding on rough terrains as the deck is stiff and it runs on hub motors. Which is why the vibrations are intense.
Great hill-climbing capacity on the dual motor model
Budget electric skateboard for college students
Low top speed in the dual-motor model
Not ideal for rough and uneven terrains
The acceleration is average.
Braking is not ideal on this board
Remote made from low quality plastic
Single Motor
Top Speed – 20mph/ 32 kmh
Max Range – 12miles/ 20 km
Hill Climbing – 20% Slope
Double Motor
Top Speed – 24mph/ 38 kmh
Max Range – 12miles/ 20 km
Hill Climbing – 28% Slope
Max 2 Pro is a wonderful campus electric skateboard. Mostly you will find a campus board in Maxfind Electric Skateboards collection. It is sleek, compact, light and very inexpensive. The skateboard is great for college and school students – making it one of the best gift for your young ones.
---
High performance Electric Skateboards
Below are reviews for the three High Performing Maxfind Electric Skateboards. They are – FF Street, FF Plus All Terrain and FF Belt. All the three are great models and are competing very heavily with other off road electric skateboards. We tried their FF street model and it was ever lasting!
Maxfind FF Street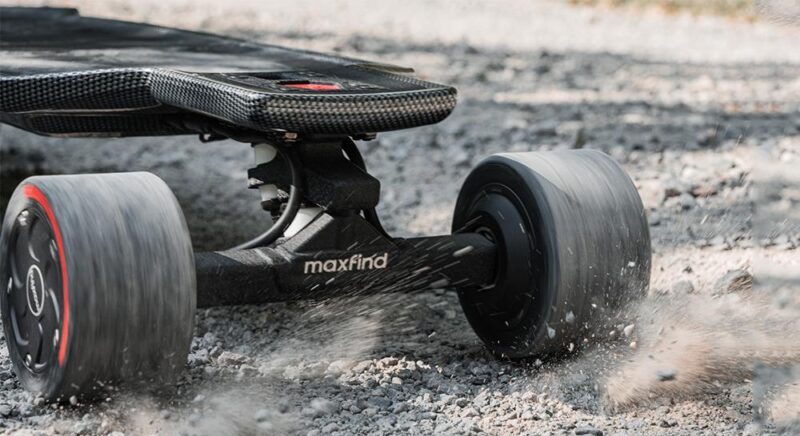 Maxfind FF STREET is Maxfind's best long-range motorized longboard with lightning-fast acceleration. You can choose from 3 variants based on your riding and range preferences.
Standard range
Long-range
Super long range
After much research and tests, the deck is carefully curated from the latest PPS composite and Glass fiber material. This gives the board higher flexibility and shock absorption capabilities. The surface of the deck is coated by a layer of carbon fiber, ensuring stability.
With the portable handle seamlessly added into the deck, it becomes pretty easy to carry the board around with you.
The FF Street runs on 2 x 750w hub motors each – with a total output of 1500w. The new Hobbywing ESC makes your ride extra smooth.
Based on your preferred riding place, you can also choose from 2 wheel sizes, the standard 96mm PU wheels for commuting on the streets and nicely paved roads, or the 105mm cloud wheels if you frequently ride on bumpy roads and rough tracks.
The electric longboard skateboard is powered by a 230wh high capacity LG lithium battery. Replacing the battery takes not more than just 10 seconds. Thanks to the design, which enables you to swap your batteries easily and quickly.
The ergonomically designed remote control with an OLED display screen provides you with efficient control.
Top Speed: 25 mph / 40 kmh
Standard Range: 21 miles / 35 km
Long range: 42 miles / 70 km
Super range: 64 miles / 105 km
You will not find a better Maxfind Electric Skateboard Model than the FF Street. The range is insane. And today for street cruisers and commuters – long range is the first requirement. It is like a fast charging mobile having a long lasting battery. You can just go on and on. Other than speed – all other skateboard specifications are also great. It is not that heavy instead and given it's build and parts not that costly too. You buy one – and it will suffice whole family's needs.
Maxfind FF Plus AT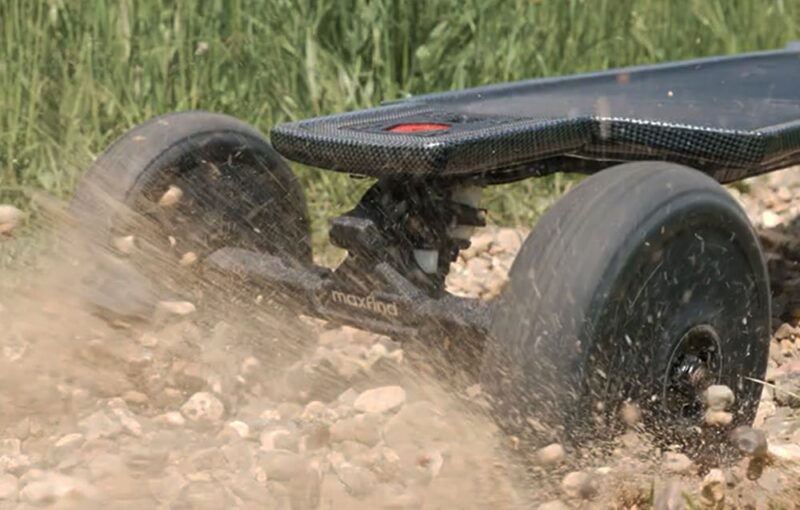 FF Plus is the most powerful electric longboard from Maxfind. It runs on 2 x 1200w hub motors, producing high torque. The M6 off-road Hobbywing motor grants you strong torque and acceleration. You will be riding a beast of an electric longboard.
This board is designed for all terrains and that is why it comes with 165mm wheels. These big wheels give you a 4.7-inch ground clearance making it easier for you to ride on all kinds of roads such as gravel, dust, and slopes. It also gives you increased traction and a better grip on any type of surface and road.
The hill-climbing capacity on this board is unbelievably high and exhilarating.
The deck is crafted specially to handle all kinds of terrains with super flex PPS and glass fiber. This provides the deck with amazing elasticity and reduces vibrations on uneven roads. It is coated with carbon fiber on the surface for extra stability.
The double kingpin trucks developed by Maxfind give you extra strength and flexible steering compared to the regular die-cast trucks.
The Maxfind AT-Plus is equipped with the latest Hobbywing FOC ESC, which gives improved control, smooth acceleration, and braking.
To provide a unique experience, this board is powered by a Molicel 187Wh high-capacity lithium battery. Acceleration becomes easier and the torque increases.
You get a high-resolution OLED display remote control that allows you to change to different speed modes as per your requirement.
Strong torque and better acceleration
Super hill climbing capacity
Large wheels for all-types of terrains
Standard Range: 10miles/ 16km
Long range: 20 miles/32km
Super range: 30miles/48km
FF Plus is a dedicated All Terrain Electric Skateboard Longboard. It has power, torque, good hill climbing range and a pretty sturdy deck. The board offers great control and stability. However – it is not advised to run it on streets or for cruising. Considering the weight – it's use by kids and female skateboarders is doubtful too.
Maxfind FF Belt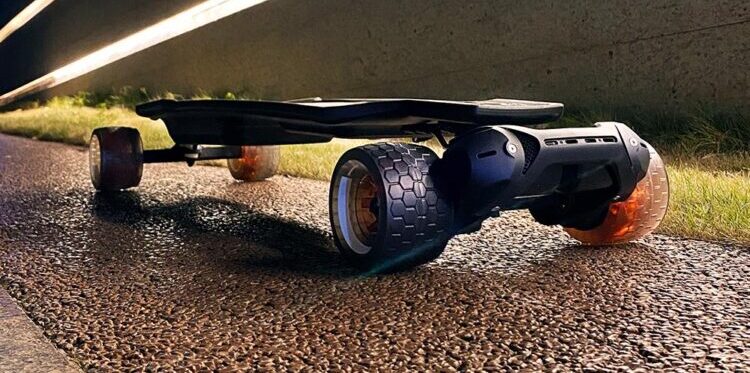 The latest addition to the Maxfind electric longboard skateboards collection is the belt-driven Maxfind FF-belt motorized longboard. The design is similar to the FF plus. It is the only belt-driven electric longboard in Maxfind's electric skateboards line.
You can take the Maxfind FF-Belt to ride on both, rough and fine terrains.
The deck is highly elastic and super soft. It is created from glass fiber composite materials and PPS. These materials increase the elasticity of the board by 200%. The foot mesh is comfortable and good at absorbing shock, which grants you more steadiness while riding the board. The upper layer is coated with carbon fiber.
The board is thin but strong enough to handle a speed of 25mph up to 25 miles on the standard version and 50 mph on the long-range version.
2 x 1500w power belt-drive motors power the board. The belt is of superior quality making it highly wear-resistant and unbreakable. The 5m belts are more durable and reliable than the 3m ones. The motor is protected from shocks and unwanted objects, by an arched motor protection bracket. Acceleration and braking are smooth with the new generation of Hobbywing ESC. You can now easily make precise FOC adjustments.
The board runs on an upgraded 12s3p Samsung battery. The charge time is around 3 hours. Swapping the battery is easy similar to other Maxfind electric longboards and skateboards.
Controlling the motorized longboard is extra fun, with the new OLED LCD remote control sporting an ergonomic design. You get 4-speed modes, a switchable direction, and cruise control. You also get a one-button start feature without having to worry about bending over to manually start the board anymore.
The Maxfind FF Belt comes in two range models:
Standard range
Long-range
It is priced at 899$ for the standard range and a whopping 1,199$ for the long-range version, which is pretty expensive but understandable looking at its superior features and design.
Cons
3 hours battery charging time
Top Speed: 28 mph / 45 kmh
Standard Range: 25miles / 40 km
Long range: 50 miles / 80 km
FF Belt is the only belt driven Maxfind Electric Skateboard. It is almost similar to the FF Plus AT Board – except that the above one features a hub motor. If you are not comfortable with hub motor – than this is the board for you. However if it does not make any difference – than go with FF Plus one – because you will get better post sales service. If you are going with FF Belt – then go with the standard version. It is similar to Max 4 Pro – but the riding quality and comfort is greatly enhanced.
Maxfind Max One
Maxfind Max One is an entry-level motor skateboard that is high on safety and portability. It is the ideal Maxfind skateboard for beginners, kids, and elders as well.
The short deck is fitted with an innovative PEA material, which is softer than the traditional material used for skateboard anti-skid pads. This material ensures extra safety for young skaters.
The integrated design with a tail warp and a smooth body line is pleasing to the eyes. To further your comfort, the surface of the deck is coated with carbon fiber and is rated IP65 waterproof.
Weighing at 10 lbs/4.6 kg, it is one of the lightest electric boards you will find anywhere. This makes it easy for kids to carry it around with them.
The entire purpose of this electric skateboard is to ensure a safe ride for kids and beginners. So all the components and materials used in the making of this board are of the highest and strongest quality.
For enhanced stability, it is fitted with strong aluminum alloy trucks instead of ordinary ones. The trucks are fixed at a 45-degree angle to give you more flexibility while steering. The 75mm wheels give you the necessary traction and smooth riding experience.
Precision in coasting speed and power output is one of the many highlights of this electric skateboard. All thanks to the advanced FOC drive mode which is used in this board. It also decreases heat generation and increases the efficiency of the system, brakes, and acceleration.
To power this amazing motor skateboard, Maxfind uses a large capacity 2.9ah lithium Samsung battery. Astonishingly, you can now get a full battery in approximately just an hour with the 36v fast charger.
Controlling this board is simple with the user-friendly Maxfindelectric skateboard remote control. It allows you to choose from 3 different speed modes to ride on according to your comfort and confidence level.
You will find this motor skateboard super easy to use and worth all your money. Considering the entry-level features and target audience of this Maxfind mini electric skateboard, the price of 299$ is a catch. So no worries about the budget. This is perhaps the best electric skateboard at this price for beginners and kids alike.
Ideal speed for beginners and kids
Top Speed: 14 – 15 mph / 25 – 26 kmh
Max range: 9 – 11 miles / 15 – 18 km
Max One is the cheapest and the lightest Maxfind Electric Skateboard and makes a great kids skateboard. Although it has all that the young ones require – it is still to find acceptance in the market. Unlike Max 4 Pro – it is not still getting enough sales. Although marketed as a kids skateboard – it very much suits all – below 65 kg. You will not get anything more convenient and compact than this. So why to carry 10 kg or so around – when you have the option of a 4.5 kg board.
---
Along with these battery powered skateboards, Maxfind also sells accessories and replacement parts such as safety gears, charger, battery, hub motors, wheels, trucks, backpacks, and etc.
Maxfind Electric Skateboard DIY Kit
Maxfind also produces DIY conversion drive kits that can convert any regular skateboard into anmotor skateboard.
It currently has 3 drive kit options:
Maxfind M5 Drive Kit
Maxfind M5 Drive kit (Double Kingpin)
Maxfind M6 Drive Kit
You can avail 3 different range models in each of these drive kits.
M5 Drive Kit
This is one of the best-selling drive kits from Maxfind and is considered the best hub motor drive kit of 2021.
Similar to the M5 Double Kingpin Drive kit, It runs on 2*750w hub motors and is fitted with MAX II trucks.
The battery on this kit is a 158Wh Samsung lithium battery that takes 2 hours to charge.
Controlling the kit becomes easy with its greatly-designed LCD screen remote. It offers you 4-speed modes.
Maxfind M5 Drive kit
Standard Range
Long Range
Super Range
Top Speed: 25 mph / 40 kmh
Top Speed: 25 mph / 40 kmh
Top Speed: 25 mph / 40 kmh
Max Range: 12 miles/ 20 km
Max Range: 24 miles /40 km
Max Range: 36 miles / 60 km
Hill Climbing: 30%
Hill Climbing: 30%
Hill Climbing: 30%
Price: 599$
Price: 799$
Price: 999$
M5 Drive Kit (Double Kinpin)
You can use this kit as a DIY electric skateboard kit which you can easily fit on your wooden board.
It comes equipped with 2*750W hub motors, which gives more torque. You can easily swap the PU sleeves on the wheels.
Alike the Maxfind electric skateboards, you can easily change the batteries on this kit.
It is powered by a high-capacity 216wh Samsung lithium battery.
Maxfind M5 Drive kit (Double Kingpin)
Standard Range
Long Range
Super Range
Top Speed:26 mph/ 40 kmh
Top Speed:26 mph/ 40 kmh
Top Speed:26 mph/ 40 kmh
Max Range: 21 miles/ 35km
Max Range:42 miles/ 70 km
Top Range:64 miles/ 105 km
Hill Climbing: 30%
Hill Climbing: 30%
Hill Climbing: 30%
Price: 799$
Price: 1099$
Price: 1399$
M6 Drive Kit
This drive kit is perfect for off-road riding. It comes with 2*1200w hub motors that can easily conquer rough roads. Similar to the M5 Drive Kit, the M6 drive kit comes with a double kingpin truck.
It is powered by the same 216Wh Samsung lithium battery as the M5 DK drive kit. The battery takes some 3 hours to charge.
The LCD screen remote with 4 riding modes is of superior quality with a user-friendly and comfortable design.
Maxfind M6 Drive Kit
Standard Range
Long Range
Super Range
Top Speed: 23 mph / 38 kmh
Top Speed: 23 mph / 38 kmh
Top Speed: 23 mph / 38 kmh
Top Range: 10 miles / 16km
Max Range: 20 miles /32 km
Max Range: 30 miles / 48 km
Hill Climbing: 35%
Hill Climbing: 35%
Hill Climbing: 35%
Price: 899$
Price: 1199$
Price: 1499$
Are Maxfind skateboards good?
Maxfind offers electric longboards and skateboards for all level of riders and all kinds of terrains.
Earlier, Maxfind electric skateboards weren't considered to be of top quality, but recent Maxfind electric skateboards are claimed to be of the highest quality.
As a bonus, you get the following items in the Maxfind electric skateboard kit with each electric longboard and skateboard that you buy.
A remote control
A remote control charger
A t-skate tool charging cable
A user manual
A remote control lanyard
A super-fast UL charger
Also, Maxfind is one of the few companies that also ships globally.
With Maxfind electric skateboards there are a lot of options across a varied price range. One thing you can be assured of is that Maxfind does not compromise when it comes to quality, experience, safety, and comfort.
---