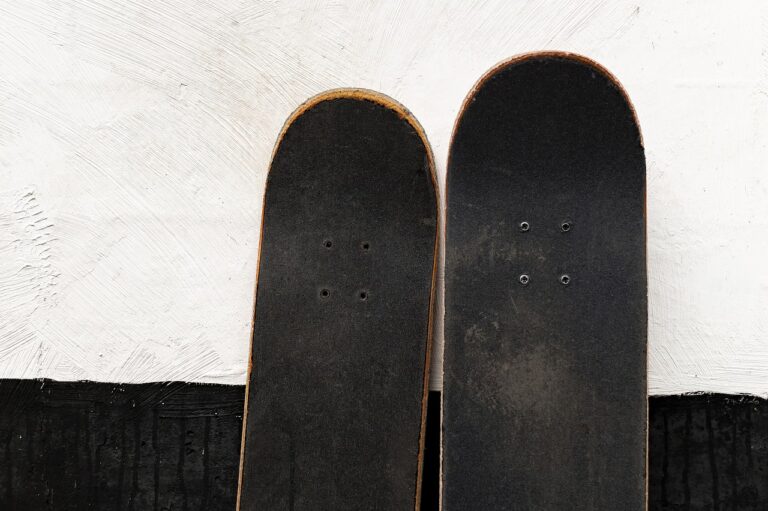 7 Best Blank Skateboard Decks
Quick Links
1 – Warning Blank Decks
2 – Bamboo Blank Decks
3 – Mini Cruiser Blanks
4 – NPET Skate Decks​
5 – CCS Skate Decks
6 – Cal 7 Blank Decks​
7 – Moose Blank Decks
8 – LOSENKA Decks
Why Buy Blank Skateboard Decks?
What is a Blank Deck?
Blank Deck is simply a skateboard less all the unnecessary brands advertisement.
It is what you stand on – the real maple wood – without the graphics, company names or their logos.
There are some important constituents why blanks are growing in fashion and have become the new trend in the skateboarding world.
Blank Decks can be Customized
The primary reason skaters go for blank decks is customization. A designed deck does not allow you any modifications. You are stuck with the concaves and the depths. However on a blank deck you can suit yourself, 
You will notice that mostly – Profession skateboarders – will choose one of the best blank skateboard decks, modify them according to their weight, height, style and shape them their way. This allows them to perform skateboard tricks better and proper.
Also if you want to do some form of woodwork, you would require just the deck. It is said that a large number of people buy blank decks for their woody projects.
How much do blank skateboards cost?
The second important factor is that blank skateboard decks cost way more less than designed ones. So basically when you are looking for a cost effective budget friendly expression of skateboarding – start with a blank.
The company doesn't charge you for the design, but still you will be getting a good quality board from your favourite brand – all this at a lesser price. 
In fact Blank Boards are comparatively very Cheap. Skate Warehouse Blank Skate Decks start at $24.99 – or this is what they claim (however when we checked their page – every deck was costing $29.99).
The most bough Warning Skateboard Deck at amazon.com costs lesser than Skate Warehouse ones – 
The final calculation – A blank deck costs you around 66% less than an Element Brand Skateboard!
With blank skateboard decks you have different varieties to choose from. However this is not the same with designed skateboards – where you have  a limited set of options.
Where to Buy? Amazon? Does Zumiez sell blank decks?
You will find some of the best blanks on Zumiez, Amazon, Walmart and other online retailers.
They maintain a vast range of Blank Skateboard Decks Bulk and Single – including most of the famous manufacturers. Some of them are manufactured and marketed by these online platform themselves.
You will not find major difference between the price if you buy from a local skate shop and not online. The good about buying from these is replacement policies. 
Secondly you will get a lot of variety. Amazon maintains around 50 different colored blank skateboard decks! This is some number we settled on when purchasing decks in bulk for ourselves.
That reminds me – if you are really crafty and want to design to perfection – search for wholesale blank skateboard decks. More the merrier. It gives you scope for experimentation. And generally blanks cost way too low when you buy in bulks.
Blank Skate Decks and Your Identity
The most crucial and best way to express yourself to the skating world – is through your Plain Skate Deck. So it is important that you sign yourself in the eyes of the skaters – only with some of the Best Blank Skateboard Decks underneath your feet.
In fact not just decks –  "Skateboarding is all about expressing your raw self to the world", be it with the way you paint your deck, your tricks, your riding style, and even your skateboarding apparels. 
The moment anyone sees your painted deck they know what kind of skater you truly are. Your deck is a statement issued by you to the word letting them know about your passion for the sport and your take on life as well.
Some just buy blank skateboard decks for art. As if the wood being their skateboarding canvas!
Factors to Consider Before Purchasing a Blank Skateboard Deck
Before selecting your blanks consider these factors.
Material used to make the blank
7 ply maple wood is the standard material used to make the strongest of decks. Bamboo and Carbon Fiber are some other materials used to make flexible and durable boards. Canadian maple, also known as Sugar Maple is considered to be the best wood.
Where is it manufactured?
There is a notion out there that blank skateboard decks built outside the USA and Canada is not good quality.
Companies have throughout their journey outsourced their productions to China for curtailing cost productions. But these boards have raised many quality complaints and that is why it is believed that boards manufactured in the USA and Canada are of high quality. 
Canadian products are believed to be the best amongst all, as the material and tech used by them is the best across the world.
The design of the board
When it comes to design there are 3 things which stand out in almost all blank skateboard decks.
The size, shape and concave.
Size: Sizes start from 7 inches wide and 28 inches long to 8 inches and 8.5 inches. You must know which size you are comfortable riding with before going for a board.
Shapes: Skateboards now a days comes in many shapes, the most common being the Popsicle one.
Concave: This is most crucial element of Plain Skate Decks – because most of the tricks and techniques depend on it. Also the level of comfort-ability is determined by the concave. The most common concave is the radial U-shaped concave.
Brand
Before purchasing a blank deck – ascertain its quality and brand. A lot of manufacturers are dumping decks in the market – so make sure you are not left with a wooden plank in the name of a deck.
If you make a wise choice and select a good quality blank, then believe it that it will serve you the same way a complete pro-deck would.
Are Blank Skateboard Decks Good?
Definitely blank skate decks are good, because logically speaking graphics and designs only add aesthetic value to the board. Saving extra money by buying a cost effective blank deck doesn't mean that the decks are not of good quality. 
You might hear some say that blank decks are literally trash as they warp and split easily. But the trick here is similar to buying a complete skateboard. You have to choose your blank deck properly. 
And more importantly choose only the rated and heavily reviewed best skateboard blank decks. And hopefully they will last long – and believe us – pretty long. 
Top 7 – Best Blank Skateboard Decks Reviews
Before choosing any of the  blanks reviewed later in the post remember that selecting a deck is similar to picking up a good quality skateboard. (We are repeating this line because it is important for you to consider).
You need to know your style and then pick up the deck that meets your needs. 
To help you out with the selection process we have reviewed top 7 blank skateboard decks. These decks are selected and ranked on the basis of skater reviews.
Some of these remain the best choice of a lot of professional skateboarders too.  Check them out and find if any of these suits your sport and style.. 
Warning Blank Skateboard Decks​
#1 – Warning Blank Skateboard Decks
Produced from high quality multi plywood, Warning blank decks are inexpensive, durable and super comfortable.
These skateboard decks are some of the last longing products. Warning can sustain months (and a maximum of two years) of rigorous riding around your skate park.
Warning Decks are lightweight and have steep concaves for ollies and hard turns. The wood is weatherproof and treated to withstand extreme temperatures and moisture. They come in 2 different sizes – 7.75 inch and 8.0 inch respectively.

Shop – Blank Skate Decks By Warning

Best For – Warning Skateboard Decks are priced economically and are perfect for learning beginner tricks. They are also a suitable option to replace your old worn out decks. 
Bamboo Blank Skateboard Decks
Made of 6 ply bamboo and maple wood, this professional blank skate deck from Bamboo Skateboards is lightweight, durable and flexible. The board gives you good pops than other boards mentioned here. 
Due to the mix of materials used in its making, the deck is amusingly strong and can withstand weeks (even months) of rigorous riding. Bamboo is also known to be a good shock absorber. You can get multiple sizes. 
Bamboo deck is not quite budget friendly as compared to other model blanks (although not as expensive as a designed skateboard). However Bamboo is known to make very good skateboard decks having the best wood and shape. 
Some users complain about its deep concave and suggest the depth to be mellower.
But overall – the deck is worth the dollars because of its strength and durability.  The ride on a Bamboo is quite comfortable and safe too in comparison to other blank skateboard decks.

Shop – Bamboo Blank Skate Decks

Best For – Bamboo Plain Skate Decks are ideal for all levels of skaters. So basically you pay once and the grows with you and your career.
Mini Cruiser Blank Skateboard Decks
A sturdy and durable deck, made from 6 ply Bamboo and Maple layer. The build is pretty solid and gives optimal performance. The design of the tail makes it good for tight turns. 
These plain skate decks provide a low concave to give you stability and balance while performing tricks. Overall this blank deck gives you super control, manoeuvrability and flexibility.
The size of the board makes it a good gift for your younger ones who are freshly exposed to the skateboarding world in spite of some considering them a bit odd shaped blank decks. However Blank Mini Cruiser Decks are not quiet pocket friendly which is expected as the manufacturer Bamboo Skateboards is a heavy brand.
We suggest you to spend a few extra dollars and buy this – firstly because of the quality and secondly because the decks are safer in comparison. And if you are buying this for a gifting a female skateboarder or a kid – then definitely a little extra dollars will be safety insurance.
But as a closing statement – out of all the blank skateboard decks – this one is a class apart. 

Shop – Mini Cruiser Blank Skateboard Decks

Best For – Apparently Mini Cruiser Decks are mostly suitable for kids and the younger population. They even make good skateboards for female skateboarders. But you can go with this one even being a professional skateboarder!
NPET Blank Skateboard Decks
Npet is a versatile blank deck made from 7 ply Canadian Maple. The board can hold a maximum weight of 200 lbs making it pretty strong and sturdy. The board measures 8 inches into 31 inches.
It is suitable for all terrains of riding so you can ride this board off street, on street and concretes. The deck has a double kick and nice concave shape. It gives you really good pop and has a slightly more concave in the tails and nose for that.
You get this board pre-drilled for easy assembly. The holes are evenly drilled at a distance of 4cms apart.
Many consumers report that overtime you see hairline cracks developing on the surface. However it is pretty decent on your wallet. You get 2 Npet Blank Skateboard Decks for the price of one Bamboo. So you cannot expect it to serve you a life time. 
Overall the blank makes a pretty good buy especially for the kids.

Shop – NPET Plain Skateboard Decks

Best For – NPET Blanks are pretty good for kids and beginner skateboarders.
If you are a professional skateboarder and have skated on Bamboo – then you will find difficult to adjust yourselves on this skateboard deck.
CCS Blank Skateboard Decks
CCS is known for producing decks that perform consistently. The standard size you get in this deck is 32 inch long and 7.5 inch wide. However you can choose from 6 available sizes. If you are looking to buy for your small ones – then go with the 7 inch kid size.
The decks are made from good quality multiply Natural Maplewood, which makes them strong, flexible and durable. The blanks have a nice concave shape to give you the stability you need. Symmetrical design of the deck makes them perfect for skating both – in a skatepark and on street and concrete. 
There are a lot of colors to choose from. Our favorite is always the Natural wood hue – but if you like other shades then check the options. You will not find many skateboard blank decks manufacturers offering different size and color options.
CCS decks are known to last long under rigorous usage. And this is one of the reason they cost a bit heavy too. However considering the quality and the built – CCS makes a good board to invest in. 
CCS has a good brand value too. It stands same as Bamboo's – with a huge customer base and fan following. 
A complete assembled blank deck (with tools and even skateboard stickers) is a good set up to start with.
Other than the CCS Deck you get 
109 mm small size trucks,
52 mm hard wheels, 
ABEC 7 high quality Bearings, 
a Grip tape,
Bolts and Nuts
Even though expensive – the kit will serve the cost you paid for.

Shop – CCS Blank Skateboard Decks

Best For – Overall CCS has super quality blank decks suitable not just for beginners but even for hard core skaters. The boards are good to perform advanced skateboarding tricks.
It is a one time buy – which will definitely serve you pretty long.
Cal 7 Blank Skateboard Decks
Cal 7 blank decks are built from 7 ply strong Chinese maple wood. The decks are durable, flexible, stable and good looking and are some of the good skateboard decks – if not the best!
Like the CCS Blanks – Cal 7 also offers a wide range of colors to choose from. Although the variety of sizes are less – and you Cal 7 decks do not fit for kids. You can book a 7.75 inch, a 8.0 inch, a 8.25 inch,  or the longest 8.5 inch.
The boards are good for beginner skateboard tricks. You will have a good time doing flips and ollies, all thanks to its decent concave and perfect shape. 
Are Cal 7 Skateboards Good?
According to user reviews Cal 7 blanks doesn't last long. Even the the built is not as strong as described by the manufacturer.
However considering the price – we think this is the most you can get out of this wood. A couple of months – on hard skateboarding – and a year on casual skateboarding – is the maximum output from Cal 7 skateboard blanks.
These boards are good as an extra pair – along with a strong Bamboo or a CCS. Eventually it is not a good board for performing tricks.

Shop – Cal 7 Skateboard Blank Skate Decks

Best For – Cal 7 plain skate decks and blanks are good for beginners and amateur skaters. If you want to perform skateboarding without tricks then you can go with these. For tricks we do not suggest Cal 7 Boards.
Moose Blank Skateboard Decks
Are moose blank decks good?
We come across this question a lot by our viewers.
Moose blank decks are budget friendly and suitable for beginners. The decks are durable, lightweight and extremely flexible. You can surely tag them under good skateboard decks if not the best ideal ones.
These plain skateboard decks are made from 7 ply Canadian maple which generally has a good reputation. The decks come with grip tapes unlike other blank decks. You get pre-drilled mounting holes, making your skateboard assembly easier. 
You can choose from three different sizes – starting from 7 inches to 8.75 inches. Moose also offers a variety of colors. You can select a stained or a dipped deck, based on whether you want to see the wood-grain or want your deck rather solid. 
Unlike other brands Moose Blanks have a U-concave. The nose of these decks are little larger than the tails. Both these are good for a stable ride. They support all kinds of riding styles and terrains. So basically you do not need to worry a lot if they are going to suit your feet or not. 
According to scooterly.com these decks can last up to 5 months of consistent use which is pretty awesome considering the price.
However many users suspect that moose blanks are not good. The wood in the decks is good but the problem is caused by the glue.
The deck is also said to have been warped and delaminated within a week of riding and the grip tape on these decks are not that comfortable either.
Best For – Moose Skateboard Blanks are ideal boards only for beginners. If you are a constant skater or ride rigorously then we are not sure they will last.
These are – 7 Best Blank Skateboard Decks Reviews. However you can order blanks online from a variety of stores or even purchase them from physical stores.
Personally we believe – there is no difference buying them from a store or from an online platform. These are skateboard decks and not apparels – you want to try first and then purchase!
Other Platforms
Customskateboards.com is a factory based in the USA, which claims to manufacture high quality Skate deck blanks from maple wood. The company also claim to provide long lasting decks with good pop. 
It allows you to customize your deck with your own design online at its website. You can place bulk orders too.
Blankskatedeck.com is based in California. They manufacture premium quality blank decks since the last 15 years from 100% Canadian maple. All the decks are made by real skaters and are tested by them to ensure good quality.
The factory allows you to customize your own size and shape. You get your decks directly from the factory and hence at pretty low prices.
Check their website – http://www.blankskatedeck.com/blank_skateboard.html
Other than these two – search for old school blank plain skateboard decks. They make wonderful sport material. 
Painting Skateboard Deck
How do you Paint a Blank Skateboard Deck?
It is one of the 2 ways, either you do it yourself or you can get it done by a professional or novice artist.
If you are an artist looking to create artwork on a blank deck there is a brand called MadAir Decks that collaborates with local artists to design their decks.
MadAir Decks, is a vision of Madison Harrison, founded in 2015.
As a full time student Madison used to commute daily on her longboard, and she saw that there was no community for skaters. So she got the idea of bringing creative individuals and skaters together on a single platform allowing them to freely express themselves. 
MadAir Decks support local artists and skaters alike. The company delivers high quality skate deck blanks – free to the artists, who then have creative freedom. The brand also ensures that the decks are ride-able.
MadAir sells their decks via events. These decks can be used for skateboarding as well as work of arts which can be displayed on walls.
The brand works completely online and does not have any  local shop in Memphis or any other area.
Check them out – https://www.madairdecks.com/
Final Buy
Bottom line
Make sure you buy plain skate decks – only from the brand you are most satisfied with. It is important to consider your style and skill level before the purchase.
It is also important that you consider the reviews and rating of the blank skateboard deck. 
The market is flooded with unfinished skateboard decks. – Do not waste your time and money on any fake items or products that you become useless after the purchase. 
Go with one of Best Skateboard Blank Decks – which lasts long and is worthy of the price you paid for.
Some argue that by getting plain skate decks you are depriving the skate-culture to grow, because brands supports professional skaters and sponsors them by their products. And buying blanks does not help because they cost much less than the pro-boards. – Do not listen to these kind of arguments 😉
SAVE MONEY AND SKATE HAPPILY!