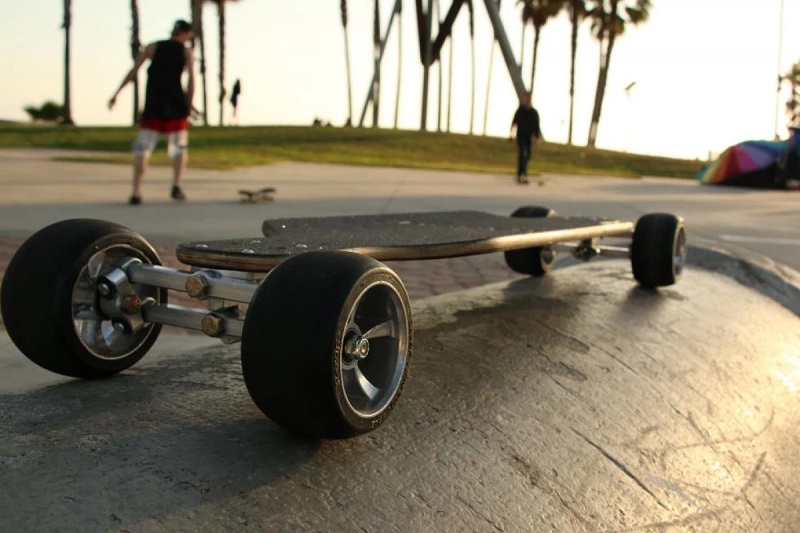 What is an Off-Road All Terrain Electric Skateboard?
Off Road All Terrain Electric Skateboards often abbreviated as ATE Skateboards – are designed specifically to traverse allterrain boarding – rough terrains like grasslands, hills, forest trails and sand.
These boards usually have larger wheels and trucks. They are also faster, bulkier, heavier and pricier than any standard e skateboard.
All Terrain electric skateboards are more suitable for adventurous riding. It gives you a smoother and stable ride over rough terrains as well as smooth surfaces.
If you are worrying about bumps, dirt or gravel damaging your electric skateboard or prefer safety over all other factors – go for a good all terrain electric skate. 
Not long ago, skateboarding was mostly limited to streets, skate parks, smooth and concrete surfaces. But with leading innovations, electric skateboards have broken free of those limitations.
With All terrain electric skateboards, you can now cruise smoothly over gravel, hill, sand, dirt and rough surfaces without having to worry about anything.
What terrain can I ride my AT/Off-road electric skateboard on?
Basically you can ride on all types of terrains from concrete to grass, beach, forest trails and other bumpy rough surfaces. In short these are for allterrain boarding.
However it is not ideal for these boards to ride on paved streets and roads. Unless you have a 2 in 1 board, where you get different swappable wheels for different terrains.
Factors to consider before buying any Off Road All Terrain Electric Skateboard
Getting your hands on the best all terrain electric skateboard is quite difficult as there are many great options. So it is best to figure out your preferences and considerations before purchasing one.
We have listed all the factors you need to look – for selecting a good all terrain skate. Evaluate what matters you the most – 
Motor Power
To absolutely rule over uneven terrains you need power and speed which is guaranteed by a powerful motor. And a motor is what sets apart good electric offroad skateboards from the rest of the husk.
The higher the power the better the torque and acceleration – making it easier for you to smoothly cruise unevenness.
Going for Dual Motors rather than a single motor would be the best option. Dual motors provide higher power. Also Belt Drive Motors offer great speeds and stability while Hub Motors offer more power.
Range
If you are looking for an AT board to cruise on hills, grasslands or in the woods, then you must get a board that offers good range. 
Good range means you don't have to be worry about being stuck in uneven lands and carrying your heavy board around.
Carrying your board won't be a pleasant experience – especially when it is an off road all terrain bulky skateboard – and not a standard board.
Parts
Damaging little parts of your ride while riding at top speeds on uneven terrains is something you will face now and then. 
Which is why you must get a board that comes with swappable parts or with parts that are easily available in the market.
Offroad Skateboard Wheels
The most noticeable difference between an AT board and a standard e-skateboard is – wheels. Cruising off-road is better with large air filled pneumatic tires rather than polyurethane wheels.
Look for a board with larger tires for good grip. Bigger wheels are comfortable in trailing off-road, but they don't give you fast acceleration and torque.
Also go for wider trucks as they help to smoothly jump over bumps.
The image below is Raldey's – a premium high quality all terrain electric skateboard. Just look at the wheels size and how they protrude out of the deck. The off road skateboard wheels is one of the reason – making this deck one of the fastest and stablest.
Suspension
You will obviously be riding on lot of bumps and rocks on uneven surfaces. Make sure to get yourself a board with good suspension for stability, grip and balance.
Soft suspensions are better at absorbing shocks and vibrations than stiff and hard ones.
Water and Dust Resistance
Rough terrains are mostly dusty and muddy.  While riding on these terrains you are bound to get dirt and water on your board – and it is electrified!
Take a good look at the boards IP rating, which gives you a sense of how safe the board is from dust, water gravel, and small pebbles.
Durability
Search for a board which uses durable, tensile material like Carbon Fiber. It is more lightweight than the standard wooden deck.
A sturdy and durable board will be able to withstand all the rough and tough you throw at it. And more importantly – you cannot afford a board to get damaged – which costed you fair amount of dollars.
Your electric off road skateboards should be rain protected too. Mark them – these are electric machines – needing proper insulation.
Price
The general opinion is that expensive electric skateboards are good when it comes to quality, performance and durability. 
If you are a regular off road rider than its best to invest in best e boards – even if they costs you some extra dollars.
But if you are not a regular, than you can get some of the budget boards that are good for both street and off-road riding.
We have reviewed and linked – both kinds of boards in this post.
Rider's Weight
Considering riders weight is very important. Heavier riders will slow the board while lighter riders are faster on them. 
Remember to check the weight capacity of the board.
If your weight exceeds the limit – go for an off road longboard. Off Road Longboards – offer a wide array of advantages over all terrain skateboards.
Check out our post on – How to choose an off road longboard where we have reviewed top 10 off road longboards available in the market.
Considering the above factors – we have prepared a list of 15 AT-electric skateboards that will not only guarantee you the best Off-road experience but will also be worth every penny.
At the last of the review there is a "Best For" box – prepared by our researchers – which briefs whether the eboard is appropriate for you as a rider or not.
After making your selection – you can click the shop e skateboard button – which will redirect you to the buying page.
Happy All Terrain Off Road Electric Skateboarding!
Evolve Carbon GTR AT E Skateboard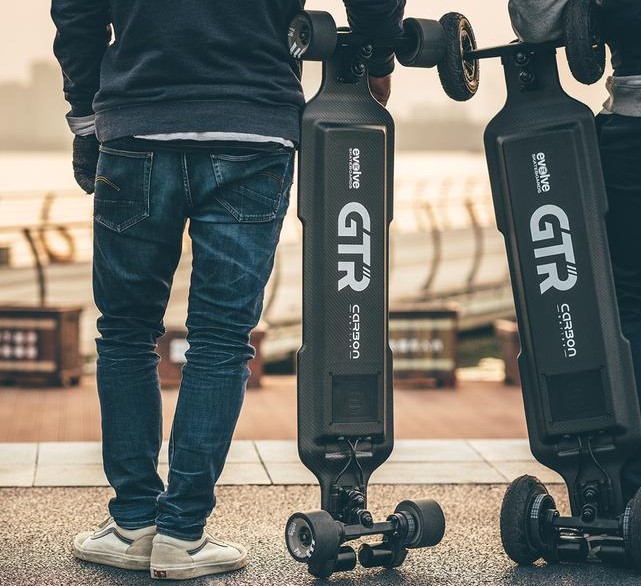 Evolve Carbon GTR is best known for its acceleration, speed, range, control and build quality. In terms of design it is a true marvel. It is the best automatic skateboard – rated by many skateboard magazines.
The carbon fiber deck ensures a smooth and stable off-road riding experience. It also gives you a good flex to cruise smoothly over bumps. The deck is strong enough to hold some 220 pounds. 
However the board is not portable because it weighs 10 kgs, making it one of the heaviest boards of this list.
This board is a game changer for range lovers. You can ride up to an amazing distance of 31 m on a single charge on its 14Ah Samsung lithium-ion battery. 
The only downside to this is that the battery takes some 4-5 hours to charge, (which is something you would not expect from such a premium board).
The 1500w dual brushless motors on this board lets you clock a max speed of 22-26mph. The speed is thrilling considering it is an off road skate. 
It is a big wheeled skateboard. You get the board with two types of swappable wheels for different terrains
97 mm, 76 a wheels for street riding
7 inch pneumatic tires for all terrain riding.
With a combination of range and speed, the Evolve Carbon GTR allows you to experience a seamless allterrain boarding.
Pros
Premium Quality Build
Flexible and Durable 
Excellent Range
1 Year Manufacturer Guarantee
Cons
Less Weight Capacity
Heavy Deck
Long Battery Charge Time
Best For – Evolve Carbon GTR is a premium quality off road electric skateboard – best for experienced off-road riders. It costs like wise – but it's durability realises whatever you pay for it. 
Outstorm All Terrain E Skate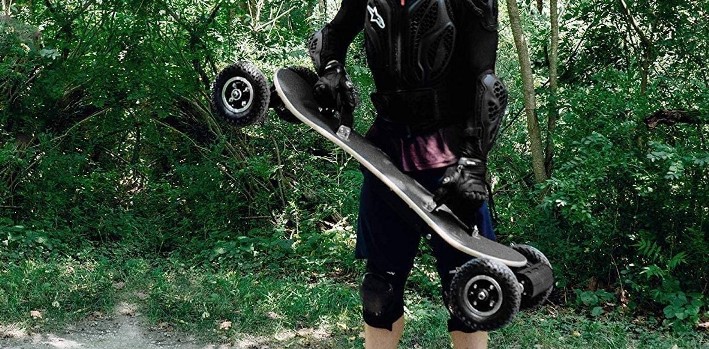 Outstorm is probably one of the fastest all-terrain e skateboards with a max speed of 31mph, 
The high speed is a result of heavy duty tires and extremely powerful 3300w dual brushless motors. 
If you are into mountain boarding then you would surely love this board.
Compared to its impressive speed, OutStorm doesn't do much justice on its max range. You just get 19miles on a single charge. 
However the battery charges in some 2-4 hours, which lets you hop back on your board quickly.
The 11 layer Canadian maple deck provides great flexibility and strength. It also makes the board stable enough to let you cruise rough terrains on higher speeds.
To make the ride more stable the board comes with pneumatic rubber tires.
Users have mentioned the board to shake a little bit when accelerating. This problem can be solved by tightening the trucks before-hand, so that it keeps the board stable when cruising at high speeds.
It is a heavy board weighing in at 32lbs. Carrying it for long distances is not a good idea. If you are off to a recreational ride – then boarding it on a RV or electric bike is the only option. 
Overall it is a good all terrain skateboard. However you can not expect Outstorm to do a Bajaboard or a Raldey.
Pros
Impressive Max Speed
Heavy Motor
Strong Deck
Comes with 1 Year Warranty
Cons
Less Range
Trucks Needs Replacement
Heavy Board
Best For – OutStorm is a pro level electric
longboard cum skateboard. Because of a very heavy motor it is ideal for high speed enthusiasts. As a beginner we do not recommend buying this huge machine if you are not into allterrain boarding.
Moto Tec MT SKT 1600 - Off Road E Deck
Moto Tec is what you would call a true off road electric skateboard. It is more like a monster board on wheels.
With powerful 1600w dual belt-drive motors, Moto Tec gives you a good 18-22mph of max speed. 
The max range is a decent 10 miles on a single charge. A full charge takes around 2-3 hours.
The deck of the board is very hard. Made from 12 layers of maple wood, it is strong enough to hold up to 260lbs. To guarantee you a stable and comfortable ride, the design of the board includes raised edges.
With all these added wood layers – Moto Tec weighs 71lbs.  making it probably the heaviest electric skateboard. Don't ever think about carrying it.
It runs on large air-filled tires. They are great at absorbing rigorous shocks, hurdles and perform really well off-road making it a perfect dirt skateboard too.
Other than the weight – this all terrain skateboard – has a poorly built remote – you will find it utterly disappointing. It might also be uncomfortable in your hand.
Pros
Great Suspensions
Strong and Durable Chassis
Strongest Deck in any eboard
Cons
Extremely Heavy
Low Mileage
Average Remote Built
Best For – Moto Tec MT SKT 1600 is good for serious Off road riders who prefer power and over range and are not very much into looks and designs. The off road e board is not at all suitable for female skateboarders and kids. 
Azbo Y8 Off Road Electric Board
AZBO Y8 is a beefy board, unlike other electric boards.
The deck is 11 layers of maple wood with high-density emery non-slip waterproof surface. This makes the deck strong and sturdy enough to hold up to 286 pounds.
Powered by 3000w hub motors, it reaches a max speed of 25mph.  Going uphill with this board is a real breeze. The 11Ah LG lithium battery gives you enough juice to cruise 20 miles on a single charge. 
You get to enjoy 3 different speed modes, based on the terrains and your preferred style of riding.
Azbo Y8 comes with 7.8 inch studded tread pattern pneumatic tires for extra traction and floatation on rough terrains.
Design and built is pretty sleek for an all-terrain board. It looks similar to a snowboard with a wide and long deck. And hence for extra stability, safety and better balance the board has detachable straps attached to the deck to lock in your feet.
Azbo Y8 is heavy on both the pocket as well as on hands. It costs 1699$ and weighs around 35lbs.
For extra protection – you get safety gears with Azbo – which includes:
Kneepads
Wrist guards and
Elbow pads
Pros
Foot Straps for Extra Safety
Strong Tires
Anti Slip – Water Resistant Deck
Comes with 1 year warranty
Cons
3 hours to charge the battery
Moderately Heavy
A Bit Pricier
Best For – Azbo Y8 is a wonderful electric off road skateboard for almost all kinds of riders. The weight is compensated by it's sleek design making it good skate for female skaters as well.  The board has style, power, speed, range and safety.
Metroboard X All Terrain + Street Electric Skateboard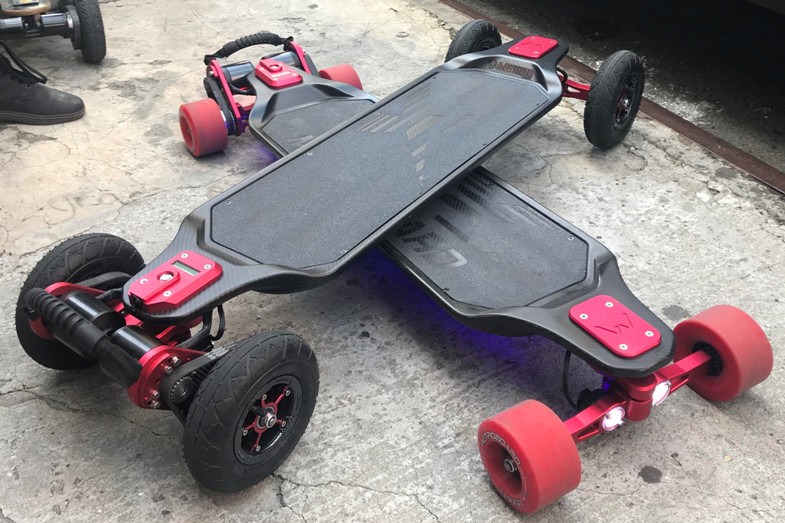 Metroboard X AT is a uniquely designed electric skate board built with high quality materials. It is made to order, specifically for you according to your preferences.
Deck of the board is completely carbon fiber made – with a 1 inch dropped platform that gives you stability and balance. Carbon fibre makes the deck strong enough to carry 300lbs!
The board runs on powerful 2200w 6374 dual brushless motors, allowing you allterrain boarding at maximum speeds of:
• 36mph on 190mm AT wheels (72 tooth wheel pulleys)
• 31mph on 155mm AT wheels
• 28mph on 190mm AT wheels (52 tooth wheel pulleys)
The 36v 16ah LG MH1 cell battery pack gives a max distance of around 20 miles on motorized wheels. The board uses MESC6 ESC for smooth acceleration/braking and maximum control.
Carving on this board is super comfortable. As your body suits to Metroboard X AT it becomes difficult to adjust to other electric boards. The credit for it goes to the double bushings and CNC aluminum trucks.
Much appreciated feature on this board is 360 degrees illumination. It comes with 4w lighting in front, rear and underneath the deck. 
The specs makes one feel – that the board must be beefy and heavy – however Motoboard X weighs just 30 lbs on AT wheels and 29 lbs on street wheels. Both the size variants make it a big wheeled skateboard.
Considering other All Terrain Off Road Electric Skateboards – this one is quite light. And being lightweight greatly enhances it's consumer experience. You can use this as a dirt skateboard too.
The board is super expensive costing around 2500-2700$. However, the brand ships worldwide with impressive and prompt customer service.
Usually the company ships the product in 1 or 2 weeks, but sometimes it can take up to 8-10 weeks.
Pros
Strong Engineering
Powerful Motor
Comparatively Quite Light Weight
Amazing Customer Service
1 Year Warranty
7 Day Money Back Guarantee
Completely Illuminated
Cons
Highly Expensive
Long Shipping Time
Best For – Metroboard X is a premium quality board which has more pros than cons. It is ultimate for male and female skateboarders alike. Provided you are a professional or intermediate and can afford the machine. For beginners investing so many dollars is not worth the experience.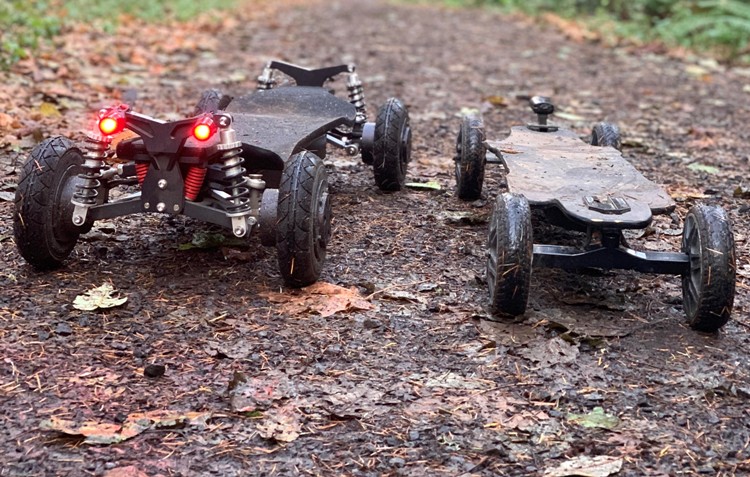 Backfire Ranger X2 is a premium automatic skateboard with great quality parts and features. The deck is designed to be more of a longboard for better control and stability on rough terrains.
2400w dual hub motors, gives you a decent max speed of 22mph. However you would expect a board of this quality and powerful motor to pack more speed.
50.4v 454wh battery, promises to make up for the speed by allowing you a 16-22 miles maximum range on a single charge.
The Backfire Ranger X2 comes with 6.5 inch airless honeycomb rubber tires. The rubber absorbs the shocks and helps you quite a lot with the friction.
To further ease on the vibrations, the board has a flexible and curved deck and comes equipped with front and back Kingpin Trucks. 
All the parts of the board are sealed and cased providing the board protection from sand, dirt and little rocks. 
The heavy parts and encasement makes the board a little heavy weighing in at 28lbs. In comparison to other off road electric skateboards reviewed here – Ranger 2 is lighter.
Pros
Powerful Motors
Airless Honeycomb Tires
Encased Electronic Parts
Great Mileage
Cons
Moderate High Speeds
Not a 10+ Ply Deck
Best For – Backfire Ranger X2 is Best for Beginners and Novice who love stability and long range off-road cruising. The board does not cost much either and falls into $1100 – $1150 range.
Yecoo GTS is budget friendly hybrid e-skateboard with great design and build quality. The electric skateboard is also known as the Urban Cross Country Vehicle because of its easily replaceable wheels.
It comes with 2 different sets of tires for different terrains. They have the 83mm PU wheels for street riding and 6 inch non-inflatable silicone tires for off-road cruising.
Yecoo GTS is made for all kinds of riders. Its 8 layer super strong deck can carry weights up to 330lbs. The deck is constructed from the finest and strongest maple wood. 
Weighing at 19.6lbs the board is slightly heavy but can be carried around while commuting. Considering other off road skateboards – it is definitely lightweight.
If this is not enough to impress you, then the boards speed and mileage is definitely a deal breaker. Its 9 ah Samsung battery allows you to ride up to a range of some 12-21 miles based on the riding conditions and weight of the rider.
While, the 2000w belt drive motors offer you a max speed of 25mph. which is ideal for a hybrid e-skateboard. You also get 3 riding modes for better and smoother control. Yecoo GTS is a big wheeled skateboard too.
Unlike other high end electric boards, this board is equipped with 2 flashlights for safety and better vision at night time. The Yecoo is said to have a great customer service. It is highly prompt and responsive.
Yecoo GTS does not cost much either. You can buy one in less than 700 dollars. It can be termed as a top budget off road electric skateboard.
Pros
Replaceable Tires for Different Terrains
Attached Flashlights
Not Very Heavy
Great Load Capacity
Good After Sales Service
Cons
Not a 10+ Ply Deck
Other than the above point – there are no major Minuses
Best For – Yecoo GTS Hybrid is a great pick for all kinds of skateboarders. In fact it is perfect for young riders – beginning skateboarding on electric skateboards. It is sleek, does not weigh a lot and does not cost too much.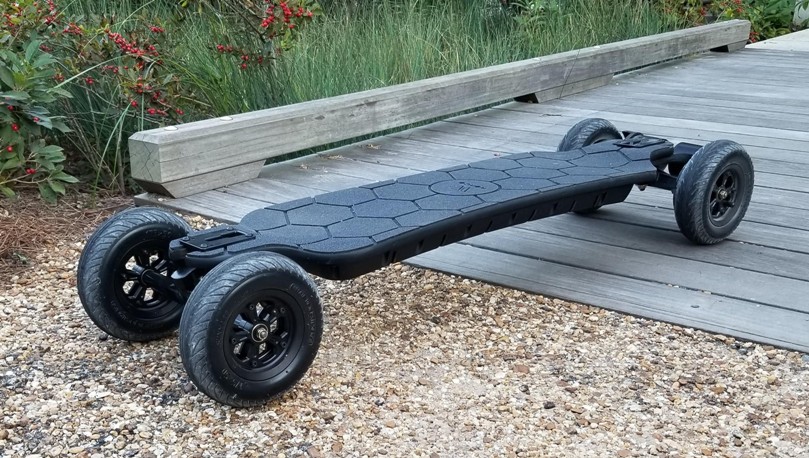 The latest Wowgo AT2 is another budget friendly automatic skateboard option for off-road enthusiasts.
Powered by a pair of 1500w belt-drive motors itcan take you upto 25mph within no time. 
It is fueled by a 504wh battery giving you a max range of 22miles. The powerful battery takes approximately 3 hours to charge, which is good enough looking at the maximum range it can cover in a single charge.
It's flexible deck is made from fiberglass, bamboo and Canadian maple. A flexible battery is attached underneath the deck to help gain a better flex while riding on bumps and cracks. This also helps avoid any kind of battery damage. 
Along with super flexibility the deck is strong enough to hold weights up to 280lbs.
You get 4 speed and power modes, for efficient acceleration and braking. The board is equipped with double kingpin trucks and 7 inch pneumatic wheels for smooth and comfortable riding off-road riding.
The Wowgo AT2 holds an IP55 rating for water and dust resistance. So you need not worry about riding your board over puddles or dirt. 
It is also the most expensive board the company has under its sleeves making it a flagship model. The board will come under 1100 dollars. 
Comparatively it does not cost what Carbon GTR or a Metroboard does. But if you want a cheaper off road skateboard then go with Yecoo GTS.
Pros
Flexible and Durable Deck
Certified Water and Dust Resistant
Cons
Shaky at High Speeds
Heavy Board Weighing in at 30lbs
Best For – Wowgo AT2 is a decent All Terrain Electric Skateboard. Go with this one if you cannot afford a premium model like Metro or Bajaboard and are not satisfied with a Budget board. We believe some of the dollars are for the Brand.
Maxfind FF Plus All Terrain Electric Offroad Skateboard
Maxfind FF Plus is another good skateboard with quality parts and great features.
The Plus version has a wide carbon deck with large wheels, perfect for extreme off-road riding. With a 35% range of hill climbing, you couldn't ask more from an AT board.
It is powered by 1200w dual motors which gives you a max speed of 25mph. The board is backed by a 36V 4.4AH Samsung battery that allows you to cruise up to a max distance of 11 miles. The battery takes around 3 hours to charge.
The range might sound a little disappointing, but you do have the option to amp it up by buying additional 6ah Samsung batteries. It will lead you to 40-60 mile range. Swapping the batteries is also quite easy.
Although the extra swappable batteries make up for the low range you would expect the battery on board to be able to pump that much juice so that you wouldn't have to change batteries every time you want to cruise extra miles.
The design seems a little inappropriate. It also lacks in terms of comfort and range. 
The board is between light and heavy boards weighing in at 24 lbs and is strong enough to carry weights up to 220 lbs.
Pros
Wide Deck 
Swappable Batteries
Medium Heavy
Cons
Very Low Range
Lacks in Design and Comfort
Best For – Maxfind FF Plus is yet to find its name and proper place in the skateboard market. Although it has some issues – but overall the board makes a wonderful skateboarding equipment. And with an additional battery – Maxfind is one of out favourites.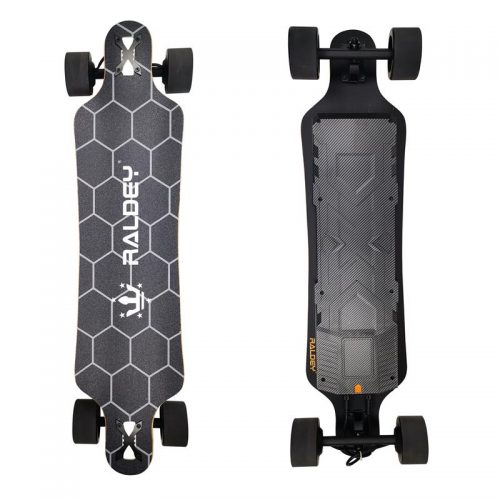 Raldey MTV3 is a fast, lightweight and affordable AT-electric skateboard. The second best automatic skateboard after Carbon Evolve.
The 1500w dual motors gives you an impressive max speed of 29mph. The deck is strong enough to hold some 240 lbs and it just weighs 19 lbs.
26v 7ah battery gives you some 12 miles, and it takes approximate 3-4 hours to charge.
The deck is made of maple wood which makes it strong but it might not have the desired flexibility.
The deck and wheels are not very wide – which might cause trouble on bumpy grounds.
In order to make it light weight – the Raldey has made it somewhere between a street electric board and an off road skate. It has the features of an AT board but lacks the edge.
Pros
Impressive Max Speed
Ultra Lightweight Deck
Cons
Narrow Wheels and Deck
Not Quite Flexible
Low Range
Best For – Raldey MT V3 is a good off road board for young riders, non professional riders who are into casual skateboarding. If you are a regular off ride rider – then the board will not suffice long.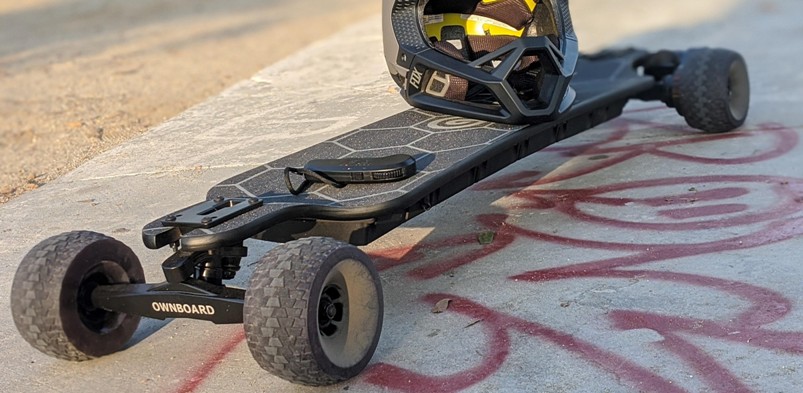 Ownboard Bamboo is a powerful, sleek board measuring 39 inches long. Basically it is an off road all terrain electric longboard. 
It is powered by 1500w dual belt-drive motors. The motor powers it to reach a max speed of 22.5 mph. 
The range on this board is also pretty good. On a single charge it takes you up to 19 miles. The battery takes 3-4 hours for a complete charge.
Overall the board is medium weight lightweight weighing just 25 pounds.
Ownboard runs on 150mm honeycomb rubber tires or 120mm GT cloud-wheels with damping foamies core. Actually you can select the type of tires you are comfortable with.
You even have the option to opt for Bash Guard. It comes equipped with regenerative braking system.
The deck is made of fiberglass and bamboo making it strong enough to carry 220lbs.
Ownboard is a good brand – shipping it's products all over US and Europe. And this off road electric skateboard has been praised by a lot of consumers.
Pros
Lightweight Deck
Regenerative braking
Offers Customization
Cons
Battery takes long time to charge
Delivery Takes 25 Days
Best For – Ownboard Bamboo is a good off road skateboard having qaulity specs and features. It makes a good deck for beginners in for casual riding and also for mediocre skaters. As a professional we suggest going for a Bajaboard or a Metroboard.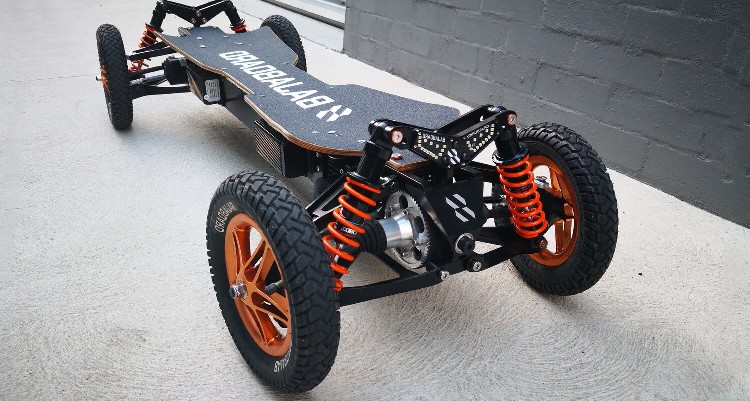 Bajaboard is the definition of style, power and performance. It is best known for its large AT wheels and incredible suspension system. 
Pantera – a beast designed by Bajaboards – is one of the most expensive off electric electric skateboards around the world,
The board comes with integrated headlights and taillights for extra safety.You will see one of the best remote controls with the Bajaboard. 
The Pantera offers you an impressive 45mph top speed and a max range of 31 miles.
It is fueled by 1100wh battery and is powered by 4 3500w motors which is way more than the power you need. 
The construction of the board is strong to easily handle weights up to 350lbs.
However Bajaboard is not something you can carry along. The deck weighs 57lbs which means you can only take it out on a RV or an electric bike. 
It is not a cheap motorized board. The signature Pantera version is greater than $3500 skateboard. Although you will not feel a single penny wasted.
The manufacturer is top notch and the board itself comes with several guarantees.
Pros
Super Powerful Motors
Mind Blowing Top Speed
Excellent Weight Capacity
Cons
Extremely Heavy Deck
Costs Similar to a Micro or a Second Hand Hatchback
Best For – Bajaboard Pantera Signature version is an extreme offroad eboard. The site itself mentions – this is not for beginners. Invest so many dollars only if you are a professional off road skateboarder – and after clearing your hands on other cheaper versions. 
Onewheel is not a usual board. Unlike other electric skateboards or any skateboard Onewheel rides on just one single large wheel placed in the center of the board – thus the name Onewheel. 
The board works on weight shifting mechanism. When you lean forward while standing on the board it accelerates and when you lean backwards it brakes.
Onweheel is more agile and comfortable compared to other electric skateboards. As this board uses sensors to ride there is no remote control needed. The inbuilt sensors make acceleration and braking comfortably smooth.
The design and built of the board is pretty strong and can handle weights up to 275 lbs.
Weighing at 27 lbs, it is not a very heavyweight machine which can be difficult to maneuver while going fast.
It gives you a max speed of 19 mph and a top range of 15 miles. It comes equipped with a 324 wh battery. 
The board runs on hypercore brushless motors and has powerful LED lights. 
However electric off road skateboards are not just about cruising at all types of terrains – there are into climbing hills and going deep valleys too. And this is where Onewheel is not a pro. Hill climbing and downhill ride are not the smoothest on a single wheel.
Check out alternate skateboards if you are looking for some hilly skateboarding.
Pros
Lightweight Deck
Innovative and Unique Design 
Highly Illuminated with LEDs
Cons
Low Range
Hill Climbing and Downhill Riding is Not up to the Mark
Best For – Onewheel + XR Electric Skateboard​ is pretty good for cruising on streets and moderate terrains. On difficult ones – you need something having four.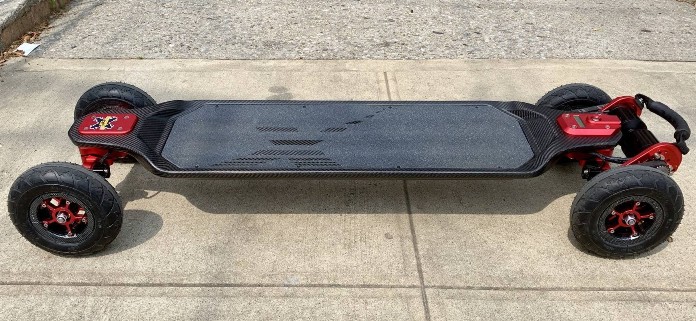 Kaly NYC skateboards are purely handmade and customized. All the parts are of high quality and worth every penny. 
The deck of XL 2.0 is highly durable, made from a combination of carbon fiber, fiberglass and basalt. It has a sleek design and an elegant look.
Powered by noiseless direct drive geared motors, the fastest you can go on this board is up to 28-30mph. The board packs a 700wh battery that takes you to a max range of 20-24miles.
You get 8inch wheels for smooth and breezy riding over rough terrains. 
The only issue is – it lets you ride only on one speed mode which is not suitable for beginners.
Check the detailed review of Kaly Nyc XL 2.0 Electric Skateboard.
Pros
Impressive Top Speed
Good Range
Cons
Heavy Board Weighing Around 18kgs.
Only One Speed Mode
Best For – Kaly NYC XL 2.0 is the modified version of the originally launched NYC.  It is good for experienced riders who want to have total control. As a beginner it is not wise to invest so much. And Kaly Electric Boards are not cheap.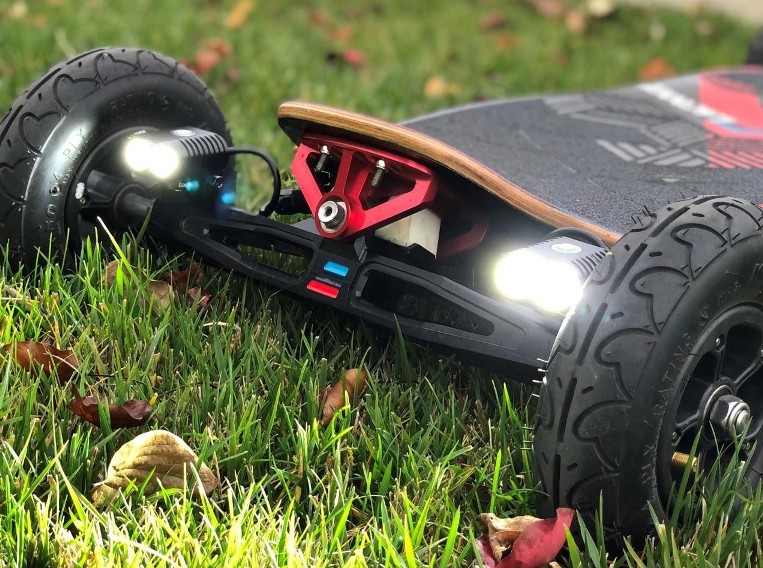 Lacroix Nazare Lonestar is a big name and the skateboard justifies the titles.
Nazare Lonestar is a complete package including – Speed, comfort, performance, range and build quality.
It runs on dual belt-drive motors giving you a max speed of 35-38mph.
 The board is fueled by a 2178wh 12s12p battery that takes you up to an astonishing 50-60miles. The battery takes 3-4 hours to charge.
You get an ultra-wide deck equipped with bright headlights. The trucks are massive and are built of heavy and durable aluminum.
All these prime features cost! The off road electric skateboard comes at a price of $4000. 
Lonestar weighs 49lbs, making it an extremely heavy e-skateboard. However this is the problem with all premium skateboards. You cannot expect to have made from low wight decks and perform properly on off road terrains.
Lacroix customer service is totally phenomenal with warranty covered for more than a year or at least a year in some of their boards.
Pros
Ultra Wide Deck
Extremely Fast
Cons
Heavy Board
Heavy Price Tag
Best For – Lacroix Nazare Lonestar is an ultra premium less than 5000 dollars skateboard. As a beginner it is heavily not advisable. The board will not be very good for kids and female skateboarders as well – because of it's heavy weight. As a professional regular off street skateboarder – you can definitely go for Lonestar.
Is There any Maintenance Required with All Terrain Electric Skateboards?
Absolutely! 
AT boards might require more maintenance than other standard e skateboards – considering the fact that you are constantly riding them on rough terrains and uneven surfaces.
You will have to take care of the wheels, the air pressure if you have got air tires and the deck. Electrical parts mostly come properly encased – but as the streets get tougher – the wiring and the circuits may come lose.
Constantly check the screws and fittings and never mess up with the electronics. Charging your battery regularly is also quite important. 
We have got you all covered with "how to maintain an off road electric skateboard" – guide. After purchasing one of the off road skates – do not forget to go through the guide once. 
On an Off Road All Terrain Board you need range, speed, stability and comfort to overcome the rough contours.
The ideal choice should be a board that can give you all that.
If you are looking for speed, then you must go with Outstorm, Maxfind FF Plus, Raldey MT V.3, or KalyNYC  XL 2.0. Other than Kaly – these are semi premium skateboard brands. But these possess a powerful motor and secondly they have the toughest off road skateboard wheels.
If you are looking for range then Backfire Ranger X2, BajaBoardPantera, Lacroix Nazare Lonestar are the best choices. All these are great brands with wonderful customer service and product quality – however they are pretty high on costs.
Evolve Carbon GTR, Azbo Y8, Metroboard X, Yecoo GTS, Wowgo AT2 are some of the electric off road skateboards – which tick all the factors and provide a seamless off-terrain riding experience. These are not a Rolex or a Tesla you can flash – but they do not cost you a fortune either.
If you already have an electric skateboard and are looking for wheels – check out our post – on how to select. sturdier and speed enhancer off road skateboard wheels. 
For other alternative skateboards check out our posts on – Fastest Electric Skateboards and Skateboard Types.
Lastly – Go Hard on Hard Terrains!