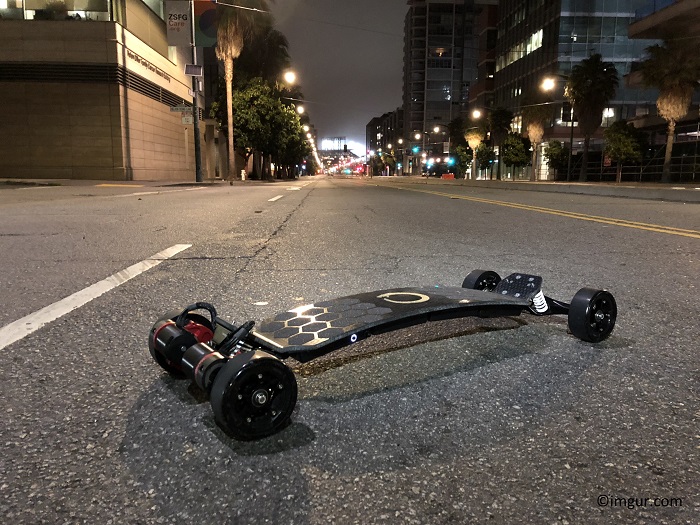 Kaly NYC – is a super-premium electric skateboard brand, started by Ernesto Clark. 
The brand is based in New York, where each and every Kaly board is hand crafted, designed, engineered and assembled by the founder Ernesto.
Kaly NYC boards guarantee high performance, speed, torque and range. They are undoubtedly one of the best boards for serious and experienced riders looking for a powerful and reliable ride.
"Hill climbing and Carving is super fun and simply fluid with Kaly NYC Boards." – Anonymous
Each Kaly NYC board is custom made by Ernesto according to the preferences of its buyer.
In order to get your hands on one of their boards – you have to get in touch with Ernesto through kaly.nyc website or through his Instagram handle. 
You can completely customize the board according to your choices.
Once your order is placed you will receive the customised Kaly NYC within 6-8 weeks.
Kaly NYC offers you three variants of pre customised boards:
The XL2.0
The XL40
and XL-R.
Each one the kaly board has earned a lot of reputation and demand in consideration to other premium off road electric skateboards.
We have reviewed all of these in detail below.
Disclaimer – All the three variants of NYC Kali cost 3000 plus dollars. If you want electric skateboards at a decent price range – then check our post on 
Best Off Road Electric Skateboards and Best Electric Longboards.
We have reviewed more than 15 of the top skateboard models – electric – which are ideal for hard core off road skateboarding. Below are the 4 selected skateboards – which are perfect alternatives to Kaly NYC's boards. Check them out.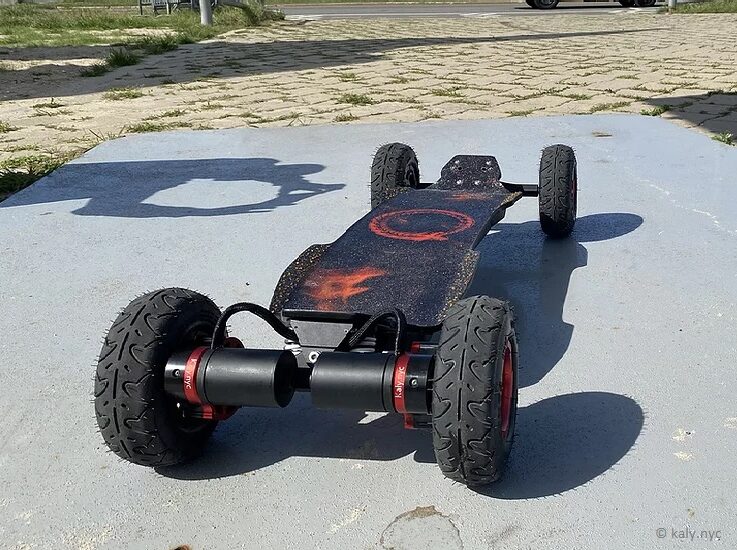 Kaly XL2.0 runs on Helical Gear drive system with a total output of 4585watts.
These gears are louder than belt drive motors. They provide precise acceleration/deceleration and makes swapping wheels easier. The All-terrain top speed is 35mph.
Unity ESC is used to control this board. The powerful motor is fueled by 700watts 12S-4P Sanyo battery pack. Battery sag is minimum in all Kaly NYC boards.
On a single charge you get a maximum range of 23-25 miles with up to 210 pounds on the board.
The XL2.0 is equipped with 16inch CNC Trucks and softer springs for better carving and comes with 8 inch pneumatic tires. 
The deck is completely synthetic, made from carbon fiber, basalt fiber, fiberglass and secret sauce epoxy, making the skateboard very strong and flexible. It has a tub-progressive concave for better streamlining body and is completely water resistant.
You get 3 types of decks based on flexibility.
Super Bouncy suitable for 150 pounds. 
A bit stiff similar to the vanguard flex 1 deck. It is a medium flexible deck ideal for carving and some 180 pounds.
Hard and stiffer flex more suitable for heavy riders up to 200 pounds and higher speeds.
Kaly NYC 2.0 weighs around 18kgs – making it one of the not so lightweight electric skateboards. (You get an e bike with lesser lbs)!
The board's built looks simple but the final design looks entirely elegant.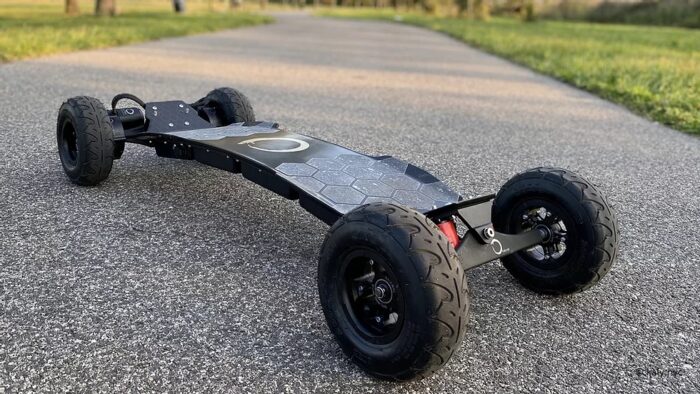 With a fully synthetic deck made of carbon fiber, fiberglass and basalt, the XL40 looks breathtaking. The built, quality, durability and power of this beast – actually defines a premium electric skateboard.
In first looks – XL40 is almost identical to the XL2.0. Most of the specifications of Kaly NYC XL40 are similar to the Kaly NYC XL2.0 too. 
It runs on a 4585watts Helical Gear drive motor and comes equipped with 16 inch CNC trucks and Unity ESC.
The major differences between XL40 and XL2.0 Is the battery power and maximum range. 
It is fueled by 1360watts/hr 12S-9P Sanyo battery pack, giving it a powerful and mind whopping maximum range of 40-43 miles.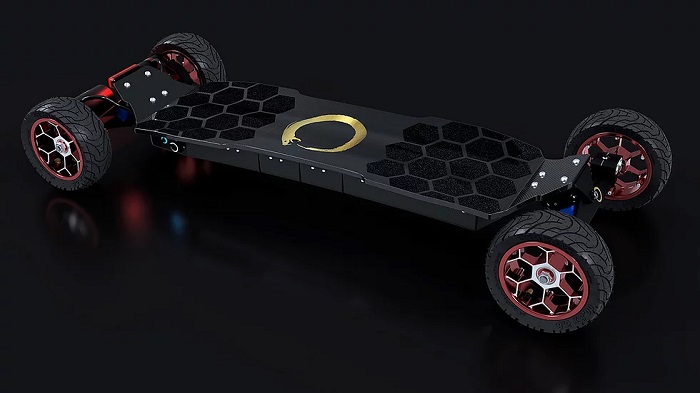 Kaly NYC XL-R is one of the costliest electric skateboard out on the roads. Technologically it is way ahead of other patented boards and offers all kinds of riding styles possible. We believe this are the two specific reasons for the added cost.
Kaly tags this as "A Class of One" longboard NYC. And we support their claim totally. It is a pleasure to find all your requirements fulfilled in one single deck. Be it comfort, range, inclination, speed, style or whatever a skateboarder wants – XL-R covers all.
The longboard NYC measures 48.50″ x 18.50″ x 8.50″ and measures a little over 53 Lbs. Its fully synthetic deck has a smooth and comfortable W-Concave with a 32″ foot stance. You can customize the deck according to your style. If you prefer speed than go with a stiffer flex (level 1) which supports 260 pounds of rider's weight and if you are into carving then go with level 2 flex – which supports 220 pounds.
XL-R runs on 63100-110Kv motors offering 10,000W of optimum power. Just look at the figures and compare these to other electric skateboards. They are nowhere even near! With this much power you can have a +40% inclination. Honestly i cannot even imagine how powerful the ride can be.
The motor is accompanied along with a powerful 20S-8P battery featuring 50E cells delivering 2,960W/hr. Kaly NYC XL-R has a mileage of 65-95 miles! This means you go Hyde Park and Minnewaska State Park on a single charge! The battery gets charged in less than 3 hours with a 84V@15A charger.
This Kaly NYC longboard is equipped with all the necessary as well as extravagant accessories. You get 210 x 75 mm tires and Rehostatic brake (same as in the XL40). In the front panel you get 4,400 Lumens of high flashing lights and a Red LED at the rear tail panel.
The electric skateboard cum longboard looks like a beast. The TESTAROSSA version comes with red rims for tires, honey comb pattern design on the deck and golden Kaly NYC logo. The COSANOSTRA version lacks the red color and comes in silver and black colors. Our Best is the Testarossa Model.
Overall this is a wonderfully built electric longboard/skateboard for only the ones who can afford a BMW, Mercedes or a Lamborghini. The board costs more than 6000 dollars.
Is Kaly NYC board any good?
Kaly NYC's built, quality, design and everything else is exceptionally well thought by Ernesto. 
According to Ernesto the best thing about Kaly NYC boards is "control with high speed".
In a recent e-skate event at Paris, Ernesto stated that his least favorite thing about the Kaly NYC boards is the twitch at the back of the boards, when you want to accelerate really fast.
According to users a Kaly NYC board is far better than a Trampa board. The decks are far wider with nice foot pedals for leverage. It also has more flex and concave than regular Trampa Decks. 
(Trampa skateboard deck is considered by some as the biggest drawback as It does not have a concave, and has massive arch with sharp vertical ends.) 
The helical gear drive system in Kaly Boards is also top notch. Users are also all praise for the wheels, as they are precise in carving and other.
Many users compare Kaly NYC boards to a dirt bike, with super carve.
Kaly NYC is the only brand besides Evolve Electric Skateboards which offers 2 in 1 kits as a complete e-board setup. You will get one kit of street wheels and one kit of all terrain wheels.
Ernesto's customer service is said to unresponsive and not prompt enough compared to other DIY brands.
Suspension systems in the boards are also slightly rugged. You can continue with the installed suspensions for a couple of years – and than can switch to other premium suspensions.
Although Kaly NYC gives you a delivery date within 2 months of successfully placing the order – it is not guaranteed you will get the skateboard on time. Sometimes the wait can stretch to months post expected delivery time.
Kaly NYC Skateboard Prices
All the NYC Kali electric skateboards manufactured by Ernesto are super premium. All the parts are hand picked, electric motor and battery are of top specification and brand.
And most importantly all these Longboards NYC are custom made.
Both of these factors increase the costs of Kaly NYC boards pretty high. You are not going to find any skateboard accessory – with Kaly NYC imprinted cheap.
We believe there are not many companies offering skateboards in these prices – making NYC XL40 one of the most expensive skateboards!
(You can buy a second hand 4 weeler on ebay in a lesser price)!
Is Kaly NYC worth? Final Call
Kaly NYC gives you a powerful and smooth riding experience nonparallel to any other electric skateboard. Not even boosted boards! This is one of the reason this longboard nyc is priced high.
Secondly a Kaly NYC is like an investment. You get a very good price when you want to sell it off. Not much are actually in the market and procuring one is difficult.
Kaly NYC's are extremely powerful all terrain boards, that has a combination of speed, range, torque and power. They are simply great for hill climbing, carving, off road riding, cruising on all types of terrains.
If you can afford one and are very much into skateboarding than without doubt get yourself one.
It is difficult to find an alternative for any Kaly NYC. It is literally the best of all  longboards nyc rated in the top tens in several electric skateboard magazines. 
Good Luck Procuring!
Check out our posts linked below – for those who want good electric skateboards – but are not going for this price range. 
Best Off Road Electric Skateboards
You can chose from any of the models reviewed in the posts above.
Happy Electrical Skating!