Fastest Electric Skateboard?
NGV Nextboard is undoubtedly the fastest electric skateboard out there right now. The fastest speed achieved on this board was by Mischo Erban. It holds the Guinness world record for the fastest speed on an electric skateboard that is 95.83kmph (59.55 mph) in the year 2016. He achieved this fantastic feat on a modified longboard at the Portoraz airport in Piran, Slovenia. (Read More Below).
Want to ride at high speeds and have more thrill? Choose any of the Fastest Electric Skateboard Models reviewed below. The post has 20 best electric skateboards – sorted chronologically from fastest to slowest.
The Thrill in Riding Fast E Skateboards
The entire concept of an electric skateboard is quite fascinating. Who would have predicted that technology would come up with such a wonderful and thrilling addition to the sport? The world saw the first electric skateboards hit the markets in early 2000's, and the rest they say is history.
Today electric skateboards are as popular as the standard skateboards and trending. They are in demand because of their speeds. As the demand is rising – skateboard manufacturers are crafting record breaking fast skateboards.
How fast can electric skateboards go?
There is not a definite number or limit to this question. On average, most electric skateboards give a speed starting from 20mph to 30mph (based on their company's description). Of course there are boards that can go way faster than that. But the fastest speed ever recorded on an electric longboard is 59.54mph, claiming the title of the fastest electric skateboard.
There are many factors to be kept under consideration when ranking top 10 0r 20 fastest electric skateboard. It is not just one time – speed recorded on the speedometer that the board can qualify as a fast electric skateboard. The factors include:
Motor power

: 

the entire speed is dependent on how powerful the motor is. The more powerful the motor the more speed you get.
Place of riding

: 

mainly electric boards are used for commuting on the street or riding off-the road. So how comfortable it is to ride in both places and how consistent is the speed in both kinds of terrains is one of the decisive factors.
Design and Built quality

: 

as the boards are infused with some of the latest technologies, it is  bound to have high quality components and sleek designs which can carry the weight of the rider and handle the fast speeds and change of terrains. The built and design helps a lot in manoeuvring the board and keeping it stable to determine the top speed.
Rider

: 

this is one of the most crucial factor. Eventually in the end it all depends on the rider and the rider's weight.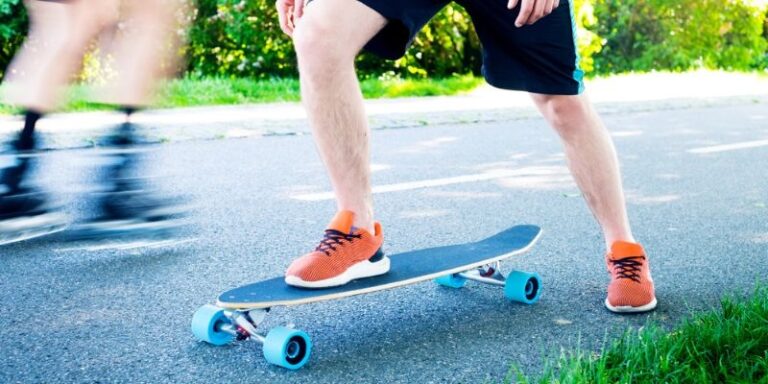 NGV NEXTBOARD – the Fastest Electric Skateboard
We already discussed about the NGV Nextboard being the fastest electric skateboard on the planet. NEXTBOARD is a company based in Slovenia.
The NGV board packs a lot of high quality components. It has four 2000watt scorpion motors inside each wheel powered by Tattu 6s batteries. These batteries take 1.5 hours to charge and gives a range of up to 6 to 9 miles.
The deck is made of high grade custom moulded carbon fibre which is extremely light. This board is priced at a whopping amount of 2995$.
Although the record for fastest speed by this board is 59 mph, the company boasts that the boards max speed is around 70mph.
Note – Mischo Erban also holds another record for the fastest skateboard speed downhill at a staggering speed of 129.4km/h (80.74 mph).
Now that you know the fastest board of the world, let's move on to other fast and impressive boards. Just remember that the speed mentioned here is indicative of what the company has described about its product.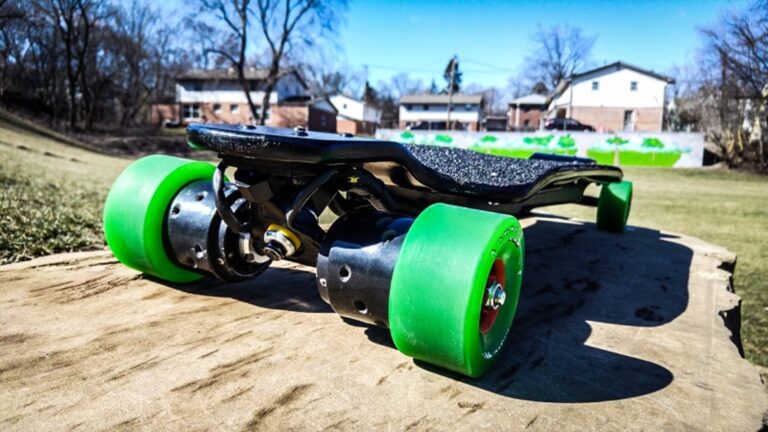 It is an innovative board with excellent designs. Made from high quality Landyachtz Evo deck, this board can carry a weight up to 275 lbs.
The top speed this board garners is an incredible 50 mph. The board is loaded with 10 kW 4 V4 speed drive racing censored motors powered by Samsung 30q batteries.
The motors are integrated into each wheel and are direct drive motors. To make the ride comfortable and stable, the board is installed with full urethane wheels. 
With this much power the board reaches to a distance of 25 miles. The motors are really silent to give a noise free ride. And the board is pretty heavy with all these high quality components. 
So if you are looking for a high speed ride with some classic look then the CarvonEvo 4WD will truly please you.
BajaBoardPantera – 45 mph
This is an Australian company specializing in custom made electric boards for off-road riding. The board's maximum speed is around 45mph.
BajaBoard Pantera comes with 3.5 kilowatt motors, powered by a 10s, 1.1 kWh battery and 4 110amp motor controllers. The total output of power from this board is around 10.7 horsepower, with a top speed of 72kmph. You can cover a distance of 45 km 28 miles on a single charge.
Overall it's a marvellous feat of technology and innovation. The acceleration is pretty impressive as it goes from 0 – 3 mph in less than 3 seconds. The alloy suspension makes it a comfortable ride on bumpy places. It is the perfect choice for you if you are into cruising bumpy and rough terrains at high speeds.
Out storm off-road electric skateboard – 31 mph
Out Storm is a value for money product. Made of Canadian maple wood, the board weighs around 32lbs and can give you a maximum speed of 31mph.
The board has a 3300w dual brushless motor powered by 36v 11 ah lithium ion battery. The battery takes approximately 3 hours to fully charge once. In one charge the board gives you a mileage of 19 miles which is very impressive.
This board is mostly built for off the road riding so you won't get the maximum speed riding there, but on a flat surface you might definitely get fast enough.
Out Storm has removable bindings to make your ride smooth and safer. It can hold a weight of 330 lbs which is really good considering boards of other brands and companies.
The board has pneumatic tires with heavy duty shock absorbers making hill riding and tackling bumpers a piece of cake for riders.
One drawback is that the heaviness of this board makes it difficult for the rider to carve turns and decreases its manoeuvrability in tight spaces.
It is definitely the board for you if you love riding uphill or you need a durable board with high specs. But if you love light boards then you might try looking for other brands.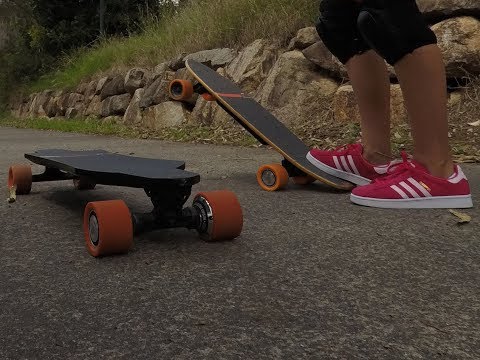 This Australian board is made of carbon flex, making it a very light and one of the fastest electric skateboards. The maximum speed of this board is 30mph.
The make of the deck is more like a longboard. The battery takes 2 hours to charge and the range it gives is upto 25 miles which is pretty awesome.
The board only weighs some 8 kgs making it the lightest of all electric skateboards.
It is attached with 2 brushless motors with custom windings powered by a custom designed 9 cell 33v 7ah high cycle life lithium polymer battery. This battery is designed in such a way that it flexes with the board.
 So if you are looking for something light on the budget as well as on your hands, with high quality components and specs then this the right choice for you.
Miles skateboard – 30 mph
It is a California based company. The deck is made up of carbon fiber. The board is controlled by a wireless remote which has a LCD screen and is very accurate
It has dual brushless motors. The grip tape is also pretty good ensuring safety of its riders. The top speed is about 30mph and there are 2 speed modes on it. The board gives you ten miles on a single charge.
The built is amazing and the board is thin and lightweight. The board is well suited for street riding and it rides a little smooth off the road. It is not that expensive than other electric skateboards.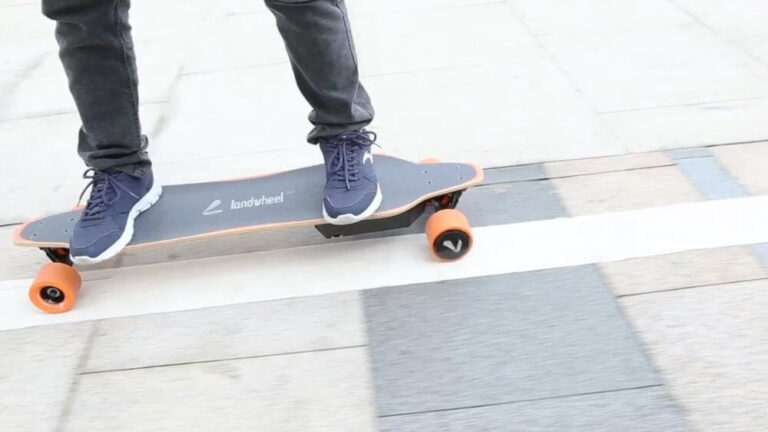 The max speed of this board is 28 mph. It comes with a detachable 3200mah battery. It is controlled by a wireless remote. The maximum range of these boards can go to 7 miles.  The battery is also water resistant. The motors attached to these boards are dual brushes hub.
The boards don't have much concave but the flex is really nice. The battery is quite okay. The average mileage it gives is 5mph with an average speed of 9mph.
The controller is very smooth and easy to use because it uses a spring loaded toggle. Because of this braking and accelerating becomes much easier and smooth. You can also put the drive on any board and make it an electric one. It is one of the most versatile and fastest electric skateboards.
The battery can be better. This board is recommended for commuting small distances within your city or campus, but again if you have enough batteries with you, you can use it for long distances as well.
XTND – 28 mph
It is one of the first electric skateboards to be introduced with AI intelligence. With this impressive technology the board gradually adapts to the riders style and learns the rider's technique.
The board is really lightweight weighing only 10 lbs as it is made from carbon fibre. The board works on 2 custom made in-wheel motors powered by 12.5 mi battery. The battery only takes some 60 minutes to fully charge which is pretty impressive. 
The top speed that this board can get you is 28 mph. the maximum load capacity of this board is 100kgs which is very less compared to all the other boards.
This board is best for you if you are a tech enthusiast and looking towards a hassle free riding experience at faster speeds.
Raldey Carbon AT V.2 – 28 mph
Made from carbon fiber, the Raldey Carbon is a robust piece of board. It weighs around 26 lbs and can hold some 300lbs similar to the Outstorm Off road board.
To provide a comfortable high speed ride, the board's trunk is very wide and has large tires with shock absorbers. The board has 3000w dual hub motors powered by 36V 14ah lithium ion battery. 
It takes some long 5 hours for the battery to charge and the maximum distance you can go on one charge is good 19 miles. Now the board gives you the top speed of 28 mph.
Although the board is robust, but the flexibility is not admirable. 
Overall this an expensive robust board for some off-road riding. And a good choice for you if you prefer carbon fiber frame over standard maple wood decks.
The Peak Electric Skateboard – 27mph
The board has a nice concave and the aesthetics are perfect and well balanced. It is quite light weighing around 7.75kg. The board has a 1200w dual motor powered by a 29.4 v 6.6ah 18650 LG lithium battery.
The max speed on this board goes up to 27mph. The deck is made of 7 layers of bamboo and 2 layers of fiberglass. 
The wheels are 83 mm PU 85a. The battery is flexible to flex with the board. It is a high quality board and is pretty sturdy and not that flexible because it has 2 fiber glass layers.
This is a good choice if you want to flex around the street at higher streets and do a little off-the road riding as well.
MAXFIND MAX-4 ELECTRIC SKATEBOARD – 26 mph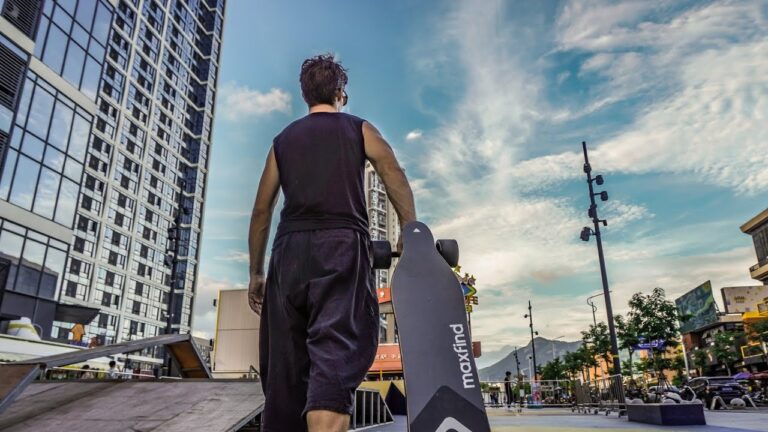 One of the lightest and affordable boards in the market today -The Maxfind Max-4 weighs some 16 lbs and packs a high torque dual 720 watts motor. The motor is powered by 158.4wh Samsung lithium ion. 
It takes 2 hours for the battery to charge which is really good, but the most disappointing factor is that the board gives you only a 15 mile range on one charge. This is very less for those who would want to commute to far places.
The deck is wide and has a really sleek design. This makes the ride more comfortable and gives the board lot of flex, perfect enough for carving. The top speed that the board boasts of is some 26mph and has the capacity to hold much less weight compared to its competitors, around some 220 lbs. 
One important thing that MAXFIND MAX-4 lacks is robust wheels.
Now one of its distinct points is that the board is an IP65 CERTIFIED water resistant. It means that the board can handle water splashes pretty neatly, but won't be able to survive submerged under water or even puddles. 
Overall this is a perfect choice for you if you are looking for something light to carry with you and also want to commute not so far. 
But if you are looking for a good range to cover, with better specs and more power than this is not the board you are looking for.
EVOLVE BAMBOO GTX STREET ELECTRIC SKATEBOARD- 26 mph
It is one of the highest quality boards manufactured by one of the most popular and reputable e-skateboard manufactures in the market. The manufacturer is one of the reason it ranks among top 20 fastest electric skateboards.
The most notable feature of this board is the range that it gives in a single charge, which is an astonishing 31 miles, also making it excellent for long rides. When it comes to price this is on the expensive end.
The board is powered by a 36v 10ah lithium ion battery and 3000w dual brushless motors. The battery takes up to 5 hours to charge giving you that great range of distance. 
This board is also lightweight then other boards weighing around 19lbs. The maximum weight it can carry is 220 lbs. The maximum speed you may get on this board is 26 mph.
You get 4 speed modes with a responsive braking and accelerating system. The deck is made from bamboo making it one of the most flexible high speed electric boards.
In the end if you are looking to ride the street on an expensive and high quality board then this is the best deal, because it gives you great mileage and is suitable for street riding. 
But if you are looking for off the road riding then this might not be such a good idea.
Skatebolt Tornado B electric skateboard longboard- 25 mph
Skatebolt Tornado B is a real budget friendly high powered longboard. The make of the deck is wide and flexible enough to give the rider a comfortable ride and good carves. It is made of 9 layers of Canadian maple wood.
The board grants a top speed of 25mph and a maximum range of 18.6 miles. The board has 500w dual brushless hub motors, powered by an astonishing 36v, 6600mah lithium Samsung battery. The battery takes 3 hours for a charge. 
The board is light approximately 20 lbs and can carry some impressive 280 lbs. It comes with 2 speed modes.
This fast electric skateboard allows you to climb uphill on the max degrees of 30. It is also waterproof. One of its unique features is that the board has rear brake lights. 
Apart from this it has some drawbacks too like its abrupt braking system, lags in the power, which all results in a not so comfortable ride as you would assume.The wheels attached to this board are also not of good quality and will tear off easily.
Overall this board gives you value for money but with some compromises, so if you are looking for a decent budget friendly ride then this is the board to go for.
Phoenix Ryders Dragon- 25 mph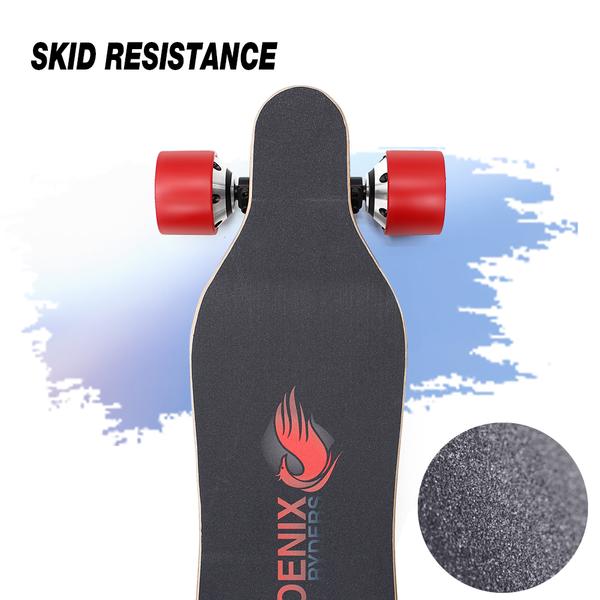 Made from 8 layers of north-eastern maple, the Phoenix Ryders is a highly durable and sturdy board. It comes with 500w dual motors powered by high performing battery. The top speed which this board gives is around 25 mph and the distance you cover on a single charge is a good 18 miles. This board gives a climbing range of 25 degrees.
This is probably also one of the most cost effective electric boards costing under the 300$ budget. The board can hold a weight of 275lbs. there are LED's attached to this board to help you ride in the dark as well.
If you are looking for the best performance in a limited budget then this board will guarantee you both.
AZBO ELECTRIC SKATEBOARD -25 mph
A simple but awesomely powerful board – The Azbo is lightweight weighing around 18 lbs and can carry up to 268 lbs. The top speed of this board is 25 mph which is decent looking at the 2000w dual motors. 
The board has a 36v 6.6ah lithium battery that can be charged in 2 hours. It also gives you a decent mileage of 19 miles on its powerful motors. So basically it is suitable for short distances.
One of the board's best feature is its grip tape which ensures a safe ride. This is a good board for you if you are on a limited budget and looking for short distance commutes, and also to carry your board with you all the time.
Ninestep Electric Mountainboard – 25 mph
As a smooth and perfect board for off-road riding – The Ninestep Electric Mountainboard has big wheels with pneumatic tires and foot straps to give you complete control off and on-road.
The board is attached with 2 high power brushless motors powered by 11ah LG battery. This motor allows the board to give you a maximum speed of 25mph. You also get 30 degree smooth uphill climbing with this board.
The best part of this board is the distance that it get covers in a single charge. It is an astonishing 20-25 km. You just have to charge the battery for 3 hours and then you are ready to go that long.
Ultimately this is one of the fastest electric boards that can be used for both on street and off the road riding.
Inboard M1 – 24 mph
A nice performing board which is powered by 1600w motors. The board gives a top speed of 24 mph.
The deck is built with a flexible wood core and fiberglass, making it sturdier and durable. The board comes with a one year warranty. Unlike other electric boards this board has LED'S at the front acting as headlights for better vision during night time or in dark places.
The disappointing feature is that even though it has a powerful motor, the distance it covers is a meagre 7 miles. 
But the board has given a backup for this in the form of a removable battery, which is very easy to switch. And the best part is that the battery only takes 90 minutes to charge.
A unique feature of the board is that you can update the board through its app. And it is also water resistant. 
So if you are looking for some decent and smooth riding without much worrying about the distance you cover than this is the board for you.
BOOSTED STEALTH ELECTRIC SKATEBOARD – 24 mph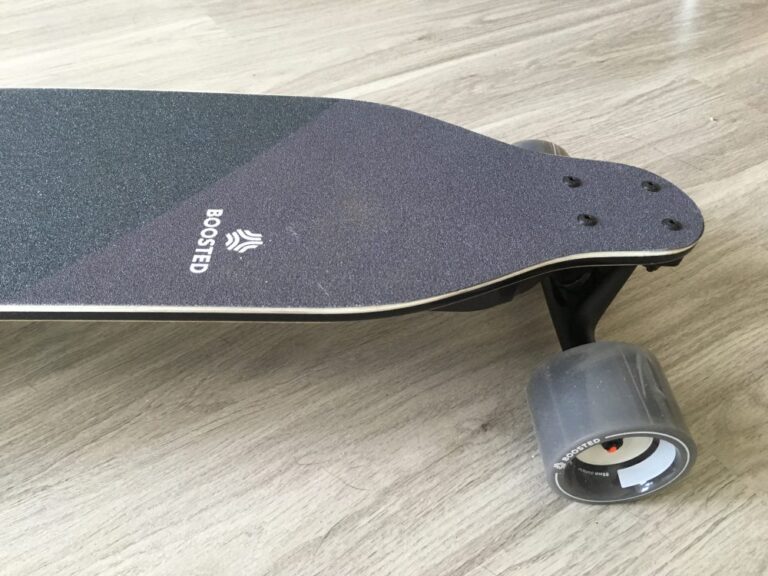 Another top of the shelf product from a well-known brand Boosted. It is a pretty light board weighing around just 17 lbs and can carry up to 250 lbs. Looking at its impressive 2100w motor, the top speed you get on this board is 24 mph. 
The motor is powered by a 199w rechargeable battery which is charged in only 1 and a half hour. The board can get you to a distance of 14 miles on a single charge which is quiet decent.
Some of the notable features of this board are its
Robust and flexible deck.
Wide and good grip tires for riding off the road and high speeds.
Quick and responsive acceleration.
5 speed modes.
A unique reverse mode so that you can easily control your board and manoeuvre it in tight spaces.
This board is really good for street riding and small distance commuting and if you are ready to pay a hefty price for that then you should probably go for this board. The boosted stealth has a great sleek design and looks like a luxury ride.
Haloboard -22 mph
A premium quality board costing you under 1000$, it is one of the best electric skateboards right now in the market. The board packs a staggering 3000w dual motor system.
The deck is purely made from carbon fibre making it one of the lightest boards weighing some 14 lbs. The top speed on this board is around 22 mph which is pretty decent considering its powerful motors. The distance covered by this board on a single charge is also pretty decent 12 miles.
The distinct features of this board are its small details like the handle on the top of the board which is placed intelligently. 
The board comes with a fire safe battery. The wireless controller of the board is also one of the best remotes. It runs smooth on both street and uphill off the road.
So if you have a good budget and are looking for a sleek and intelligent design and high quality then be assured that this board will do justice to you.
MotoTec MT-SKT-1600 -22MPH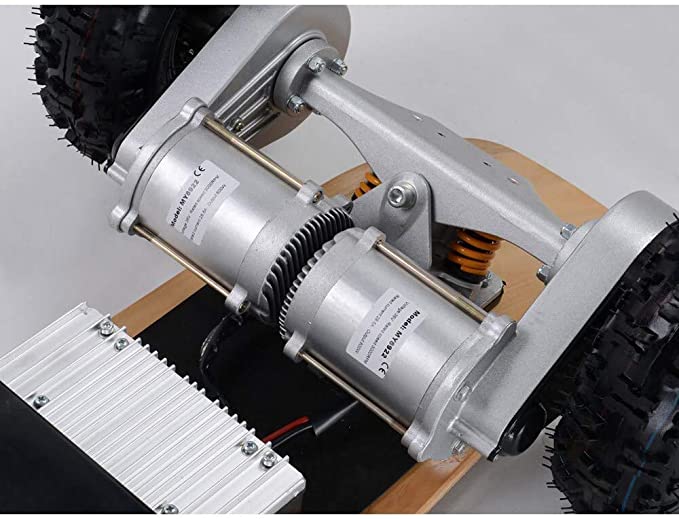 At a first glance you wouldn't think of this as an electric skateboard. It is basically manufactured for off-road rolling. This is evident in its tyres which are pneumatic rubber tyres. 
It has a powerful 1600w dual motor system. With this board you can achieve a maximum speed of 28-22mph. The board weighs a heavy 71lbs considering its make of 12 layers of maple wood. But even then it can only carry a weight load of 260 lbs. The deck is 46inches long.
The motor is powered by a whopping built in 14000mah battery but can last upto a meagre 10 miles. 
Its bulkiness and heaviness becomes a drawback for this board as it is difficult for the rider to turn the board and makes it impossible to carry around. 
It is very disappointing that this much of battery juice gives such less mileage. The remote is also not of good quality. Overall this is a nice off-the road board with good power and control.
Final Thoughts before buying any of the Fastest Electric Skateboards
Well these are some of the fastest and best electric skateboards for you out there. But before you go for that thrill remember to get all your safety gears in place, because it surely will be bumpy ride. 
And whichever board you choose in the end it will be up to you to find out the fastest speed you can clock on the skate. 
Good luck smashing some records!