Revenge Skateboards
Termed as a web-born skateboard company by many, Revenge Skateboards, now rebranded to Revive Skateboards is the brainchild of AndrewShrock and Brian Ambs. 
What started as a Youtube channel later turned on to become a household name in the skating world.
SURPRISING! ISN'T IT?
In 2009 Both of them started with the idea of making a full length skating video which then developed into a series "We Want Revenge" and tutorials.
The resulting overwhelming response from fans like you and us – asking them to make products like skateboards and t-shirts motivated them to build a skateboarding company, today famously known as Revive Skateboards.
Originally the idea for the name came from the video – "We want Revenge".
You must have seen their videos – full of originality and fun. If not we have embedded one below.
Rebranding to ReVive Skateboards
After maybe two years of starting the company under the name Revenge, the company found out that there was another Longboarding truck company with the exact same name and the company actually owned the trademark for the name "Revenge".
Fearing a revenge skateboards legal issue – the company rebranded themselves to Revive Skateboards.
In the process of revenge skateboards name change – "Avenge" was also considered for rebranding but the company eventually went for "Revive".
So officially ReVenge Skateboards is dead! If you are from 2012 skaters – you might still remember it as Revenge Skateboards.
Some years back – a reader mailed us that he has found some of the original revenge skateboards on ebay. Not sure whether they have the same early decks or not. But possessing one as a memorabilia is something to fetch out.
Try searching – revenge skateboards ebay/amazon – on google. Hopefully you will find out something worth collecting.
Try Cool ReVive Fingerboards
Rare 2020 ReVive Skateboards Animal Fingerboards by Tech Deck

Check Specifications and Price

Rare Revive Series 8 Scratch and Reveal Mystery Fingerboard

Check Specifications and Price

Rare Revive Series 9 Aaron Kyro Fingerboard

Check Specifications and Price

Revive Skateboards Series 9 Arcade Pro Aaron Kyro Dragon Fingerboard

Check Specifications and Price

How was Revive Skateboard started?
How was Revive Skateboard started?
AndrewShrock remembers that when he started out making the videos he didn't want to start a business. He was just 26 and had never thought that he was going to be someone who would have an office.
Revenge skateboards gained popularity within a short span of time but according to Shrock and others the company became more successful after rebranding themselves as Revive Skateboards.
The company and its founders are focused on displaying skateboarding as fun – which is the reason everyone, starts skateboarding in the first place.
We hope you too go for fun while performing this action sport…
Revive Skateboards Team
Revive Skateboards Team
AndrewShrock describes himself as a fun skater, who grew up skating on the streets. One thing he never imagined was to have a career in skating. He never thought he would have an office or a warehouse. But he is very grateful to have had this life.
Who owns Revive Skateboards
The company is co-owned by Brian Ambs, who was a professional photographer before joining Revive Skateboards. They both hail from Cincinnati.
The initial 3 members were AndrewShrock, Alex Buening and West. Then Andrew asked Tyler, Bangarang, Jason who was like a little brother to Andrew, and Max Mayberry to join the team. They were the original revive skateboards team.
Tyler and Bangerang left the team early. Then came Sam Flu Harty. Josh Katz was the next member, who skated in his driveway.
Next came Aaron Kyro who is popular for his Youtube channel known as Braille skateboarding. He is a terrific skateboarder. (We have embedded the video where Revenge Skateboards welcomes Aaron Kyro).
Thomas Alvarez stepped in next on the team. After that it was Doug Des Autels followed by Sam Tabor, Johny Geiger from Switzerland, John Hill and Sam Vessel.
Revive Skateboards Team is like a family and not just a skate team. The flow team includes Casey Bechler, Ryan Bracken, Jesse Cera, Gabe Cruz, Justin Ellison and Haley Isaak.
https://youtu.be/yocTgW8vRcM
Are Revive Decks any Good?
Are Revive Decks any Good?
Revive skateboards focuses on providing high quality skateboards at really affordable prices. And this is not post shift. In fact one of the reason for their popularity was the quality of original revenge skateboard decks.
The decks are rock solid, with razor sharp pop and perfect conclave for you to glue your feet on the deck.
They are 7 ply meaning 7 layers of north american wood layered and glued together. They are made in the US unlike other decks of other companies which are manufactured outside the US, mostly in China. The wood used is Canadian Maple, which is really strong and hard. It will last you a long time.
Revive decks are produced and manufactured by Pennswood Skateboard Manufacturing, located in Pennsylvania. It is a small manufacturing unit which caters to small brands. It uses quality methods to press the decks and traditional methods of screen printing. It is infact a small woodshop.
One of the best things about Revive decks is that they are really cheap. You can get a deck around 38 to 40$. While other company decks start at 50 – 60$.
We are pretty sure you will find it difficult to find alternatives to revenge trucks skateboards (revive) – economically!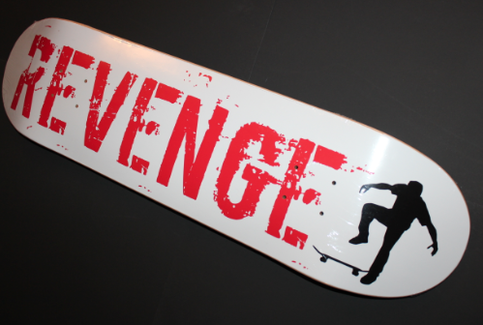 Many have speculated that the low cost of the Revive decks is due to the fact that it is of low quality. But basically it is due to 3 reasons:
They do their own designing,
They do their own marketing through their Youtube channel and
They sell directly online.
They take shipping charges from you which is 10$ in the US totalling the decks to some 48$ but even then it is low compared to the starting range of other brand decks.
It usually takes 2-10 shipping days to reach you if you order in the US.
In short their decks are cheaper because they are saving on other overhead expenses like marketing, designing, sales.
Another important factor which reduces the overheads is – sponsoring pro-skaters. Since the beginning when they started as Revenge Skateboards and up until now – the company is into sponsoring pro-skaters.
Instead they do it through Youtubers having the skills and numbers. This technique of theirs has faced a lot of flack, because some people think that Revive does not support core skateboarding.
They say that AndrewShrock is just a Youtuber who doesn't really care about skating. Most people hate Revive for not supporting skating through the traditional method.
They say that revive doesn't support or sponsor pro's, instead they give chance to youtubers and ask them to skate through youtube.
There are two sides to this debate. Because some even believe that Revive Skateboards does support core skating by introducing young skaters to the sport.
In reality Revive has sensed the new approach to Youtube and has shifted to that and the result is there for all to see. AndrewShrock even declared the Revenge Skateboards death via the same medium! (Video Below)
Instead of creating a team of pro skaters, Revive is more focused on promoting skating in the young audience. They inspire young kids to start skating through their videos. Their videos and merchandise appeal a lot to kids and younger generations.
https://youtu.be/Hx6z7s3eEkI
How are Revive Decks?​​
How are Revive Decks?​
According to several reviews the decks are really great. They are pretty durable and last over a month. The concave is more mellow compared to other brand skateboards, but the pop is good. There are some who say that the concave is mellow and shorter and needs more concave.
You can get just the decks or an entire starter pack which you will have to assemble. The starter pack includes the following:
ReVive deck of your choice and size from 7.5-8.5″
Krux trucks according to your deck size
Force Wheels based on your deck size
Bronson G2 bearings
Force (ReVive) hardware
Jessup grip tape
ReVive skate tool
Am grip Tape/Amgrip​
Am grip Tape/Amgrip
Along with skate decks Revive Skateboards also sell other merchandise like apparels, headgear etc. The brand also includes – 3 Block Skateboards, Force Wheels and Amgrip.
Am grip tape or amgrip (it goes by this name) is their most hot selling product. In the grip tape market – Amgrip is more of a brand then the revive skateboards themselves.
We are not sure when they entered into amgrip production – but we do not recall any of their tapes back when they were revenge skateboards.
Amgrips are largely famous for their quality rather then their graphics. The grips offer you perfect balance keeping the board attached to your feet. The sheets do not affect the sole of your shoes either unlike other local grip tapes.
You can buy am grip and other products directly from their website or from amazon.
Am grip and Other Grip Tapes on Amazon
9″ x 33″ Black Widow Skateboards and Longboards Griptape
10″ x 48″ Black Diamond Longboard Skateboard Grip Tape Sheet
10″ x 34″ Black Diamond Old School Skateboard Griptape
11″ by 60″ Black Roll of Skateboard and Longboard Griptape

Check Price

Force Wheels? Really…​
Force Wheels? Really…
Last year AndrewShrock made an April fools gag by announcing that Revive skateboard was over. He said that the era of Revive Skateboard was coming to an end and he wanted to do something for a change and satisfy his creativity. So he decided to change the company to Revive Wheels from Revive Skateboard and also Force Wheels to Force Skateboards.
Force wheels created a lot of buzz – but after some days – Andrew himself declined the idea and made it clear that it was just a prank.
A lot of fans however are waiting for launch of new merchandises and brands under Revive.
There is also demand for offline shops like the online revive skate shops. We assume originally they started offline under revenge skateboards shop banner – but discontinued later,
And most importantly – they never want revive to die like the Revenge Skateboards.
@AndrewShrock – If you are reading….:)
Are Revenge Skateboards (ReVive) Worth?
No matter what people say about the company and its way of doing things – The fact is that Revive Skateboards has become a serious competitor to other high quality skateboard brands in terms of quality and price.
A company which started on the basis of having fun is helping promote the reason why everyone loves to skate – to have Fun of-course!
So go grab your Revive deck and start fun skating.
Skate on!
#we want revenge skateboards
#we are revenge skateboards