Skatepark of Tampa

– Best Skateboarding Venue on the East Coast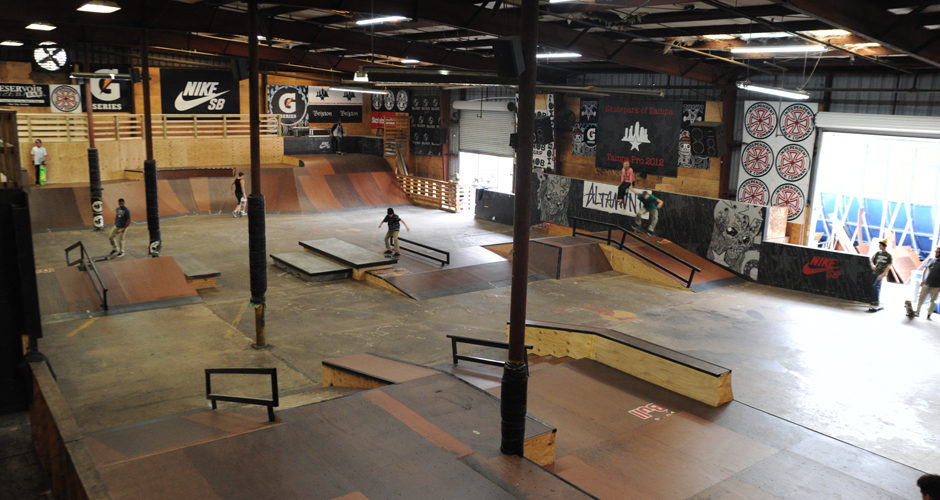 Burnside, Love Park, EMB — just a few of the spots that have helped shaped skateboarding. It is, after all, the spots as much as anything else that move, inspire, and push us.
We will traverse great distances to visit them. Much like pilgrims, skaters take grand journeys trying to get a little closer to the skate gods. The Skatepark of Tampa is one of those places that has drawn those who skate.
If you have ever played "Tony Hawk's Underground video game" then you must have seen the park virtually. The best feature is – this game shows SPoT employees as competitors in the contests. Even in Tony Hawk's Pro Skater 2x version you can see SPot as a competition arcade in some challenges.
But nothing can replace the thrill of visiting the park physically and enjoying skateboarding tricks on metal and the pops!
When and How SPot Started
Started in 1993, when skateboarding was at a lull, The Skatepark of Tampa opened its doors.
Soon it was the premiere park on the East Coast, stepping up and carving a name for itself with pro and am contests that have helped start careers of some of skateboarding's elite.
Though skateboarding has had the mixed blessing of making it to the mainstream of American pop culture, the Skatepark of Tampa never lost the its love for skateboarding.
Unlike the mega- super- battle- skateparks forced into malls and warehouses, the Skatepark of Tampa has a soul. It's as if the skaters in Tampa could not make the pilgrimage to the spots they dreamed of so they built a shrine of their own.
The inside of the Skatepark of Tampa is almost familiar. The banners of skate companies hang on the walls with almost the same luster as stained glass. Quarters and slants of all sizes line the walls.
The flat bar shown in so many videos has been placed in the middle of park. The constant sound of trucks on metal and the pops of nollies and ollies fight for dominance of one's auditory senses.
The vert ramp sits in the corner, the play thing of young ones learning to pump in the day and the mistress of those who dominate her later in the evening.
Outside, too far from the water of the gulf to fill the air with the salt spray of the sea, live two smaller mini-ramps just waiting. Rumors of big plans for the park filter through, filling heads with visions of a plywood wilderness just waiting to be explored.
Packed like a southern church on Sunday, the Skatepark of Tampa brings in faithful locals and visitors alike. It's hard to tell who you might run into or what event might be going down (everything from skate classes to video openings). And with a pro shop that rivals the best, why leave?
Tampa Am and Tampa Pro 2020 Contests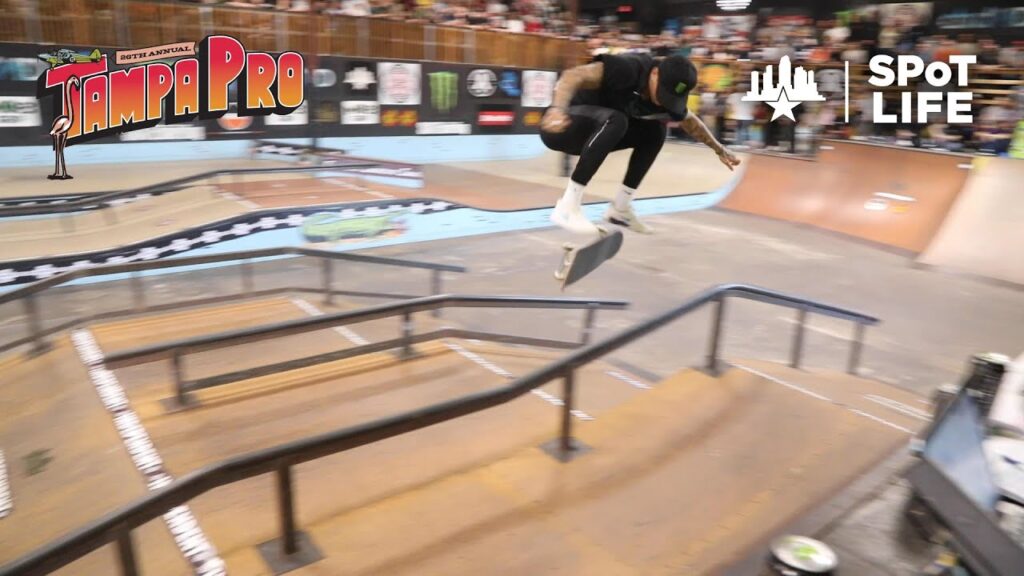 The park is very famous for the Tampa Am and Tampa Pro competitions which are held every year. The first pro contest was held April 1 & 2 1995. All time best Mike Vallely won the competition.
Thousands of Famous Skateboarders compete here to win the Tampa Pro Challenge. This year in 2020 amidst all Covid-19 obstacles – the Tampa Pro Contest was held – which was won by Nyjah Huston.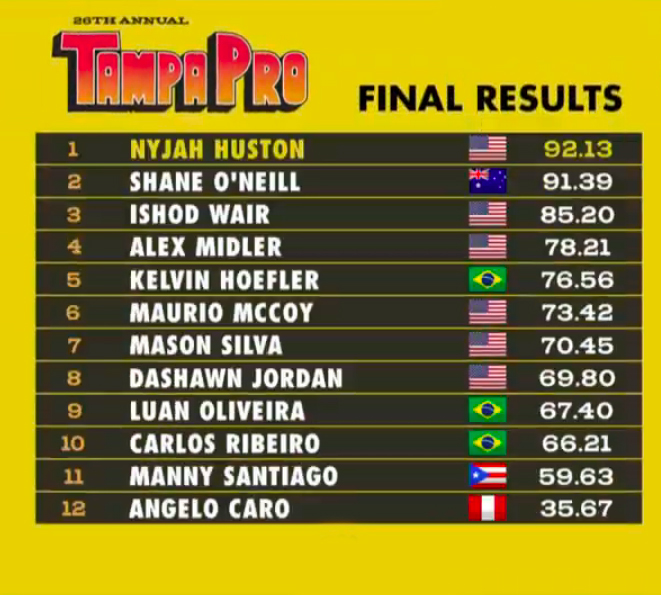 Switchmagazine.com has covered many of these events. At the end of the post are live coverage reports for some of the historical do or die Tampa Pro and Tampa Am contests held at SPoT.
Transition Art Gallery and Music
Skatepark of Tampa is a double treat for skateboarders – as it also hosts music and art events.
After 2013's new management team – the name was changed to "Epic Problem" – which hosted many music concerts.
Last when we visited post 2017 – the music was hosted in a previously Snack Bar lounge – under the name ""Transitions".
The best time to visit the park is during Annual Tampa Pro contests. This is when you can enjoy the musical feasts along with some professional skateboarding.
Visit the site for Skatepark of Tampa coupons. Inside the park you can shop your heart out at the very famous SPoT Skate Shop – so don't forget to grab some dollars along. The shop offers huge discounts in Tampa Am and Tampa Pro Contests.
Visit Tripadvisor for hotels near Skatepark of Tampa. They have exclusive offers and some very good nearby hotel suites.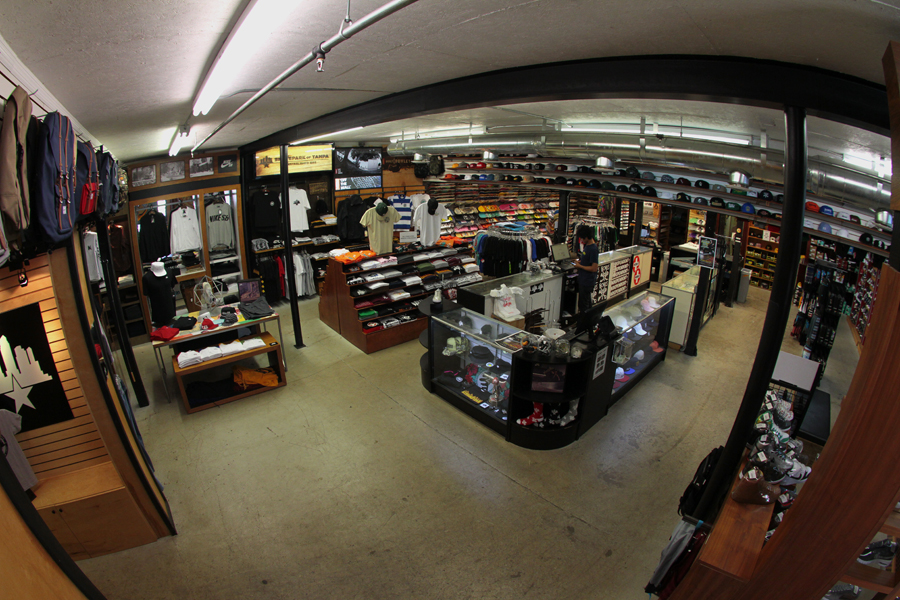 Tampa Am 2004 – Year of the Young G
Anybody that's been to a skateboard contest before knows that the best skating happens in the practice sessions and not in the finals. Well, I didn't see any of the practice sessions at this year's Tampa Am and in fact all I saw was the finals and best trick. So let me get down to it and tell you what happened on Sunday afternoon.
The first thing I noticed was the substantial number of kids too young to drive ripping the finals with big man tricks, making me feel pretty old. The second thing I noticed was this kid I'd never heard of named Sierra completely destroying the street course. Apparently nobody had ever heard of him because he came out of Montana with just a flow sponsorship. He was last in the lineup and had the last run of the day, and when that run ended it was obvious he had just won.
I think the kickflip backside lipslide down the big rail might have clinched it. Maybe an hour or so later, everyone realized Sierra was going to sweep Tampa Am when he threw down a kickflip back lip shove-it down the step-up rail, adding to the four or five other contenders he'd tossed out in the best trick competition. Sierra Fellers may have come to Tampa as an unknown but he left as the most hyped skater of the weekend.
I also heard some talk about Bill Pardee, who didn't make it to the finals but made an impression anyway, even getting a trick named after him. Kickflip one-foots shall forever be known as Pardee flips.
But what really got people talking was when Bill decided to try to ollie the large part of the pyramid to backside 50-50 the hubba on the other side. Folks, that's a twelve-foot flat gap across the top of the pyramid and the ledge on the other side ain't short.
He was having trouble getting enough air to clear the whole distance, so in some reasoning that only makes sense if you're Bill Pardee, he figured that kickflipping the gap would give him the extra boost he needed. A few slams later he was riding away from the monster kickflip 50-50, leaving witnesses in disbelief. If there was better skating than that in any of the practice sessions then I'm glad I didn't see any of it. I don't think I could have handled it.
Highlights of the Tampa Pro 2003
Staying in Big Brother Magazine's room at the Howard Johnson and actually being able to sleep. Peacefully.
Javier Sarmiento switch backside big flipping the pyramid.
Staying the next night a few doors down with the Atlanta crew and not being able to sleep until the sun came up. Carrie stopped by at 4:30 AM. Fireworks in the room at 6:00 AM.
Greg Lutzka frontside flipping 270 across the pyramid hip.
It being warm the entire weekend.
Ricardo frontside flipping across the center flybox to noseslide down the ledge.
Seeing Lance Mountain and his son playing in a punk band in a nightclub.
Tony Trujillo skating the entire park at Mach speed without taking a single push or stepping off his board. Tony got flow.
Looking at Tony Trujillo's girlfriend.
Adam Alfaro backside 360 nosegrabbing across the pyramid.
Having a blast at the Masquerade every night when I generally don't enjoy bars all that much.
Jim Gagne gapping over the center flybox to noseblunt slide.
Mons Venus.
Austin Seaholm nosesliding then body varialing into a backside tailslide. Frontside flipping late back foot flipping on the roll-in. Frisbee tossing his third place trophy and walking out because he thought he deserved first.
SPoT management giving Austin a chance to apologize and reclaim his trophy.
Sandro Dias, Rune Glifberg and Pierre Luc Gagnon destroying the vert ramp.
Best Tricks:
Omar Hassan–Backside heelflip indy, Frontside alley-oop heelfip
Anthony Carney–Frontside stalefish revert
Jim Gagne–Frontside wall bash revert
Rodil Jr.–Switch smith on the rail
Ricardo–Kickflip frontside boardslide on the rail, Frontside noseblunt slide on the rail
Caine Gayle–Backside nosegrind on the rail
Raphael Rodrigo–Nollie frontside boardslide on the rail
Jake Brown–Hippy jumping up the roll-in on the vert ramp and then hippy jumping back into the ramp in the vert best trick
Tampa Pro 2002 – Skatepark of Tampa
1. Chris Cole is better than you think. Everybody knows Chris got skills but unless you've seen him skate in person you have abolutely no idea what level those skills are on. Every trick he does looks like he's doing it in slow motion, almost like he's sleeping. It's unreal how easy he makes it look.
2. Everyone unanimously agreed that Chris' new hairstyle looks much better than the old one.
3. Scott Johnston qualified third for the semifinals on Friday without even getting warmed up. Malcom Watson qualified second by blowing people's minds with one of the best runs of the weekend.
4. Ryan Johnson walked outside after his first qualifying run and threw up his breakfast. Word is Paul Machnau did the same thing after his first run.
5. Alex Moul can frontside flip over your head. And right before he lands he'll throw in a late shove-it for fun.
6. Wolnei dos Santos ollied over the pyramid to headplant on his first trick on Friday and came back on Saturday with two nearly perfect runs, but missed qualifying by two spots. Pancho Moler frontside boardslid the small rail to headplant on his second run. He didn't come back.
7. Rocky Norton was SPoT's overnight security for the weekend and he was also a competitor. He's built like a WWF wrestler and skated with a 500-page novel in his back pocket because he likes to read.
8. Mark Gonzales skated around the street course wearing a helmet but wore no protection at all when he rode the 13-foot vert ramp, running out of every bail.
9. Paul Rodriguez is for real. He more than held his own and you'd better believe he's every bit as good as he's hyped up to be. The hype hasn't yet picked up Paul's City Stars teammate Roger Mancha, but look out 'cause it will. I watched him skate for an hour in practice before I figured out which way he skates. And he almost never missed a trick in practice. Kareem definitely has an eye for talent.
10. Greg Lutzka destroyed the park during practice with style, consistency and big tricks but couldn't hold it together during his runs. A few others who ripped in practice sessions but missed the cut were Mike Peterson, Mike Carroll, Dan Pageau, Stacy Lowery, Jason Adams and Spencer Fujimoto.
Results
Street Finals
1 Eric Koston
2 Andrew Reynolds
3 Caine Gayle
4 Kerry Getz
5 Paul Rodriquez
6 Carlos de Andrade
7 Rodrigo Tx
8 Matt Beach
9 Kenny Anderson
10 Stefan Janowski
11 Colt Cannon
12 Patrick Melcher
Vert Finals
1 Sandro Dias
2 Pierre Luc
3 Mathias Ringstrom
4 Mike Crum
5 Neal Hendrix
6 Phil Hajal
7 Mike Frazier
8 Jesse Fritsch
9 Lincoln Ueda
10 Matt Dove
11 Anthony Furlong
12 Darren Navarrette
Best Trick
1 Mike Vallely
2 Chany Jeanguenin
3 Aaron Suski
4 Dan Drehobl
5 Patrick Melcher
6 Chris Senn
Tampa Am 2001 – Live Coverage by Switch at SToP
PRESSURE
Even if you piled all the sweaty underpants from all the competitors of Tampa Am 2001 and left them there until Tampa Am 2002 the stench would not keep the next batch of competitors from coming out and dirtying up more drawers.
The possibility of turning pro, even amongst the putrid stink of rotting ball sweat, still wets the appetites of underfed amateurs. What skater in his right mind would pass up the chance to get paid to do what he/she loves.
Tampa am is the SEC Final Four of Skateboarding. Whoever wins is almost guarranteed to turn pro. And even those who do not win get an amazing chance to showcase themselves. What better way to get your skills known than to have the eyes of Rodrigo Texteira, Jaime Thomas, and Andrew Reynolds glued to your feet.
The only problem with the whole thing is that 50 seconds is an awfully short time to try to define yourself as a skateboarder. How can one run sum up everything you have killed yourself to learn over the course of five or ten years? A single run is a total misrepresentation of any skater. Some cannot land even the simplest tricks that they land every day, while others bust out tricks that they have never even tried in their lives. It all comes down to nerves and personality types. Introverts versus extroverts. Type A against type B. Well and then you have those freaky psychos who can just plain skate under any conditions.
Still Tampa am is a win-win contest because in the least the competitors get their names out. Even the guys who land nothing in their runs are being watched by people who matter to their future. If you win you could turn pro, if you lose you can still come back next year and do better.
Tampa Am 2001 Final Results
And then it was done, the street final results are:
1 Colt Cannon
2 Bastien Salabanzi
3 Dai Kato
4 Dennis Busenitz
5 Guy Kampfen
6 Caswell Berry
7 Rodney Jones
8 Chris Kendall
9 Chris Cole
10 Greg Lutzka
11 Ricardo Carvalho
12 Patrick Melcher