Eastwood Ramp Park Wilmington North
Home of Continental Army General Robert Howe, The battleship USS North Carolina, Pro Skater Chet Childress and Eastwood Ramp Park (once Dave Mirra's Eastwood Ramp Park).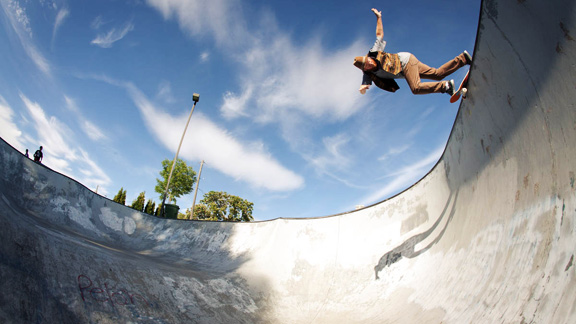 The park has always been inside and has recently moved to a new facility very near interstate 40 (adding easy access none the less). The new park is massive. The street course is set up in what used to be an indoor roller hockey rink (imagine that going out of business). Everything is large, this is not a park for punks scared of anything over two foot but it is a playground for those that want to go fast and go big. Or those that push themselves at all times.
The street course is home to a plethora of obstacles, though the distance between them is a little larger than what is seen at most parks (not a bad thing if you like to get a good push or two in). Start off with a run around the quarters and bank ramps, up and over the big flybox or a nice leisurely flip trick over the pyramid. Watch for bikes and blades to avoid destruction, as they often share the course.
Say you don't like street. Try the indoor vert ramp. This monster sits behind the street course and though it doesn't see constant use its been seen to drag the old local vert dogs out for mid-week sessioning.
Add in a mini, a few wall rides and kickers and you have everything you need. Not to mention enough stuff to always be able to find something open.