Welcome to Wichita
Tucked deep in the Kansas, in the City of Wichita, under the Kellogg overpass sits the Wichita Skatepark – Every skateboarders fantasy place. See below for our Wichita Skatepark overview.

This skateboard park covers a little over 12,000 square feet. And mostly everything is concrete. It is designed by "Wally Hollyday Skateparks" in collaboration with "California Skateparks". The park features no other action sports – and it is 100% skateable – from the entry and round again till the exit!
The first thing to notice about the park is the vibe, its a friendly laid back place. First of all it is free 😉 and secondly no one bothers you for helmets and pads. (Although carry the accessories for safe skateboarding dude!)
Wichita Skatepark Layout
The park has two distinct crafted areas – The "Bowls Area" and the "Urban Landscape" area.
There are three concrete bowls for you to perform all kinds of skateboarding tricks and stunts.
The deepest skateboard bowl is 9.5 foot. We found it almost bottomless coz its steep and huge man. (We assume its the steepest compared to other Wichita Skatepark Bowls)
A second skateboard bowl in the centre measures 8.5. Even this will blow you when you touch the floor and above.
And the last one – which sits adjacent to the deepest is 5.5 feet.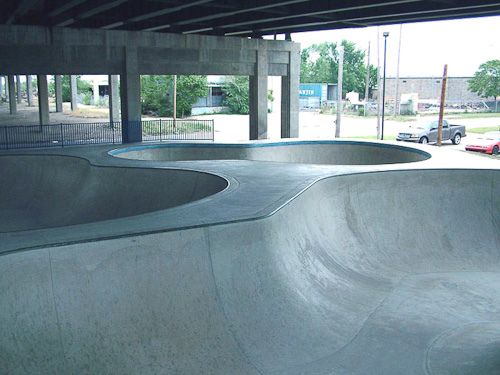 More amusing is the Urban Landscape Area. We think its specifically crafted taking into account the taste and the culture of Wichita Skateboarders.
It consists of –
four medium size skateboard fun boxes
an inclining bank
metal handrails and a curved flat rail
2 massive sets of stairs (with ledges) and other concrete skating ledges
big gaps
four huge concrete ramps and great lines
other free street style elements.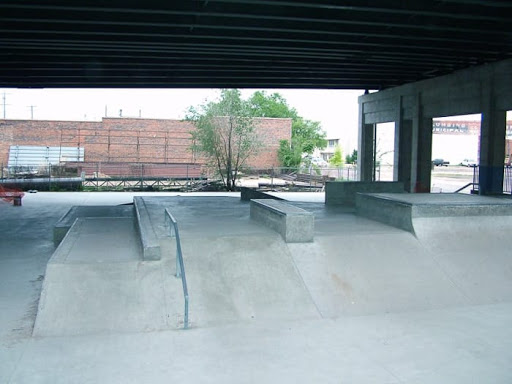 Again very unlikely to find these many in any other Wichita skate park – in fact no where in Kansas!
The place remains open from early morning till sunset. The exact address is – 645 St Francis, Wichita, KS 67211. Parking is not allowed here. You will have to park at 718 S Emporia.
It is very usual to get lost! We have embedded the map below – just follow the directions.
"Dog n Shake" (which has got to be on the top 10 list for "most ghetto fast food joints" since 1948) is less than 3 miles away from the park. You can get a grab after a thrilling and sweating session of the action sport.
The only thing we want in the park is a dedicated "kiddie" section.
Other Cool Skate Parks in Wichita Kansas
Wichita Falls Skatepark
Do not confuse this with Wichita Skatepark. Wichita Falls and the one discussed in the title are two different skating locations.
It is around 6 hours drive from Wichita Skatepark in Florida to the Wichita Falls Skatepark in Wichita Falls – which is a definite state of the art park.
Wichita Falls Skatepark is recently opened up to public and is an exiting place for Kansas Skaters. If you are in Wichita – then you must definitely pay a visit to the Falls Skatepark (the place even has restrooms).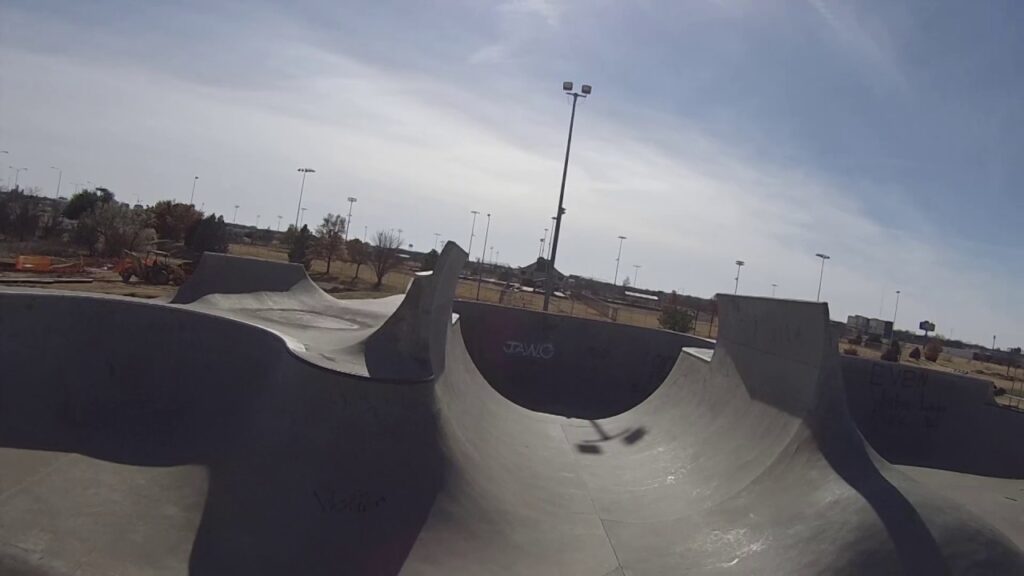 The park has stairs, skating ledges and rails and many skateboard fun boxes. In comparison to the 9.5 foot skating bowl in Florida Skatepark – Wichita Falls Skatepark features a 10 foot deep bowl. It is just more than enough to blow of your senses.
Other skateboarding bowls sizes include 6 feet and 8 feet. The park has several other street skating fixtures and many other transitions. It is replica to the Wichita Skatepark of Florida – only bigger, better and larger 😉.
Wichita Falls Skatepark is located on the Maurine Street between I-44 and Sheppard Access Road. The park cannot be accessed for kids below 6. Wearing a helmet is a mandatory requirement.
The park is open 7 days a week from 8:00 a.m. to 12 in the night. The park has many Rules & Regulations. Tagging one of their official rules – "Vandalism, graffiti, tagging, etc. will close this facility until repairs are made".
Carousel Skate Center
By far the absolute grandest part of the park is the "kiddie" section below and to the left on the rest of the park.
Carousel has isolated the rug rats in an area that they can learn while keeping them from getting ran over, not to mention keep the bigger kids from killing themselves trying not to squish them.
Bordorline Skatepark Wichita
It used to go by the above mentioned name and was set in and old gym complete with hardwood floors ( like a basketball court). There was a bleachers rest area against the left wall offering a look out over the street course.
We skated a lot here – but mostly the park is closed now!
If ever skating in Kansas plz check out 530 north hydraulic avenue – KS 67214 – this used to be the park's location. If you find anything worth skating kindly update us.
Aley Park
As setups go the park is better than average, its easy to find lines and not difficult to keep your speed, but watch that speed, the floor and trannies are slick and take a moment or two to get used to.
The quarters and slants are standard with a large pyramid that jets up out of the center of the hardwood floors like a volcano.
In comparison to all the skating venues in Kansas listed above Wichita Skatepark and Wichita Falls Skatepark stands out. The other three are good for kids and beginners. Although they procure rails, skateboard fun boxes and good skating ledges – but they do not support a huge dedicated parking area like the Wichitas.
Other than the skating ledges and stuff these parks do not feature even a single deep skateboard bowl. And this is what makes a great difference. Professional and advanced skateboarders find it hard to just perform the tricks on just the trannies and lines.
See below for a few other skate parks we have profiled: