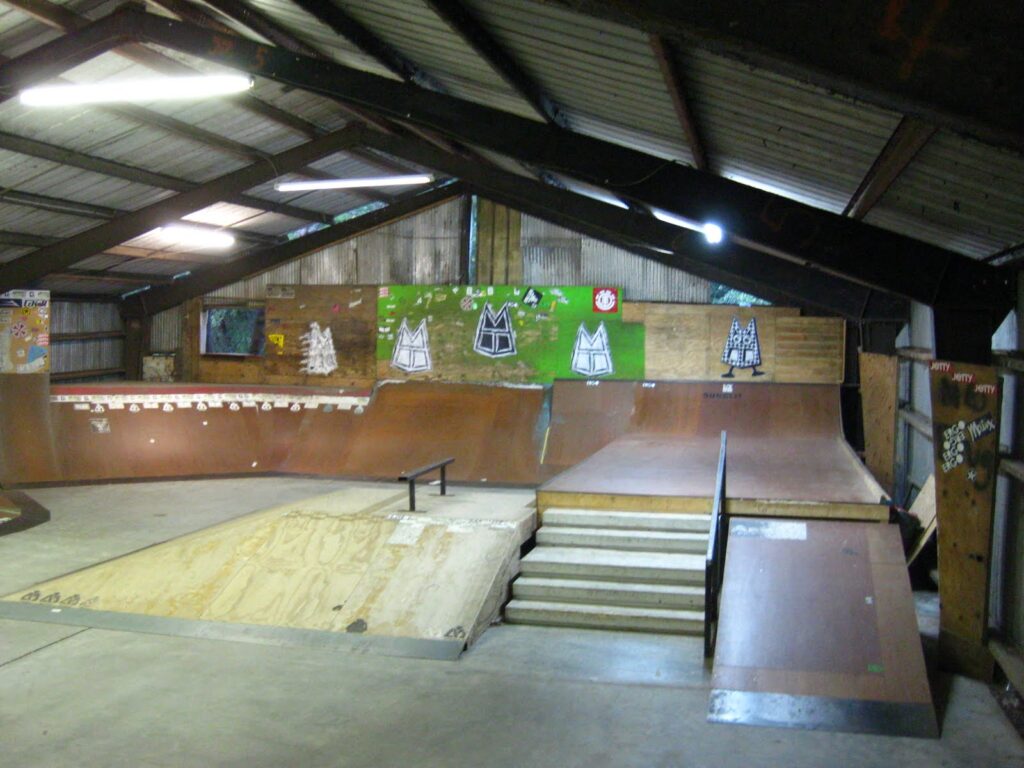 Skating at the Famous Skate Barn in the Hampsteasd North Carolina
This issue we went to Hampstead, NC to skate the Skate Barn. Hampstead is about 15- 20 minutes north of Wilmington. North Carolina is known for backyard ramps and the Skate Barn is pretty much that.
The Skate Barn is a killer park built inside a small, tin roofed, open air barn. It is a 6000 square foot wooden and concrete Mecca for skaters.
The park consists of a 5 foot bowl with pool coping through 2 corners and a hip, a super fun mellow 3 foot bowl with a hip, and a small street section that is laid out to perfection.
The street section has a mellow fly box, quarter pipes, rails, banks, banks to walls, a tight vert wall with pool coping, bowled corners, a hip, and double roll in for the speed to get in the street section. Outside is the most perfect backyard mini ramp.
The ramp is six foot tall, about 24 foot wide, covered with steel, coping that grinds like butter, and a home made extension (you know the kind, plywood rigged to the deck). Next to that is a 4 foot mini which makes a hip between the 6 ft. and the 4 ft.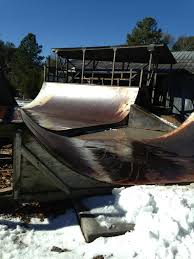 Good thing is you can enjoy the action sport 7 days a week 12 months. No season affects the skateboarders as it is an inside/outside park. When pleasant climate enjoy skateboarding in the open, when rain and sunny enjoy the inside turfs.
The Skate Barn is a skaters dream back yard ramp. Jimmy (the owner) does it for the skaters. It is a lot of work for him to maintain and run the park but the love of the skating is why the Skate Barn exists.
The Skate Barn History
It was the winters of 1996 – when the Skate Barn was named and dedicated as a round the year skatepark. The structure designing was done by Jim Rees and Jimmy Ellington (the owner).
And this 2020 – it has been more than 25 years for the skating paradise to be intact and performing.
There are skate ramps as old as 30 years at the Hampstead Barn. And they are still being skated upon.
Before these years – the Barn was called by other names such as – Middle School Skate Pad's (Hampstead, NC) and Ramp House (Carolina Beach, NC)
From the Ramp House to the Skate Barn a lot has progressed. Today the Barn is not just a skatepark – instead it has grown into a skate school, skate shop and an event venue. The authorities constantly keep on adding new features to the park. Last we heard they were adding a new skate track.
Skate School in the Barn
The barn also runs skate school under the banner name "beginner clinics". We enrolled for a term and it was thrilling. If you want your kids to go into professional skateboarding then go for the private lessons offered there. You get One-on-one training with professional instructors.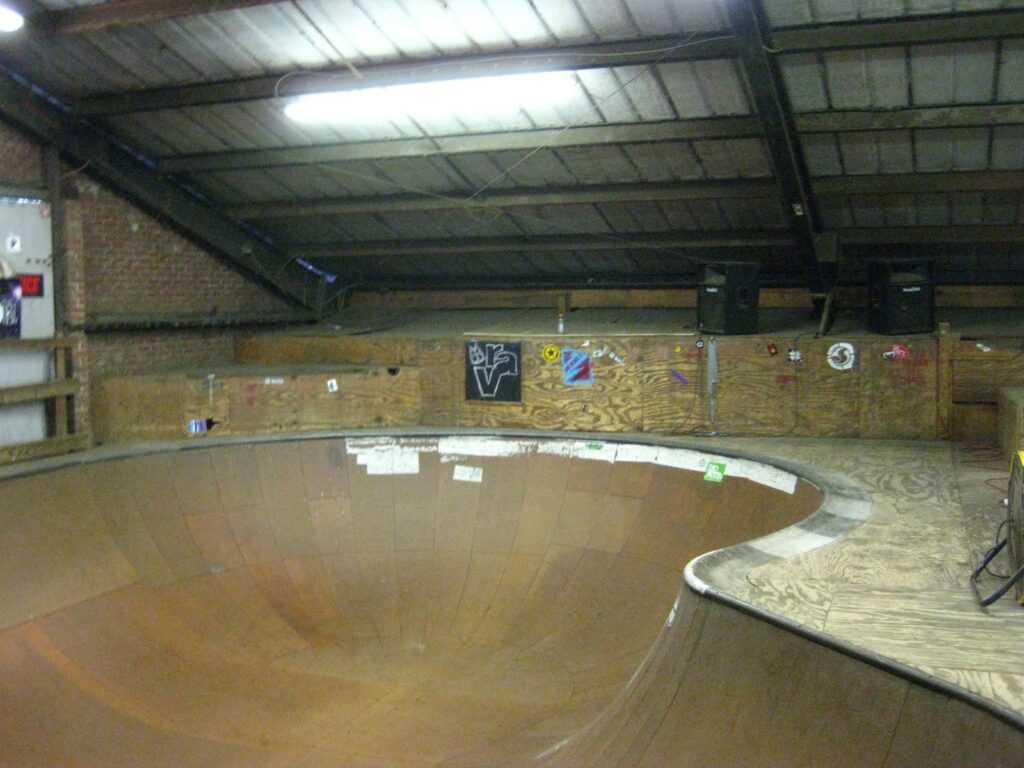 A bit pricy but worth. Skate lessons are $40 per hour and $20 for the second hour. Skate Clinics are for professional advanced skateboarding and costs more. We have come across positive reviews for both – their sessions and Skate Clinics.
They also run contests, summer camps, and professional demos. Have not attended any of these but definitely looking for the summer camps. Have heard good praises!
You can check out the calendar page on www.theskatebarn.com to see for their upcoming camps and events schedule.
So, if you are ever in the area of Wilmington, NC make sure to stop and check it out – it is well worth the trip. You might even run into local Pros like Chet Childeress, and Kenny Hughs. We are sharing the map location – you can follow the directions to reach the barn.
Skatebarn Prices
All prices at Skatebarn are moderately economical. In comparison to the skateboarding facilities they offer we would rate barn prices as cheap!
We visited several skateparks this season – and found places cheaper than the Hampstead Barn but they were not so full of action and thrill. This makes prices at the Barn justified.
The good thing is their day fee structure and not hourly. You pay 12 dollars for one flat day – and that's it. In certain times – you get 2 dollar discount. So that's just 10 bucks!
These rates get cheaper with Skate Barn Membership Plans. The Barn offers 3 plans.
Copper – Where you pay 20 dollars for a year and your daily session cost comes to $5 (On saturdays it is $8)
Silver – Where you pay 45 dollars for a year and your daily session cost comes to $4 (On saturdays it is $6)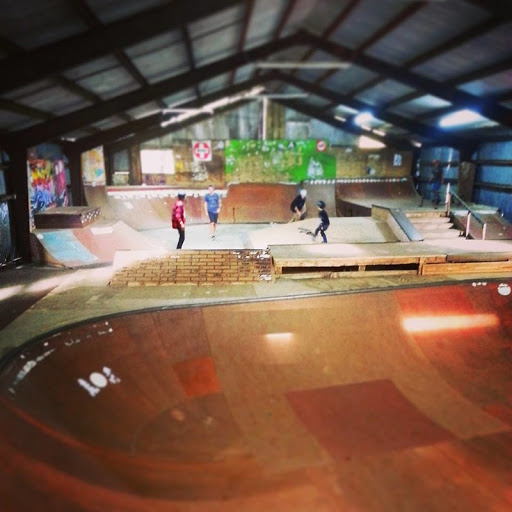 Gold Membership – Where you pay 65 dollars for a year and your daily session cost comes to $3 (On saturdays it is $5)
Membership plans are good for professional skateboarders and enthusiast skaters. If you are visiting park twice a week then go for the gold plan. You will recover the 65 dollars over the year and save plenty of bucks.
If visiting once a week – go for the silver or copper. Membership plans have other benefits at the skate shop too. So basically these plans pay off.
Skate Barn Skate Shop
Skate Barn Skate Shop is a fully stocked merchandise with some of the best skateboard brands and skating accessories and apparels. You will get almost every thing you require to get on the board.
We assume – this skate shop in Homestead NC must be making if not more than an equal amount of money as the Skate Barn. It is a full shop in the whole area to maintain the rails, skater shoes, helmets and boards! They even sell Skate Barn & Skate company clothing.
They even rent stuffs like helmets and boards. The rent goes for the whole day. The last time we checked helmets were for 3 bucks and boards for 5.
If you have membership plans then you get good discounts at the skate shop. With a copper you get 5% off, with silver it is 10% and with gold it is 15%. Basically these plans make you more money!
Skatebarn Rentals for Events and Parties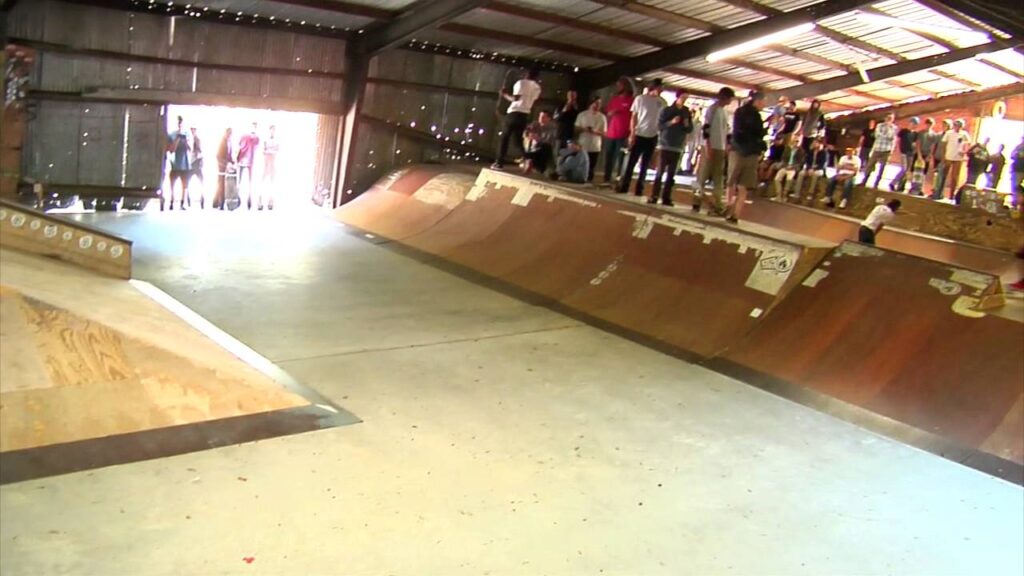 Skate Barn covers a huge area. Partying and Event organising is a big hit. Although the skatepark runs so full with the skaters – that you can only rent it after their business hours.
The price is not that expensive either. It is just $60 per hour. Other skateparks charge a lot more than this. And the good part is – you get an indoor/outdoor celebration spot unlike other parks.
We are thinking to host a skateboarding event at the Barn. Even if we rent it for 4 hours it will be just 240 dollars! And you get such a huge place all to yourself and skateboarding. Readers will be invited. 🙂