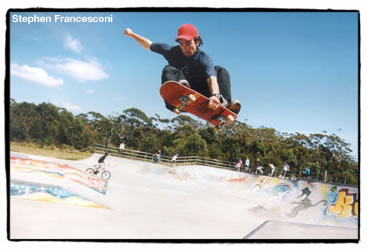 Ulladulla Skate Park is located approximately three hours south of Sydney. Though the area is world-renown for it's surfing, it now boasts one of the states best skate parks.
Built in the mid-90s, a local skater designed the park and oversaw its construction. The creation of this park was obviously either a labor of love, the product of a highly competent mind or both.
The park was built to a standard that most desire, but few achieve. Rolling along the 30m x 30m of polished concrete, and perfectly designed transitions without a single noticeable joint, one would almost swear the park was plucked from the dreamscape.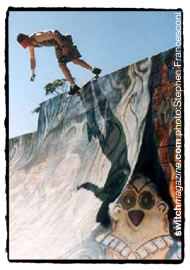 Thanks to this almost mythical fabrication, the park hosts many international demonstrations and competitions.
Anyone can enjoy Ulladulla Skate Park. However, features such as the seven-foot high bowl that opens up into the street course indicate that skaters who prefer transitions might better realize the full potential of the park.
For the burly skaters there is a huge vertical wall with eight-foot and nine-foot sections without platforms. Two bowls face this wall, allowing high speeds to be maintained, and making it easy to session the whole park without pushing.
Four-foot quarter pipes and hips flank the park, leaving plenty of flat space in the center for ground tricks. Street skaters can also rock the park's multi-level fun box with a three-foot rail that sits between a transitioned table-top and a wedge table-top ramp.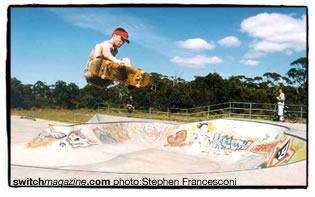 Like any good spot, Ulladulla is difficult to find, and actually located in what one would swear to be the literal middle of nowhere.
For those that value speed and airtime, though, the fast lines that Ulladulla offers are definitely worth the trek.