Matt Hughes Skate Park – Loveliest of all Myrtle Beach Skateparks
Located near the beach is what makes this skatepark – one of the best skateboarding locations all around the world. Just imagine yourself doing an ollie or a backflip with air sweeping past you and the smell of the water and the sand. The experience is one of its kind! We love skateboarding here like no where else.
Although Myrtle Beach does not have many skateparks – but whatever it has Matt Hughes is the biggest and the best place to skate.
Matt Hughs Free park is a city owned public park named after a kid who died from a head injury skateboarding in Myrtle Beach.
The park is kind of small, but contains an array of four foot quarter pipes, a pyramid, vert wall, a steep slant ramp and a wedge to wedge with a handrail; also connected to the wedge to wedge is a planter with a ledge next to the other side. The ledge is about twenty feet long and shin high.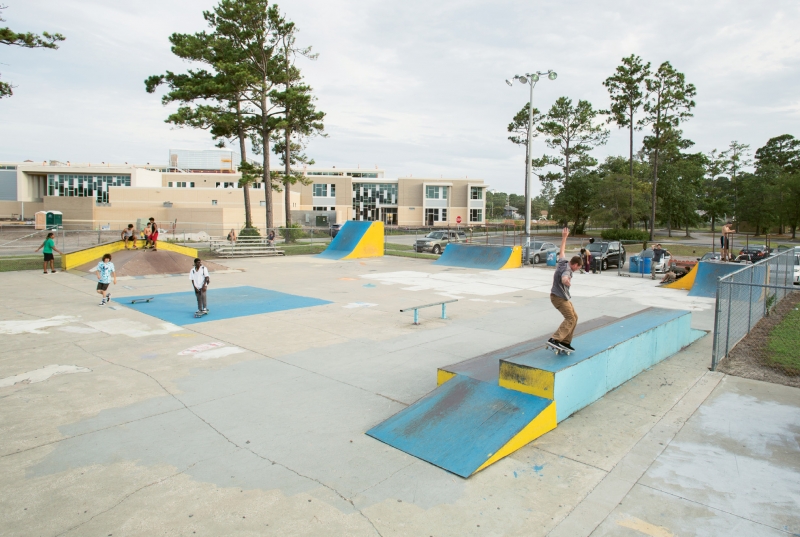 Skateboarding Rico tailslide in the Park is fun. The four foot quarters are long, so grinds can be long. The pyramid is a little steep, but it makes you blast big ollies.
The rail is the key attraction at the park. All the tech dogs try their tricks regular, then try tricks switch on the knee high downward, sloping hand rail. Lipslides, 5-0 grinds, Smith grinds, and front side board slides are just some of the tricks done with authority on this rail. The other big winner at the park is the ledge. Games of S-K-A-T-E are a ritual.
Prior to 2018 – the parks was not well maintained and was losing its charm. The complaints of the park were many. Mostly: the park was slick with a steel coating on all the ramps, coping was aluminum and had no chink-chink, transitions were done by some contractor with no skate history, helmets used to suck, no cussin'. But basically it stood because it was a Free park in a town that had no park.
2018 Renovation of the Myrtle Beach Skatepark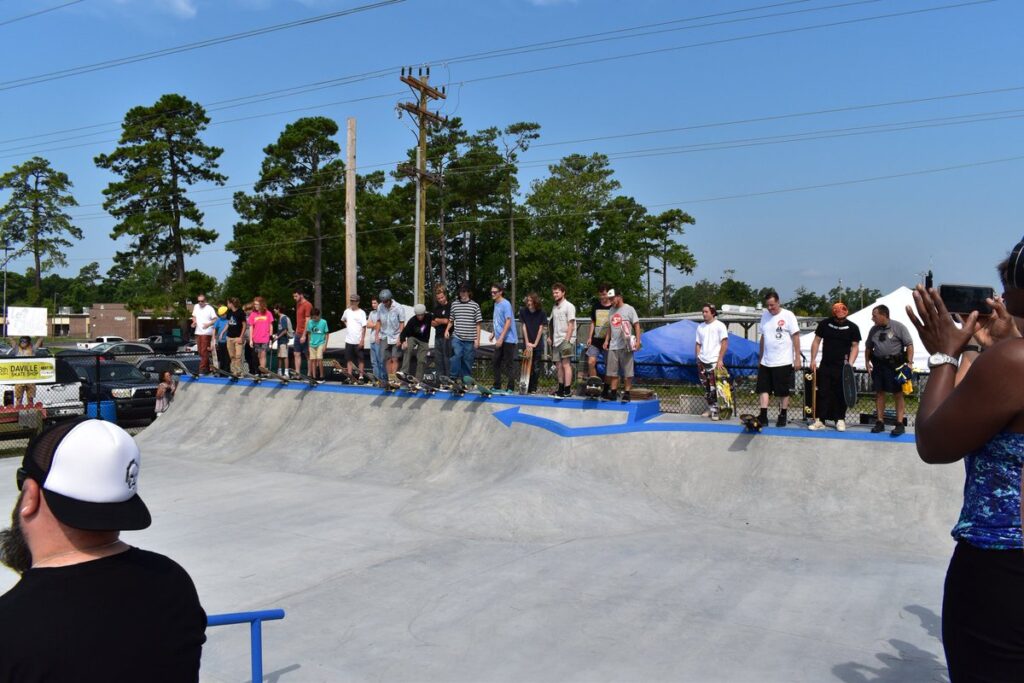 In 2018 city recreational leaders worked on to add new features in the carolina beach skatepark. The revamp was a huge hit – and after that the park is seeing a lot of visitors.
The reconstruction was more of reliving to Matt Hughes legacy and was not just about skating. It brought a lot of cheerful faces specially in the young lads family. Matt Hughes Brother and Sister were present at the opening where Noel Hughes (sister) narrated the whole of his story.
In the opening this was her statement – 'I wanted it done for my little brother'. The truth is that the park's renovation is a result of her sisters and the skateboarding community's love and dedication towards the kid and the sport.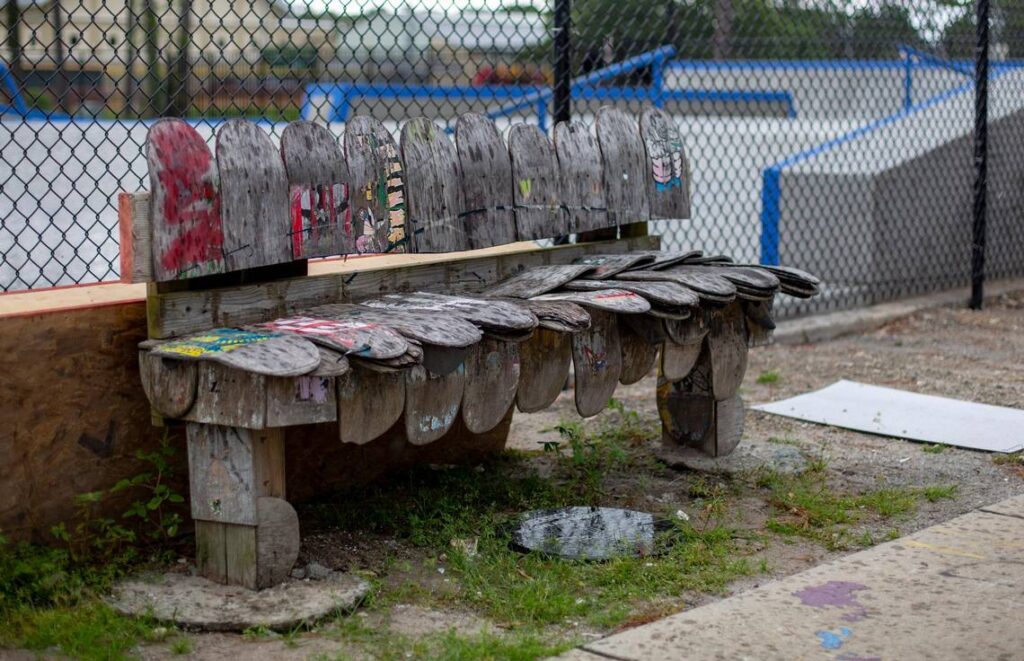 They had to raise the funds from multiple sources. Matt Hughes personal belongings were also auctioned for the completion of the project.
Jesse Clayton – owner of 5th Pocket Skateparks in Pennsylvania came all the way to South Carolina and turned the story of the park upside down. He was the lead designer of the project.
Matt Hughes Skatepark looks quite different now. Wooden and Metal ramps have been replaced by concrete. A new gate with the park's name sits at the entrance. And a bench crafted by skate decks welcomes you in to the park and honours Matt Hughes. There is a memorial stone in the park too.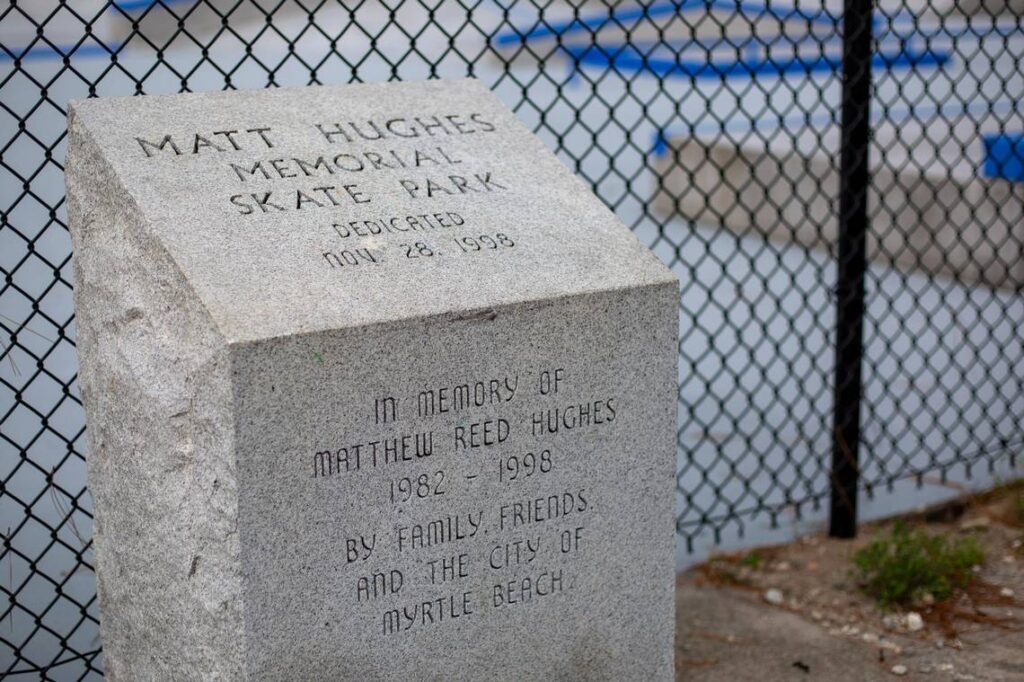 The whole revamption project was undertaken 5th Pocket Skateparks. Jesse Clayton says that when he was young – his family used to come at Myrtle Beach for vacations. This was his style to pay homage to the memories.
A $41M Surf and Skate Park with Amphitheater at Myrtle Beach
But the reconstruction of the park does not end here. In 2020 Myrtle Beach News Channel 13 reported that – the park is going to see a lot of further developments.
American Surf Parks – An american company which builds surf and skate parks all around America – is planning to build a surf park along with an amphitheater at the Myrtle Beach. The surf park will be adjacent to the skate park.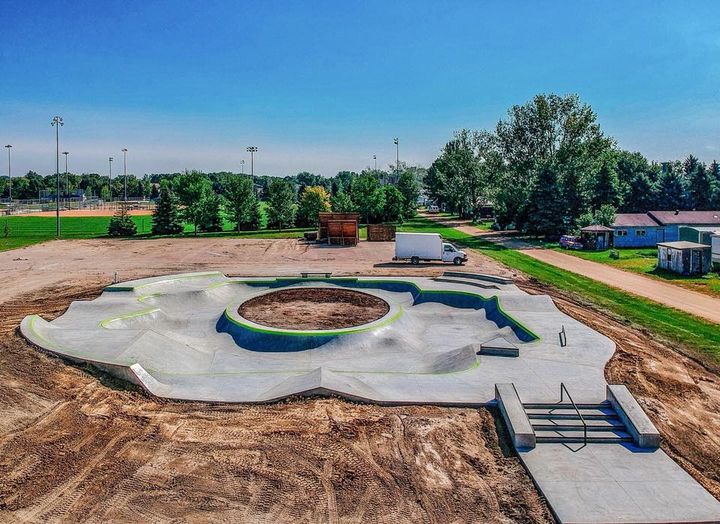 The City council has already approved a 15-year lease agreement and they are planning to bring the plan into action in 2021.
Surfers skate and skaters surf. And hence Surf and skate at the beach is good news for the skateboarders and basically for the skatepark. It will attract a lot more skaters from all around Carolina as Myrtle Beach Skatepark is the only skatepark between Wilmington, North Carolina and Charleston.
We think taking this opportunity to further develop the park along with the surf and skate – Skateboarding enthusiasts in the neighbourhood have started a facebook cause page to renovate the park and add some needed rails and bowls. The page is titled – Myrtle Beach Skatepark: rebuild Matt Hughes project. We hope the park gets more crowd and glory and the legacy of Matt Hughes continue.
Come check it out. Bring your helmet, don't say the F-word too much, and hang with some really cool locals. So, if your ever on vacation in the Plastic town of Myrtle Beach, come skate the Matt Hughs Skate Park.
South Carolina Skateparks – Top Five
Other than Matt Hughes – the state has many other places to skate. We have listed 10 best places to skate. However these are not dedicated skateparks – you can enjoy several different action sports there.
If you are looking for a devoted skatepark with no zones for other sports – then Matt Hughes Skatepark is your only option. And it's worth it if you are a professional skater or a die hard skateboarding fan. If you are just into casual skating then you can visit the parks mentioned below.
North Myrtle Beach Park and Sports Complex
Good for Hiking, skiing, bike riding, Go Ape. Has an aqua park with a children's play area along with an automated wakeboard area so that you and your children can enjoy together.
Daville Skate Shop
This is a skateshop and not a skate park. Located very close to Myrtle Beach and Matt Hughes Skatepark – the shop is a good destination for all skateboarding equipment.
They started their Myrtle Beach located shop recently in 2019 – and post renovations at the Matt Hughe's Park – the shop has been in good profits. The best part they keep all sporting brands ranging from Nike, Adidas, New Balance, Vans, and even best skateboarding brands like Converse, Supreme, RipNDip, Primitive Skate, and Thrasher.
Fun Warehouse
A great place for soft play and roller skating. However we would not advise adults or teenagers to visit this. It is a good place for kids. Your kids can also enjoy Laser Tags. animaland, and inflatable's here.
Stability Skate Park
Located in South Carolina around 0.8 miles W of North Myrtle Beach Stability is a decent skatepark. The park lies right in front of North Myrtle Beach Bowling Alley. In comparison to Matt Hughe's Park the Stability is quite small. Although it is growing pretty fast as it is managed by Team Pain skateparks. In good hands!