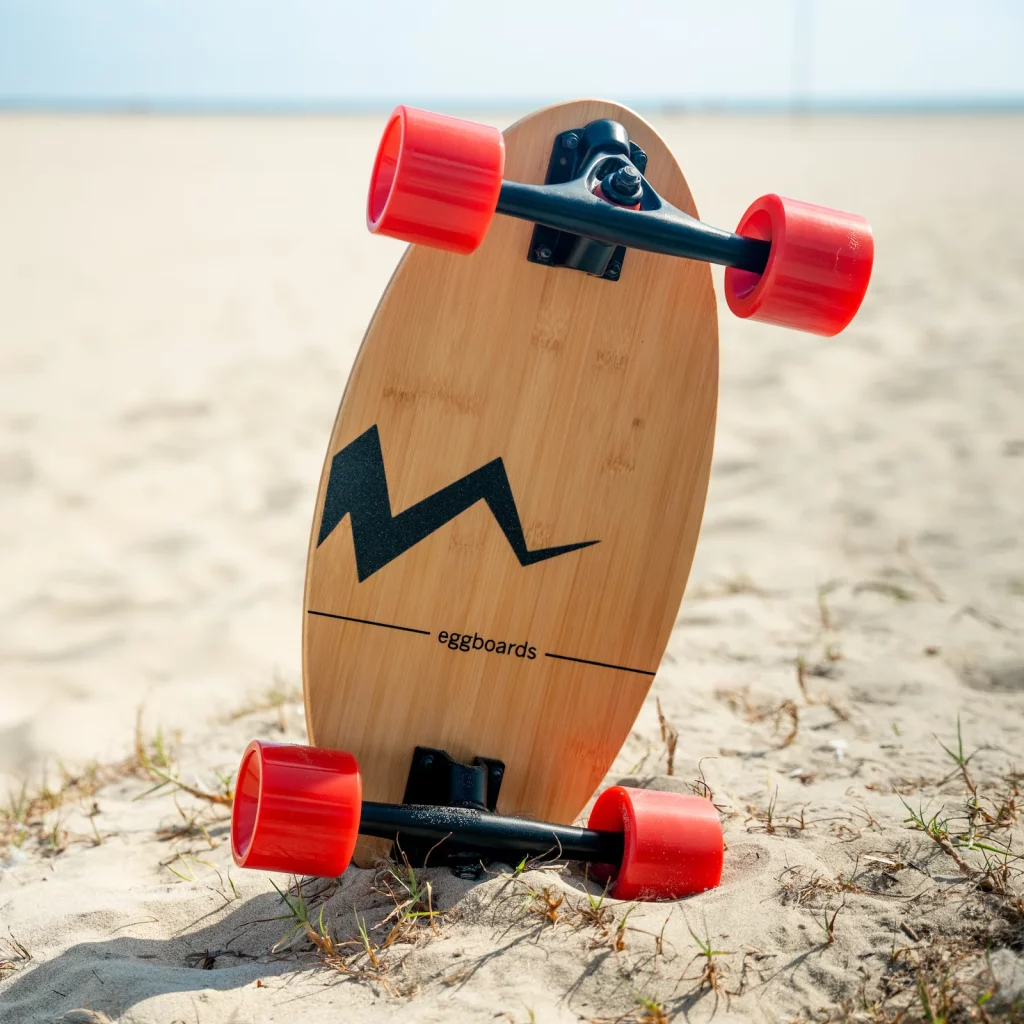 What are Eggboards?
Eggboards are egg shaped skateboards designed to generate more output power than you could get from a typical skateboard.
Other than their unique design and symmetry everything remains similar to the regular skateboard, with a deck, four wheels, and all other equipment.
They are similar to the long boards but are short, and ensure utmost durability.
Eggboards initially came into existence with some "trial and error" when testing out new designs in this longboard enthusiast's quest to get the shortest longboard possible. After several prototypes, the Eggboard shale was born.
These are the words of Paolo, the designer and founder of Eggboard Skateboards –
"The egg shape is perfect because it's wide, but also narrower close to the trucks. In this way, the deck doesn't touch the wheel when turning, avoiding nasty "wheel-bites". (source)
These freestyle boards are suited for everyone and every style and are quite economically priced.
Read Trenton's review – a student from Boise State University.
"It was difficult to ride at first, but soon the board felt amazing and enjoyable. The size and riding are excellent with fantastic design". (source)
Are eggboards the perfect commuting choice? 6 Reasonable Arguments
Eggboards are the finest alternative for short-distance commutes, as they are portable, easy to carry and come with loads of amazing features.
Eggboards' size is the most important feature that makes them stand out. This little board is only 9 inches wide, 19 inches long, and has a 12-inch wheelbase.
Another important factor is their weight. An eggboard weighs 22-pounds on average.
Smaller size and lighter weight makes the perfect mix for urban commute making them best for use in cities, urban vicinities and campuses.
They are easier to carry than traditional skateboards, and require minimal storage making them pretty convenient and comfortable for short-distance commuting.
Another key factor is durability. Eggboards are composed of bamboo wood, which chips considerably less than other types of skateboard decks. They are stylish yet of a high caliber.
Additionally, the eggboard's 9′ inch width offers great stability and makes them simpler to balance. This is further boosted by their uniquely designed shape. The rider can have a more secure footing because of the deck's oval form, (or egg-shaped form) which guarantees optimum stability.
Due to their shorter deck and kicktail that rises 1.5 inches above the ground, Eggboards are regarded as miniature longboards.
They feature a broad enough foothold to function as a standard longboard making them perfect for gliding, riding downhill and cruising on flat pavement.
Due to their small size and sufficient ground clearance they last long on tougher grounds as well.
The final deal breaker for owning eggboards instead of a regular skateboard is they are the most economical board for skateboarding and commuting. . You can get two premium eggboards at the price of one good quality longboard!
What are the Limitations?
Not everything is green. There are some limitations to owning eggboards as well –
Due to their small size and short wheelbase, eggboards are not appropriate for escalating hills.
Smaller rims produce higher resistance.
The bearings in these boards don't feel as smooth as those in other skateboards.
People with bigger foot size could find them challenging to use. If you wear larger shoes, wheel bite can be a common issue.
But other than these reasons, eggboards are the perfect commuting choice. They are smaller, lighter, durable, smoother, and cheaper than other skateboards.
5 best eggboards/mini boards
Note – Eggboards.com – the original manufacturer – has only designed one prototype with 4 color variants.
Below we have reviewed the prototype model and other 4 mini boards which are very similar and best alternatives to the eggboard specimen.
For urban skateboarders searching for a commuter to travel short distances or on their morning ride, egg boards are best.
For seasoned riders, they are enjoyable to travel on, and for newcomers, they are simple to use.
Eggboards are made from 6 full plies of bamboo, weigh about 6 pounds, and don't chip over time.
They come in a variety of colors and cool red tones. Check them out here.
Magneto Mini longboard is 27.5 inches long and 7.5 inches broad.
The deck of the micro cruiser is constructed of seven plies of superior Canadian maple wood..
Additionally, the board has a double kicktail configuration that enables the rider to execute simple tricks.
Trucks made of gravity cast aluminum gives it a smooth performance in turning and riding, and provide greater strength and longevity.
In order to suit your comfort, you can tighten or loosen the trucks which come with adjustable SHR medium stiffness bushings.
The 78a hardness polyurethane makes the wheels supple and pleasant to ride.
Read more about the board here.
For short trips, the Landyachtz Dinghy is fantastic.
It is adaptable, composed of high-quality components, and works absolutely amazing.
It easily fits under your arm or you can strap it to a backpack so you can carry it around.
The board rides well on bumpy roads, and is good for tricks, downhill riding, or skating in skateparks.
For navigating the sidewalk, the tiny turny Polar Bear trucks are extremely swift and turny.
In addition, it has high-quality parts such as Hawgs wheels and Spaceball bearings.
It is designed for quick and easy transportation within city limits and is incredibly agile at navigating people and objects in confined places because of its small size, short wheelbase, and directional design.
Explore the Dinghy's different color options here.
Haven is a 22-inch cruiser mini-longboard.
It is a lightweight, compact, and robust street cruiser, made of 2 full plies of Canadian Maple for flexibility and 5 full plies of Canadian Maple for strength.
There is a lot of room for footing making it comfortable and easy to ride.
It comes with superior OS780 anti-skid and waterproof black sand-grip tape that is waterproof and long-lasting to keep your feet securely planted on the board regardless of the weather.
Haven has ultra-smooth-gliding, flexible, and high load-bearing polyurethane cast wheels.
Note – Polyurethane wheels are a great choice for skates for outdoor usage, as they are highly weather-resistant.
Check out the board here.
Summit board is another great short board manufacturer designing skates similar to eggboards.
Their deck is really sturdy, and the wheels are large enough.
You can choose from a variety of styles at Summit Board Co. that will fit your skating style. These skateboards are perfect for both novice and expert skaters.
Due to their board's simple controls, riders of all ages and sizes can use it securely and simply.
Use of durable bamboo and maple wood gives them even more robustness.
Due to their simple design, beginners can pick up tricks on them quickly.
White Wave Bamboo Longboard comes with a deck length of 28 inches and width of 8 inches making it a perfect alternative to shorter eggboards.
It works well for riding, cruising, and carving and supports freestyle as well.
The ABEC 9 Hellion 2 bearings enable the wheels to rotate for a longer amount of time with less effort.
The bamboo small longboard has – very well carved wheel, so that riders don't get wheel bites.
White Waves has a front and back kicktail, which allows riders to position themselves and perform tricks with ease.
Additionally, it can support up to 270 lbs. of weight.
Conclusion
Eggboards and mini boards have distinct characteristics. Their travel-friendliness and lightweight qualities are just a couple of their distinguishing qualities, making short-distance commuting incredibly simple and pleasant for everyone.
For the growth and learning of skating skills at the starting level, eggboards are a better option than traditional longboards and skateboards.
Additionally, having the right deck size, cushioned wheels, sturdy trucks, and an original solid bearing egg made the skateboard more trustworthy and durable. Overall, it is a fantastic alternative for short-distance commuting.
---
Another fun type of board for commuting around could be hoverboards. Read on to see if you should get those or a typical skateboard.