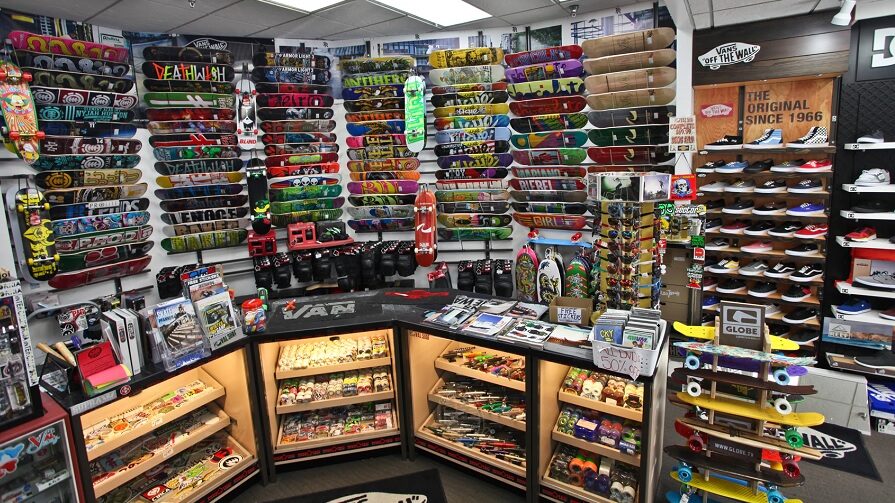 Skateboarding has developed over the past several decades, evolving into a well organized sport, featuring several styles.
This has attracted a lot of skateboard manufacturers to compete in the market.
A 2022 list made by surfertoday, featured 33 big companies who make some of the best-branded skateboards.
From thousands of boards and hundreds of brands, it is very important to land on a perfectly curated deck which suits you and your skateboarding style. 
Let's discuss the 8 best skateboards for you to choose from in 2023.
Which Board Should You Buy?
There is no ideal board for everyone. 
You must choose a board that meets all your needs and specifications whether you are an experienced skateboarder or a beginner.
Over the years we have understood that the best way to judge the quality of a skateboard is to quickly search about its manufacturer and look for its durability, comfort, and balance.
Below we have shortlisted 8 best economical skateboards for 2023, voted by top professionals across different skateboarding verticals.
The 8 Best Skateboards
Made by Krown, KPC pro is a high-quality skateboard that is one of the popular choices retailing for under $40.
The board's dimensions are 8″ x 32″, which is a common width for professional skaters.
The head-mounting hardware is high-tensile, and the 80 grit grip tape provides great traction and a firm grip.
KPC deck's concave design makes the stance more comfortable and learning some of the beginner skateboarding techniques simpler.
The wheels have quality ABEC-7 bearings with 52mm diameter and are made of 99A PU.
All other skateboard components adhere to industrial grades.
The board arrives preassembled and is ready to use right out of the box.
With the Pro Complete, you get to choose from a lot of color combinations, which attracts a lot of your young skaters.
Check other specifications of the board here.
KPC Pro Skateboard Complete – Best Skateboard Deck Review
Golden Dragon 2 is one of the most considerable choices for adults and is a hallmark of Powell skateboards.
It has a concave deck that is a little over 7.5″ broad and around 31.5″ long. The grip tape coating on the deck glues you to the board.
Its deck includes a second polymeric strap that neatly ties the entire thing together, making it sturdier and stiffer, so even if there is a fracture, it will still hold well.
Each component of this deck has been factory-tested to assure superior quality.
The skateboard is very lightweight featuring strong carbon steel axles. It glides smoothly and easily, and is even suited for performing tricks but only after you reach a certain level of proficiency on skating.
The full set comes with a DVD having lessons to help beginners learn skateboarding basics.
Considering the low weight of the deck, the board's overall longevity is remarkable. However some consumers report wheel issues, especially when attempting to cruise.
Check other customer reviews here.

Rimable board is the ideal size for small feet at 22″ long and 6″ wide and is an easy to carry commuter skate.
The skateboard features a plastic deck, which reduces its weight significantly and improves the board's shock absorption capacity.
The 3″ trucks are manufactured from premium aluminum. It has high-speed bearings and extremely smooth PU wheels installed with quality screws and bolts for longer durability.
The wheel and rolls have a tendency to perform well without lubrication.
It comes pre assembled, which will undoubtedly lessen the impatience many youngsters and kids experience when a new toy is delivered!
Although best suited for kids, even adults can take a steer on it as the deck supports up to 198 lbs of weight.
Check out the plastic skateboard's price here.
RIMABLE Complete 22″ Skateboard – Rimable Plastic Cruiser Fully Assembled
Zed is a 44″ longboard available in 14 different graphic patterns, all of which are a sheer delight.
It is constructed of 8-ply Canadian maple and bamboo making it extremely durable due to its flexible structure and solid maneuverability.
Its 70mm PU wheels, which are cast with black bushing wheels and have a durometer of 90A, provide a responsive mount. They also have a rock-like finish. Paired with ABEC-7 bearings the wheels guarantee a smooth ride.
Smaller wheels provide greater control. They enable faster turning and easier hill climbing. A higher durometer indicates that the wheel is more durable and will roll quicker.
The board comes with reverse kingpin trucks that are incredibly responsive making it perfect for skateparks and stunts.
Check other specifications of the board here.
Teamgee H5 – Best Electric Skateboard
Teamgee H5 is the most popular and a very economical electric skateboard.
The skateboard is built of 10-ply Canadian Maple and 1-ply fiberglass which gives it a mild flex. It weighs 14.5 pounds, and has a weight limit of 200 pounds.
The board is 8.7″ wide and measures 37″ standing at 3 inches off the ground. The H5 deck is 0.5 inches thick making it the thinnest E-skateboard.
It boasts two powerful 380W brushless motors, giving it a range of 9 to 11 miles and a peak speed of 22 mph, and even makes 20° of uphill inclination possible.
High-elastic PU is used to construct the 3.5″ wheels, ensuring a comfortable ride.
Full skateboard package includes a T-tool, LED lights, an adapter and a charger. A one-year manufacturer's warranty against mechanical faults is also included with the purchase.
This electric skateboard model may not be the fastest available, but it can outperform many of its competitors within its price range.
Check out its final off road price here.
TEAMGEE H5 ELECTRIC SKATEBOARD REVIEW
Positive boards are produced from birch or maple and are joined together using the company's patented AirLam waterproof adhesive.
Additionally, they include MiniLogo bearings made by the brand. The Positiv emblem on the top of the deck gives the board a streamlined appearance.
The deck is slightly over 32″ long and 8″ wide, and it features a K12 concave. The SST slide treatment coating on the bottom endures longer slides.
The 99A hard wheels featuring a treaded surface are suitable for park and street skating and are suitable to carry 200 pounds of weight.
Lower deck comes with delicately designed squares organized into crosses throughout the entire surface. Blue and red are alternatingly used for the boxes' hues.
The entire upper surface of the deck is covered in grip tape, which contributes to a considerably smoother ride for the skateboard.
Get a glance of its design here.
Featuring checks design, this Beleev skateboard is a reliable and a reasonably priced skate.
It is a perfect combination of a concave deck, sticky grip, and decent wheels, making it a fantastic beginner skateboard for youngsters to learn tricks and tips.
The 10-millimeter-thick deck is made from seven-ply Canadian maple wood and has a weight capacity of 220 pounds.
Some skateboarders even stand on it with their kids to teach them the sport!
Check other specifications of the board here.
Minority 32″ is another great skateboard for beginners.
The deck is sturdy and consists of 7 plies of 100% cold-pressed maple.
Its moderate concavity makes it ideal for tricks. It is also durable, with 5″ aluminum alloy trucks carved with a carbon steel kingpin.
The 52mm wheels are composed of high rebound 120A PU and chrome steel and the Abec-9 bearings offer the smoothest rotation possible.
Its symmetrical form has a roomy kick nose and tail. It allows you to showcase your skateboarding abilities and is incredibly precise and responsive.
The skateboard is a combination of high-quality parts and materials.
Check out the list of all the included parts and other details here.
Minority 32inch Maple Skateboard revieww
Last Words
Skateboarding is an exciting and vigorous activity. Whether you're a beginner or an expert, you need a high-quality board to ride or to perform tricks.
Investing in a board that complements your style and glance could help you gain greater balance and improve your performance.
There are numerous skateboard brands and types available, making it difficult to choose one. It is also difficult to distinguish between low-quality and high-quality boards.
| | | | |
| --- | --- | --- | --- |
| Skateboard | Size | Recommended For | Buy |
| KPC Pro | 8″ x 32″ | Professionals | Buy Now |
| Powell Golden Dragon 2 | 7.5″ x 31.5" | Beginner Adults | Buy Now |
| Rimable Skateboard | 6" x 22″ | Kids | Buy Now |
| Retrospec Zed Bamboo | 114.3 x 15.2 (Cm) | Long Distance Riders | Buy Now |
| Teamgee H5 | 8.7″ x 31" | Electric Skateboarders | Buy Now |
| Positiv Team Skateboards | 8" x 32″ | All Level | Buy Now |
| Beleev 27″ Skateboard | 8" x 27" | Beginners | Buy Now |
| Minority Maple | 8" x 32" | Beginners | Buy Now |
The above table is a perfect buyer's guide shortlisting the top picks across wide varieties of skateboard types, forms and brands in the market.
Let us know your choice in the comment section below. Check out all skateboard related news and discussions on our blog.