Though better know for products seen on mountain tops, skateboarders may be interested to know Arbor also applies its keen aesthetic eye and knack for innovation to boards made for riding blacktop. Switch tested two of the company's skateboards to see if they meet the high standard set by their snowboards.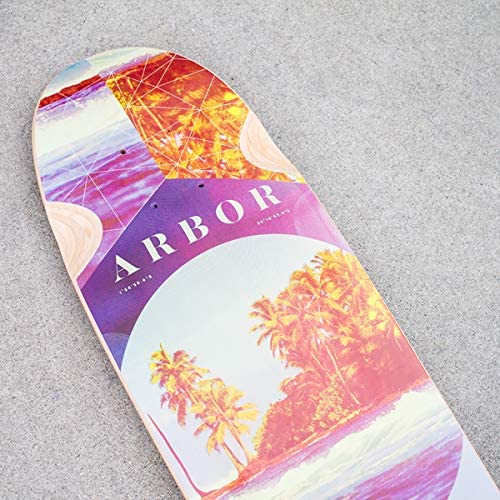 These boards definitely measure up in the style department. With seven plys of Canadian Hardrock Maple and a finish ply of Hawaiian Koa, they have a classic, natural look.
Thanks to what Arbor calls re-grip, there is no need to cover up the beautiful top layer. This clear and gritty coating acts as a built-in grip tape.
If industrial spies from other skate companies ever stole secret recipe, board graphics would be significantly changed. Imagine full graphics on both sides of a board or a wrap-around image.
Switch first rode the Pocket Rocket model. This compact little number measures 17″ l x 7.25″ w. It came with Randal R-2 trucks and 65mm wheels with ABEC 3 bearings. The concave profile of this mighty mini combined with this gear makes it look like a modern update of the old 70s banana boards. In no way, though, does it ride like an antique. Skating on the Pocket Rocket feels like driving a luxury sports car similar to the BMW Z3.
This board is sleek, fast and quiet. It is pure fun to skate on whether at the local park or just to return a video. One caution about the board would be that the small tail and large wheels make it mediocre for tricks. One can easily fix this, though, by changing the wheels. This is a tiny criticism and, make no mistake, the Pocket Rocket is a blast.
The second model we where fortunate enough to try was the Fish from Arbors Carver series. True to form this board is build for those with carving on the brain. This boards carries the rich style making you look good even if your not looking good. Arbor has done a good job mixing style and function with quality making this a easy board to recommend.