Hilton Head Island, South Carolina is a vacation destination of tens of thousands of the country's upwardly mobile. It comes under Bristol parks and rec facilities and is a renowned place all around Bristol Island.
Why, might you ask? Is it the location? Is it the shopping? Is it the beach? Is it all the rich single girls (or boys)? Maybe, but we went for the skatepark.
Hilton Head Skatepark ranks among some of the best South Carolina Skateparks.
The Hilton Head Skatepark is located off of Arrow Road on 4 Helmsman Way. Jeremy Lee, Maxcy Hicks and Jay Scofield used to run the park on a regular basis.
The Skatepark is located in an easy-to-get to recreation area and neighbors an outdoor hockey rink (which means booters with sticks). It seems that the guys who donated the land had some strange belief that booting was real cool and still a growing sport.
The park boasts a nice mini in the middle of the park along with a kid's street course to keep the munchkins out of the way. The main street course is well built, though it could use a little more set up time between the ramps.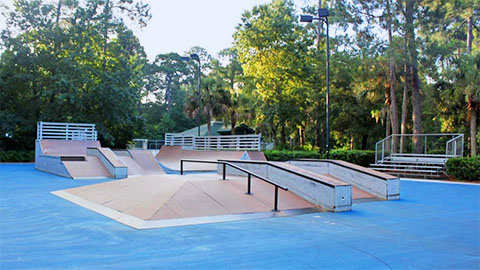 Banks and quarters make the bulk of the course with a pyramid, slant to slant, ledge, handrail complex in the middle. The complex is nice and varied, offering easy flowing lines and the ability to hit several parts of the park in your run. The fact that the park is all skatelite is also a plus.
Now for the things to look out for: The handrail. The rail is no joke but locals like Maxcy Hicks are sure to give it a good work over. Early weekends bring kids from all corners of the Island so beware of the scooters, bladers etc. Keep an eye out for the locals as well.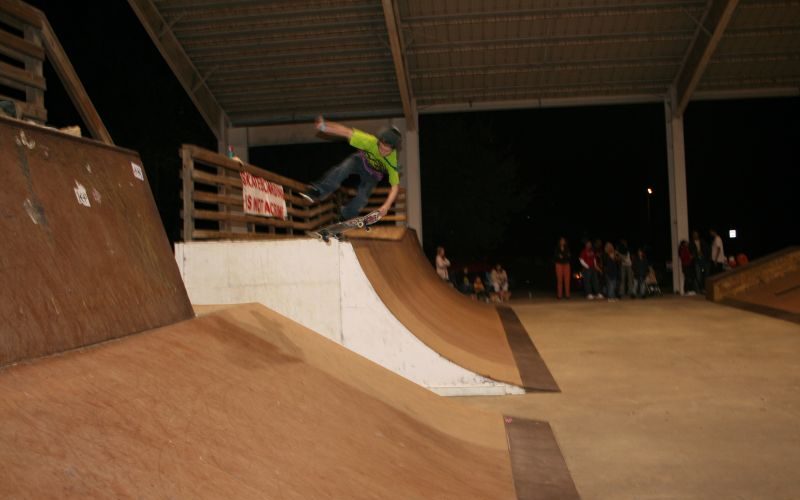 Other than the famous Hilton Head Skatepark – the bristol parks and recreation zone includes Burkes Beach, Islanders Beach Park and many other parks.
Skateboarding can be fun from the skatepark to the beach and to other parks. In fact a little practice and skateboarding skills initially at the skatepark and then recreational skateboarding alongside the beach is a delight.
Burkes Beach is moderately windy and boasts sunny temperatures all year round making perfect weather to skateboard.
Islanders Beach Park and Folly Field Beach Park at 94 Folly Field Road are some of our favorites. Check the map below to plan your skateboarding trip.
Read the rules and regulations page on www.hiltonheadislandsc.gov once before visiting the Bristol Parks and Rec Zone. Beach authorities have introduced a lot of safety measures post Covid 19 pandemic.
Do not miss to visit the Hilton Head water parks, the ollie skate park, Jarvis creek park at the island playground. These are some of the must skate locations. Get a Beach Parking Pass to get benefits to a lot of Hilton Head Island Facilities.