Electric Skateboard Prices have come a long way!
What once started on a wooden surfer board has now entered a new phase. A phase of technological enhancement has led the skating community to modern battery powered Skateboards. And as technology advanced these Electric skateboard prices have come a long way at both ends –
You will find electric skateboards costing more than an economy four wheeler. On the other end – you will find a great and one of the best electric skateboard under 300.
The list below has some of the most wanted affordable electric skateboards while some are worth a fortune –
Bioboard thoriumx4
Lacroix DSS50+
Boosted Mini X
Razor X Longboard
Boosted 2nd gen dual+
Razor X Cruiser
Azbo Skateboard
All these boards have their own unique awesomeness. Their price range starts from $150-$4300.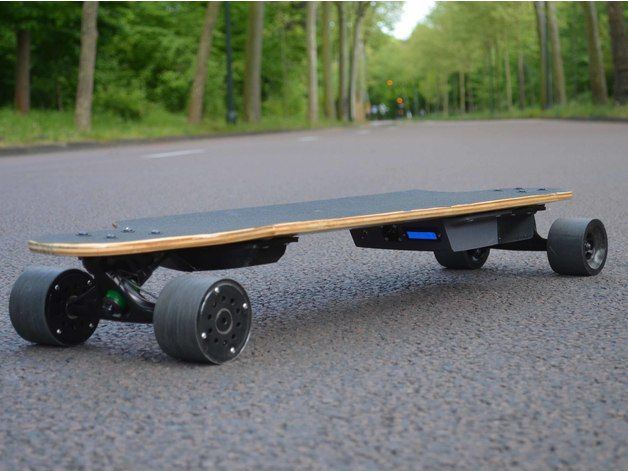 They have mind blowing specifications and riding them sends a chill down the spine. Most of these boards can channel juice to run for around 40km-50km, and their speed ranges from 50km/hr-80km/hr.
So what is the reason for this uneven electric skateboard prices range. To answer this – go on with us.
Why are Electric Skateboards so Expensive
An electric skateboard is a motorized skateboard that you can control by a remote controller. The speed of the skateboard is varied using the remote controller and the skateboard is turned to right or left by tilting towards either direction.
The market for E-skateboard is considered niche because it has less economy of scale. The price of it depends mostly upon this factor. Due to its portability and controllability, some might prefer to buy this than the conventional wooden skateboards.
The most common query over the net nowadays is How much are electric skateboards – What do e-skateboards contains which makes them expensive in comparison to the non electric boards.
Let us analyse all the the factors which determine electric skateboard prices.
An e-skateboard is built of several parts which makes it more expensive than conventional ones. It is an assembly of following parts-
Batteries
Motors
Trucks
Remote control unit
Electric speed controller
Deck material
Wheels
All the above listed components contribute to the price of the e-skateboard. The versatility of the price range makes them suitable for all types of riders to buy.
For example, you will find a beginners range cheap electric skateboard from $200-$500, while the price range for pro riders ranges from $700-$3000.
Batteries:-
An electric-skateboard comes with a lithium-ion battery, a battery pack of an Electric skateboard holds around 10 to 20 cells which makes the battery itself around $100-$400. All Electric skateboards come with a charger and one charge can give a mileage of around 20km-25km.
Motors:-
The juice from the battery powers up the motors, which gives linear motion to the electric-skateboard. Their cost is defined by the way they are placed.
Motors placed inside the wheels are cheap, while compared to motors placed in between the wheels and the trucks. The electric motors price can vary anywhere from $50-$300.
Trucks are an important part of the electric skateboard which are placed under the surface of the board. The price range for trucks starts from $50 to $150.
Electric speed control (ESC):-
Electric speed control is a speed controlling unit attached with the battery and motors. They are used to accelerate or decelerate based on the programming done.
Expensive electric skateboards come with open source programming, where the user can program based on its functionality. ESC units range from $70-$300.
The decks of the electric board can be made of wood or other composite materials based on the brand and user adaptability.
Modern electric skateboards come with carbon fiber composite which gives the deck more durability and high impact strength.
Wooden decks give the user more flexibility. Wooden decks usually cost around $50-$250, and carbon fiber decks cost around $300-$600.
Wheels cost around $40-$260, and other additional parts like remote control will cost another $30-$200.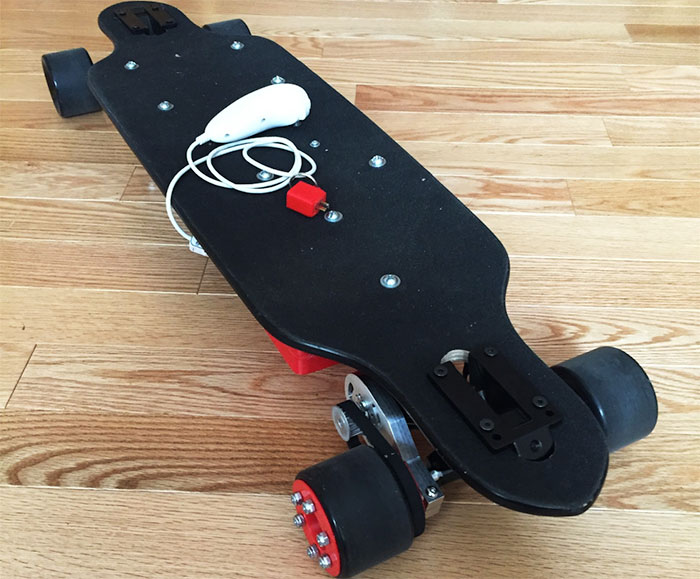 Other factors –
Few other factors that affect pricing are Marketing, customer service and economy of scale.
If the quality of the product is good it will automatically reflect on the price, but if the quality of the product is negligible, it will automatically reflect on the marketing strategies.
And this is the main reason for the variations in Electric Skateboard Prices.
Since the market of the electric skateboard is niche, the production of it becomes a factor of demand, and because of that the product becomes expensive.
Offering of customer service adds up to the cost of maintaining electric skateboards. Since it contains consumables which can be damaged, it is necessary to provide customer service to cater the user's needs, this in turn increases the final cost of the product.
Below are reviews for affordable electric skateboards and the most expensive ones too. Check them out – and you will have an answer how a cheap electric skateboard comes in line with the big shots of the market. AND IS IT WORTH INVESTING IN AN AFFORDABLE ELECTRIC SKATEBOARDS?
Bioboard Thoriumx4 :- $2,750 – $4,300
Thoriumx4 has been voted the best electric skateboard in 2018. The next version of thorium that is plutonium has been launched and it promises to become the best electric skateboard once again.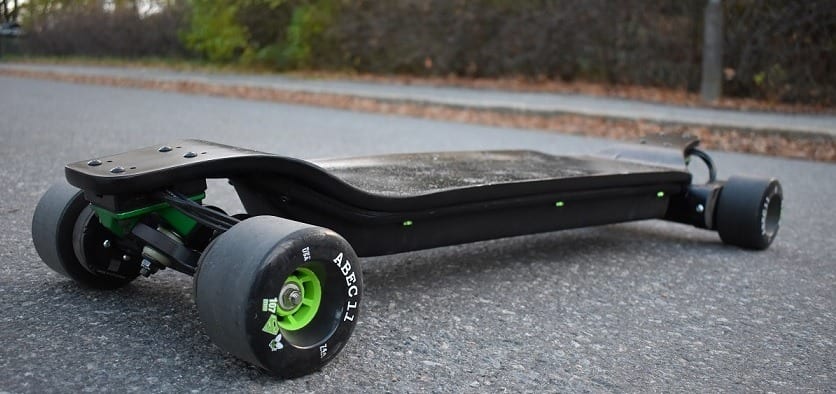 Most of the users who rode this felt that this beast was out of the world, and it could never get any faster, though it is expensive, the company made sure to make a "no-compromise" electric skateboard, which ultimately the users loved. This model has been upgraded to Plutonium.
Lacroix DSS50+ :- $2600
Lacroix DSS50+ is one of the finest products available in the market. Its ergonomic design delivers the board in A+ category. The aesthetics make it look like a beast.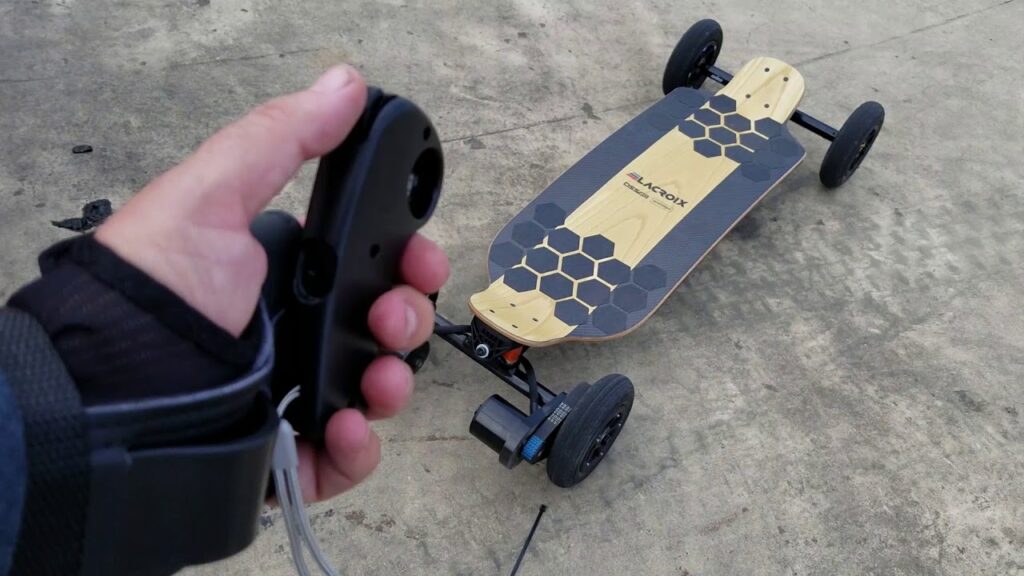 The top speed of this beast is around 50km/hr-60km/hr and 40-50kms of mileage per charge. The company offers customizable motor pulleys, bearings, and cnc-mounts.
Customer service offered by the company makes it the top niche product to purchase for many users. They provide excellent service right from executing orders to deliveries as well as after sales issues.
Boosted Mini X:- $950
Boosted Mini X gives you a speed range of 30km/hr-35km/hr. A one charge cycle will give you a mileage of approximately 22kms-25kms. The deep dish deck locks the legs at its place for more grip. It is available at a price of $160.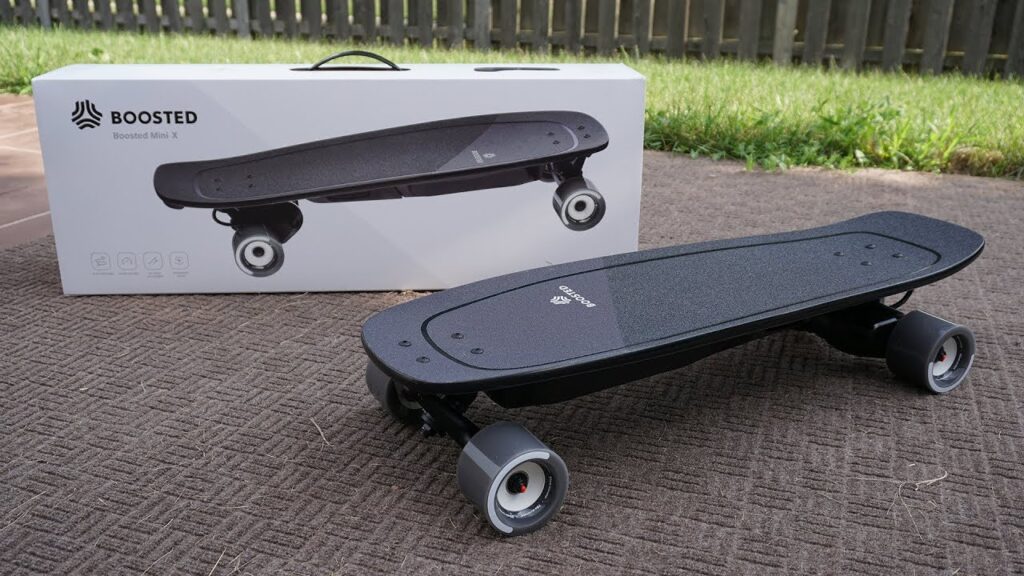 Overall the board is portable, easy to use, and many find the customer service very helpful. This board can be used for commuting distances of less than 20kms.
Razor X Longboard :- $175.99
Razor X longboard offers a rear wheel drive, with a speed of 16km/hr and a battery usage of around 40 minutes. It is made of 5 layers of solid and good bamboo giving it more flexibility.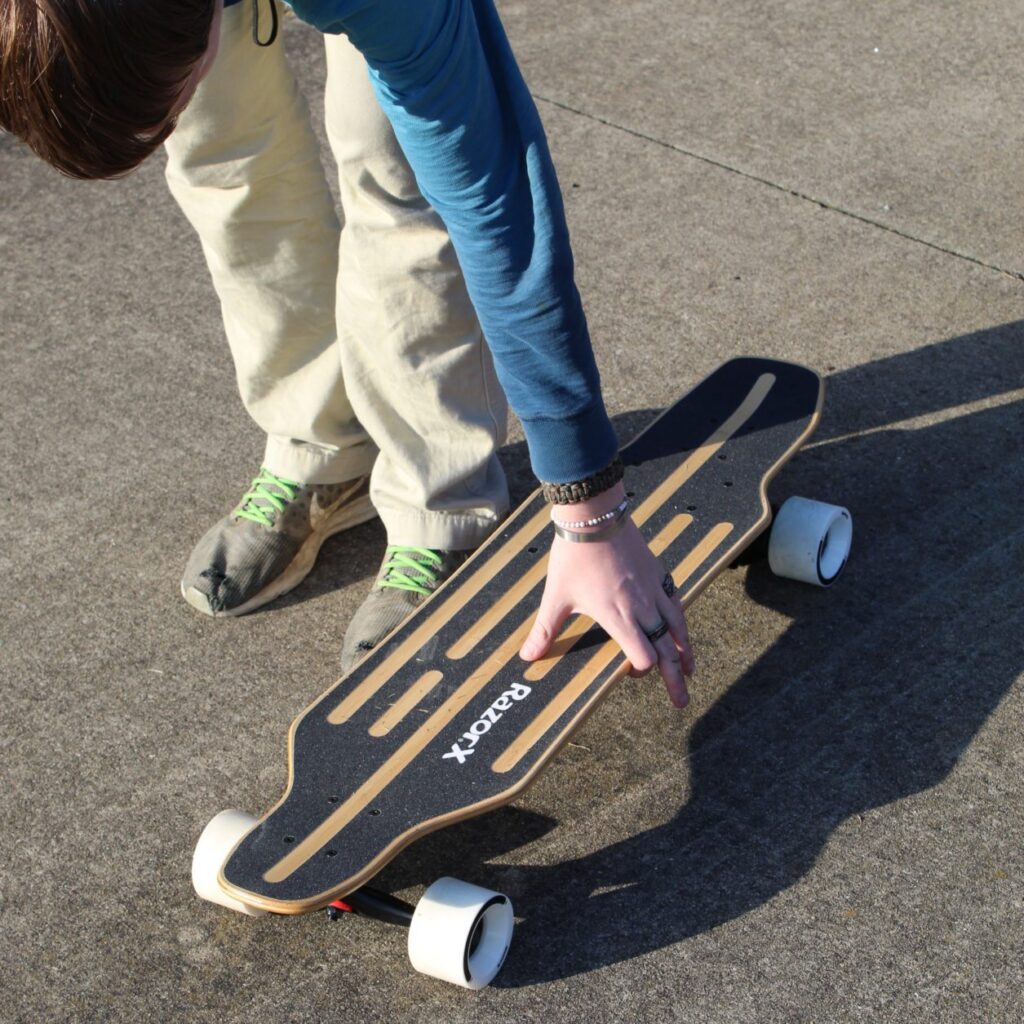 Razor X longboard has urethane wheels. Priced at $175.99, It comes with a 90 day warranty. It is one of the best options for small commute distances. users found it very easy to ride describing the experience as fun.
Boosted 2nd gen dual+ :- $1,199.00
Boosted combines portability and power, to ease the urban transportation experience. The Boosted 2nd gen dual+ comes with a 10km battery range and also with 20kms extended battery range. It offers 35km/hr top speed and comes with a super flex composite deck. It has a regenerative braking system for smoother rides.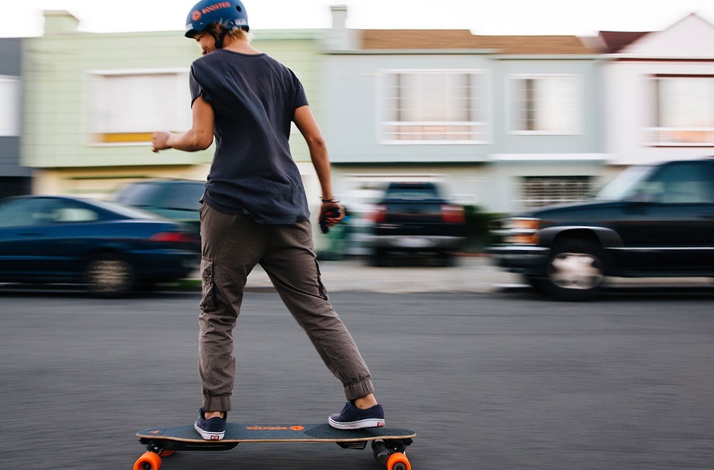 According to some users it is very easy to use and the composite deck gives flexibility and an entirely smooth experience. It is definitely a quality product and very much fun to use.
Razor X Cruiser :- $149.00
With a price tag of around 150$, Razor X Cruiser is made of lithium-ion battery, with rear-wheel drive which provides a maximum speed of 16km/hr.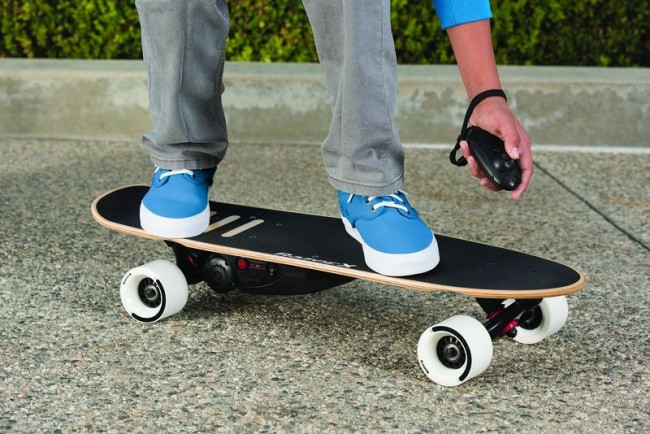 The deck is made of 5 layers of maple wood making it lightweight and flexible enough for a responsive and smooth ride. The battery provides 40 minutes of ride per charge. The users found this cruiser board more reliable than the longboard version because of its size and weight. The Geared-drive system gives it a more stable ride than the longboard version.
Azbo Skateboard:- $1,699.99.
Azbo skateboards are made of maple wood with few variant layers. It offers a maximum speed of 40km/hr. It contains a lithium=ion battery which can be fully charged within 2 hours.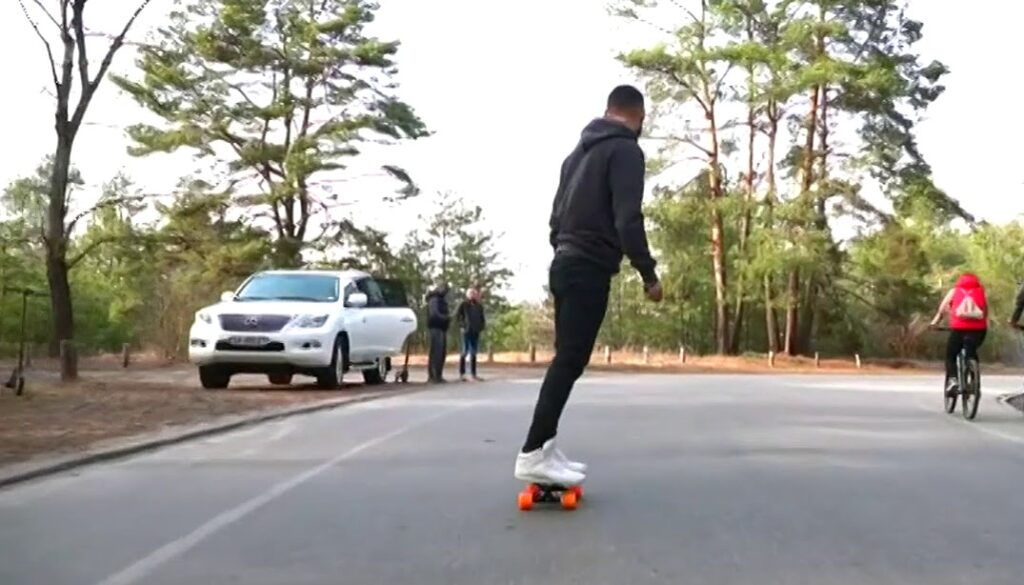 Affordable Azbo electric Skateboards costs around $250-$450. According to some users, the braking and acceleration is very smooth. Quality is decent and it is good for kids at beginner's level.
Future Predictions for Electric Skateboard Prices
Since the economy of scale and the competition on the market is low, it is expected that the price of manufacturing will definitely go cheaper in future. This suggests the market for Cheap Electric Skateboard will boom.
So select one from these – or wait for a comparatively affordable electric skateboard which fits in your budget.
Also one additional tip before riding these beasts is to wear proper protective gears and a good helmet. It is always easy to play safe on top speeds with these beasts.
Enjoy riding these monsters.