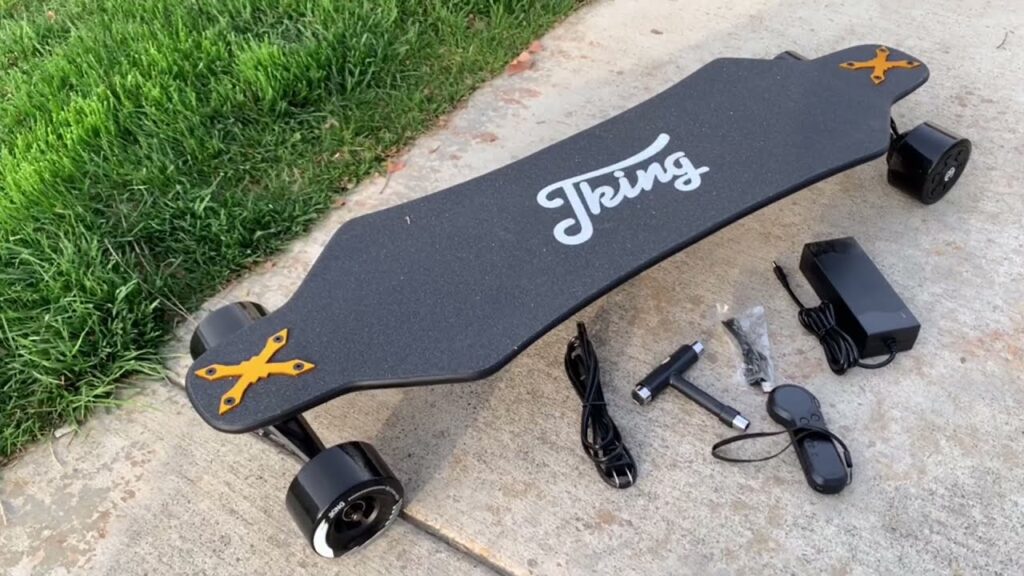 Is Jking a Good Skateboard Brand?
Jking is a very good skateboard brand for beginners, kids, and female skateboarders. A better perspective in answering this question is Jking Electric Skateboard production and sales statistics.
Jking claims to produce 10 million electric skateboards and accessories per annum!
The above figures showcase Jking's rising popularity among skateboarders and their universal presence. They have one electric skateboard targeting all the variants of e-skate categories. You will find an All Terrain Skateboard Longboard, then there are street skateboards and in the smaller skateboards segment, they offer two mini's and one almost a penny board kind of board.
But more importantly, all their skateboarding products lie within the economic range offering boosted board quality. And this is their main selling point. High quality coupled with low price targeting volume sales.
But we will stick to our opening line – Jking Electric Skateboards are great for beginners and commuters. These are not for professional skateboarders and sports enthusiasts.
Jking Electric Skateboard – From Where it all Started?
Jking is a Beijing-based Chinese manufacturer not just for electric skateboards, but mainly for personalized smart cars. Smart Cars? Yes, you heard right.
However, there is not a single Jking smart car available in the open market. We believe, that either smart car is a future segment that they are looking forward to developing, or either they design on-demand personalized vehicles which are not traded in the free market.
As for Jking Electric Skateboards – the first one came in 2016. We assume it to be their Jupiter series board which has now evolved into Jupiter 02. The board was a big hit for two reasons. It was designed by a skateboarder himself and secondly, it was one of the cheapest electric skateboards at that time.
Since then 7 years later – Jking has evolved as one of the biggest skateboard manufacturing brands infusing millions of boards and accessories mainly via amazon.com.
Jking Electric Skateboard Philosophy and Principles
The brand works on the tagline "changing the way of travel". They develop short-trip commute vehicles and boards and target the city dwellers. You will find Jking Electric Skateboards mostly beneath the office and college goers and city riders.
Now to be different from other skateboard manufacturing brands – they offer a safe and convenient means for short distance travel and all the while boards which are priced very cheaply.
They are known for their after-sales service. And with their new website offering chat and call assistance, their consumer relationship has grown a lot over the years.
Although they claim to have "skateboarding for freedom" as their core value and vision – we would not say that they are a lot into skateboard manufacturing for the sport. We would rather say they produce electric skateboards as they are a convenient mode of short-distance traveling.
Jking, King and KYNG Skateboards
Jking, King without a J, and KYNG with a Y in place of I – are three different brands of skateboards. We assume there was a lot of traffic for the word King and hence these three skateboard brands built names revolving around it.
Jking skateboards have either Jking written in a curvy style or have the logo we have put up here. It's a J and K infused into each other. Some of their skateboards (check Jupiter 02) have a golden X like symbol which looks like two crossed spears.
KYNG Skateboards are another competitive e-decks to Jking. They have a crown logo. You can read about KYNG skateboard review here.
King Skateboards is an old skateboard manufacturing firm which was established in 2009. It's products come with simple KING written caps with a roaring lion symbol.
The reason we are clarifying these three brands here – is for you to check before buying a Jking Skateboard. Just don't go with the word King which is common in all these 3 brands.
Note – In addition to these – there are several other brands using King in thier brand name. We do not know what – but there is something associated with King and Skateboarding.
Jking Electric Skateboard Reviews
# All Terrain Electric Skateboard
Load Capacity
Mileage
Deck
*For Discounts Apply Coupon Code – "switch discounts" here.
Of all the Jking electric skateboard models only Jupiter 01 is an all-terrain board. All others are mostly street and campus cruising e skate.
Opposed to their main business policy targeting only short range e skates – Jking launched Jupiter 01 to set feet in the off road electric skateboards industry. And, they did well. However, are not using any exclamatory response, because this model is soft. You cannot expect it to sustain the harshness and the wildness.
If you are looking for a dedicated off road skateboard then check our post titled – Best Off Road All Terrain Electric Skateboards – where we have reviewed 15 macho boards like the Maxfind FF Plus and the Raldey AT V2.
There are two features added by Jking which make the Jupiter 01 an off road e skate. Primarily it has a fiberglass layer on top of two layers of bamboo and seven layers of maple. So the deck stands at 10 layers of wood and glass fiber structure making it one of the hardest and the stablest. Even the high-density diamond sand non-slip coating offers good resistance. The deck measures 41 x12 x 5.5 inches making Jupiter 01 a qualified off road longboard skateboard.
The second addition is 6 inches silicone wheels making it a good skateboard to be ridden on mountain tops and uneven surfaces. The tires are noninflatable, so you do not need to worry about punctures. But again we say – you cannot go hard on this Jking skateboard.
Because of the deck and wheels, it has a good weight supporting capacity. You can put up 330lbs of weight and the board will not even ouch. Importantly the board does not weigh that much either, standing at 22 lbs which is approximately 9kg.
Jking has put 2 rear drive motors – each 1650 Watts. So the total output is 3300 Watts which is required considering the size of the board. The motor supports 22 degrees of elevation range which seems lesser. Nowadays even street skateboards featuring 2000 Watts motors offer 30 degrees of climb.
Jking claims the motors to be more powerful than hub motors – which is a very long debate topic. However, we leave this argument to your preference and choice of the motor type.
We were impressed by Jupiter 01's 7500 mah battery performance. The skateboard runs at 24 mph of top speed and sustains itself for 18.3 miles. 18 miles + is great for this skateboard and importantly at this price range.
However, the main selling and marketing point for this Jking electric skateboard model is their intelligently designed LED safety light bars. As you change your speed or your direction the LED lights too change their illuminating direction and speed. And for the closing the remote is also great. It offers many controls.
We found this pretty cool and pretty rare. In fact, we have never come across any like feature in other skateboard brands.
Overall Jupiter 01 is a pretty decent soft off road electric skateboard. It is good for 16 + age riders looking for long rides alongside the mountains and the beaches and for downhill rides. It also makes a great skateboard for commuting because if it's low weight with only its large size as a down.
Dimensions: 41 x 12 x 5.5 inches
Weight: 22lbs
Battery Capacity: 36v 7500mAh 270Wh Li-ion
Max Speed: 24 Mph
Max Range: 18.6 Miles / 56Km
Rated Power: 1650W x 2
Max Climbing Grade: 22%
Deck: 10 layers (fiberglass)
Truck: 9 forged high density bridge
Wheel: 6in / Non Inflatable Wheels
Maximum Weight Limit: 330 lbs
Waterproof rating: IP65
* Specs are taken from the Jking Electric Skateboard Official Website
# Portable Electric Skateboard
Charging
Load Capacity
Mileage
*For Discounts Apply Coupon Code – "switch discounts" here..
Jupiter 02 is perfectly titled as the portable "Jking Electric Skateboard". It has better features than Jupiter 01 and costs almost half. Some believe it to be better than a boosted board which costs 3X.
The model is highly appreciated for its sleek and rider-friendly design with the LED safety lights which add up to the good looks. This e skate is a great futuristic board, appropriately designed for youth, college goers, and office bearers. It is one of the best short range electric skateboards.
Jupiter 02 has a sleek yet powerful deck. It consists of eight layers of high-strength Canadian maple with a fiber glass coating. The 38.2 x 10 x 5.3 inches deck is pretty durable and can hold 330 lbs of weight. This is the same holding capacity of Jupiter 01.
The deck might even sustain rocky hills and rocky mountains. But the only limitation to it, in being qualified as an off road e skate is wheels.
After developing a belt drive motor in Jupiter 01, Jking has put a hub motor in Jupiter 02. Some believe this to be the best type for electric skateboards. Particularly talking about Jupiter 02 – the good part about the 2 x 450 Watts motors is the high speed it offers. The board tops 26 mph. This is faster than the Jupiter 01's 24 mph stats which runs on 3300 Watts!
Plus you do not need to change the motor whenever the wheel gets worn out. Just changing the sleeve will be enough.
The motor facilitates 20 degrees hill climbing. We find this pretty low especially if you are taking the electric skateboard for trekking and cruising. 30 degrees is the bare minimum for modern e skateboards even short ranged ones.
But more fascinating is their unique battery charging process. In place of fast charging technology which is the new buzz – Jking has adopted the pulse charging technology. In pulse charging the battery is exposed to a high voltage high current via an instantaneous positive pulse. In this process, you do not need sulfide which is one of the main elements to reduce battery capacity.
The 36v 7500mAh Li-ion battery keeps this Jking electric skateboard model running for 21.8 miles straight! This is almost 3 miles more than Jupiter 01 which dries out after 18 miles.
Jupiter 02 has 90mm PU wheels. The wheels are perfectly fine for the street skateboard and in fact, offer the deck a great balance and forward movement.
But the only thing we found lacking was – Jking should have offered the option to choose wheels and must have added silicone wheels as an option. If they would have done this – Jupiter 02 would have become a dedicated off-road electric skateboard driving pretty much more sales than Jupiter 01.
Other than this the board is marvelously designed with high-end spare parts. High pressure forging, composite vibration damping silicone, forged high density bridges, alloy steel screw, and multi layer antioxidant spray paint are some of the highlights which show how meticulously Jking has tailored this skateboard.
Jking's Jupiter Series has this safety LED which runs seven color lights indicating the changes in speeds and directions. Without doubt, it is one of the most attractive and value-added additions to electric skateboards.
Jupiter 02 is the best short range Jking electric skateboard model. It has the best features and comes at a very discounted price. The board makes a great beginner skateboard for youngsters and a very portable 4-wheel commute option for college-going teenagers and office-going adults.

Dimensions: 38.2 x 10 x 5.3 inches
Weight: 19.4 lbs
Battery Capacity: 36v 7500mAh Li-ion
Max Speed: 26 Mph
Max Range: 21.8 Miles
Rated Power: 450W x 2
Max Climbing Grade: 20%
Deck: 8 layer maple and fiberglass
Truck: forged high density bridges
Wheel: 90 mm Polyurethane
Maximum Weight Limit: 330 lbs
Waterproof rating: IP65
* Specs are taken from the Jking Electric Skateboard Official Website
# Lightweight Electric Skateboard
Weight
Load Capacity
Wheels
*For Discounts Apply Coupon Code – "switch discounts" here..
Jking's H2B is a lightweight skateboard, designed as a walleye board. The purpose to introduce it is to explore the short board's flourishing market.
Short Boards sell like hot cakes because of their portability and low cost. For short-distance travel and everyday commute, they are one of the best options available.
H2B fits in perfectly for an electric short board. It weighs just 12.3 lbs which is 5.5 kg approximately and measures 31.7 x 9.5 x 4.7 inches. The weight and the size both make it one of the most portable and light electric e skates.
The deck is made from 5 ply maple and 2 ply special carbonized bamboo. Carbonized bamboo adds flexibility to the board, however, makes it 10 percent weaker. But the strong 5 layers of Canadian maple are enough to make it durable.
Some skateboarders confuse H2B as a Jking electric skateboard longboard model. We assume they must be considering 7 plies and calling it a longboard. H3B is not a longboard. It is a dedicated skateboard – in fact, a short board or penny board type. It is not even 32 inches.
The deck can withhold 210 lbs which is surprisingly great considering the carbonized bamboo plies. 210 is more than enough for all 16+ teenagers and even adults. However, if you are buying this for a plus-size skateboarder then go with the Jking's Jupiter series.
H2B comes with decent 2 x 350W motors. The total output 700W is enough to power it to 16.7 mph of top speed. It can pull the board up to 12 degrees upwards. Again we felt the climbing angle to be a bit lower, but this is a common problem found in all Jking electric skateboard models.
The good part again is H2B has hub removable tread motors. A tread motor comes expensive and putting it in an economically priced skateboard must have been challenging for Jking.
We liked the 80 A Polyurethane wheels. Jupiter 02's wheels made us sad but H2B wheels are great. They provide great traction and support and roll clean on the streets. The wheels are hard and elastic too at the same time.
Jking has put 29.4v 4000mAh lithium battery that powers the board for 8.2 miles. This is like half the juice because the two Jupiter Jking skateboards have 7500 mAh of power. But 8.2 miles is enough if you are using it for basic cruising and city commute.
H2B is a perfect short board for teenagers and female skateboarders. It makes a great 4 wheel drive to colleges and within campuses. And a model like this is highly needed as you will not find skateboard manufacturers designing campus electric skateboards.
The model is compact, lightweight and comes from a decent brand. Most importantly it has a 700W motor and in spite of that, it costs you less than $300! It definitely makes a great gift for young skateboarders.
Dimensions: 31.7×9.5×4.7 inches
Weight: 12.3 lbs
Max Speed: 16.7 Mph
Max Range: 8.2 Miles
Rated Power: 350W x 2
Max Climbing Grade: 12%
Deck: Carbonized Bamboo + Maple
Wheel: 80 A PU
Maximum Weight Limit: 210 lbs
Waterproof rating: IP65
* Specs are taken from the Jking Electric Skateboard Official Website
# Teenager Electric Skateboard
Deck
Weight
Charge
*For Discounts Apply Coupon Code – "switch discounts" here..
H2S2 is the most sold Jking electric skateboard model. It is a favorite and the first pick for youngsters and beginners to e skate. And it is not a Jking skateboard longboard as advertised in many of the sites. We are still able to figure out how come this model is being categorized as a longboard when it just measures 27 inches!
The board costs less than $170. That is like peanuts considering it is a motorized skateboard. Even some of the Element skateboard non electric models are costlier than this.
The board is designed for youths, who are starting their electric skateboarding. It weighs just 8.8 lbs and stretches 27.7 x 7.5 x 5.3 inches making it super comfortable to carry around campuses and streets. You can take it to grocery shopping or parlours or where not.
H2S-2 has a plastic polypropylene deck. No bambo and no maple. In reality this is an electric penny board. And it is because of this material that is weighs so less and costs just a fraction of wooden boards. The plastic is fine and with the non skid coating it offers optimum balance.
It can withhold 160 lbs. Kindly do not stand on it if you are even an lb heavy because 160 lbs is te maximum capacity mentioned by the manufacturer. We would recommend just 150 lbs – or a max of 155 lbs.
The board has a single 350W motors which power it to 12.4 mph of top speed which is decent. The only major conis the elevation angle. If you are on top the motor can only pull the board to 5 degrees upwards. So on hills you will have to carry it in your arms. But this is the most you can expect with 350W.
29.4V 1.5A battery can pull the board for 5.2 miles. But the real deal is – the battery gets charged in just 2 hours. When you buy it new it will take less than 2 hours. You can go to your college or tuition or to a movie and keep it on charge only to return and find it all pumped up.
The load capacity and even the size of the deck makes it a teenager electric skateboard. No doubt it is one of the best selling Jking skateboard models because of the growing skateboarding culture within teens. And secondly it is easily affordable.
As a teenager definitely go with this model – because it is difficult you will something better. And if you are looking to buy it for your growing kids then go on without blinking. Jking has a a great customer support staff and the parts are also easily available. So all in all – this is a value for money board provided you fit in for your weight.
Dimensions: 27.7×7.5×5.3 inches
Weight: 8.8 lbs
Max Speed: 12.4 Mph
Max Range: 5.2 Miles
Rated Power: 350W
Max Climbing Grade: 5%
Deck: Polypropylene
Wheel: Polyurethane 72 mm 80 A PU
Maximum Weight Limit: 160 lbs
Waterproof
* Specs are taken from the Jking Electric Skateboard Official Website
# Iron Man Electric Skateboard
Design
Weight
Charge
*For Discounts Apply Coupon Code – "switch discounts" here.
H2E is the Iron Man Jking electric skateboard model. Look at the circular LED ring in the middle which gives it that Tony Stark look.
Sarcasm away – but the skateboard looks pretty exclusive and unique. We have never come across any such design featured on an esk8. The circular LED is a safety lamp put in the middle for illuminating darker pathways for riders. A lamp in this model as well, hints towards the obsession of Jking electric skateboard models with LEDs. Even the Jupiter series has those 7 color light changing bulbs.
Back to H2E – the model is an upgraded version of H2S-2 – the earlier reviewed Teenage electric skateboard. All the features are advanced except for the deck.
The polypropylene deck is similar in both Jking skateboards. In this model it measures 27.5 x 9 x 5.5 inch which makes it more spacious and long. But again H2E is also not a Jking Skateboard Longboard as put up wrongly over the net.
Overall weight of the board is 11 lbs, which is almost 2.2 lbs heavier than the H2S-2. But still the board is pretty light in weight. It can withstand 200 lbs of weight which makes this a considerable option for adults too. H2S-2's load capacity is just 160 lbs.
H2E comes with 450W motor, which gives it an impressive 18.4 mph of speed. The 350W model can only run for 12.3 mph. Eevn the climbing range gets double standing at 10 degrees.
Skateboard's 36v 2500mAh lithium battery powers it for 7.5 miles on a single charge and gets charged in just 2 hours. Again a 2.5 mile increase in the mileage is a welcome addition. In fact all the upgraded specifications are bare minimum necessity if a 16+ skateboarder is considering it to ride.
H2E has 83 mm 80 A PU wheels, and are very hard. We replaced the wheels in Jupiter 02 with these 83 mm ones and the skateboard did not take a ditch. It was smooth and balanced.
This model is also known as the Fish Skateboard by Jking. From all the 5 skates reviewed in this post – H2E is perfect for you if you are looking for something cheap but at the same time demand performance. The only backdraw is – this is not a bamboo board. Other than this – it stands firm on it's ground.
The skateboard is perfect for adults and teenagers alike. H2S-2 was not a appropriate solution for post teens – but this can handle them well. You can commute daily, to and fro and will be guaranteed some looks as well owing to it's LED core in the center. The only catch is H2E is 40 dollars costlier than H2S-2. In spite of that it is a very cheap electric skateboard which definitely guarantees it's value for money.
Dimensions: 27.5x9x5.5 inches
Weight: 11 lbs
Max Speed: 18.6 Mph
Max Range: 7.5 Miles
Rated Power: 450W
Max Climbing Grade: 10%
Deck: Polypropylene
Wheel: Polyurethane 83 mm
Maximum Weight Limit: 200 lbs
Waterproof
* Specs are taken from the Jking Electric Skateboard Official Website
Is the Jking electric skateboard waterproof?
All Jking Electric Skateboard models are waterproof. In fact their cheapest the Jking H2S-2 is also waterproof. However, they run a disclaimer to not to use their boards in heavy rains or in puddles. This goes for all boards except the Jupiter Series. Jupiter Series has high water-resistant decks and you can enjoy them on drizzling days as well.
Is 10 mph fast for a electric skateboard?
10 mph is not considered fast for an electric skateboard. An e skate should run a minimum 15 mph. And this speed is for the lowest watt motors and battery mAhs. If you are not getting 15 mph then why are you running a motorized skate? Because a nonmotorized skateboard goes 10 mph.
If 10 mph is slow then – What is the world's fastest electric skateboard?
We have compiled a post to answer the question of what is the world's fastest electric skateboard. It has 20 faster models – which is titled – Fastest Electric Skateboard Models. Check it out.
The fast electric skateboards can clock up to 60 miles an hour. This is like faster than cars. So just compare this with the 10 mph electric skateboard. It will be hare and tortoise then!
Jking Electric Skateboard Manual
There is no official Jking Skateboard Manual anywhere on the net and not even on Jking's official site. However, if you do have any queries then check out their Home Page and scroll down. You will find a chat button – click it and post your query.
They also send manuals and how-to guides via this chat option. The customer service is prompt and hopefully, you will not find any problem getting your work done.
Jking Skateboard Replacement Parts
All the Jking electric skateboard parts are up to the mark. In fact, the quality control at their production house is great. The Jupiter series is wonderful with high quality trunks and wheels. The fascinating part is that they even greatly care for the paint they use on the skateboards.
Finding replacement parts is also very easy. They are all over the USA. To make things simpler – just click here and you can order all the replacement parts at your home.
Jking Skateboard Charger (Battery Replacement)
An additional battery and charger can be easily procured from Jking's official website and from amazon.com too.
We would always recommend you to carry an additional battery along. It gives you the extra mileage leverage – which comes very handy. There is always an extra battery in our skateboard back bag for whichever model we are carrying. And carrying it with us – have always proved our best decision.
The good part about all Jking electric skateboard models – is that they get charged in a maximum time of 4 hours. The low Watt models charge even faster. You can put the drained out battery on charge and carry along with the additional battery, and the collect back your charged battery again.
Jking Remote Control
We loved the Jupiter Series smart remote control. It is the latest and the best built with innumerous controls at your fingertips. We have put the link to it in the above featured quick link section as well. You can switch the board on and off, change speed gears, monitor per trip mileage, accelerate, brake and even change direction.
But this is not the same with their other models. However they are integrating the remote – so that it can be used with all their products. If anything comes out soon we will update the information here.
Jking Website
Jking Website is the most dicey search. Some of their competitors or we don't know who – have crated a website with the URL – jkingshopdotcom. This is not their official website and it takes hours to load.
The official website is jkingboard.com. It is easy to load and has great features. You can buy almost everything their online portal. The best part is the chat option which serves your queries real time.