Skateboard hats, also known as skate hats or snapback hats, are a popular accessory among skateboarders and streetwear enthusiasts. These hats are designed with a focus on style and functionality, and they can be worn both on and off the skateboard.
In this article, we'll explore the history and evolution of skateboard hats, discuss the different styles and materials available, and provide some tips on how to choose the perfect skateboard hat for you.
History of Skateboard Hats
The origins of skateboard hats can be traced back to the early days of skateboarding, when skate culture was heavily influenced by surf culture. Skateboarders adopted the laid-back style of surfers, including the use of snapback hats. These hats were made with a flat brim and an adjustable plastic strap in the back, allowing for a customizable fit. As skateboarding gained popularity in the 1980s and 1990s, skateboard hats became a staple in skate fashion.
Over the years, skateboard hats have evolved in both style and function. Today, you can find a wide variety of skate hats on the market, ranging from classic snapback hats to more modern designs. Some skate hats are made with moisture-wicking materials to help keep you cool and dry while skating, while others feature ventilation holes to improve airflow. Skate hats are also available in a range of colors and patterns, from solid colors to bold graphic prints.
The Snapback Hat
One of the most popular styles of skateboard hat is the snapback hat. As mentioned earlier, these hats are characterized by their adjustable plastic strap in the back and flat brim. Snapback hats are popular among skateboarders because they are easy to adjust to fit any head size and can be worn low on the head for a relaxed, casual look.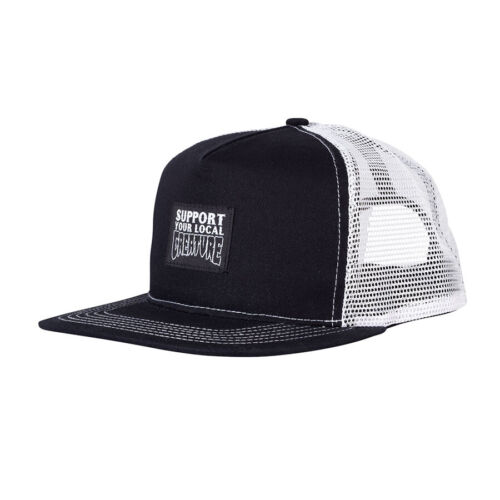 See below for a few options if you're looking to shop for a snapback hat:
The Fitted Hat
Another popular style of skate hat is the fitted hat. These hats are designed to fit snugly on the head and are typically made with stretchy materials like wool or spandex. Fitted hats are a good choice for skateboarders who want a more streamlined look and don't want to mess with adjusting a snapback hat.
In terms of materials, skateboard hats can be made with a variety of fabrics, including cotton, wool, and polyester. Cotton hats are lightweight and breathable, making them a good choice for warmer weather. Wool hats are thicker and more insulating, making them a good choice for colder weather. Polyester hats are moisture-wicking and quick-drying, making them a good choice for skateboarders who sweat a lot.
Lids sells some great fitted hats as well and you can find a great selection of fitted hats here.
Choosing the Perfect Skateboard Hat
When it comes to choosing the perfect skateboard hat, there are a few things to consider. Below are a few key features to look for when shopping for a skate hat:
Durability: Skateboard hats are made with durable materials such as cotton, polyester, or a blend of both. These materials are able to withstand the wear and tear of skating, as well as protect your head from the sun.
Fit: Skateboard hats are designed to fit snugly on your head, with an adjustable strap in the back to ensure a secure fit. This is important for keeping the hat in place while skating, as well as providing comfort.
Style: Skateboard hats come in a variety of styles and designs, ranging from simple and classic to bold and colorful. Whether you prefer a plain black hat or a more eye-catching design, there is a skate hat for everyone.
Another consideration is how your skateboard hat fits with the rest of your clothes and outfit.
Popular Skateboard Hats on the Market
Now that you know what to look for in a skateboard hat, let's take a look at some popular options on the market:
No matter which skateboard hat you choose, be sure to consider the durability, fit, and style to find the perfect one for you. Whether you're hitting the skatepark or just cruising around town, a skate hat is the perfect accessory to complete your skateboarding outfit.