Motorized Skateboard has revolutionized the skating culture. 
It has made cruising at high speeds and personal transport a reality. 
After all Electric Motorized Skateboards are very easy to operate than a standard skateboard. 
You just have to switch on and start riding.
Editors Choice – 
Best Motorized Skateboard
Is Motorized Skateboard Worth?
Is an Electric Skateboard Worth it?
Modern commuters and college goers actually demand decks and wheels – which are fast, traffic free and – you do not need to buy a parking place or a ticket.
Motorized Skateboards have facilitated all this – making commuting easy and exciting. 
And importantly it has made personal transport a less expensive and hassle free option.
Post Covid 19 – people opt for a safe commute and drive option – than an Uber or a pre-paid taxi.
The increase in demand for battery powered skateboards have led many manufacturers enter into the production market.
All types of skateboarding companies (small, medium, large) – are now directing their manufacture and sales to design electric circuit motorized decks.
You will find premium quality decks – which will last you a life time, offering you a safe and smooth ride.
However you might land up – buying a low quality pretty cheap motorized skateboard – which will not at all give you a fare return on for your dollars.
To simplify purchase options for you – Switch magazine has reviewed 12 best Motorized Skateboards available in the market.
What you will find in the reviews is described below.
Good Luck finding the Best Motorized Board for yourself.
What is the Best Motorized Skateboard?
Skateboard companies –  diligently work hard – to provide exceptional products to the skating community.
We think selecting one and tagging it as the "best" out of all the others – is a bit of exaggeration.
All motorized skateboards reviewed below are the best ones – and to be honest – we have to exclude some of the deserving boards to maintain the all price range.
We have reviewed them in one of our other articles – titled – "Best Electric Skateboards" – where we have reviewed remaining 15.
However for easier and faster selection process – if you want one board – you can stick with – then we would recommend – Boosted Stealth. It has all that you need.
We are not crowning "Stealth" as the only best Motorized Skate board you cannot live without. But it is an all in one product – which is good for most of the skaters out there. And has a lot of positive consumer reviews too.
If you want to go with the Boosted Board click the button below. It will redirect you to the check out page.
Top Motorized Skateboard Reviews
In Legnth Reviews for Top 12 Motorized Skateboards
Reviews below – include all the technical details and product specifications – along with the brand's reputation and are ranked top to bottom.
They have details about the motor, battery, deck material and wheels. Weight and size of the boards are also mentioned.
Skateboard models reviewed below are selected keeping in mind all price ranges. You will find a good board under 500$ that is great considering the price – and likewise a premium more than 1500$ to 2000$ motorized skate offering robust advance features.
There is a "Best For" tag – which will brief you – whether the particular motor powered skateboard is a good fit for you or not.
If the model suits you – Click on the – "Shop Skateboard" button – which will redirect you to the shopping page.
A combination of durability, performance and comfort Boosted Stealth is one of the best motorized skate board you can buy.
The board weighs 17 pounds and measures 11.3 in (W), 38.0 in (L), 5.7 in (H). Its long size makes it a motorized longboard rather than a skateboard. 
The Motor supplies 2,100 Watts of power – which is huge! You get these type of motors in electric bikes – which weigh 10 times more than a skateboard.
With so much power – cruising, accelerating, hill climbing and off road skateboarding becomes a premium experience.
Boosted Stealth's deck is made from composite material and is super flexible, with an adaptive concave design allowing you a smooth ride in all types of terrains.
It comes equipped with CNC trucks, for better push/pull and 85mm Stratus wheels for extra grip and safety.
These Large wheels are advertised heavily by Boosted. And actually you will not find skateboards or longboards featuring this size wheels.
You get 5 different speed modes to cruise and with the new Hyper mode you can reach to the top speed of 24mph. 
The acceleration/deceleration is smooth and pretty efficient giving you consistent torque at higher speeds. Boosted has put Regenerative Brakes in the machine – and with a 2100 watts motor – you actually need these.
On a single charge you can go to a maximum distance of 14 miles and can climb 25% of hill effortlessly.
Boosted Stealth is built for comfortable executive riding. No doubt it is one of the best motorized skateboard – but it lies in the premium price range too. The board costs you around $1.5k.
But it is a one time buy. The finish, quality parts, heavy motor and battery – all make it a durable product – the one you can rely on.
Secondly Boosted is a US company – which makes the staff and the customer support readily available whenever you need assistance.
If you want a premium motor board – and can afford the dollars then without hesitating go on with the Stealth.
Best For – Boosted Stealth is ideal for all level skaters who want a smooth, comfortable and effortless riding experience. It is fast, safe, built to last and a long mileage board.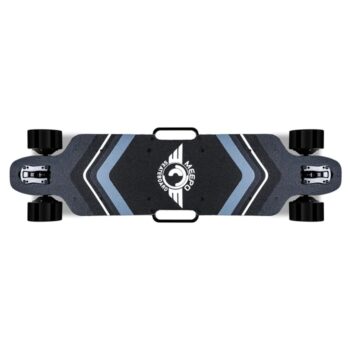 Meepo AWD Pro – is a miniature version of Boosted Stealth. By miniature we mean – same durability, motor power  and design in almost half the price.
Meepo Pro measures 40 inches. You can call it a longboard – same as Stealth.
It is powered by 540watt hub motors in each wheel giving out a massive 2160 watts of power, torque and an amazing top speed of 34mph (beats Boosted Stealth).
With such powerful motors it takes only 2.5 seconds to accelerate from 0 to 18.6mph. Even hill climbing becomes fun as it gives you a 35% uphill range.
The board features premium ER Cells which gives the machine 15 Miles or 24.2 km range.
You won't find this board as maneuverable as the Boosted boards because it is quite heavy, weighing in at 23 pounds. 
Some might consider the weight as a shortcoming, but it is up to you to decide that.
This model is the improved version of AWD – and hence named as pro. The AWD was also a good motorized skateboard – and this one is better in terms of speed, acceleration and comfort.
It is not as pricey as the boosted boards, but be assured that it is as powerful as a boosted. 
In fact Meepo Pro is a best buy as an alternative Boosted Board and faster!
Best For – Meepo AWD Pro is the best alternative for a $1500 Boosted Board. The board nowhere compromises quality and design and is definitely a good buy for all skaters.
The Skatebolt Tornado II comes with an 8ply northeastern maple deck, making it strong enough to carry 280lbs. 
The board features wide deck (38*9.4*5.5 in) and big wheel axles – (90 Millimeters) to ensure a sturdy and stable ride. The wide size makes it a longboard cum skateboard.
It also comes equipped with two red LED taillights for better vision in dark places. You can see the lights in the photo above.
Skatebolt has placed a strong 7500 mAh battery which allows 21-24 miles of ride in medium mode. 
With Skatebolt Tornado, you can go at a maximum speed of 26mph and also cover a long distance of 15 miles on a single battery charge. It gives a hill climbing range of 25%.
Remote controlling is also quite easy with important functions all made available on the screen. You can check the battery percentage and control the speed and brake mode. And most probably the remote has been updated to control the LED lights as well.
The board is not heavily priced – although Skatebolt has put almost all premium accessories and skate parts. And secondly the board is an upgraded version of Tornado 1.
It lies in $500 to $600 range – making it less expensive then Boosted Stealth and Meepo AWD Pro.
The features and the economical pricing makes Skatebolt Tornado II a pretty suitable option for beginners and pros alike. 
Best For – Skatebolt Tornado II – Motorized Longboard is for all kinds of riders. It is not priced heavily either making it a perfect choice for your beginner skateboard.
One wheel motorized skateboard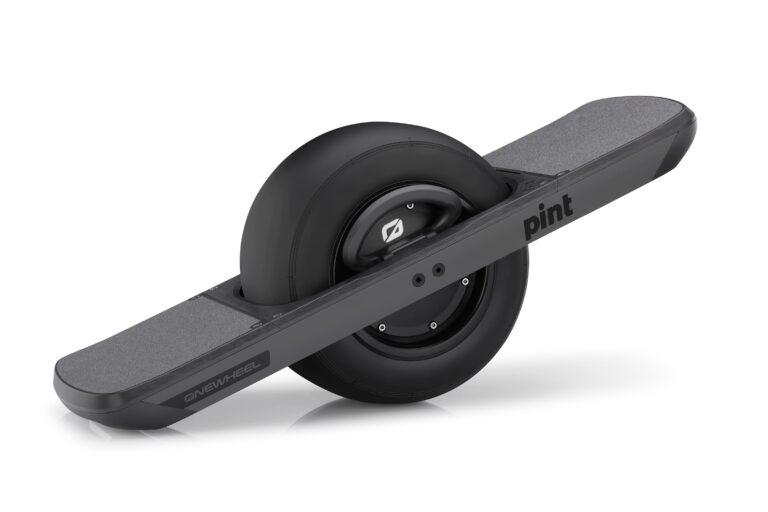 Based in California, One Wheel is a uniquely designed motorized skateboard. Instead of the standard skateboard design with four wheels, 2 in the front and 2 in the back, the Onewheel has a single huge wheel in the middle of the board. And hence named "One Wheel".
One Wheel has named their board – "Pint". It is a self-balancing board -and riding it is pretty simple. You don't need a remote to control it. So how do you ride it?
You switch on the board and then start the board by leaning forward. For braking you need to lean back. The onboard sensors does all the work for you.
These integrated smart sensors – are named as "Simplestop Dismount Technology". Pint Skateboards have introduced this to make skateboarding simple and easy and to enable new riders to the sport.
All the remote's work is done by the Lightbar integrated into the front footpad and the One Wheel app.
The Lightbar senses your mounts and dismounts, battery percentages and in-ride alerts.
All the other features are controlled by the app – so basically you do not need to carry any remote.
The onewheel reviewed here – gives you a top speed of 12- 20mph and 7 miles of range on a single charge.
One Wheel Pint measures just 27 inches long! And comes with a handle at the side of the board – which makes it super portable.
This small pocket size makes it one of the most compact electric skateboard. You can actually carry it anywhere and everywhere – without even folding it.
The impressive deck is made from solid aluminum and maple. The electric board comes installed with Hypercore Brushless Motor – based on a patented no sound producing technology.
There are no other major accessories in the board to review. So basically Pint is just all what we have reviewed here.
Other than Pint – One Wheel has another Model named "XR" which has advanced features than the basic one.
Now to the price. Well Pint is priced lower than Stealth Boosted – and higher than the Meepo and the Skatebolt. It lies in the $1000 range.
But honestly speaking – it is one of the best electric skateboard for less than 1000 dollars. It has style, freedom, portability, durability and what not.
The company also offers financing on both – Pint and XR – where you just have to pay as low as 53 dollars per month.
Youths are crazy to lay their hands on Pint. Mostly because it is a game changer – and something unique.
A Remoteless Motorized Skateboard – offering portability, strong frame and body, with a new cruising experience is always a welcome product in the skateboarding industry!
Pint is for people who love to just enjoy their ride in full speed and style.
Personally recommending – go with this board – it will be one of the best choices you will ever make.

Best For – One Wheel Pint Motorized Skateboard – is a delicacy for office and college goers boys and girls. In fact it is a must try for all the skateboarders always have their boards as their companions. If you have 1000 dollars than this is something you cannot ignore.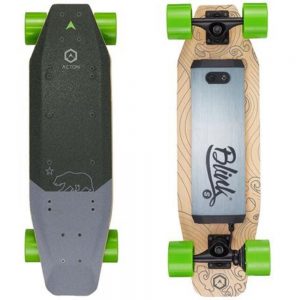 After the premium motorized skateboards – we are reviewing the affordable ones.
If you want a more premium one from Acton – then go with their S2 model. We have reviewed the details about S2 – later in this post.
Acton Blink SR is a light weight medium range skateboard. The board weighs just 11 pounds and the deck measures 27.5in x 8in – making it one of the lightest and an easy to carry motor skate.
The most beautiful part – which makes Action Blink rank in the top motorized skateboards is its sturdy deck. The deck is made from Canadian Maple Wood and Aircraft Grade Aluminum. This deck in less than $350 is a definite good deal.
Other positives about the board is it's 36V battery which takes just an hour to charge. Although you can't go pretty long on a single charge – it can take you 7 miles and sometimes a little more.
Blink features 1 Hub Motor giving you a total 500W of power. This is one fourth of the Stealth and the Meepo.
The wheels and brakes are not a disappointment either. Green 83 mm wheels and Regenerative Braking make it a pretty stable board beneath your feet.
The Acton Blink S-R, is pretty low on the maximum speed, with a top speed of just 15mph.
Going uphill is also not that great as it gives you a 15% range only.
Acton Blink S-R is a budget friendly, lightweight motorized board. It is an ideal machine for people who are into casual skating and are not looking to invest heavily in a premium motorized board.
Best For – Acton Blink S-R – is one of the best beginner skateboard – being cost effective and portable. As a beginner into electric skateboarding you should start with this.
Do not confuse this with the Skatebolt Tornado 2 reviewed above. The product name is the same – but the manufacturers are different.
Blitzart Tornado is same as Action Blink. In fact it is a downscale version of Blink.
The 38 inch deck is constructed from 7 layers of maple encased between 2 layers of bamboo, giving you a flexible and durable board. It is also strong enough to hold up to 250 pounds. 
Despite the multi-layers of wood, you won't find this board to be heavy or bulky, instead it weighs just 13 pounds. It's low weight makes it rank among best motorized skateboards.
The board is powered by 350watt brushless hub motors. Considering the price – the motor is just adequate. 
It offers a top speed of 17mph. The maximum miles you can cover is pretty less compared to other boards in this price range. It allows you to ride up to just 10 miles on a single charge of its 36v, 4.0ah and 144wh lithium ion battery. 
The battery takes 2.5 hours to fully charge – which is a problem associated with many consumers. The Action Blink – wins here – as in the same price range – you get a battery charging up in 1 hour and lesser.
Overall Blitzart Tornado is a cost effective board – having a good sturdy deck and a decent motor and battery support. The low price makes the board a good buy.
Best For – Blitzart Tornado – is a good electric longboard cum skateboard for short distance commuting. Considering it's weight and long deck it is makes a good girl skateboard too.
The Acton Blink S2 is a more than average motorized skateboard, offering you a better riding experience in comparison to the SR model by the same manufacturer.
Acton S2 comes installed with Dual Hub System – a total of 1000 watts – enabling a decent average speed of 18 miles per hour.
Like the SR – S2 is also loved for the heavy and durable deck – made up of Canadian maple wood and aircraft grade aluminum.
S2 offers a better hill climbing range with 20% incline rate – where as SR has just 15% inclination.
The board offers mediocre range. It allows you a maximum distance of up to 14 miles.
The design of the board is attractive and eye pleasing. You get 6 months warranty and easy financing with this board.
However S2 is more than $500 motorized skateboard. Although the deck and the parts are durable and of good quality – you pay 200 dollars more than the SR for some added features.
Best For – Acton Blink S2 – has beautiful design and good quality components. If you want a medium range skateboard than this is the best. It is not very cheap and not heavily priced.
Inboard M1 weighs just 14 pounds! And this is enough for you to know – if you are looking for portability.
It is indeed lightest electric skateboard and it's weight is one of the reasons it remains always in demand – almost like the Swagboard.
But other than it's weight we find many interesting features In M1.
It comes with swappable batteries – again adding to it's portability and assisting in long runs. 
The battery provides you enough juice to cruise up to 7 miles on a single range.
Inboard runs a maximum speed of 22mph. The top speed is better than all the other mid price boards reviewed earlier in this post.
M1 comes with LED headlights and taillights, regenerative braking system and is water-resistant.
The order bundle included an Inboard Skate Tool and a Carrier Bag along with the skateboard deck and the battery.
Considering it's price and weight – both on the lower end – the board is a good deal. Especially for short distance commuters and office or college goers.
14 pounds of weight make it a good electric skateboard for kids and girls as well.
Best For – Inboard M1 – is a decent electric skateboard for beginners, especially kids and girls. It does not cost heavily either making it a good gifting choice for your young ones.
The Evolve Bamboo GTX is an awesome off-street motorized board, specially built to endure gravel and rough terrains.
The others reviewed above will not perform equally well – on off road cruising – except for the Boosted Board and the One Wheel Pint.
Bamboo GTX comes equipped with a 300watt brushless motor allowing you to speed up to 26mph. 
The battery is also excellently powerful giving you a decent maximum range of 18.5 miles.
The best part about this motorized longboard cum skateboard – is the wheels and tires option. 
You can swap you wheels for different terrains. The urethane wheels designed for street rides can be changed with all-terrain tires for off road riding.
On streets – the skateboard gives you a range of 31 miles with top speed reaching 24 mph, 30% Hill gradient and 10 miles of charge.
On off roads – you get 20 miles of range, with speeds up to 20 mph, 30% inclination and 7 miles of charge.
Bamboo GTX is an Evolve manufactured skateboard – which is one of the top rated brands in the industry. The price is likely going to be in the upper range. 
The Bamboo series have three models – Bamboo GTR All Terrain, Bamboo GTR 2in1 and the exclusively built Bamboo GTR Street. The one reviewed here is the costliest of the three – ranging somewhere near $2000.
If the price does not bother you – then this is something to treasure. Although it costs a lot – but every penny is worth – considering its make, durability and cruise experience.
This motorized skateboard although is well suited for experienced off-street riders. If your maximum rides are towards your office or college – or in the skateparks – then investing heavily on this one is not advisable. 
Rather you can chose a Boosted Stealth or a One Wheel Pint – both premium skateboards – in almost one third and half the price of Evolve Bamboo.
Best For – Evolve Bamboo GTX – is an off street on street skateboard – offering a flexible and smooth riding experience. The cost makes it a good fit for experienced skaters. 
Vokul Motorized Skateboards are advertised being cost effective and of high quality.
Vokul V1 is their prime model – and honestly it has some good specifications.
V1 features 4.4ah lithium battery along with a 350watt hub motor, which allows you to cruise up to 10 miles at a maximum speed of 13mph.
The deck is made from 7 layers of maple wood, making it strong enough to carry 200pounds.
You can switch between three riding modes. The on street mode gives you a quite smooth riding experience.
Regenerative Braking is more than required. But on streets between traffics – the brakes become pretty useful.
The manufacturer guarantees off road riding on the motor skateboard – but we would not recommend considering the watts and wheel size and quality.
The color is somewhat catchy. You will not find many skateboards – grey tinted overall. Even the wheels share the same hue – making it a bit monotonous.
With average range and speed – Vokul V1 is a mid-range motorized cruiser board good for kids and girl skaters. Vokul provides a 6 month guarantee on the product too.
We found the price a little heavy considering the brand – but the parts used, and the durability makes the purchase worth.
Best For – Vokul V1 Cruiser – is good for short distance commuting. The deck's weight and the motor makes it a good electric skateboard for kids and girls.
Enertion Raptor 2 Motorized Board
The last one in the list of good motorized skateboards – is the Raptor 2 by Enertion Boards.
The board is equipped with powerful 3,360watt hub motors allowing you to cruise at a high speed of 28mph. 
It is fuelled by a 360wh battery that lets you ride up to sweet 25miles on a single charge.
The strong and sturdy deck is made from maple and carbon fiber, attached to 90mm wheels and CNC trucks. 
The board weighs around 19lbs and can support around 170-200lbs. 
The motor skateboard is good for beginners and new skaters on electric boards. 
However make sure you buy a new Original Raptor 2 because the market has a lot of cheap skateboards going by the Raptor 2 name.
Last we checked Enertion had discontinued Raptor 2's production. So the dealers might be left with a limited few.
If you are not sure – then go with other mid range good quality skateboards – like the Swagtron and the Inboard 1 reviewed above.
Best For – Enertion Raptor 2 Motorized Board has good features provided you get an original and not a duplicate. In spite of that we would recommend this for beginners. 
Motorized Skate Board Working
How does a Motorized Skateboard Work?
As easy as it sounds to ride a motorized skateboard, you will be surprised to know how it works and what makes it so easy for you.
A motorized skateboard is a sum of many different components. Each component has its own purpose and working. Almost all motorized skateboards are powered by an electric motor and a battery. 
There are two types of motors that are usually used in all motorized boards.
The hub motors and the belt drive motors. The hub motors are fitted inside the wheels of the boards. While the belt drive motors are attached to the wheels by a pulley. The hub motors are quieter than the belt drive motors. 
The battery is the source and storage of the power. It supplies the motor with the power needed to run the board. Both the motor and battery are connected with a technology called the Electronic Speed Controller (ESC). 
The ESC acts more like the brain of the board, because it controls the board. It controls the amount of power supplied from the battery to the motor. Information from the remote is passed to the ESC via electromagnetic waves, and based on that information the ESC provides power to the motor from the battery.
Motorized Skateboard Speed
How Fast does a Motorized Skateboard go?
With motorized skateboards raging the skating world, speed has become the new thrill for skaters all around.
The range of speed you get on motorized boards is simply incredible. With average speeds ranging from 18mph-28mph (29-45km/h), motorized Skateboards can reach up to maximum speeds of 40mph (65km/h) like the Bajaboards and Bioboards Thorium X. But the record for the fastest speed is held by the NGV Nextboard ridden by Mischo Erban, reaching a high speed of 68mph (110km/h).
The top speed on each motorized board is different from the other, and for you to achieve those speeds there are many other factors to be kept in mind.
Motorized Skateboard Parts
Motor Power
To reach high speeds, you need powerful motors. The more the power the more speed and quicker acceleration you get.
Riders Weight
The rider's weight is the most crucial factor of all, because heavier riders mean less speed.
Battery Power
The motors and battery on a motorized board go hand in hand. Both rely on each other to work properly. Powerful motors need powerful batteries to give the output you desire. The battery is the source of the power which is transferred out by the motors.
Wheel size
The size of the wheels definitely has an impact on the speed. Larger wheels gives you high speed but with slow acceleration and less torque. While smaller wheels gives you less speed but with fast acceleration and torque.
Terrains
It surely matters, where you are riding your board. The smoother the surface the higher the speed you get. Terrains like hills and rough grounds slow you down.
Components
High quality components ensure stable high speeds as they are able to endure the pressure and vibrations caused due to high speeds. The wheels, deck, trucks all need to be of extremely high quality.
Motorized Skateboards have surely changed the way of commuting. It has added the thrill and excitement of speed to the skating culture. So whatever motorized board you choose, make sure it is a quality product. Because a few extra dollars can buy you a lifetime of service and safety.
In the end – 
Happy Motorized Skating!